NearFile Review: Untested
This software is untested by us. But we have got many good reviews about this from our users. NearFile will not bear any action related to this action.
CSV to vCard is a free file converter for contacts that can translate CSV format contact files to vCard files. Usage is easy, click the 'Browse' button to pick a contact file (*.csv), the program will read all contact fields and data, then you need to set the vCard property for each CSV sector. The output file extension is * .vcf or * .vcard, and the default file extension is * .vcf, so you can think of this program as a csv to vcf file converter. After you have set all the fields you need, click the Convert button to create a vcard file.
In addition, if all fields in your communication CSV file are in English, vCard properties such as First Name, Last Name, Work Description, and more can be auto-filled by the software. The software may also automatically map it to corresponding vCard properties (words with synonyms) for certain typical fields, such as Family Name to Last Name, Profession to Job Description, Web Page to Website, and more.
Please notice that not all communication fields are supported; the most relevant fields are actually supported by the software. In addition, the created file is in the format of vCard version 3.0 (RFC 2425).
Title:
CSV to vCard Converter
File Name:
csvtovcard_setup.exe
File Size:
340.49 KB
Requirements:
Windows 2000 / Vista / Windows XP / Windows 7 / Windows 8 / Windows 10
Date Added:
October 12, 2020
Category:
Email
License:
Freeware
Author: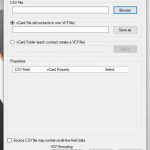 Alternative to CSV to vCard Converter