11 Great Garageband Power Tips You Need To Know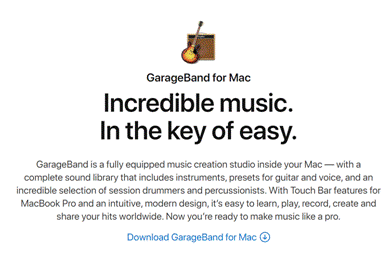 Garageband is one of the best free software available for users in the market to meet their composing needs. Garageband is a fully loaded and robust software and has so many features that will help you.
Users rarely know these features; this is why we have created the top 11 power tips that you need to know about Garageband for Windows. These power tips will positively help you upgrade your work and produce high-quality content.
1. Drummer Loops
Drummer loops are the best newly added feature on Garageband which are only available with version 10.2 and above. They give more enhancement to the drummer performances. You can store them on Apple loops for further usage.
You may quickly flick through the part of the loop you want and add them, whereas you may avoid the unnecessary loops while your project is running.
It's an upgrade to the drummer's performances.
2. Secret Sampling
Also called as the hidden sampling, the AUsampler lets you build new instruments just by dragging files. It's not that hard to find the AUsampler, it's hidden, but you will find it quickly, you have to start by creating an instrument track, once you have made it, you can click the smart controls button, and then the plugins panel will open.
You will find AUsampler in the pop-up plugin menu. It's an excellent tool for all your sampling needs.
3. Musical Typing
Musical typing is one of the most significant features that come with Garageband,classical pianos to Hardrock guitar, they have it all with them to give you the best music project.
It is effortless to get instrument tracks or add instrument recording to your software and then edit them but what's cool about Garageband is that they let you directly connect your instrument to the system.
But not all those who are into music know about instruments, this is why they have inbuilt instruments that include an inbuilt piano to give you excellent musical typing.
4. Keyboard shortcuts
Who doesn't love keyboard shortcuts? They make work so much easier, a tool filled with shortcuts lets you complete your project well on time. They have ten keyboard shortcuts which I think you would love to get your hands on.
It is effortless for anyone to learn these shortcuts, you can grab your copy by going to the official page of Garageband. Your workflow will highly fasten by a great extent, and you will love how it eases your
5. Live Loops
Live Loops help you to trigger with the taps. You can create a great tune just by exploring their various buttons. You need to select a good genre, and then you can play with the controls like it's a toy.
It is a fun to do thing, and you will enjoy the enormous options they have. They also let you record live performances which you can add to your project as well
6. Remote Control
Apple has a free logic remote application available on their iOS platforms for users to use their device as a remote for Garageband. With this remote, you can easily use Garageband with a remote. You can record as well as play instruments with the help of this great remote.
If in case you don't have the logic remote, clicking on the icon will take you to the front page of iTunes.
7. Amplifiers and Pedals
Garageband has a super combination of amplifiers and pedals that are on a deep level an excellent upgrade for any music composer. These give you a solid reason to use them for your tracks. They also have stompboxes and bureau models that let you change any track,
It is effortless to connect a pedal, all you need is a pedalboard, connect it and then select a track header and then go to the smart controls and get started. For you amplifiers, you have a lot of options to connect it as well.
8. Pitch Perfect
Sometimes you might be restricted to a particular key itself due to the loop you have created, this way you limit yourself from getting other keys involved in your tunes. With their show transposition track, you can easily create a perfect pitch.
The show transposition track option is available on the track menu. They let you transpose your sections by letting you plot points on the curve. This way, your software instrument tracks, your loops and the audio tracks will have their tempo and pitch checked and corrected.
9. Get Help
No matter how professional you are, there is a lot to explore when it comes to software like GarageBand. Editors keep exploring various features of GarageBand that will take them towards asking help from the support.
Garageband has a very awesome help feature, and you will see a question mark on the top left, that's your go-to place. You can switch on their auto help feature which will keep giving you suggestions in yellow boxes.
They also have a quick help button that will display some quick, helpful tips for you.
10. Soundcheck
You must make sure that whenever you export your music or tracks anywhere, they are the max loudness. This is mainly because while editing, and you miss out on your loudness.
This is why they have a very awesome auto normalize checkbox which you will find in preferences, open it and click advanced and you will see the checkbox. This checkbox ensures that you have excellent sound quality at the loudest of volumes.
11. Smart Controls
With everything becoming super smart, even software like Garageband has smart controls as an advanced feature for users. You can do things easily with their intelligent control, they help navigation within the software easy and give you options at your fingertip.
You don't have to go searching for all the significant buttons anywhere else, and you can use these controls for the instruments that you have connected as well. They do the job very easily for you.
Final thoughts
Garageband is an excellent software for all your music and composing needs, start as a beginner and today, and you will see yourself as a pro tomorrow. It is effortless to use the software, and you can self learn it as well.
With our excellent 11 tips for Garageband, you will be able to explore the greatest of features that software can offer.
We hope you are very clear with the top 11 power tips we have for you, for more queries on Garageband, you may comment on it in our chatbox. Feel free to give your honest feedback and valuable suggestions as well.
Comments
Let us know about your thoughts