7 Best AI Video Editors You Must Use in 2023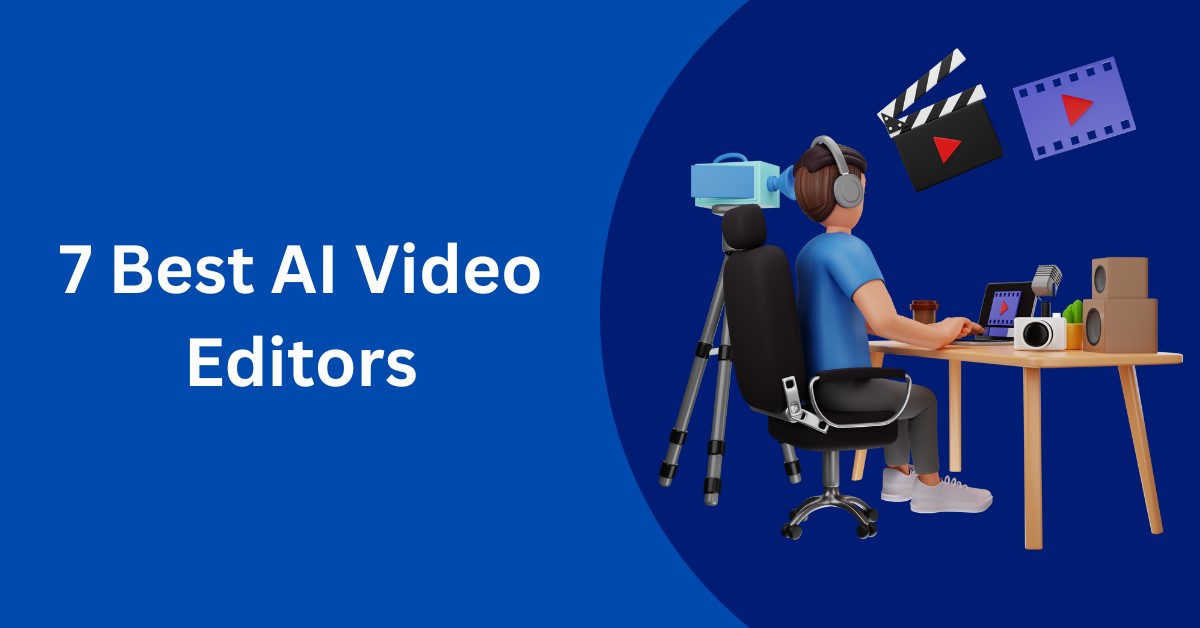 Video editing is tough? Not anymore! In this era of AI, where everyone is reaping its benefits, why shouldn't you do the same? Why wouldn't you leverage an AI video editor that can assist you in creating and editing videos quickly and efficiently? If you desire an editor that works like magic, look no further than AI video editing software. With the aid of artificial intelligence, you can streamline your editing process and produce professional-looking videos in a fraction of the time.
AI video editing software utilizes machine learning algorithms to analyze and edit video footage automatically. With AI, you can automate many of the tedious and time-consuming tasks involved in video editing, such as cutting and trimming footage, color grading, and audio mixing. This means you can spend less time on the technical aspects of editing and more time on the creative aspects.
Another benefit of using an AI video editor is that it can help you create more engaging videos. There are many AI editors that allow you to edit videos online without having to worry about professional editing skills. You just need to focus more on creating content and stop worrying about how to create them with these helpful AI editors.
7 Best AI Video Editors
InVideo
InVideo is your go-to tool if you are looking to create videos easily without spending a lot of time and effort. It is the finest online video editor with the ability to create AI videos using prompts. You can input your topic, and the tool will generate a script for you, and then it will create the video according to your script.
Along with this, you can access 5000+ video templates, and its stock library will help you create videos with ease. But that's not all – InVideo goes beyond that by assisting you in converting your videos to other formats and ensuring the right size for any social media platform you desire.
Descript is a cloud-based video editor that uses AI to make editing videos as easy as editing a document. You can upload your videos or record directly in Descript, and the AI will transcribe your audio into text. You can then edit the text, and the changes will be reflected in your video. Descript also has a number of other AI-powered features, such as automatic speaker detection, filler word removal, and background noise removal.
Wisecut is an AI-powered video editor that helps you create polished videos automatically. It can find the best moments in your footage, remove unwanted objects, and add transitions and effects. Wisecut is a cloud-based app, so you can use it on any device with an internet connection.
Synthesia is an AI-powered video creation platform that allows you to create videos with talking heads. You can simply provide a script, and Synthesia will generate a video of a person speaking your words. Synthesia uses a technique called deepfake to create its videos. Deepfake is a type of artificial intelligence that can be used to create realistic videos of people saying or doing things that they never actually said or did.
Lumen5 is a cloud-based video creation software that uses artificial intelligence (AI) to help marketers, publishers, and brands create video content without any technical expertise.
You can create videos from text, blog posts, or social media posts. Simply enter your content, and Lumen5 will automatically generate a video with animated text, images, and music. You can then customize the video to your liking by adding your own text, images, and music.
Lumen5 is a great option for anyone who wants to create videos but doesn't have the time or expertise to do so using traditional video editing software. It's also a great option for businesses that want to create engaging video content without having to hire a professional video editor.
Kapwing AI editor is a suite of AI-powered tools that can be used to create videos, images, and memes. It is a web-based platform that is easy to use, even if you are not familiar with video editing software. This tool can be used to create a video from a text prompt. You simply enter a text prompt, and Kapwing AI will create a video with animated text, b-roll footage, and other elements.
Pictory is a cloud-based video maker that uses AI to help you create videos from text, images, and audio. It has a library of templates and assets, and it can automatically generate captions and summaries for your videos. Pictory uses AI to automatically create videos from text, images, and audio. This means that you don't need to have any video editing skills to create professional-looking videos.
FAQ
Is there an AI that can edit videos?
Yes, there are many AI editors that can help you edit videos easily. You don't need to put in a lot of effort editing videos; just focus on shooting the footage or other creative aspects. Video editing is being simplified, and tools like InVideo, Premiere Pro, and Kapwing are helping creators.
Is there any AI video editor for free?
Free AI editors are hard to find but you can relay on InVideo as they have a free version of their tool. If you are looking for an AI video editor with no limitations, you will need to upgrade to a paid plan. However, the free plans offered by these AI video editors are a great way to get started with AI video editing.
How does AI help video editing?
AI can help you edit videos with text-to-video generative features or maybe by automatically removing background noise or wired stuff from the video.
Conclusion
In conclusion, AI video editors offer a number of advantages over traditional video editing software. They are easy to use, have a quick learning curve, and can help you create professional-looking videos without spending a lot of time. If you are looking for video editing software that is easy to learn and use, an AI video editor is a great option.
Comments
Let us know about your thoughts