How to Convert a PDF File into Word Document – An Easy Guide
Portable Document Format, shortly PDF, was designed purposefully to make the process of sharing and saving text files digitally easier.
This format finds its frequent use these days because of the ease it offers to a wide variety of users. Whether professional, writer, student, or teacher, you will use PDF to share text files.
Moreover, this format is preferred because of its compatibility, flexibility, versatility, and data security. Hence, most text files are saved and shared in this format.
While there are multiple benefits of keeping text files in PDF, there are some shortcomings. The most common issue with PDFs is they are non-editable.
Therefore, you need access to costly tools to edit the text featured in a PDF file.
Alternatively, a more straightforward method to edit and modify the text in a document saved in a PDF file is its conversion into an editable file format, such as a PDF to a Word file.
First, however, you need to know the right tools to help you maintain the formatting and layout of text featured in the PDF document for this purpose.
We have included some details about a few efficient tools that can help you easily convert PDF files into Word documents. Read on to learn more about these tools.
PDF to Doc Converter by Adobe Acrobat
It is worth mentioning that Adobe developed PDF to make file sharing easier. Hence, you can expect it to offer an efficient tool that can help you solve all PDF-related issues in one place.
Adobe Acrobat is that tool. It offers various PDF-related solutions like PDF conversion, compression, and password protection. Moreover, it can convert documents from PDF to Word files and vice versa. Hence, it can be the right fit for you.
The only catch here is the subscription charges you have to bear to use this fantastic tool administered by Adobe. If you casually need to convert a file from PDF to Doc format, then it doesn't make any sense to pay for costly subscriptions to this tool.
Additionally, this tool comes as an app for devices running on multiple operating systems, so it would be unnecessary baggage for storing your device.
PDF to Word Converter by Smallseotools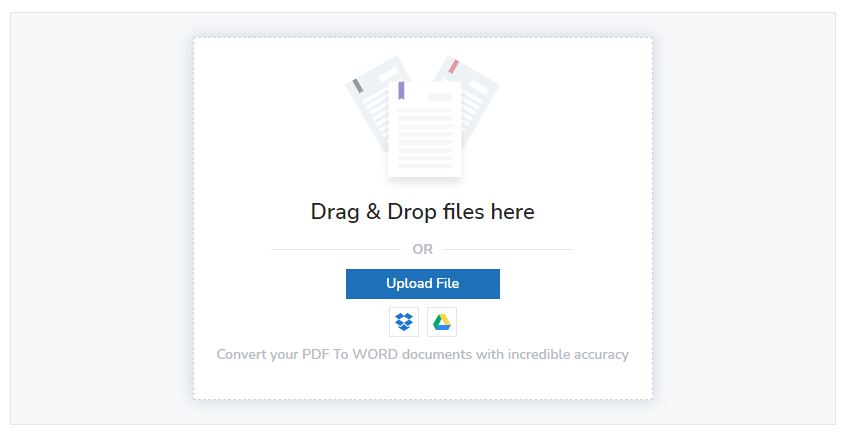 Many of you may have heard about SmallSEOTools; it is a website that offers numerous valuable tools to fulfill the requirements of a wide variety of users.
Professionals, teachers, students, writers, digital marketers, job applicants, and even designers turn to this platform to find solutions to the issues they come across in their day-to-day lives.
Regardless of our profession or demographic, we all use PDFs for various purposes.
Hence, Smallseotools offers an online PDF to Word converter to make it easier for its users to convert PDF into Doc format easily.
The process of using this tool is relatively easier; all you have to do is upload the PDF file from your device's storage or import it from cloud storage platforms like Google Drive and Dropbox.
Once you have imported the file for conversion, tap the convert button, and it will convert the PDF file to Word format in no time. The process will be easy, quick, and hassle-free because of the friendly interface offered by this PDF-to-Word converter. You can convert countless PDF files to Word format without paying a single dime. The best thing about it is you can access it from any device, i.e., smartphones, desktops, and tablets.
In addition, installation or sign-up is not needed, as this tool is web-based and requires no registration.
Regardless of the number of pages featured in a PDF file, you will get all those pages converted in a single go.
Hence, this tool covers you whether you are converting an official document, legal subpoena, user manual, eBook, assignment, or anything else. Another thing to mention here is its ability to perform safe and secure conversions.
PDF to Word Converter by iLovePDF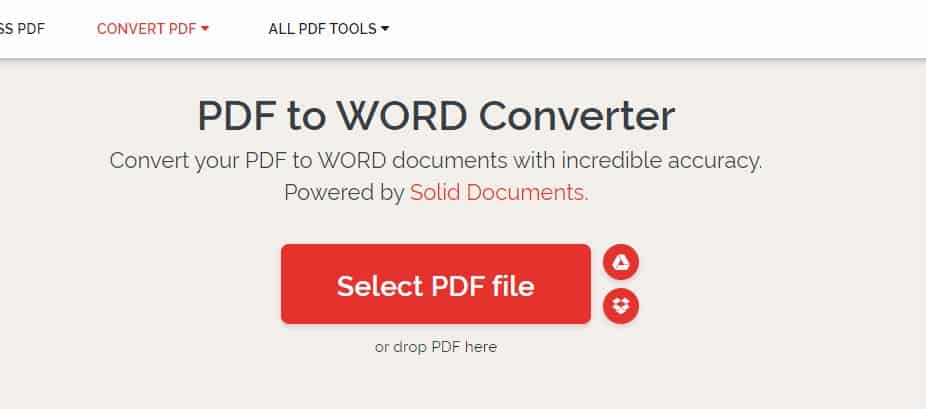 iLovePDF is a renowned website popular amongst users because of the numerous PDF-related solutions offered by this platform.
Unfortunately, most of the solutions offered by this platform are only available in return for a costly subscription. However, luckily the PDF to Word Converter by iLovePDF is free to use. Because it is web-based, you can access it easily through smartphones, laptops, desktops, and tablets.
Moreover, the convenient interface offered by this tool makes it easier for everyone to use it.
The method of using it for PDF to Doc conversion is pretty simple as well. You need to upload the PDF file you want to convert to Word format and press the convert button.
Alternatively, you can import the file from cloud storage platforms as well. As soon as you tap the convert button, it converts the file into Word format, which is easily editable.
The formatting and layout of the featured content in the file remain precisely the same after conversion. Hence, this tool is in our top PDF to Word converters list.
Comments
Let us know about your thoughts