How to write a great content for your Website or Blog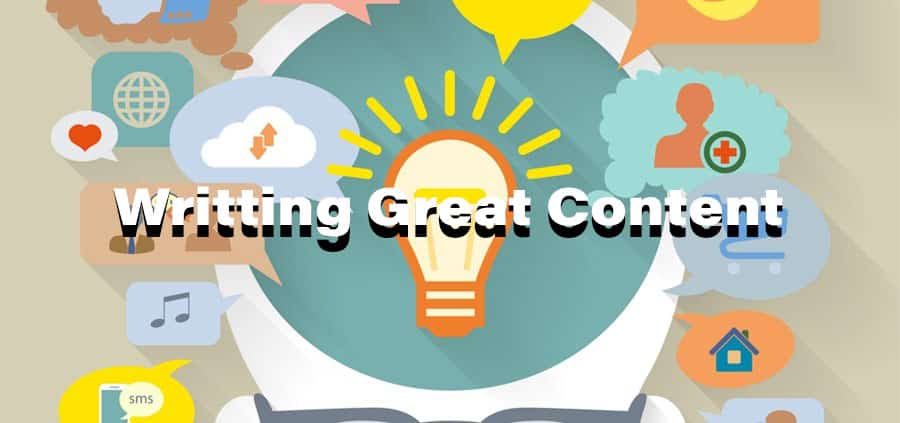 Hi there, let's talk about how can you create a perfect content for your website or blog. It's really an amazing thing to write about something.
Content writing is too hard and too easy. Its really need so much of time and no need of time. It also so dullness to write a content and it also so enjoyable to write content. It really hard to make a SEO friendly content and it really such a easy work to make a SEO friendly content.
I know that you can't understand these. Now let me explain the above paragraph. 
When you are writing your first content then you will find this every hard to write. Because its your first time and also don't even know it in better way. But when you will write a lot of content then you will find it very easy to write.
Your first content will take a huge time to write. Because you need to think much about it and your brain is lazy. So you need much time to write. But you have written a lot of article then then your brain will become active and also you don't need to think a lot about it. Because you have gotten an experience in writing contents. So when you will start writing a content then your brain will automatically tell you that you need to write next.
Writing first content will make you dull. Because it will take much time, you need to think a lot and if there is no one to read your content then it will make you disappointed too. But after writing a couple of article you feel enjoy in writing content a lot. Because it will become habituated with you and you will get more confidence to write your next content as you will get more readers than before.
The most hard work in writing a content is make it SEO friendly. Because to make it SEO friendly you need to know about keywords and the use of it. You need to find the suitable a keywords for your content and you need to use it in you content's first 140 letters. Because every popular search engines like Google crawl your website's first 140 letters when one search about it.
So let's start to talk about it more closely.
Choosing a subject to write
At first we need to choose a subject that we wanna write. Its really an easy task for everybody. Because everyone creates their website or blog by centering a single category and everybody only write about that kind of content. I am not against it. I also agree with it. Because if your blog is about cooking and you are writing content about technical then it will make your visitors disappointed and you will loose your traffic.
Get more knowledge about your content
The content you are trying you need to have a lot of knowledge about it. Otherwise you can't make your visitors happy. Every visitors come to your blog or website to know something new. But if you fail to give them the newest things then your will never come back to you. They will search for it Google or other any kind of search engine to know about their desired things.
So you need to know more about it. Sometimes it occurs that you have written everything that you know. There is nothing to write but there are lot of things about your chosen blog or website category. In that case, search it on Google and visit others blog or website then learn about it, create some thinking about it, arrange everything about it in your mind. But don't do all of these by visiting only one website or blog. There are thousands of content written about it. Just pay a visit to 4-5 blogs or websites so that you can learn a lot about it. Then combine all of their content in your mind, arrange them wisely that your visitors can easily know about what are you writing.
Making SEO friendly content
SEO-friendly content creating is not a big deal. SEO means Search Engine Optimization. That means making your website well-known in search engines. To do that you need to focus on keywords as I have already told you before. Focus on making the best headlines for your content paragraph and images in it give the right alt tag in it. You also need to optimize title for your content. Then it will become automatically SEO friendly.
You don't need to do anything about it. Everybody becomes so afraid when one listens to making SEO-friendly content. Because they think it really hard to do. But it's really an easy task and also so enjoyable when you get great results by doing it.
Duplicate content and Google not indexing pages
To solve this problem you need to know why and when your page gets marked by google that there is a copy content or scrapped content or duplicate content.
As my research google mark a website as duplicate content because of 2 reasons. They are
When you really copy content from a website a website. For example, texts and images.

When you have some spelling mistakes or grammatical mistakes in your main heading or in title of your website. (This reason is figured out by our CEO and Founder who also faced this problem when he was just started our website NearFile)
If fixed all the above reasons for duplicate content then your all pages will start indexing by google.
Make easy to read content
Your content must be easy to read. To do that you need to write your content using multiple paragraphs and headings. Because if you write your content in one paragraph and it becomes so huge then it will be too hard for users to understand it. No one will read your content with such a hardness of reading and they will move away to another website.
So make your content with multiple paragraphs. Give every paragraph a suitable heading that anyone can know what is writing in that paragraph. Make multiple column about it.
Make your Content Beautiful
Beauty is the thing that attracts all people of all around the world. So if you make your content beautiful then it will attract people a lot. You can do this by adding some image in your content matching the the content headline. It will be best if you add an image with every heading of your content. It will also help your visitor to know more about your writing and it also drive more people to your website or blog.
Finishing writing
After you have finished your content writing you need to write some finishing words to gain happiness of your visitors.
Then you need to revise and review your writing again for any mistakes that you have done in your content. Like,
Finding grammatical problems.

Finding any steps that you have mistaken.

Finding wrong spelling.

Finding wrong meaning of sentences.
So on.
Replying comments of your content
This is the most suitable part to attract more people. When a reader reads your content there is meaning that your your reader will understand everything about your content. Then they will comment about it to know more if you have added the comment ability to your website. You must reply them all so that they will satisfied to your website and they will pay visit several time to your website to get latest posts of your website.
By adding comment ability you can also know about your shortage of content and you can fix it and you can also get new confidence to write a new content for your website.

I hope you have got some idea about writing content. If you have still some questions about it, you can just comment below. Thanks you.
Comments
Let us know about your thoughts