5 Best Free OCR Tools to Convert Images into Text
There are times when you need to convert some printed text into digital form. If you do it manually, it will take a lot of your time and energy. What you need is a free tool that does this for you while wasting very little of your time.
This article is about five such tools that can help you copy text from images and convert it into digital documents. These tools are called OCR tools which stands for Optical Character Recognition or Reading tools. These tools compare the text in the image with their own database and note special features of the fonts and characters being used.
Most of these tools are highly accurate and you only notice a few minor mistakes which are very easy to get rid of.
Following are some of the best free OCR tools that you can use for converting your pictures, or handwriting into text.
This amazing tool can handle a variety of image types including PNG, JPG, GIF, and SVG. The tool is very easy to use, and you just have to drag the image or upload it and then click on "get text" to start the process.
After that, you can save the converted text in the place of your choosing. This tool can be used on both phones as well as laptops which is pretty cool. OCR online can convert handwritten text to documents as well which helps a lot in case you need to save your handwritten material in some safe space.
This tool is safe to use, and the site has a very user-friendly layout. This highly accurate tool can extract text from documents, pdfs, photographs, receipts, etc.
The tool has a quick response time and fast loading speed which allows you to scan large documents for text quickly.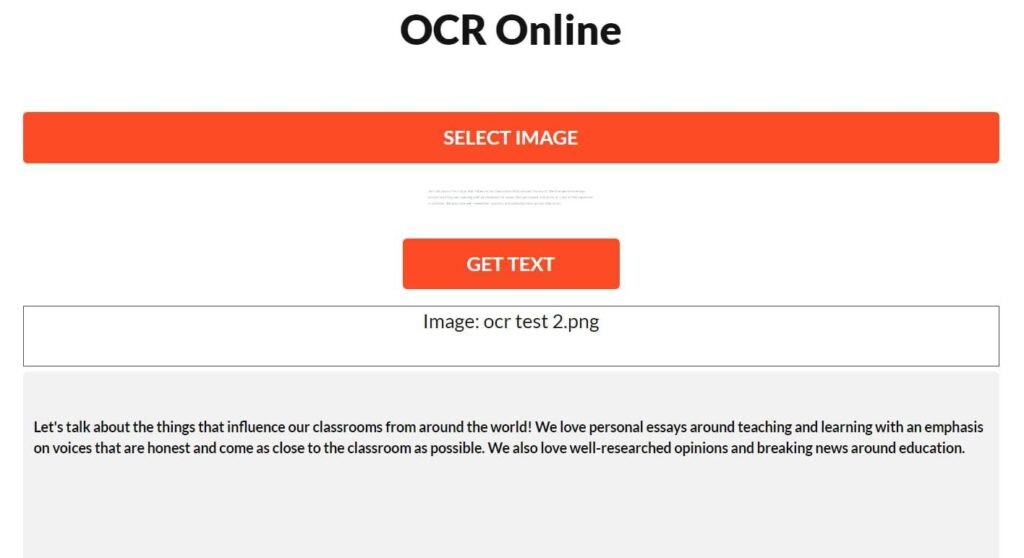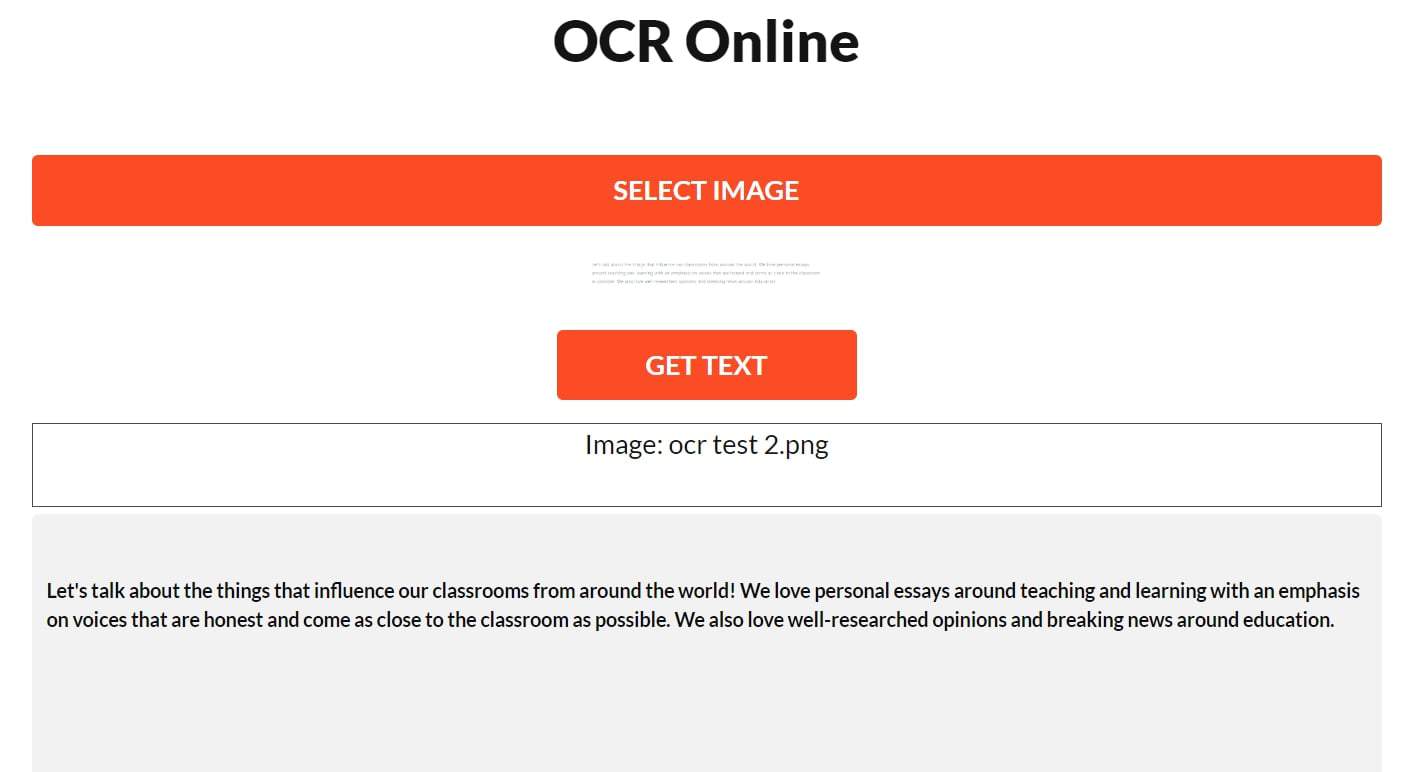 Best Features
Easy to access and use
Supports PNG, JPG, SVG, and GIF extensions
Very accurate image-to-text conversion
Can be used for handwritten material
Offers fast, and secure image-to-text conversion
This is another great OCR tool that offers the best interface. The conversion process is extremely simple and self-explanatory. You can simply upload the file or drag and drop it into the tool. After that, you click on" get the text" and then save the file by copying it to the folder of your choosing.
This tool works extremely well even with low-quality images. The tool uses an AI text extractor to convert various types of images into highly accurate text.
This tool allows you to work with multiple languages including Spanish, Italian, French, English, etc. You can use this great tool to convert your handwritten notes, receipts, etc. into the text as well which saves a bunch of your time.
This tool can be used on different devices, and it allows unlimited text extractions. The best thing is that you get all of these great services without any cost whatsoever.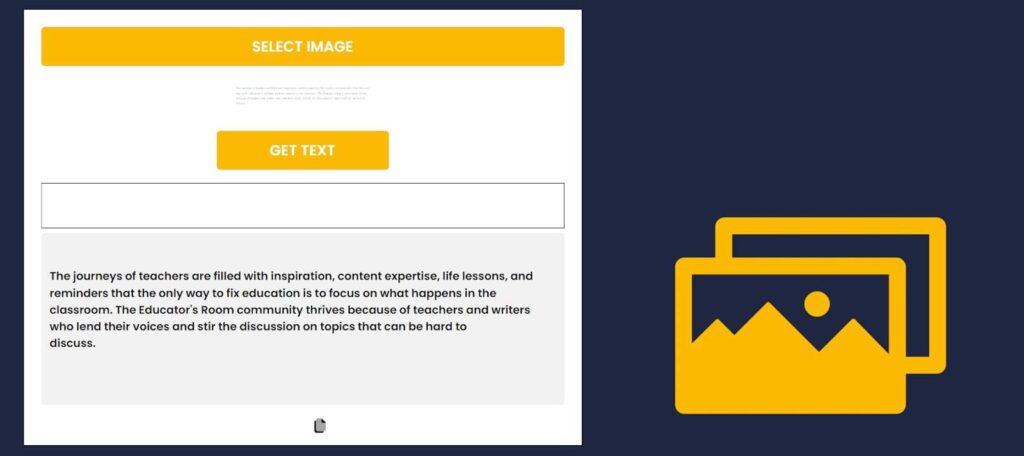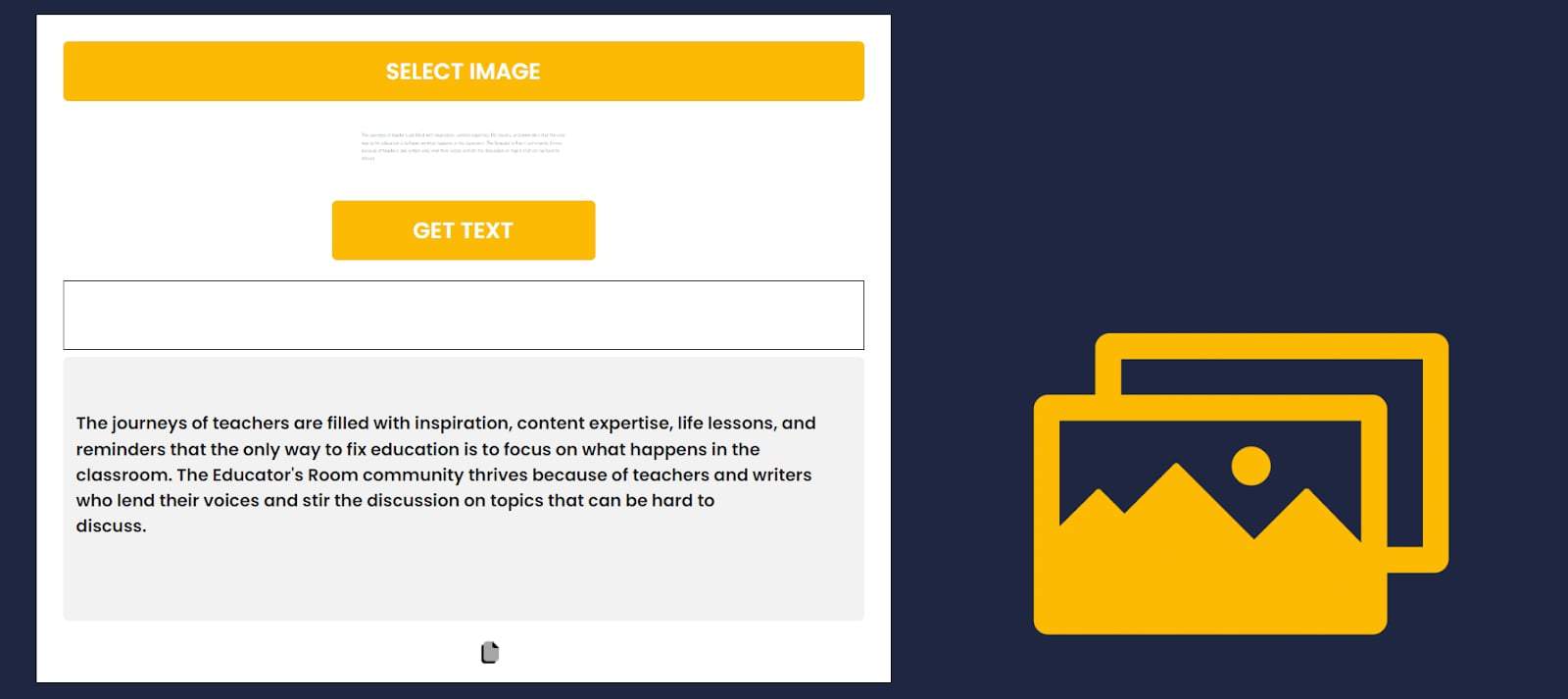 Best Features
Can be used on any device
No signup or subscription cost
Offers limitless extractions
Uses an AI text extractor
Offers the most interactive UI
3. easypdf.com
This particular tool allows you to convert your image into word, excel, or simple text for free which is insane. With the help of this tool, you can extract tables from images and edit them in excel which is extremely helpful.
The tool converts your images into text anonymously and there is no log-in or registration required which means there are no online security issues associated with the tool.
You don't have to use your email or any other personal information to use this great OCR tool. The tool is very simple to use, and it makes sure your files are deleted from the platform after just a few hours of the conversion.
This tool allows you to access your Dropbox or cloud files directly to convert these into text which saves a bunch of your time.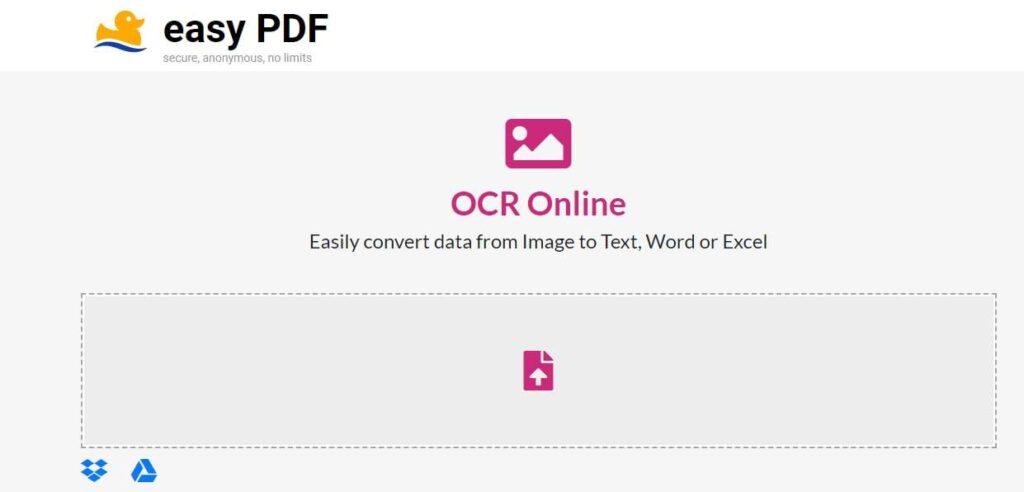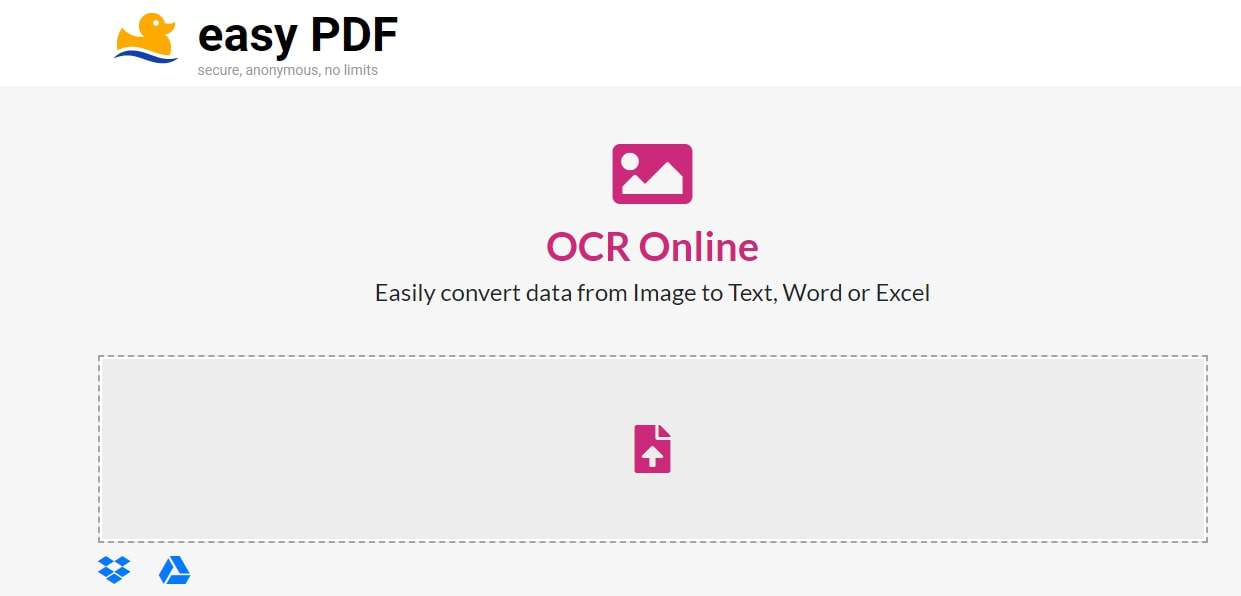 Best Features
Can convert images into word, excel, or text
No email or other personal information is required for conversion
Can directly access cloud storage
Secure and easy image-to-text conversing
No conversion limits
4. Onlineocrnow.com
This great tool supports 100+ languages which means no matter what part of the world you live in; this tool can help you convert your images into text with 95 to 100% accuracy.
The tool is quite simple to use. It can work with different images such as PDFs, JPG, PNG, GIFs, JPEGs, and BMP. You just need to select and upload the file, choose the language, and then click on the convert button to start the process.
This app can be accessed on phones as well as laptops and other similar PCs. The layout of the tool is quite simple and on the main page, there is a step-by-step guide that you can follow to save your time.
This OCR tool is user-friendly and highly accurate and that is why we suggest you give it a go.


Best Features
Supports 100+ languages
Can convert multiple types of images into text
The easy 3-step conversion process
No Log-in or signup is required
Offers a very integrative UI
5. Ocrconvert.com
This free tool can help you convert your pdf files, JPEGs, and scanned images into editable text documents. On the main page, you can see several options like choosing file, language, and output format.
This tool can be used with multiple languages and with different image types. You can easily convert images that are up to 5MB in size with the help of this tool. 
There is no limit to the number of conversions, and you can download files directly from the URL which saves a bunch of your time.


Best Features
Very friendly user interface and layout
Works well even for low-resolution images
No installation is needed
Supports GIF, BMP, JPED, and PDF
Offers highly precise image conversion
Final Words
So, these are some of the best OCR tools that you can use to convert images into text for free. These tools give very accurate results even with images that are of low quality.
We have selected these tools after considering various performance parameters and we assure you that these are worth your time. We really hope this stuff has been helpful and we wish you all the very best.
Comments
Let us know about your thoughts