BlueStacks vs GameLoop – PUBG and FreeFire Game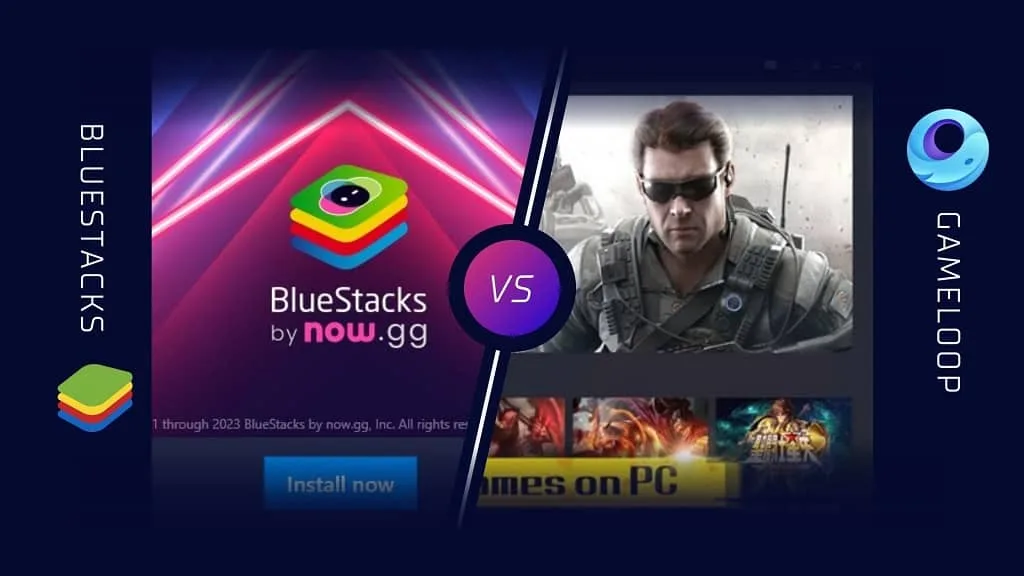 Introduction
BlueStacks and GameLoop are two of the most famous emulators for gaming right now. However, they don't offer the same thing as they are made by different companies.
So, what are the main differences between BlueStacks Vs GameLoop?
In terms of performance, BlueStacks and GameLoop are very similar. However, GameLoop is better suited for gaming while BlueStacks is generally used for any kind of application. You get wide compatibility with BlueStacks which might not hold for GameLoop in all situations.
If you want to know more about the differences, let's cover the features of these emulators first.
Features of BlueStacks
Here are the complete details about the great and awesome features of BlueStacks-
High FPS
BlueStacks is undoubtedly one of the finest emulators that can deliver heavy performance without tolling hard on your PC.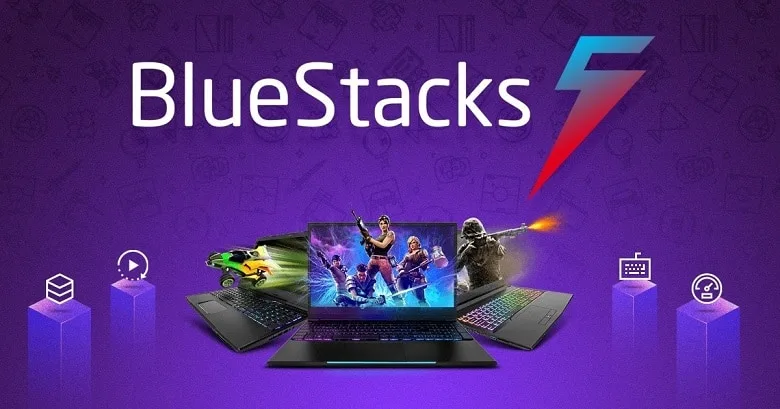 While the power consumption can be little on the high side, the performance is totally unparalleled.
Eco Mode
BlueStacks 5 provides an Eco Mode that reduces CPU usage and power consumption, allowing users to run the emulator on lower-end systems and laptops.
Controls & Macros
With BlueStacks, you can select different macros to open an app or certain combat settings more accurately and fast.
You can customize every keyboard control and choose the one that you like.
On-the-go Translation
The most fascinating feature of BlueStacks is that you can get the translation of any page or window whenever you want. While the translations are not always accurate, you can make do with them in a pinch.
System Requirements for Bluestacks 5
Here are the minimum system requirements for Bluestacks 5-
OS: Windows 7 or higher operating system
Processor: Intel or AMD Processor
RAM: Minimum 4GB of RAM
Storage: At least 5GB of Free Disk Space
Features of GameLoop
Here are all the details about the functionalities and features of GameLoop-
High Performance
Being the official emulator for PUBG, Arena of Valor, and other heavy-hitting titles, you know that GameLoop can deliver on the performance.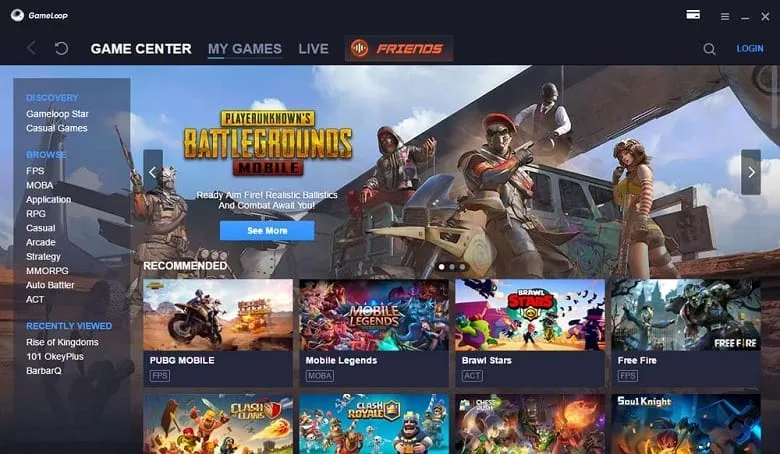 GameLoop is optimized for gaming and provides excellent performance, allowing users to play their favorite mobile games smoothly on their PC.
Anti-cheat System
PUBG, Arena of Valor, and all the famous multiplayer games are filled with cheaters and hackers. To make sure you get the best experience, GameLoop has an integrated anti-cheat system to remove any cheaters from the game. Moreover, the cheating rate with GameLoop is less than 1% which is the best you can get currently. So, don't worry about getting banned while enjoying your favorite titles.
Smart Adaptation
Whether you use a 720p or 1080p monitor, GameLoop can auto-adjust the screen ratio once you launch the application.
Even if you find any problem with the screen, an overlay button is readily available for you to shorten or enlarge the screen with a few taps.
Multiplayer Support
GameLoop supports multiplayer games, which means that users can play with their friends who are also using the emulator.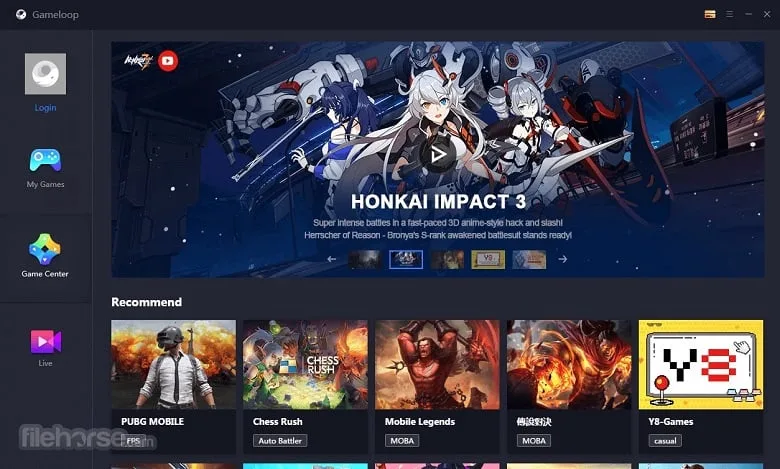 While you and your friends can use different emulators to play a game, it's best to use GameLoop if you're playing PUBG Mobile, or Arena of Valor as those are exclusively optimized.
Minimum Requirements to Run GameLoop
Operating System: at least Windows 7 64-bit system
Processor: Intel Core i3 5th gen or AMD Phenom II X4 945
RAM: 3 GB
GPU: NVIDIA GeForce GTX 460 or AMD Radeon HD 5870
HDD Space: 1GB of free storage
Overall Comparison of BlueStacks Vs GameLoop
There are a lot of features that contrast with each other for the BlueStacks Vs GameLoop discussion. For example, performance, compatibility, interface, and so on. Let's cover these topics one by one.
| | | |
| --- | --- | --- |
| Features | BlueStacks | GameLoop |
| Performance | | |
| Compatibility | | |
| UI | | |
| Disk Cleanup | Built-in | No on-board disk cleaning application |
| | | |
User Interface
The interface of GameLoop is very jam-packed with its flagship games such as PUBG, Arena of Valor, etc. That might not seem very clear to many. However, with BlueStacks you get a pretty clean UI with minimal ads and game suggestions.
Performance
Both of these emulators are heavy hitters when it comes to performance. However, if you want the most power out of it, BlueStacks is the better option in most cases. It delivers stable power output, higher FPS, fewer bugs, and more.
GameLoop can also deliver the same or even in some cases better performance results. But the consistency is not good enough for many applications other than games.
Efficiency
Compared to any good emulators out there, BlueStacks is by far the most efficient one you can find.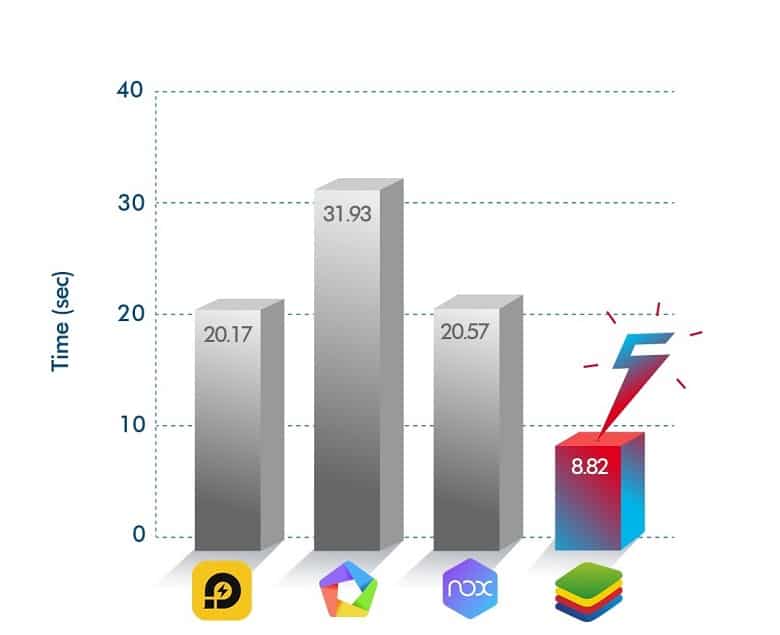 This graph clearly shows that the average CPU usage to run is marginally lower for BlueStacks. While the graph does not include the benchmark test from GameLoop but you can get the general idea that BlueStacks is the king if you want to run apps on low-end PCs.
Compatibility
If you want the best compatibility with any type of game, then BlueStacks is the way to go. Why is that? Because BlueStacks has been in the emulation scene long before their competitors. So, it can deliver stable performance and a wide range of compatibility with most Android applications.
On the other hand, GameLoop is better for gaming as those gaming applications are well-optimized. You may have to struggle with other applications, however.
FAQs
Is Bluestacks or Gameloop better for gaming?
Gameloop is specifically designed for gaming, so it has several built-in features that make it ideal for gaming, such as a game center, game booster, and live streaming options. However, if you're looking for a more general-purpose Android emulator with wide app compatibility, Bluestacks may be a better choice.
Do Bluestacks and Gameloop work on Mac?
Yes, both Bluestacks and Gameloop are available for Mac computers.
Is Bluestacks or Gameloop free?
Both Bluestacks and Gameloop offer free versions, although they may include ads and limitations. Premium versions are also available for a fee, which offer more features and no ads.
Can I use Bluestacks or Gameloop to run multiple Android apps at the same time?
Yes, both Bluestacks and Gameloop allow users to run multiple Android apps simultaneously. However, running too many apps at once may affect performance and slow down your computer.
Conclusion
To conclude everything, BlueStacks is surely a better pick considering everything. Still, anyone can have their own preferences. You can try both of these emulators as long as you want and then come to a verdict.
So, download them now and get on playing to know!
Comments
Let us know about your thoughts