All in One – System Rescue Toolkit (AiO-SRT) 2018-01-02
All in One – System Rescue Toolkit (AiO-SRT) 2018-01-02 Download for Windows 11, 10, 8, 7 (64 or 32) bit PC. Free download the latest version 2023 of the software from NearFile.
Technical Details
App Informations
App Name
All in One – System Rescue Toolkit (AiO-SRT)
File Name
AiO-SRT_2018-01-02.iso
Operating System
Windows 7 / Windows 8 / Windows 10 / Windows 11
Date Published
09, April 2020
Date Modified
16, October 2022
About
All in One – System Rescue Toolkit (AiO-SRT) free download for PC Windows (10/8/7/11)
All-in-One – System Rescue Toolkit (AiO) is a live desktop distribution tool that will assist you in recovery tasks. For example, you can easily do a system recovery, recovery of various files, etc. You can change your Windows password and reset it again. This multi-feature tool will provide you with a variety of services. Let's talk about these services.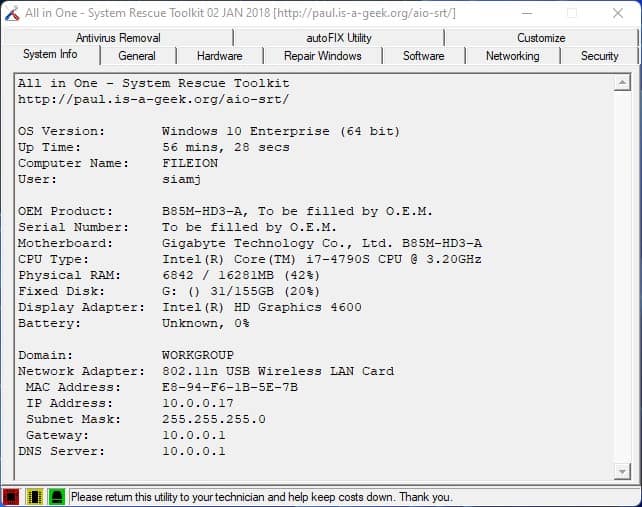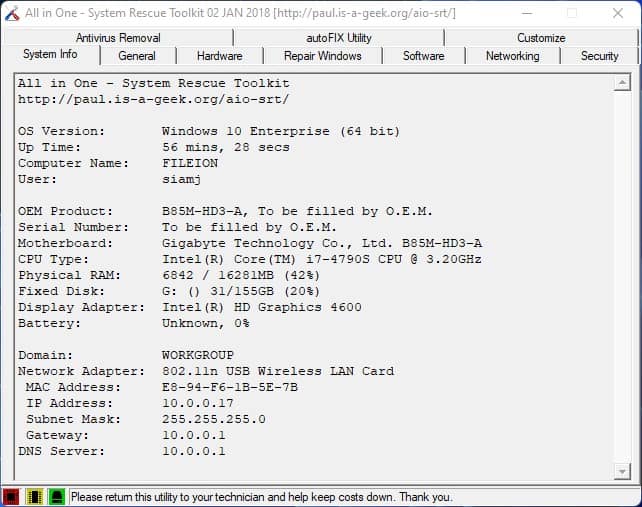 Rescue Your Data
Sometimes it can be seen that all of your stored data is suddenly lost. Maybe it's due to a virus. If you want you can rescue all of the lost data by using All-in-One – System Rescue. So no more worries about lost data.
Reset Windows Password
It is able to reset your Windows password. If you have forgotten or lost your Windows password for any reason, you can reset your password using this tool. So if the password is lost for any reason, there is no reason for being anxious.
Take care of your hardware
It is a very good hardware monitor sensor. Even it takes care of all your parts of hardware. Like hard drive usage, hard drive diagnostics, CPU stress test, etc. Even it is a very device manager and do management of disk. It means all in one.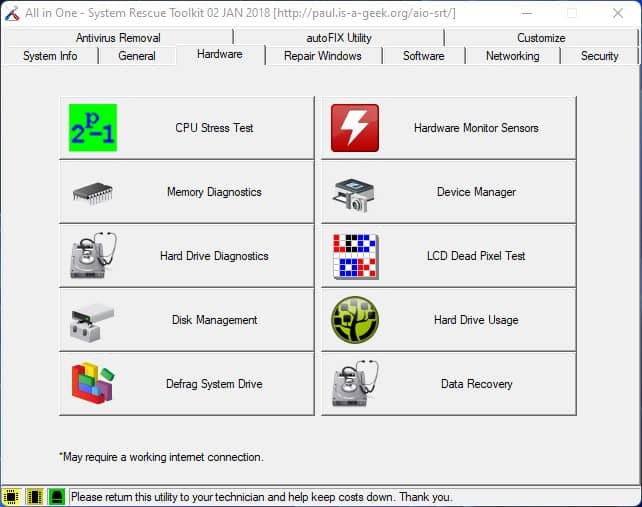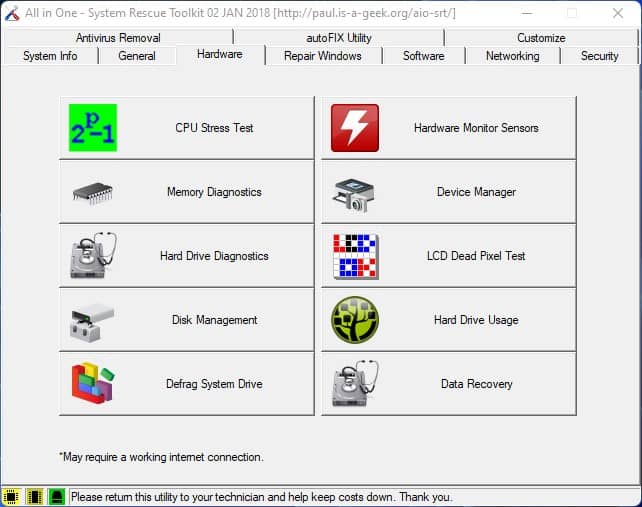 Fixes broken Windows software
This tool is able to fix if your Windows software crashes for any reason. And it doesn't take long for this tool to fix it. Since it is very user-friendly, you can easily understand all the processes and fix broken Windows software in less time.
Run your device without break
It has don't sleep mood. So if you are active in this mood then your device will run continuously. It will prevent sleep of your device and hibernate, shutdown, and screensaver also. So that you can do work with your device continuously.
Task Manager
Another best service of All-in-One – System Rescue is task managing. It can manage all the work of your device in a beautiful way. It reduces your hassle.
Windows Security Centre
These tools ensure your window's security. It protects your windows from any kind of attack which is harmful to you. It is an online virus scanner. Since it can scan viruses automatically and instantly warn you so that your device is not likely to be infected by a virus.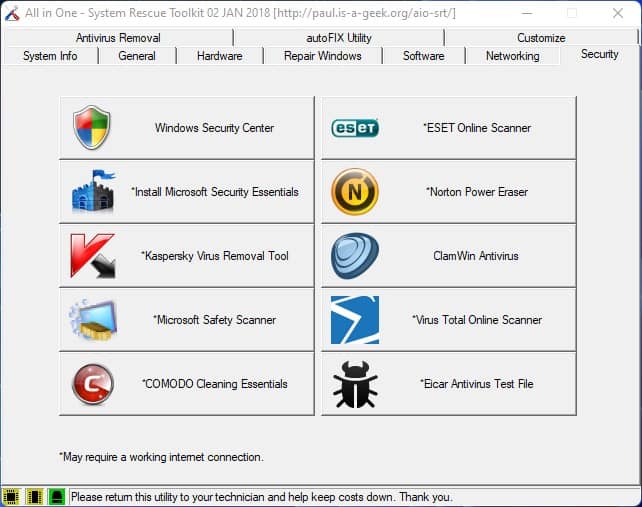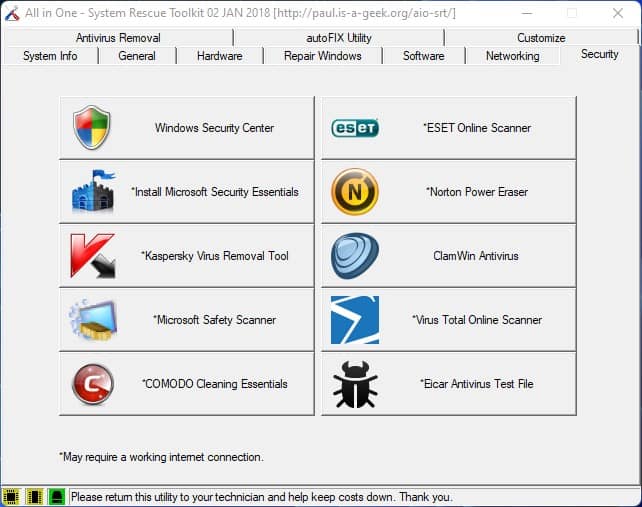 Alternatives
Here are some alternatives of it:
Kyhi's Recovery Drive
The Ultimate Boot CD
Knoppix
Native Windows Recovery Disk
Pros
It is free for all users
Good System Analyzer
Good File Manager for Technicians
It has Reboot Safe Mode
Portable web browser*Memory diagnostic
Cons
FAQ's on All in One – System Rescue Toolkit (AiO-SRT)
What is all one system rescue toolkit?
The All in One – System Rescue Toolkit (AiO-SRT) is a free Linux operating system. Not only that it can be used in many cases of windows. It specializes in all types of work of Windows. One of the best rescue systems. You can take help of it for any issue of windows system. Even already I've described its multiple activities.
What are the best system rescue discs for Windows?
Are you looking for the best system rescue disk for Windows? Then it can be mentioned the top five rescue disk of market. These are Hiren's BootCD PE x64,  Kyhi's Recovery Drive, The Ultimate Boot CD, Knoppix, and Native Windows Recovery Disk. At present these five discs are popular and most used disks.
What is the best rescue disk?
According to 2022 best rescue disks are Avast Rescue Disk, Kaspersky Rescue Disk, Trend Micro Rescue Disk, ESET SysRescue Live, and finally Dr. Web LiveDisk.These are effective rescue disks.
Do I need to create a recovery disk for Windows 10?
If you want to keep your Data safe and secure, then it is really good to create a recovery disk for your Windows 10 PC.
Can I download a Windows 10 recovery disk?
Yes, you can easily download Windows 10 recovery disk online.
Our Uses
All in One – System Rescue Toolkit (AiO-SRT) has many uses. On the plus side, it has multiple features that are free to use. Its features and services are divided according to the sector like Security, General, OS Repairs, hardware, etc. Personally, I use it and recommend it highly.
Alternatives
Also, check the alternatives of All in One – System Rescue Toolkit (AiO-SRT)
Comments
Let us know about your thoughts