7-Zip 23.01
(104 votes, average: 5 out of 5, rated)
7-Zip free download for PC Windows (10/8/7/11)
Unlike many file archivers and compressors in the market, 7-Zip stands out because it's completely open-source and customizable. This software is a popular file archiver that uses the 7-zip file extension to compress your files so that you can store or move those files quickly.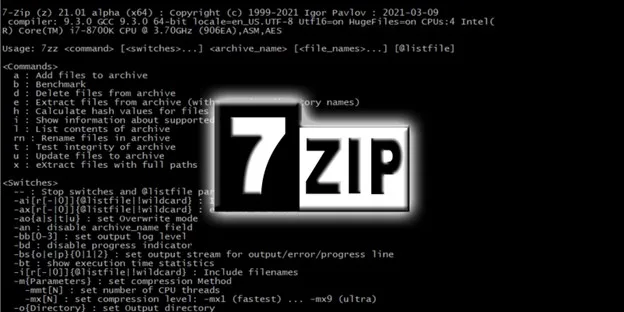 This application works with any computer, whether it's high-end or low-end. Additionally, the operating system support is rich with Windows XP to the latest Windows 11 support. There are very few things that can't be done with 7zip and you'll get a more vivid idea after learning the features.
Features of 7-Zip
Here are all the details –
Faster Compression & Better Compression Ratio
7-Zip can easily make room for your other files because of its efficiency and higher compression ratio. For the same file, it can achieve a better compression ratio compared to other popular archivers and file managers.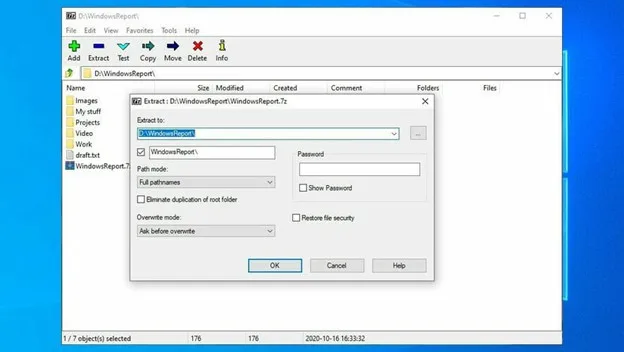 With the new LZMA compression technology, you can compress and archive any files without thinking twice! Get up to a 2-10% better ratio compared to the industry-leading archiver.
Heavyweight Security
In addition to a better compression ratio, you also get to enjoy tons of security protocols to ensure your files are always safe. Efficient AES-256 encryption and total lockdown on your file. The option to password-protect your files definitely becomes resourceful when you're on the move with your sensitive documents.
Complete File Manager
Not only can you archive, extract or compress your files but you can also manage your files with this tool. It offers tons of incredible features that can definitely enhance your file-managing experience. While it does not offer the most beautiful UI, you can totally get your job done!
Wide Range of File Support
7-Zip supports a wide range of archive formats, including 7z, ZIP, RAR, TAR, GZIP, and BZIP2. These formats are heavily complemented with more unpacking formats such as CAB, ISO, ARJ, LZH, CHM, MSI, WIM, Z, CPIO, RPM, DEB, and NSIS. With improved support, any user can use this application to store their files securely regardless of their operating system.
Additional features –
7-Zip can now store additional file timestamps with better accuracy.
UDF support was improved to UDF version 2.60.
New switches for Linux version for TAR archives.
HFS and APFS support was improved.
Better file support for Apple systems.
Pros of 7-Zip
Higher compression ratio and efficiency
Improved security and encryption
Multiple format support
Free and open-source
Cons of 7-Zip
The UI can be a bit better
FAQs About 7-Zip
What is the Compression Level in 7-Zip?
The compression level on 7-Zip can reach up to 1350 percent compared to Winzip files. The highly efficient .7z format can achieve this number on the ultra compression level.
What is a 7-Zip File?
A 7z file is a compressed archive file format created by 7-Zip, a free and open-source file archiving software. The 7z format provides a high compression ratio and supports strong encryption.
Why is it not Working?
7-Zip can stop working because of Corrupted installation, outdated version, antivirus interference, and other issues. You can either troubleshoot the application or re-install it to successfully use it.
Conclusion
7-Zip is a highly recommended file archiving software, especially for users who need to compress and extract a variety of archive formats. It has a high compression ratio, strong encryption support, and is easy to use with its integration with the Windows shell and file manager.
Moreover, it's free and open-source, making it an accessible solution for users with different levels of technical expertise. So, it is a great option for users who need to manage and protect their archived files. You can totally download it and enjoy its perks!
1.24 MB32bit
/


1.51 MB64bit
Apps Informations
---
App Name
7-Zip
File Name 32 Bit
7z2301.exe
File Size 32 Bit
1.24 MB
File Name 64 Bit
7z2301-x64.exe
File Size 64 Bit
1.51 MB
VirusTotal Hash Code
26cb6e9f56333682122fafe79dbcdfd51e9f47cc7217dccd29ac6fc33b5598cd
VirusTotal Scan Report
Operating System
Vista / Windows XP / Windows 7 / Windows 8 / Windows 10 / Windows 11
Date Published
12, March 2023
Date Modified
01, July 2023
Category
License
Free
Publisher
Versions
Check other versions
Comments
Let us know about your thoughts