Bulk Rename Utility 3.4.4.0
(114 votes, average: 5 out of 5, rated)
Efficiently organize and rename your files with Bulk Rename Utility. Download for PC and streamline your workflow today.
Technical Details
App Information
App Name
Bulk Rename Utility
File Name
BRU_setup_3.4.4.0.exe
VirusTotal Hash Code
6c178e80ab616d29390f3220469db21f7f705b8cbda902ca8d80d33438dd30e6
Operating System
Windows 7 / Windows 8 / Windows 10 / Windows 11
Date Published
15, July 2021
Date Modified
16, April 2023
About
Bulk Rename Utility free download for PC Windows (10/8/7/11)
Bulk Rename Utility for Windows is a kind of software that you can use for renaming different files and folders based on flexible criteria. For example, the users can add a prefix or suffix to a file or folder or they can change three letters with four another letters in a filename. This totally free-of-cost program is for personal use at home.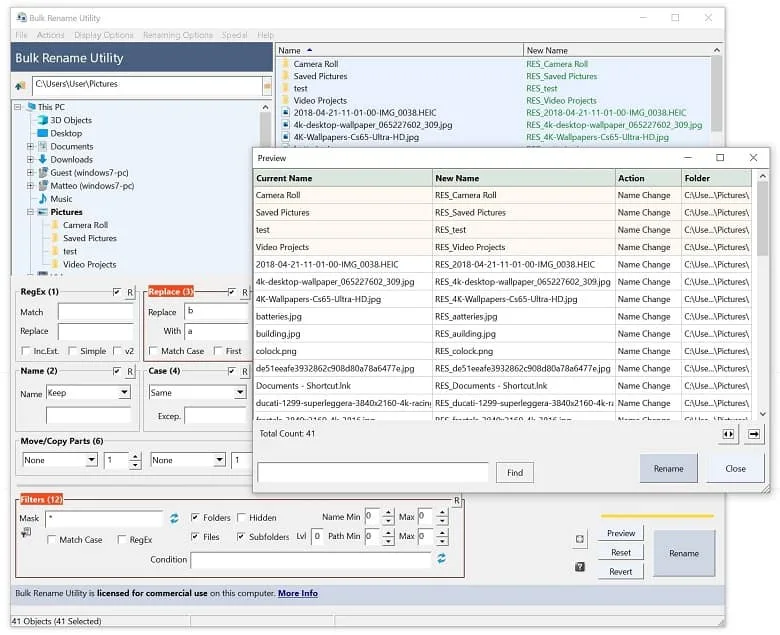 Features
Renaming from A Text File
You can rename your files according to a text file. The text file must contain a list of 'Old Name' & 'New Name' pairs, differed by a pipe symbol. To use this facility, you have to create a text file in the correct format.
Regular Expression
This Software supports powerful "Regular Expression" processing. You'll be allowed to enter a flexible Match expression & a flexible Replacement expression then the software will generate the suitable name using the expressions. For example, The users can use RegExp strings to swap 2 words in a filename or apply fixed formatting or remove numbers.
Auto-Date
You can add different dates to the file name in various formats. This option will allow you to prefix or suffix the file name with a variety of dates. The date that the file/folder was created or modified and also with the current date. It is useful for images.
Changing File Attributes
This software will allow you to change the attributes of files and folders once they have been renamed. It may be useful if you want to flag all renamed files/folders as requiring archiving or if you wanna hide your renamed file or folders.
Bulk Rename Here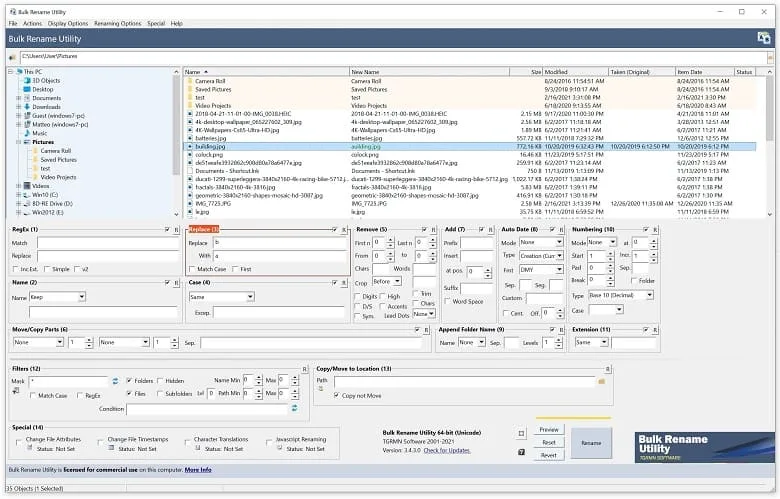 In this program, you'll find a facility named "Bulk Rename Here", when you right-click a file/folder within windows explorer. This option will provide you quick access to the utility.
Favorites
If you wish to rename a bunch of images in one folder and a bunch of audios in another folder then you can create two favorites called Pictures and Audios files. Every favorite will hold with it the selection criteria, rename criteria, and current folder.
Action Menu
The "Action Menu" option will give you a variety of shortcuts to speed up tasks and these are –
Select all
Deselect all
Select from Clipboard
Jump to the path
Refresh Files
Undo rename
Create Undo Batch File
Refresh Tree
Picture Viewer
You can display a preview window, which will show the images for the recently selected file. Only certain files are supported such us (JPG, BMP, WMF, GIF).
Changing File Timestamps
You can change the timestamp info for the file/folder once you've renamed them. It'll be useful if you wish to sort photographs in a particular sequence.
Append Folder Name
This option will permit you to append the name of the containing folder to the filename.
Quick Rename
If you wish to quickly rename a file/folder without applying any criteria, then you've to press F2 on the filename & edit it manually.
Is Bulk Rename Utility for windows safe?
-Yes, it is totally safe. It'll not harm your device or PC. You can use this software without any insecurity.
Pros & Cons of Bulk Rename Utility for Windows
Pros
Easy to use.
Easy to install.
32-bit and 64-bit applications.
It's free.
So many useful features.
Rename files in many ways.
Rename MP3 files.
Very fast.
Cons
While migrating to one drive, there is a list of unsupported characters in file names.
Conclusion
Bulk Rename Utility for Windows is getting downloaded very customarily. It has a huge base of regular users and an active users convention. It is required to use this software within a business subsistence, company, or for commercial purposes by a commercial license. So you can use this amazing file renaming software for your own benefit.
Screenshots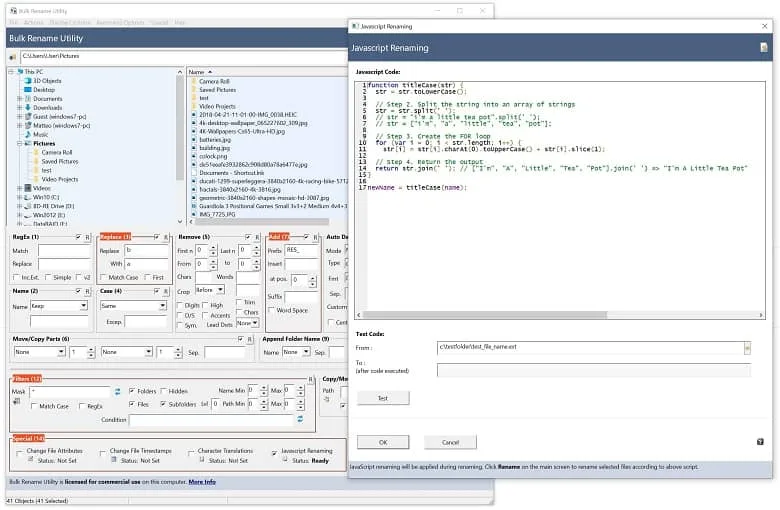 Alternatives
Also, check the alternatives of Bulk Rename Utility
Comments
Let us know about your thoughts