Coolmuster Android Assistant 4.10.49
(98 votes, average: 4.73 out of 5, rated)
Coolmuster Android Assistant free download for PC Windows (10/8/7/11)
The relationship between your Windows and Android device can be far greater than you ever imagined with Coolmuster Android Assistant.
This software is an Android management system that can fully optimize your Android device's potential. With this application, you can transfer files, back up all of your data, restore them, and send text messages without taking up your smartphone.
If you're thinking that these are all of the features then you'll be totally wrong. Read more to learn all the features offered by this one-stop solution for any Android device.
Features of Coolmuster Android Assistant
Take a further glance at what it has to offer-
Easy File Transfer
File transfer can be a complex task if you have support issues with your Android device. However, with Coolmuster Android Assistant, it has never been easier.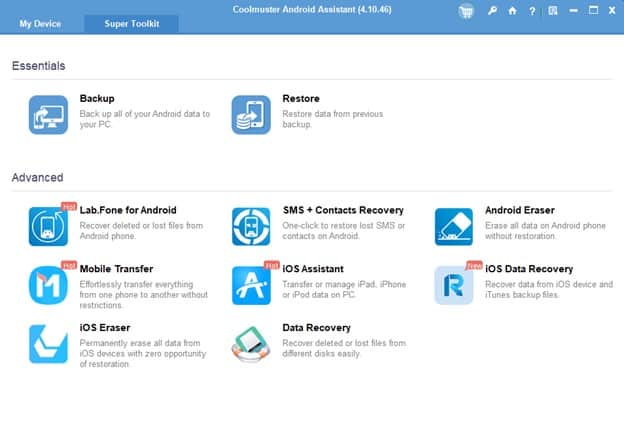 After you connect your Android or iOS device through USB debugging, you can browse all of your files through the file manager on Coolmuster Android Assistant. Select any file and you can export or import with a click. You will be thrilled to witness such convenience because file transfers are not fun at all and Coolmuster Android Assistant changes the narrative completely.
Unparalleled File Support
Here is the long list of file support of this application according to their categories-
SMS
Messages can be formatted and shown in XML, HTML, TEXT, CSV, and BAK formats.
Music
3GP, MP4, M4A, AAC, TS, FLAC, MP3, MID, OGG, MKV, WAV format.
Photos
JPG(JPEG), PNG, BMP, GIF, and WEBP
Videos
MP4, MOV, AVI, WMV, 3GP, MPEG, WEBM, TX, MKV
Books
PDF, ePub, DOC, MOBI, TXT, EXE, HTML, CHM, CAJ
Swift Backup & Restore
Along with undisputed file support, users can opt-in for a one-click backup of their mobile device. If you have used the backup feature of this application then you won't have to worry about losing your mobile data anymore.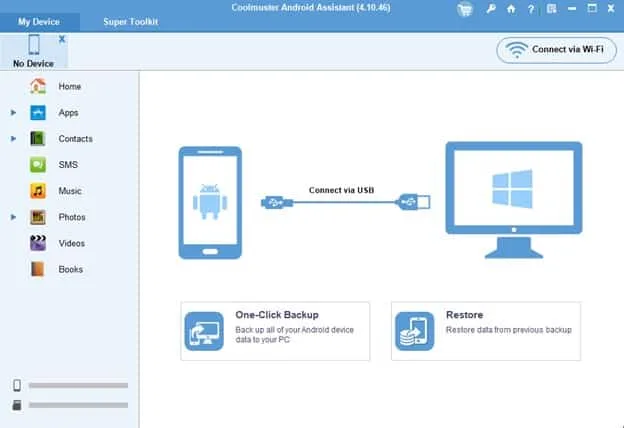 Because with a click of a button, you can restore everything just as it was. So, no need for you to worry about your files ever again.
Included Messenger
Among all the cool features, the messaging feature might be the most underrated. As the name suggests, once your device is connected, you can send and receive messages on the Coolmuster Android Assistant application perfectly.
The best part is that the application also offers a mass messaging feature. You can just set your message template and send it to a batch of people within seconds.
Pros of Coolmuster Android Assistant
The interface is easygoing and comprehensive
Free to use
Easy export and import feature
Wide file support system
Quick backup and recovery process
Cons of Coolmuster Android Assistant
The trial version has some limitations
FAQs About Coolmuster Android Assistant
Here are some of the most frequent queries about this app-
How do I use the Coolmuster Android assistant?
To use Coolmuster Android Assistant, first, connect your Android device to the computer via USB and then enable USB debugging. Once the debugging is enabled, you'll notice a message popup on the Windows interface and ask you to allow permission. After that, just confirm the App permissions and you're connected!
Can you import and export pictures with Coolmuster Android Assistant?
Yes, you can easily import and export your pictures and videos from one device to another. Just connect your Android device and then select the files you want to import and export.
Is it free??
No, Coolmuster Android Assistant is not free to download and it only has a trial version. You can get the full version at a price of $29.95 for a year. The lifetime subscription cost of Coolmuster Android Assistant is $39.95.
Conclusion
Finally, the moment of truth has arrived. To summarize everything, it can easily be said that Coolmuster Android Assistant is an awesome addition to your Windows and Android devices. Your daily life will easily get more convenient and productive with this application.
So, what's stopping you from installing Coolmuster Android Assistant? Hurry and level up your Android device management experience.
Coolmuster Android Assistant 4.10.49
21.2 MB
Apps Informations
---
App Name
Coolmuster Android Assistant
File Name
cool-android-assistant.exe
File Size
21.2 MB
VirusTotal Hash Code
cfba12635f59ac85f1f7161741652ff5928ea0a7eb1df73d511bd35f56c11f13
VirusTotal Scan Report
Operating System
Vista / Windows XP / Windows 7 / Windows 8 / Windows 10 / Windows 11
Date Published
15, March 2023
Date Modified
18, March 2023
Category
License
Trial
Publisher
Alternatives of Coolmuster Android Assistant
Comments
Let us know about your thoughts