After installing any Windows OS, it's really a struggle to find all the necessary apps in one place. However, with something like the DLC Boot, your problems are solved without any trouble. You can use it for disk cloning, image creation, and many other important troubleshooting processes.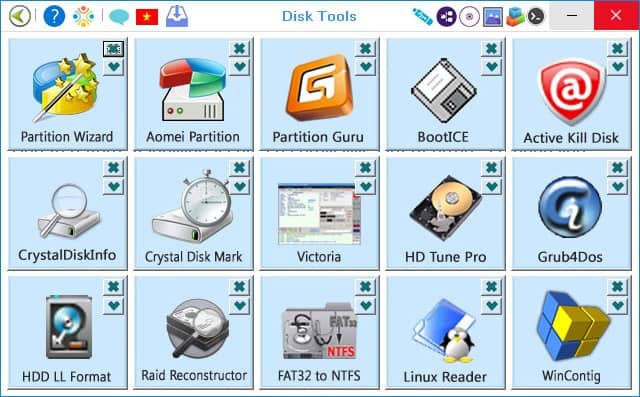 You can even install many other utilities that your Windows might need. So, it provides the perfect Windows experience that you're missing out on!
Features
Now let's get to know what actually goes inside the whole DLC Boot application by looking at the features-
Simplicity Delivered
Windows installation can be a bit tedious at times, right? So, it'll get too troublesome if you're facing issues after going through the tough process. That's why DLC Boot has the simplest interface to solve any troubleshooting process. On top of that, you're also getting all the additional utilities installed with just a few clicks! Isn't that the best way to get started with your Windows OS?!
Troubleshooting Companion
Windows can be a bit problematic at times. Or maybe you've installed the OS wrongly. Whatever the reason is, you don't always have to reinstall Windows, just be bug-free. Using DLC Boot is more than great for troubleshooting purposes. It scans the system and recommends what you should do to solve the issues.
Utility Tools Integration
Yes, the whole solving your Windows system issues is great and all but what else does DLC Boot offer? Well, the best part is that it has tons of integrated tools that can enhance your whole Windows experience. From disk tools to driver tools, it has got your back. You don't even have to think about installing all the additional tools separately.
Free & Safe
You might be worried about the price of such an application. However, that's not a thing to be anxious about as DLC Boot is totally free and safe to use. The developers of this whole package ensure perfect security protocols and a perfectly virus-free environment to install all the apps you want in one go!
Pros
Simplistic UI
Tons of useful tools
Perfect for newly installed Windows OS
Free to use
Cons
Not all tools are well-optimized
FAQ's on DLC Boot
How to use the DLC boot 2022?
To use DLC Boot 2022, you first have to install the whole package on your Windows device. Then, you can just open the software and choose your preferred item on the list.
How do I boot DLC from a USB HDD?
First, format the USB HDD completely. Then, extract the DLC boot and open the folder. Run the executable file with administrator access and then select the USB boot option. Lastly, click on the create boot DLC and you're done.
How do I create an ISO file from DLC boot?
First, extract the zip file and open the DLCboot application as an administrator. Then, press the Disc button to create the ISO file. Select any folder to create the file. Give the file any name and it's done.
Does DLC boot 2021 need antivirus?
No, you don't need an antivirus with DLC boot 2021. The package itself comes with a Kaspersky antivirus that you can easily install. Still, it's your decision whether you want to install it or not.
Conclusion
If you're someone who regularly goes through different Windows OS installations, DLC Boot will surely be a worthy companion. Not only can it solve your troubleshooting issues but it can also integrate all the necessary tools for your Windows to run smoothly.
So, don't sit back to solve the issues one by one, and start using DLC Boot to ease your Windows installation process.