Slic3r 1.3.0
(55 votes, average: 5 out of 5, rated)
Slic3r free download for PC Windows (10/8/7/11)
Completely Free & Open-source 3D Printing & Slicing Engine
Slicing is one of the core processes of printing your 3D models into reality. And that's why you obviously need the very best slicing software available. Meet Slic3r, the go-to choice for many amateur and professional 3D designers for their slicing.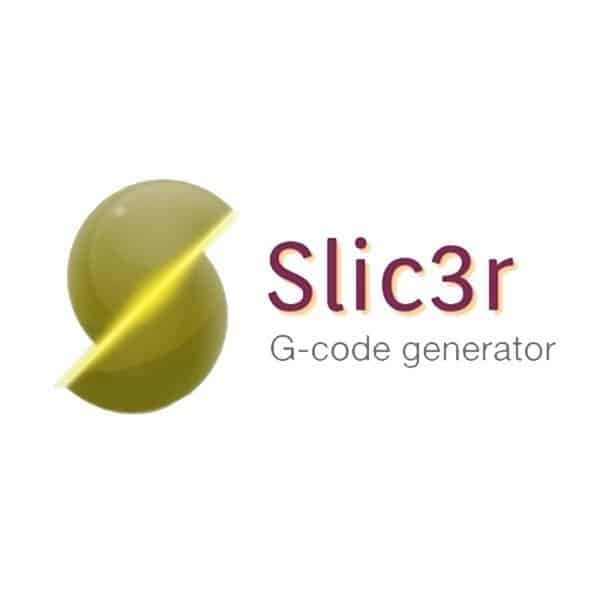 It is completely intuitive and fun to use, as it has numerous incredible features that you will love from the get-go!
Features of Slic3r
Want to know more about Slic3r? Here are some cool features of this slicing application-
Fast G-code Generation
Slicing is definitely a lengthy process, and you have to wait for a long time before you are done with your projects. But with Slic3r, you can get up to 100 times the performance compared to other Slic3r due to its fast G-code generation.
So, make your model a reality without wasting too much of your precious time!
Robust & Modular
The codebase of Slic3r has more than 1,000 units and regression tests which have been constantly evolving for the last 6 years. Furthermore, the core of Slic3r is libslic3r, a C++ library that provides a granular API and reusable components.
The core parts of Slic3r are written in C++11, with multithreading. The graphical interface is in the process of being ported to C++14.
Advanced Tools & Control
Whether it's controlling multiple printers or handling proper cooling mechanisms, Silc3r can ease up your printing process immensely! You can even choose between graphical interfaces on command line operation for better flexibility.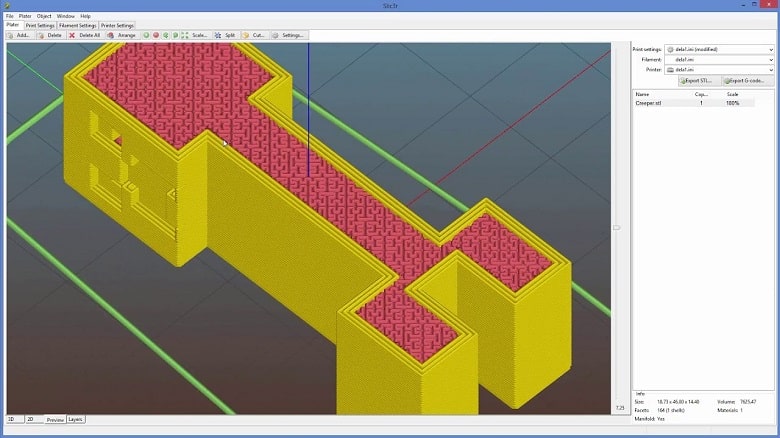 Moreover, you don't have to worry about the input or output formats, too, as Slic3r reads STL, AMF, and OBJ files and perfectly outputs G-code and SVG files.
Wide Compatibility
Not only just several operating systems, but Slic3r has great support for all the popular 3D printers out there. RepRap (Prusa Mendel, MendelMax, Huxley, Tantillus…), Ultimaker, Makerbot, Lulzbot AO-100, TAZ, MakerGear M2, Rostock, Mach3, Bukobot and lots more. And even DLP printers are supported with Slic3r!
How to Download & Install Slic3r?
Confused about the whole process of downloading and installing Slic3r on your Windows system? Well, as an open-source software, it definitely has some levels of complications associated with it. So, here are the guides you need to check out-
Step 1: Search for "Slic3r" in the search box once you go to the homepage of this website.
Step 2: After the webpage has loaded completely, click on the download button.
Step 3: Go to the file destination and open the zip file.
Step 4: Double-click on the "Slic3r.exe" file and wait for it to open.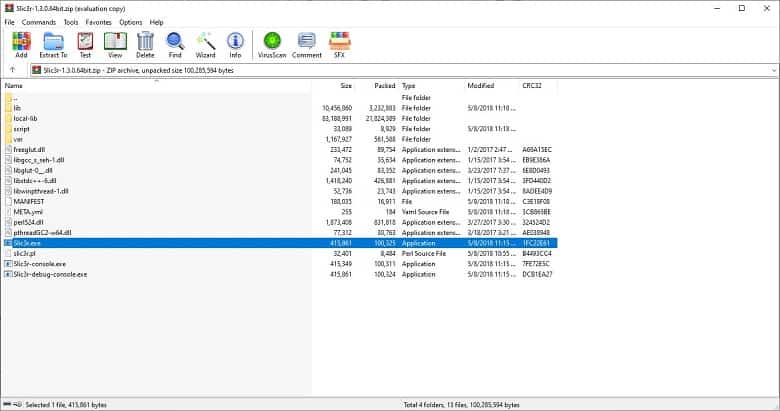 Step 5: Once the file is loaded, you can now start your slicing journey with Slic3r!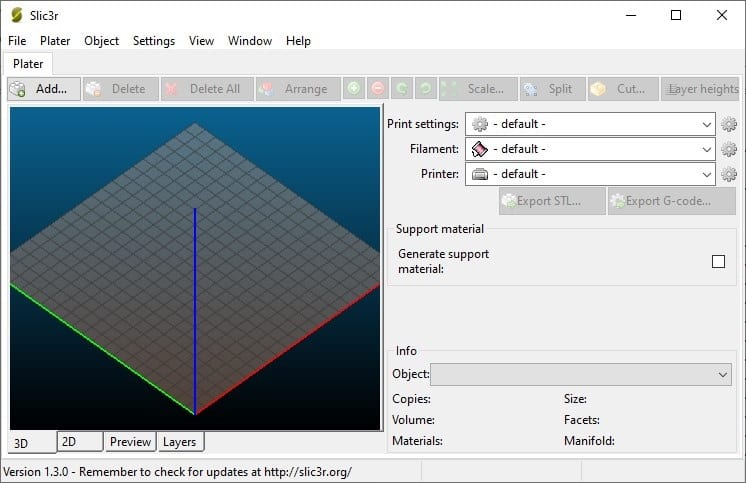 Pros of Slic3r
An extensive C++ library for internal algorithm
Infill patterns manifestation
Compatible with loads of printers
Free and open-source
Cons of Slic3r
No print time estimation
The layouts can be better
Troubleshooting with Slic3r
Here are some common problems with Slic3r that you might face and ways to recover from those issues-
Problem: The Printing Bed is 1/4th of the Screen
This problem is very common and easy to solve as well. For your 3D view, the printing bed will look normal, but when in 2D view, it will take up only 1/4th of the screen.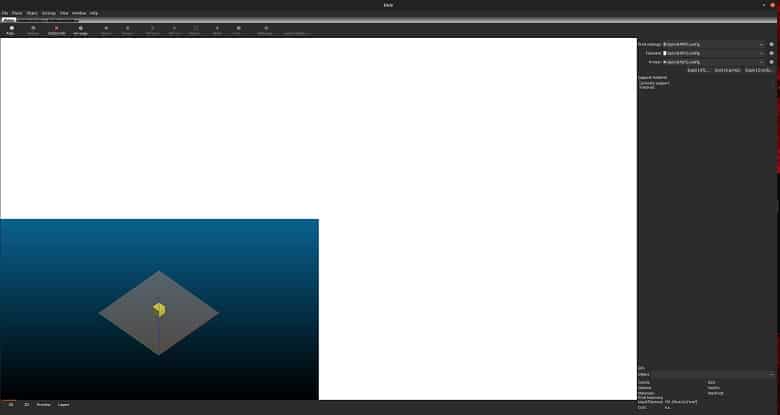 Fix: Just change the monitor scaling set to 100%, and that should resolve this issue.
Problem: Unresponsive Combining of Infill Every x Layer
Slic3r has some recurring issues with infill combinations. To tackle this problem, here's what you can do-
Be sure the height of the combined layers can be extruded
Generally, 80% of the nozzle diameter is considered practical. It's normal to face flow volume issues like this, but you can just print the infill faster to avoid the deviation.
FAQs
Is Slic3r compatible with different operating systems?
Yes, Slic3r is compatible with Windows, macOS, and Linux operating systems. There are downloadable versions available for each platform on the Slic3r website.
Can Slic3r customize printing settings?
Yes, Slic3r allows you to customize a variety of printing settings to achieve the desired print quality and functionality. You can adjust parameters such as layer height, print speed, infill density, support structures, and many others to suit your specific requirements.
Does Slic3r have a user-friendly interface?
Slic3r provides a straightforward user interface that allows you to import 3D models, adjust slicing settings, and preview the sliced model before generating the G-code. While it may require some learning and experimentation to utilize all the features fully, it offers an intuitive workflow for slicing 3D models.
Can Slic3r generate support for complex models?
Yes, Slic3r has support generation capabilities. It can automatically generate support structures for overhangs and bridges in your 3D model. The software provides various options to customize the support structures, such as density, pattern, and contact point settings.
Wrapping Up
If you want a simple yet powerful 3D printing assistant application, Slic3r can be one of the greatest choices you can ever make. Not only because of its impressive compatibility but also because the slicing and composing features are truly masterful. So, get on board with this awesome software and try out your skills in 3D designing without holding back!
Apps Informations
---
App Name
Slic3r
File Name
File Size
26.77 MB
Operating System
Vista / Windows XP / Windows 7 / Windows 8 / Windows 10 / Windows 11
Date Published
18, July 2023
Date Modified
20, July 2023
Category
License
Open Source
Publisher
Comments
Let us know about your thoughts