SlimCleaner Free 4.1.0.0
(100 votes, average: 5 out of 5, rated)
SlimCleaner Free free download for PC Windows (10/8/7/11)
SlimCleaner Free is a computer optimization and maintenance software developed by SlimWare Utilities. It is designed to clean, optimize, and speed up a computer by removing unnecessary files, cleaning the registry, and managing startup programs.

The application features many useful tools such as Hijack log settings, disk management tools, and many more. While the free version is good enough for most users, there's a paid version for better analyzing and cleaning as well.
Features of SlimCleaner Free
Do you want to take a peek at the incredible world of SlimCleaner Free? Well, here are the top features you might want to know-
Improved UI
With frequent updates, the UI of this application is majorly improved and redesigned to appeal to a larger audience. An innovative blend of UI/UX made the application seamless to use.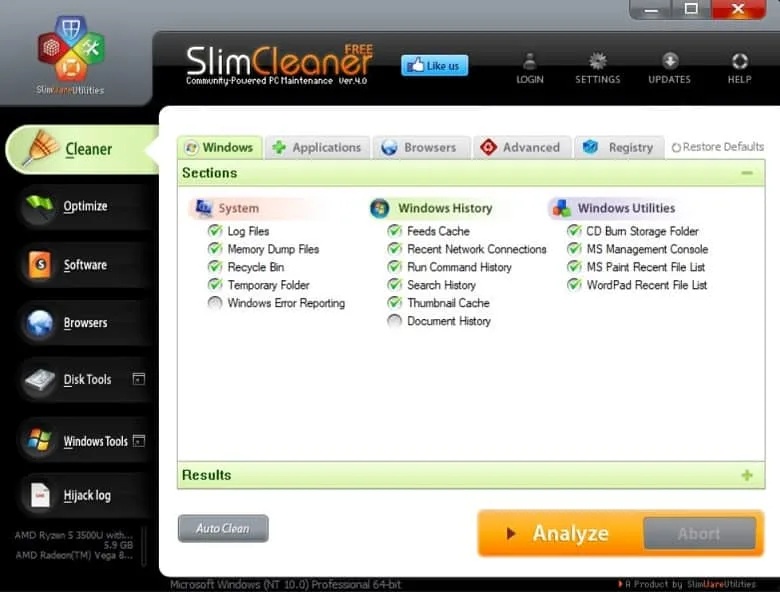 You'll find all the necessary tools to scan, analyze and declutter your PC on the left side of the SlimCleaner app. So, no need to look for any settings from now on!
Cleaner & UnInstaller
Not only is the application great at identifying potential issues with your current PC optimization, but it can also remove them entirely for better performance. Just by clicking on the analyze button, you'll see all the potential threats lurking around.
After you're done with the scan, you can either delete the files and apps or repair them for better optimization. So, you get the best efficiency without sacrificing anything.
Total Disk Management
There are a total of five different disk management tools Disk Analyzer, Disk Wiper, Shredder, Intelligent Defrag, and Duplicate File Finder. You can use any of these tools anytime to figure out the issues with your PC.
On top of that, the application notifies you when it encounters an abnormality in the local disks so that you can take proper action. By doing so, you can stay tension-free at any time.
Community Inspired
SlimCleaner is fully fueled by its devoted users and the community. That's why the updates are always right on time and everyone can send their feedback to polish the user experience.
Pros of SlimCleaner Free
Resourceful and useful tools integration
Decent UI
Great performance
Free to use
Cons of SlimCleaner Free
No option to delete multiple files or duplicate apps at once
FAQs About SlimCleaner Free
Is SlimCleaner free?
Yes, SlimCleaner is free to use and available on most Windows OS. Download this tool from here and install it right away without facing any restrictions.
Is SlimCleaner malware?
No, SlimCleaner is a freemium tune-up for Windows devices. It does not contain any virus or malicious content to harm your PC. The application has been tested and proven safe to use.
How do you use SlimCleaner?
After you download and install the program, just open the SlimCleaner and click on the analyze button. It'll automatically scan your computer for duplicate or unwanted files and give you the option to remove them.
Conclusion
In conclusion, SlimCleaner Free is a computer optimization and maintenance software that can help to clean, optimize, and speed up your computer. It can remove unnecessary files, clean the registry, and manage startup programs.
The application's easy-to-use nature makes it more convenient and fun to clean your Windows device. However, as with any optimization software, it's important to back up your important files before using them, as it may delete important files by mistake.
So, try this incredible tune-up application on your Windows PC now!
Apps Informations
---
App Name
SlimCleaner Free
File Name
slimcleaner-setup.exe
File Size
1.13 MB
VirusTotal Hash Code
5a4be8ed1215066fa6a2c1e7204cda43c940144a4f225dfe6df2ed450f8d5f26
VirusTotal Scan Report
Operating System
Vista / Windows XP / Windows 7 / Windows 8 / Windows 10 / Windows 11
Date Published
14, February 2023
Date Modified
04, June 2023
Category
License
Free
Publisher
Alternatives of SlimCleaner Free
Comments
Let us know about your thoughts