TC Games 2.0
(56 votes, average: 4.67 out of 5, rated)
TC Games free download for PC Windows (10/8/7/11)
If you are fed up with your small android screen and looking for a good emulator to mirror it on the PC and play, then TC games are the right choice for you. This software is developed by Sigma Resources &amp. You can play all the high-end games on your android device with PC tools and keyboard commands if you use this tool software.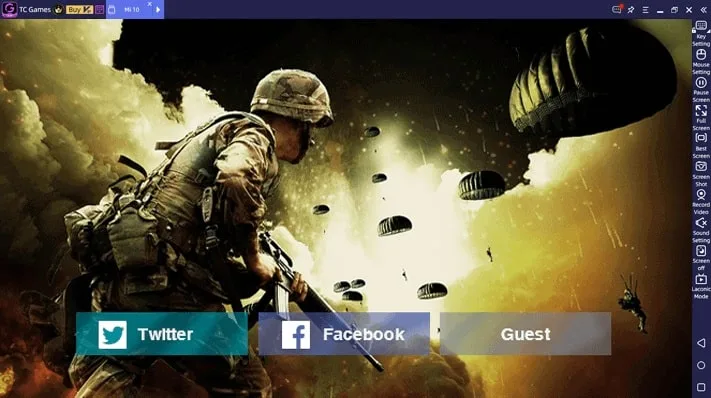 High Res Mirroring
You can mirror a high-resolution android screen with this software. Up to 1080p resolution is supported. Frame rate till 90 fps is also supported. As a result, you can have a better taste of what you are playing.
Total Control
For gamers, it is deadly if you do not have total control over your games. To get better control over your games, you need good control over the keyboard and mouse on the PC. TC games not only let you play games mirroring your android phone, but you can also have total control with customizable keys and mouse settings.
Screen Record
Screen recording is possible with this simple software. As a result, you can save the best moments of your game with your PC for further analysis. We know it is very important for pros.
Faster than emulators
TC games are certainly faster than other emulators. Your download and install experiences will lead you to believe it. While other emulators take a certain RAM part to even run themselves, TC Games do not take that much space or speed blocking. It will not take 5 GB space or 50% usage on your CPU. For TC games, CPU usage is 5% or lower when you need 1 GB of free space only.
USB/Wifi connection
You can use USB or Wifi to connect your PC to the android phone with this simple so it gives you better freedom while playing.
Good Compatibility
As it does not require high configuration and running requirements, the TC games application can be run and worked with most PCs. You can run it on your Windows as well as on Mac.
Reverse Control
You can have good control of your phone from the PC with this software. You can use the mouse as well as the keyboard to control your phone from the PC.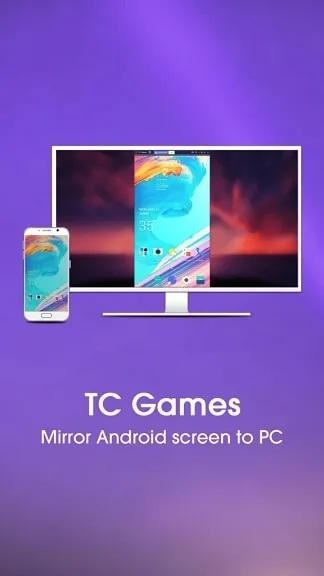 System Configuration for TC Games
You will need the following minimum configuration to run this app on your PC:
Windows: 7,8, 10, or Higher
Empty Space: A minimum 1 GB of empty space is required
RAM: Minimum 1 GB or More
Processor: Minimum 3 GHz, whether it is intel or AMD
Graphics Card: Intel HD Graphics card or required, or any equivalent for AMD.
Pros
Easily mirror your android screen to your PC.
Use less space and RAM than emulators.
Connections can be created via USB or Wifi.
Customization of the game's control can be done for both the mouse and keyboard
Joystick mode is available.
High screen resolution mirror 60fps and 90 fps and screen recording are available.
Compatible with most of the PC and Mac.
The software is free to try.
Smooth screen mirroring feature
Superior to traditional emulators
Runs almost every Android games
Free to install
Cons
Not optimized for all games
FAQ's on TC Games
What is TC game?
TC games is a small tool software app that can mirror your android screen on your PC and let you play games with keyboard and mouse control. You can also record your screen with it.
How do you fix TC games not connecting?
You should restart your PC and run the TC games software before connecting your android device to the PC. If the connection still does not work, check settings>USB debug if it is on or not. Make it on and try again.
How do you keymap in TC games?
Go to the key mapping settings. Drag – Macro Key and "Edit". When you do this, a screen will pop up for editing the panel. From here, you can customize the keys according to your choice.
How do you connect to TC games?
You can connect to TC games via USB or Wifi. You need the app on your phone as well as on your PC. After running it on your PC and starting USB debugging on your phone's settings, you can connect it to your PC via USB or Wifi.
Our Uses
The app is very promising and we were able to run high-end multiplayer games like PUBG and FreeFire with this game. Connecting it first with the PC is a bit tricky but after connecting we were able to launch it quite easily. Screen resolution is more than perfect and unlike other emulators, it does not require that much speed. VIP privilege is required at some points. The free version can increase some facilities. Besides, you can use it for other purposes like recording for a tutorial or something like that.
128.50 MB32bit
/


135.03 MB64bit
Apps Informations
---
App Name
TC Games
File Name 32 Bit
TC_Games_Global_2_0_0_Update_0635350.exe
File Size 32 Bit
128.50 MB
File Name 64 Bit
TC_Games_Global_2_0_0_Update_0635358_64.exe
File Size 64 Bit
135.03 MB
Operating System
Windows 2000 / Vista / Windows XP / Windows 7 / Windows 8 / Windows 10 / Windows 11
Date Published
10, May 2020
Date Modified
29, March 2023
Category
License
Free
Publisher
Comments
Let us know about your thoughts