VRoot 1.7.9.2
Publisher:
Mgyun
License: Freeware
(56 votes, average: 4.67 out of 5, rated)
VRoot 1.7.9.2 Download for Windows 11, 10, 8, 7 (64 or 32) bit PC. Free download the latest version 2023 of the software from NearFile.
Technical Details
App Information
File Name
vroot-download.zip
Operating System
Windows 2000 / Vista / Windows XP / Windows 7 / Windows 8 / Windows 10 / Windows 11
Date Published
12, May 2020
Date Modified
04, June 2023
About
VRoot free download for PC Windows (10/8/7/11)
VRoot (currently known as iRoot) is software that allows you to root your smartphone quickly and easily. This is a medium app that offers a higher success root rate than other apps. This is the most used and reliable root software. With VRoot you can simply root your device by just connecting your device to your pc through USB.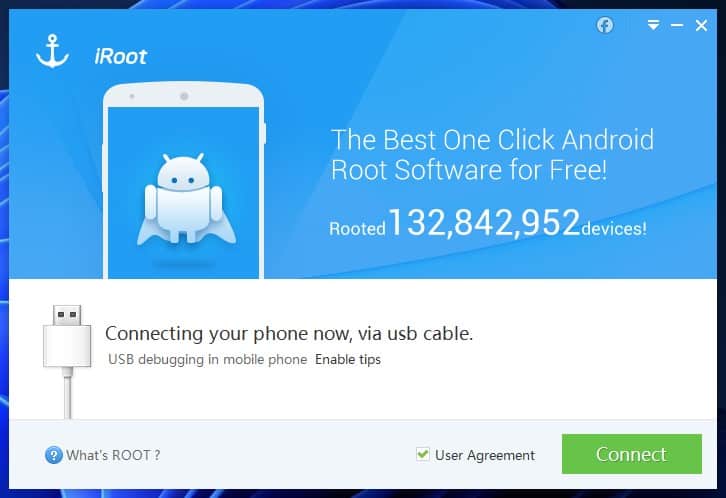 Root Your Android Phone
Rooting your android device offer you complete control over your smartphone. Because after rooting your device you can access all of those blocked and restricted features available. You can also use those incompatible apps. With rooting your device, you get a speed boost. If you want you can customize your device by changing ROMs and, kernels after rooting your device.
One-Click Root
This app is the simple and most reliable rooting software for a smartphone. Rooting with this app is quite quick and easy. Because rooting with other software is a long process. But with Vroot it's simple. Just connect your android device with a USB cable and Select Root. And within a few minutes, it will automatically complete the root process.
Will install necessary extra Applications
Yes, after rooting your android device with Vroot your android device will get an extra app name kingRoot. Kingroot will work as root administration on your android device. With kingRoot, you can allow or deny your root permission and perform other jobs.
Supports All Windows Versions
It is simple android rooting software. Using this software requires very small storage. Because this software was developed that way so that it can be used through any windows device with very low specs. It doesn't have any complex system to run which is why it can run on all windows versions.
Higher Success Rate than other rooting applications
VRoot is the most used and reliable root software for smartphones. It has the most success rate of any other root software because after connecting your device to Vroot it will automatically analyze your device details and collect rooting resources from their server which has millions of rooted device data.
How to download and install VRoot on Windows PC?
You can download this VRoot from this page. To download this app first click on the download button and then you will be redirected to the download page. From there, click on the download button. After completing the download unzip the zip file and install it.
How to root any Android Device using VRoot? [Step-by-Step Guide]
Step 1: Download Vroot on your PC and install it.
Step 2: Connect your android device to PC through USB.
Step 3: After connecting your device through USB in Vroot select Root.
Step 4: After completing the root process your smartphone will reboot and it will be rooted.
How to unroot an Android device using VRoot?
After rooting your device using Vroot your device will get two extra apps installed automatically. Those are KingRoot and Super Su. If you want to unroot your device then open KingRoot apps and the go-to option for selecting unroot or you can just simply delete those apps so that your device can revert to unroot state.
System Requirements for VRoot
Operating System: Windows 7/8/10/11
Processor: Core I 3
RAM: 4 GB
HDD: 50 MB
Pros
Custom ROMs available
Remove built-in apps
Ad-blocking available
Incompatible apps installable
System customization available
CPU clocking available
System speed increase
Cons
Warranty expired
Every action required permission
Update issues
Tweaking risk
Background usage increase
FAQ's
Is VRoot software free to download?
Yes, Vroot software is free to download.  There are various websites on google that offer this software for free to download and use.
Is it essential to have the expert knowledge to proceed VRoot rooting?
Yes, because rooting your device allows you to have complete control of your smartphone. You can use the blocked or restriction feature on your device after rooting but if you select the wrong process your device might be dead.
Does my android smartphone support VRoot software?
Yes, most android devices support this software. This is the worldwide most used root software for android and this one is the most reliable. With this, you can easily root your android device with a single click with the maximum success rate any other software can offer.
Can I download the VRoot mac version?
Yes, you can download Vroot on your mac device. Though it is currently known as I root. Vroot is one of the most used and reliable rooting software for smartphones. With Vroot you can easily root your smartphone with a single click.
Our take on it
For some personal reason, I needed to root my android device which is a Lenovo device. But after searching for many apps, I couldn't find root support for the appropriate device. But after downloading I Root (formerly known as V root) I was able to root my device with a single click without being afraid of root failure. Because I root support almost all the devices for rooting. And the benefit of using I root is I don't have to download any external apps on my device. I just connect my device to pc with a USB and it automatically connected my device and perform all of the rooting processes within a few minutes.
Should I download it?
Rooting any smartphone offers you complete control over it. And you can access all of those blocked and restricted feature which is unavailable on an unrooted device. After rooting your device, you can customize your whole device as you want. You can even replace your ROMs, and kernel version and even you can increase your android version by many laps. Rooting a smartphone boosts your device speed. But there are some issues like you lost the device warranty, can't update the device, everything requires permission, etc. So, downloading and rooting your device depends on you. If you want to take the above risk and gain various benefits then you can download and use this software.
Alternatives
Also, check the alternatives of VRoot
Comments
Let us know about your thoughts