Cheat Engine is a free application that helps you to hack your favorite offline games. You can change the resource amounts in your game and also use many tricks which will help you to complete the game quickly
To use this game hacking tool without any issues, you need to start this application before starting your game. You must allow this software to run in the background so that your game resource kept changing. If you close this application and won't let it run in the background, your game resource will be reverted to default.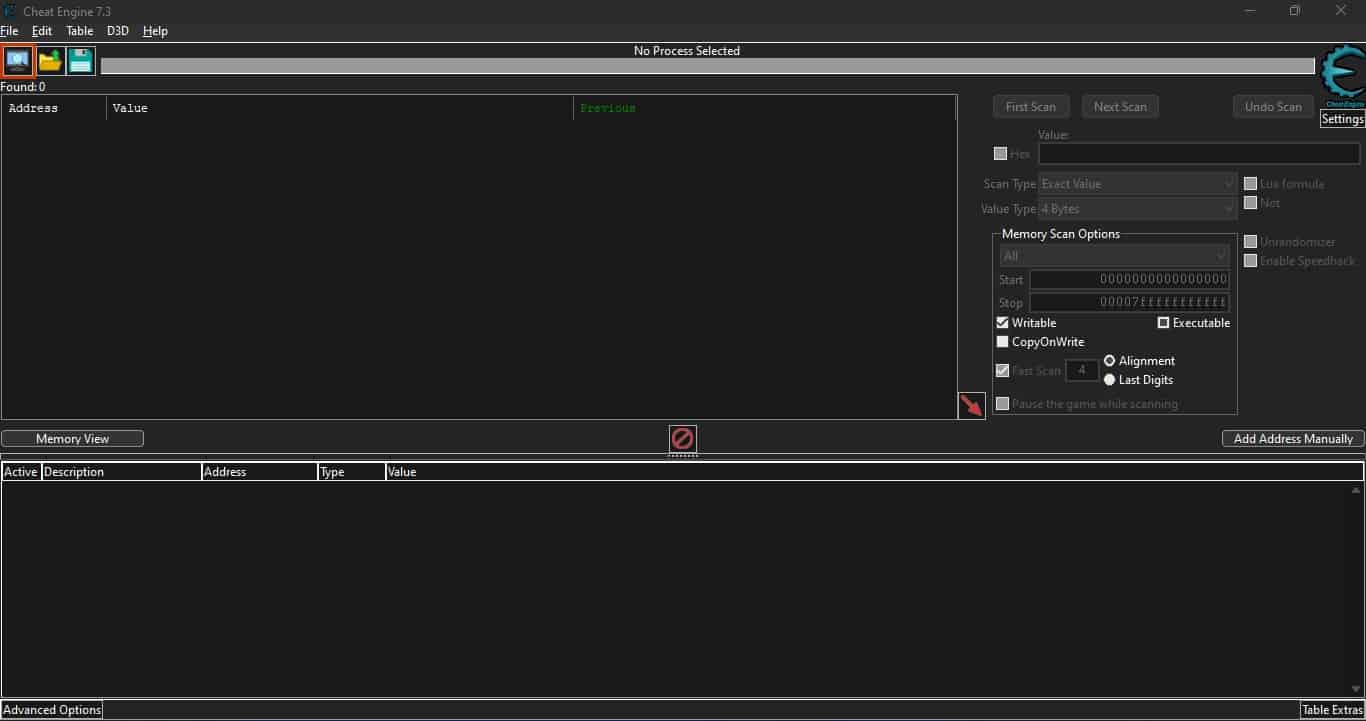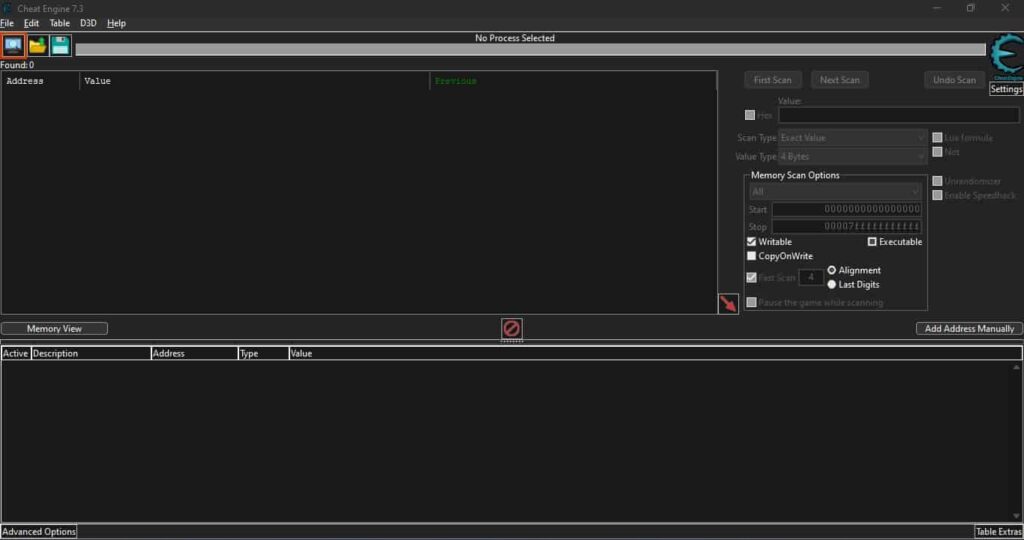 Cheat Engine 6.4
Cheat engine 6.4 is an open-source utility software that allows you to cheat in computer games without being detected. It uses modified system memory, where users can change or alter game variables' values to cheat in-game. Because of the modified system, the memory games firewall can't detect users while cheating. But sometimes users could get banned because of highly used firewalls and security in games. It was launched so that users can easily overcome obstacles in the hard and competitive single-player game.
Features
Process
It is the very first step where you can alter your game variable for cheating in games. You can change the game values like Item value, quantity, life, armory, etc. which could extremely affect the gaming experience. From here you can just take a single variable value from the game section and let the cheat engine scan it for altering the game value. These sections allow the following Changes based on –
Exact Value
Smaller value
Bigger value
Decrease value
Increase value etc.
Cheat Table
This section is where users can increase or decrease the cheat value for the game. After scanning the game variable in the cheat engine. Users use this cheat table to increase game variable values like money, life, item quantity, etc. With this section, you can increase the cheated amount to a certain percentage based on the system.
Edit
This section allows you to customize the overall cheat engine setting as you want. With this feature, you set how your cheat will work, how fast will work, by which method your cheat will work, etc. This section allows you to customize the following tools-
Tools for cheating
Hotkeys in scanning
Java script in CT
Game value
Scanning setting
Plugin
Debugging
Process memory
Make games easier or harder using Cheat Engine
It will help you to pass your game levels quickly. But sometimes you may feel bored because your game will be too easy. But don't worry. This tool not only helps you to increase your resource but also helps you to reduce them. By using it, you can decrease your character's health to make your game more difficult and more enjoyable.
Interface
This software is not easy to use for those who are new users of it. Also, it doesn't have a user-friendly interface. After running this software for the first time, it will show you some tutorials about its usage of it. This tutorial will help first-time users to learn the basic usage of this tool.
Some Noticeable Features
This awesome tool has some great features which will amaze you. Some of these are: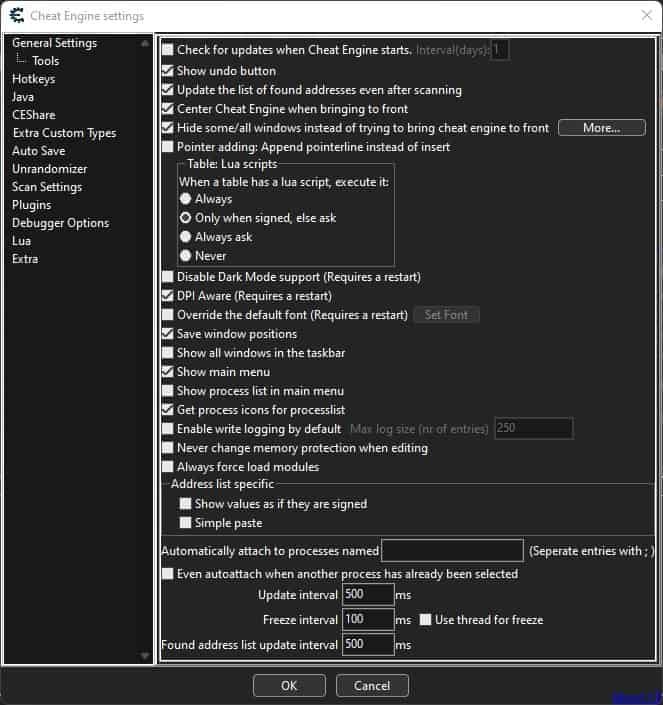 It has the power to scan memory and quickly get all the variables or parameters using your game. Then it allows you to modify them.
You can debug your game by using its debugger functionality.
You can also hack the speed of your game. You can both speed it up and also low the timer of your game.
It also has the functionality of a Direct 3D manipulation tool.
You can also use the system inspection tool to inspect your game system.
It also has the feature of a disassembler and assembler.
It has scripting support which helps the developers to create their own cheating application and share it with other people.
Pros
Free to download
Lightweight size
Parental control
Support offers available
Broadcasting available
Cons
Not user friendly
Complex system
Detected as virus
Debug failure
FAQ's about Cheat Engine
Where can I find a Cheat Engine?
You can find Cheat Engine on this page. Just click on the Download button and your download will start immediately.
Does Cheat Engine work with online games?
No, the cheat engine doesn't work with online games. It only works with single-player offline games. But in some cases, the feature of speedhack may work with some online games.
What games can you use the Cheat Engine on?
You can only use this tool for your offline single-player games. It will not work with online or multiplayer games.
How does Cheat Engine work?
First, you need to select the game you want to hack. Then it will scan all the variables or parameters using this and show up on its interface and will allow you to change their value.
Is Cheat Engine legal?
This tool is legal. We haven't found any evidence of its illegality.
Can you get banned for using Cheat Engine?
Yes, you may get banned from playing games if you use this tool. Some hardcoded games which are using an anti-cheat system may ban you from playing those games if you use Cheat Engine.
What is CE cheat?
CE is the short form of Cheat Engine.
Is Cheat Engine a virus?
No, it's not a virus. But Some anti-virus programs may mistakenly consider Cheat Engine as a trojan/virus.
Is Cheat Engine safe?
Yes, it is absolutely safe to download. We didn't get any viruses or malware or spyware in it. You can download it without any issue.
What can Cheat Engine do?
A cheat engine was developed to cheat in computer games. It is able to evade being detected by a game firewall. With this, you can cheat on almost any game on the computer, and undetectable.
Does Cheat Engine contain viruses?
No, but most antivirus detects cheat engines as anti-virus because they could evade being detected by games firewall. Because it uses a modified memory system to cheat in computer games.
Is Cheat Engine detectable?
No, normally most games can't detect cheat engines. Because it uses a modified memory system to cheat in the I game. Sometimes this could lead users to be banned from the game.
Does Cheat Engine require root?
No, the cheat engine doesn't require root for use on the computer. It uses a modified memory system, where users alter the game value to cheat in-game. For this simple reason, it could run without rooting your system.
Can you use Cheat Engine on mobile games?
Exactly not this, cheat engine version 6.4. But if users want to use the cheat engine for mobile, there is also a mobile version available.
Can you use the cheat engine on BlueStacks?
Yes, you just have to run the program and game in bluestack and change your game for cheating in games. But there is a high chance of getting banned because the bluestack firewall system is quite high and secured.
Conclusion
Cheat Engine is really a useful tool for gamers who don't want to make their games impossible nightmares. It will help you to pass all the hard levels easily and you will get more fun playing games. But remember hacking all the resources of your games will make you bored.
Note: Some anti-virus programs may mistakenly consider Cheat Engine as a trojan/virus.
Our Uses
Completing many single-plyer games on the computer is quite hard. There were many games I couldn't complete like HOD, Hitman, Shadow warrior, etc. Because their mission and item and game value were quite low and sensitive. But with the cheat engine, I was able to complete almost all of those games. And I was undetectable by the game firewall Because it uses modified system memory to cheat and alter game variable values. But there were some issues like complex using system, user-unfriendly, detected as viruses, debugging failure, etc.
Screenshots