FoneGeek iOS System Recovery 2.0.0.1
(96 votes, average: 5 out of 5, rated)
FoneGeek iOS System Recovery 2.0.0.1 Download for Windows 11, 10, 8, 7 (64 or 32) bit PC. Free download the latest version 2023 of the software from NearFile.
Technical Details
App Information
App Name
FoneGeek iOS System Recovery
File Name
ios-system-recovery.exe
VirusTotal Hash Code
6afa9ee81c64d7b8fb7600b9591cbea8c4e9ad5fb57b3bf16e5bd95a08a39f67
Operating System
Vista / Windows XP / Windows 7 / Windows 8 / Windows 10 / Windows 11
Date Published
28, April 2022
Date Modified
25, October 2022
About
FoneGeek iOS System Recovery free download for PC Windows (10/8/7/11)
Facing frequent problems with your cherished iPhone or other Apple devices? It's very common to encounter any type of issue all of a sudden. However, if you don't know how they fix it, the issue might come to haunt you in the future.
To make sure that does not happen, you can use FoneGeek iOS System Recovery.
The tool is the perfect gateway for your problems to go away. With the support of 200+ troubleshooting methods, this application is made especially for your iOS devices to get fixed.
So, are you the one who wants a problem-free Apple experience?
Highlighting Features
You may think the deal is too good to be true and that's completely okay. You can't just make a decision only on the basis of some words, can you now? That's why learn more about this tool by going through these exciting features-
Ultimate Solution for Your Apple Devices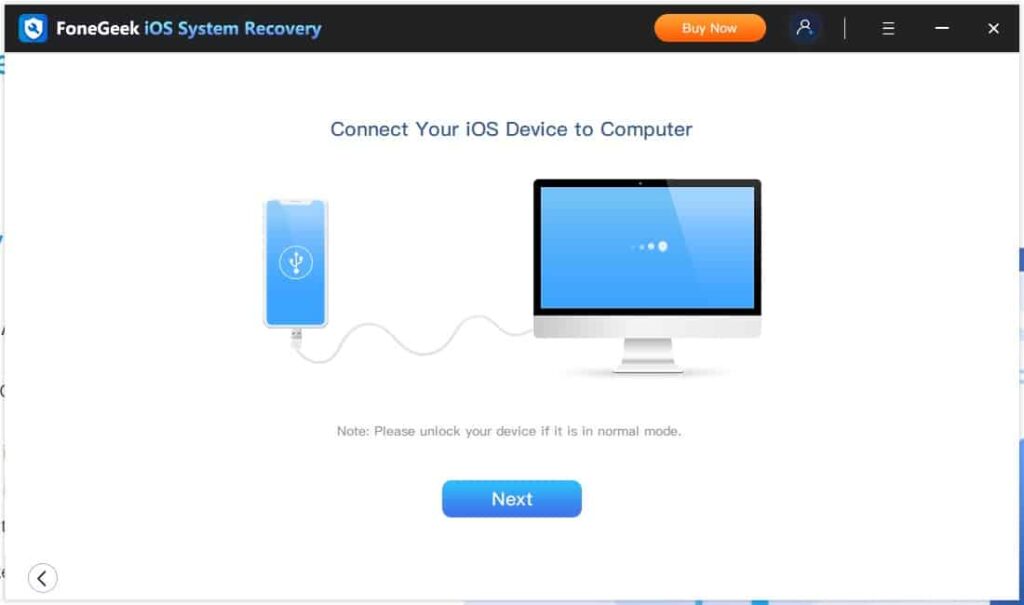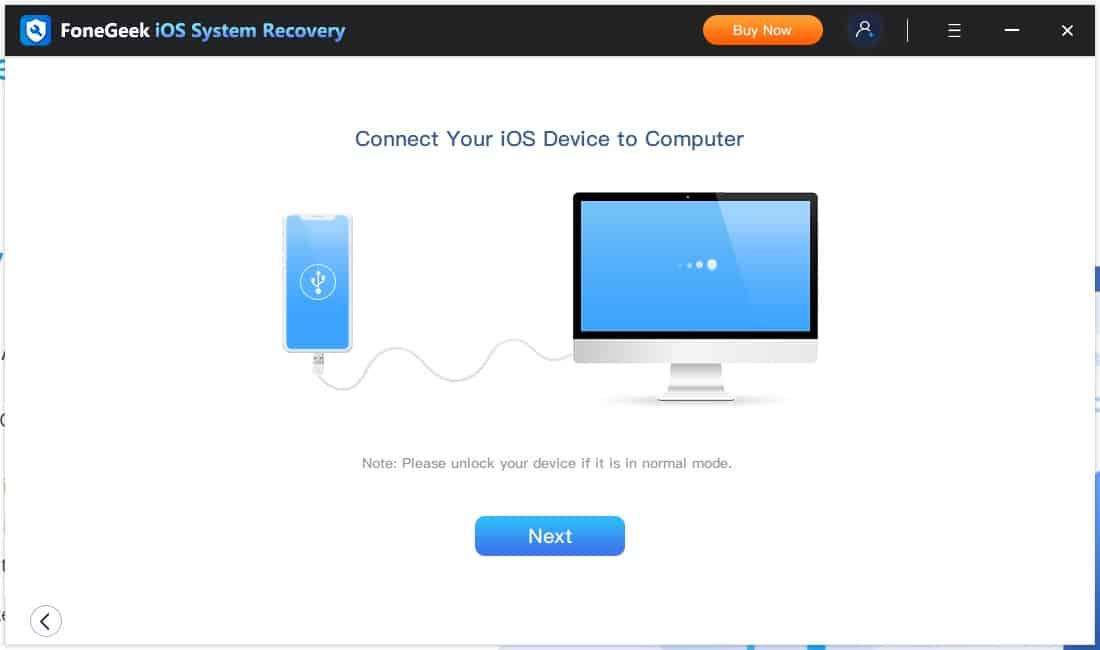 Whether it's your iPhone or iPad, the tool can solve any problem with all devices. Even your Apple TV can also be fixed using this application. All you need is a connection between your device and PC and you're good to fix every issue possible.
Universal Compatibility
FoneGeek iOS System Recovery supports many Windows operating systems without any bugs or glitches. From Windows 10 to older Windows 7, the application is compatible with various OS. And the best part is that many of the current out of production iOS devices are still supported!
So, you're getting the best value for your older iPhones as well. Even you can fix iPod touch devices too!
Device Support
It's quite possible to have multiple Apple devices such as iPhone, iPad, Apple TV, and so on all under one roof. As everything is made by one company, the problems share somewhat the same DNA. That's why the recovery tool allows you to use it on 5 devices.
So, you don't have to choose any particular device to start fixing. You can do simultaneous troubleshooting without losing anything. However, be careful navigating through the interface as may wipe out all of your data!
Dual Fix Mode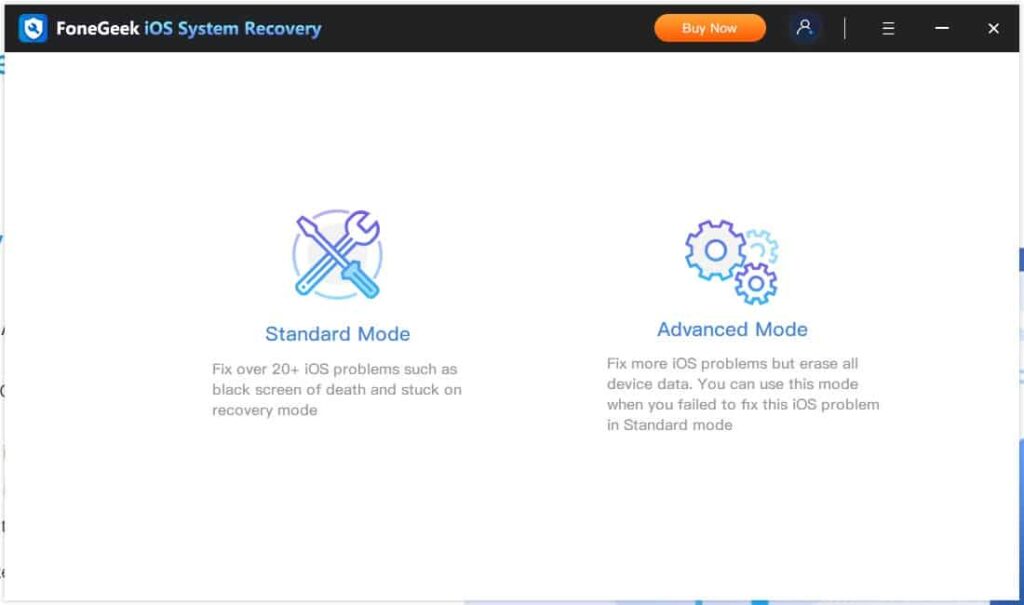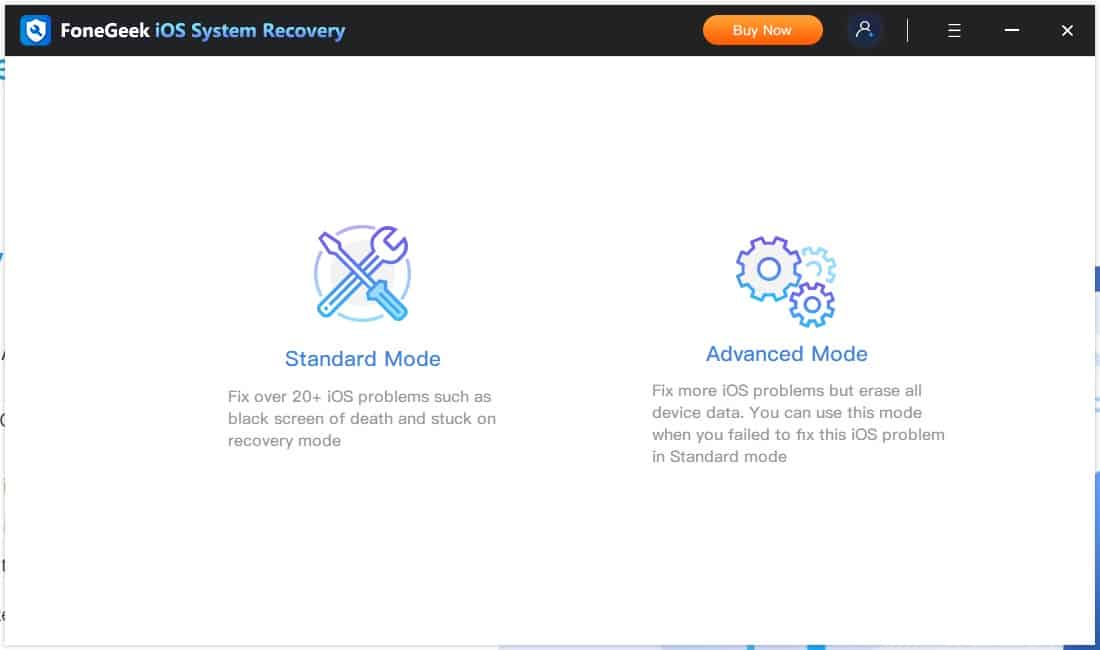 Featuring two different modes: Standard and Advanced option to choose. Depending on the intensity and degree of your phone's problem, you are free to choose one mode. Also, you can choose the modes one after another.
You can start to fix or repair your iPhone or iPad once you understand these modes. Otherwise, you'll just waste your time jumping from one mode to another.
The Standard Mode will scan your phone to find the problem and fix it, without wiping out your crucial data.
However, the advanced mode goes deep into searching but erases your data to wipe it all clean. So, choose this option only when you are absolutely sure.
Issues Fixed in 3 Easy Steps
Here is the easiest possible method to troubleshoot your device using FoneGeek iOS System Recovery-
Plugin your Apple device into your PC and choose the repair mode.
Select the firmware pack to download according to your device.
Once the download is completed, click on the fix-it button to resolve the problem.
Isn't this the easiest way to solve any Apple device issue? At least we believe so! Because we still haven't seen such a simple way to resolve any technical issue related to iOS.
FoneGeek iOS System Recovery Pricing
While a free application or recovery tool may not take a toll on your pocket, it can't offer any advanced solutions. For that, you'll surely need to spend some bucks and get the best possible fixes for your beloved iOS or Apple devices.
This fix-it-all application is not free to use, which is quite obvious because of its continuous research and development. So, you need to pay for what you want to get for your iPhone.
So, do you want to know the pricing of this awesome tool? Here are the three different plans you can choose from-
The One-month plan will cost you around $23.95
The Annual pack will take around $33.95
The lifetime pack requires a one-time payment of $45.95
While the pricing might seem steep to you, compared to others, this is actually the best deal! So, you can definitely choose one after you tried the demo version.
Pros
Eye pleasing UI design
Can be used on 5 different devices at once
Very easy to use and compatible with many Windows and Apple devices
Decent pricing
Cons
The trial version has very limited use.
FAQ's on FoneGeek iOS System Recovery
Is FoneGeek iOS System Recovery Safe?
FoneGeek is a very popular and trusted name in the Apple ecosystem applications. The iOS system recovery app has gone through much testing to ensure top-notch security features for everyone.
What is FoneGeek iOS System Recovery?
Apple iOS system recovery is a tool for Apply devices to troubleshoot when any technical issue arises. It can detect and eliminate over 200 plus problems within iOS devices.
How can I Get FoneGeek iOS System Recovery Software?
You can download the software from this trusted website. Here you'll find all kinds of Apple-supported applications that will provide tremendous support. Just click on the download bar and you're done.
How Do I Repair My iPhone iOS?
If your iOS Apple iPhone is only observing some technical glitches or malfunction, you can choose the repair OS option on the app. After selecting that, choose the start and you'll go through a rigorous troubleshooting process.
How Can I Fix My iPhone Software Glitch?
You can fix your iPhone software glitch by resetting your phone. If that does not work, check for any recent iOS update. Update to the latest version. If the problem still persists, perform a full factory reset.
Concluding Words
If you own an Apple device that may require system retrieval of data, you can count on this acclaimed app. In our robust testing, we found it the best functional and optimized for any iOS device.
So, hopefully, you'll have a good time with the application as well. What are you waiting for then? Download FoneGeek iOS System Recovery and fix any iOS issues now!
Screenshots
Alternatives
Also, check the alternatives of FoneGeek iOS System Recovery
Comments
Let us know about your thoughts