FoneGeek iPhone Passcode Unlocker 2.2.1.1
(54 votes, average: 5 out of 5, rated)
FoneGeek iPhone Passcode Unlocker 2.2.1.1 Download for Windows 11, 10, 8, 7 (64 or 32) bit PC. Free download the latest version 2023 of the software from NearFile.
Technical Details
App Information
App Name
FoneGeek iPhone Passcode Unlocker
File Name
iphone-passcode-unlocker.exe
VirusTotal Hash Code
39db7713c2f2b94d86ca362f259e5d519000bd7c8ca74057108315856ddf7f84
Operating System
Vista / Windows XP / Windows 7 / Windows 8 / Windows 10 / Windows 11
Date Published
28, April 2022
Date Modified
23, October 2022
About
FoneGeek iPhone Passcode Unlocker free download for PC Windows (10/8/7/11)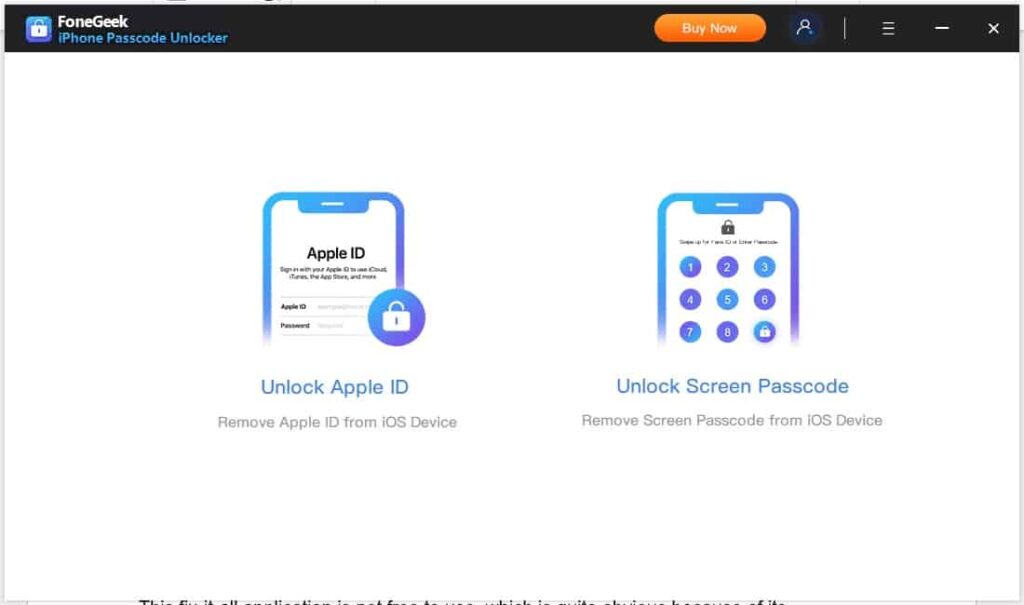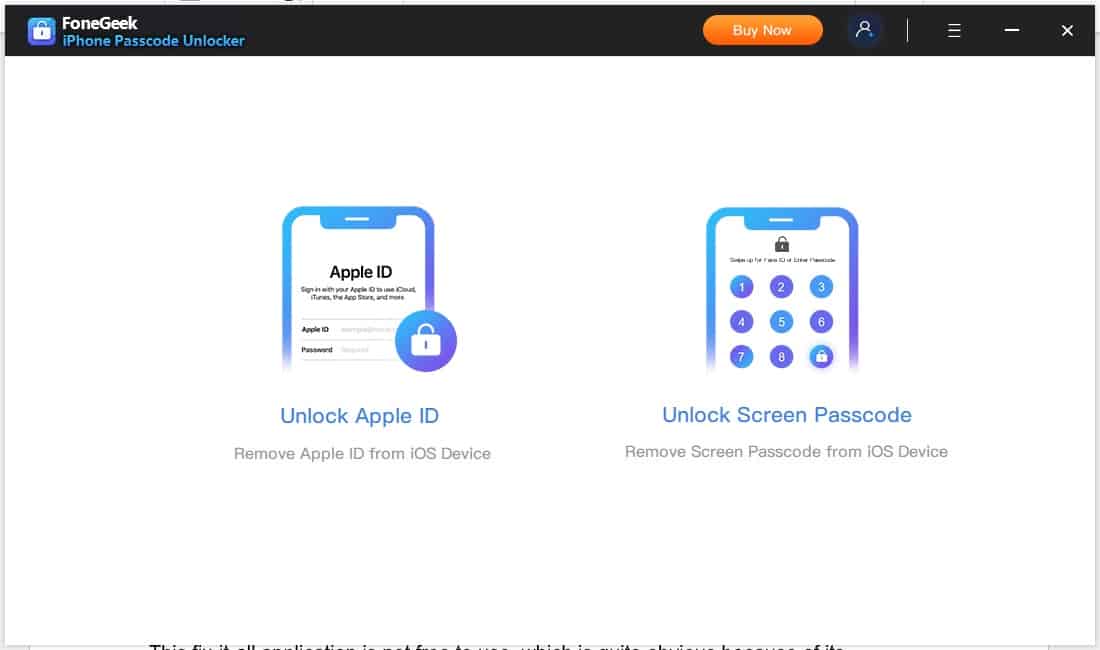 All apple users have the same type of complaint. And that is about the screen lock or iCloud lock issue. It's quite normal to forget your password and misplace it. However, Apple is not so forgiving as to let you go off the hook so easily.
So, what can you do in those situations? You can use something like FoneGeek iPhone Passcode Unlocker to get rid that pesky locks. You'll get back your Apple password without much hassle. The application contains many other incredible features that will assist your iPhone or iOS devices.
Features
It's quite important to know the details of an application before using it. Otherwise, you'll be in deep trouble when you encounter unexpected things. In addition to that, you won't be able to find the true value of the app. We never want that for ourselves, do we?
So, read the full features list before you make your download decision.
On that note, here are some of the contrasting features that might interest you-
Superb Unlocking Capabilities
Forgot your Apple ID password and can't seem to remember it? All Apple ecosystem users have gone through that rough patch once in their lifetime. However, many fail to understand that it does not require much effort to get the passcode back!
Your typical iPhone lock or Face lock can be easily unlocked by this smart tool. It uses deep security technology to ensure a perfectly new start screen with no passcode. So, you get a fresh new start with your iPhone or iPad!
Apple iCloud Lock Removal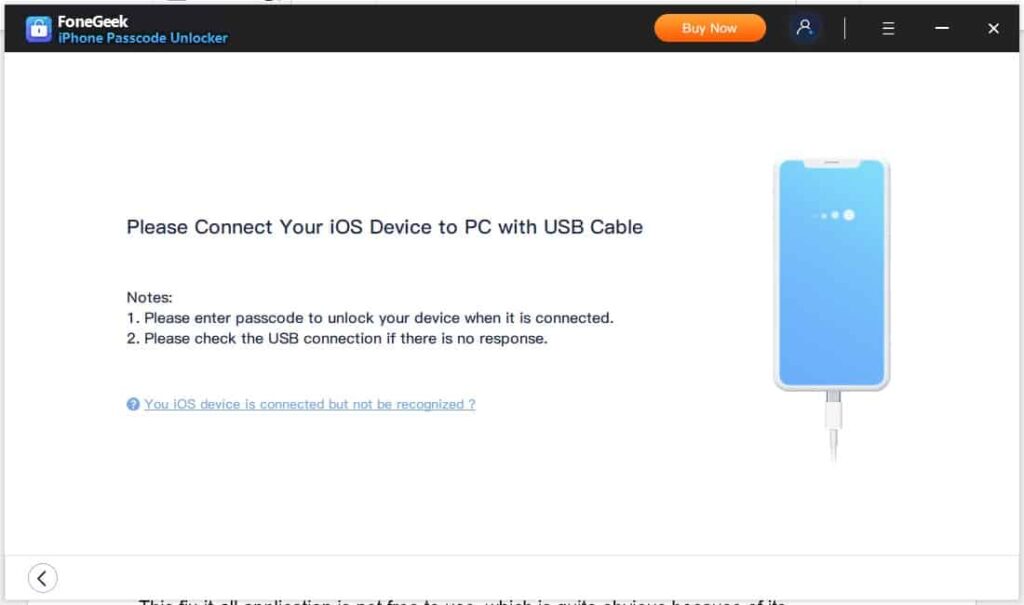 Your iCloud and Apple ID can't get past this particular FoneGeek iPhone Passcode Unlocker. Whenever you're facing any difficulties with the Apple ID, you can remove it altogether and reboot your device. After removing the old ID, you can insert the new one or create one from scratch.
That way, you're iPhone or iPad will seem completely new to you without any struggle.
MDM Screen Lock & Profile Bypass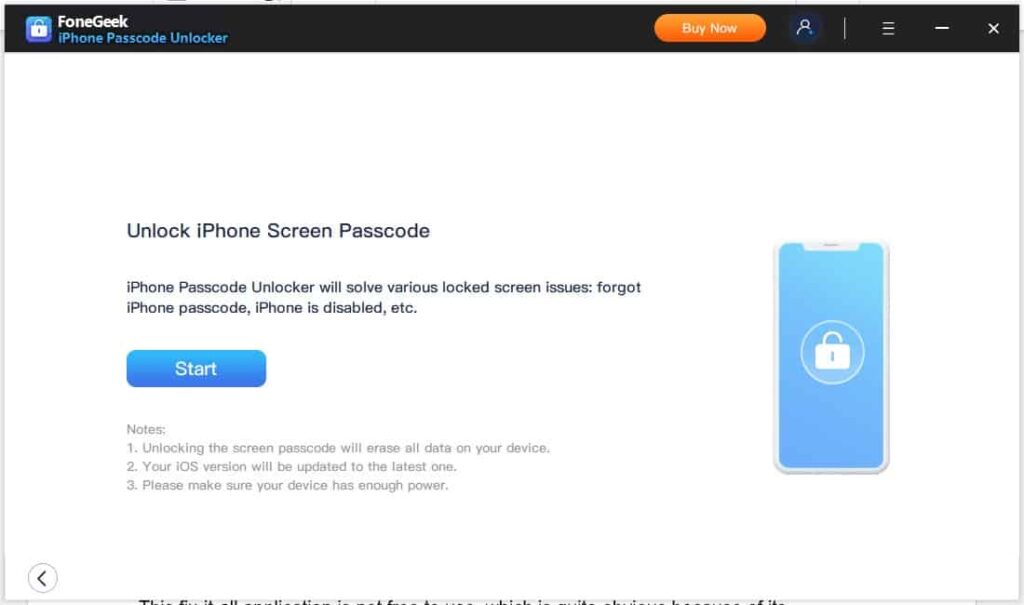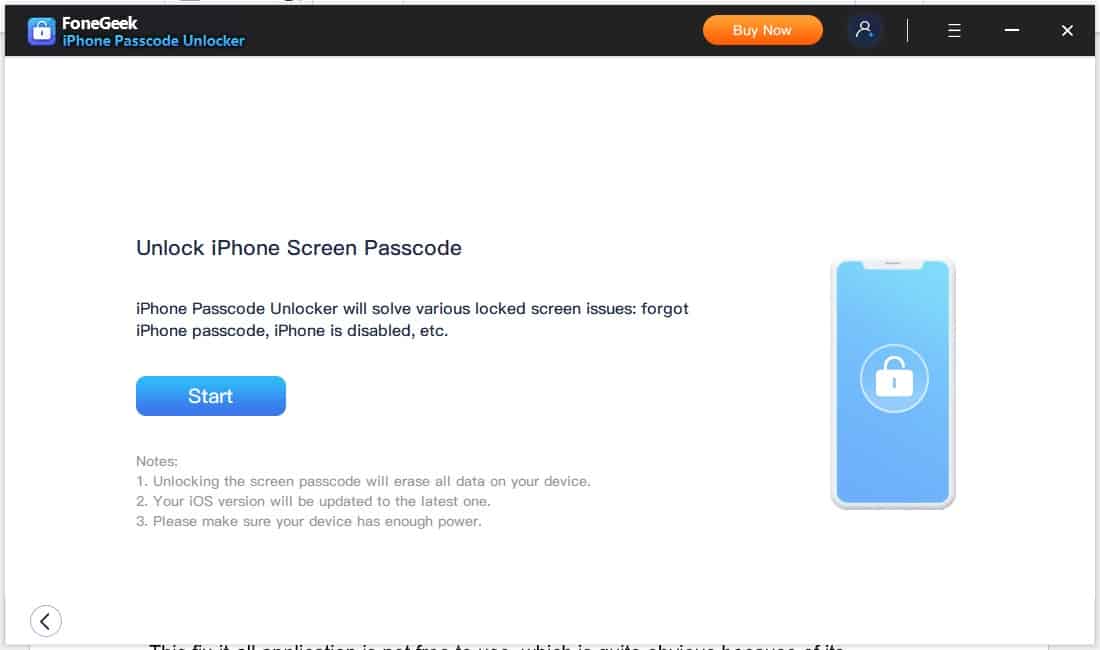 Bypassing your Apple device may seem risky to you, but it provides tons of unique abilities. If you do bypass your device, you'll be able to download any app from any source without much complication.
The MDM profile can be fully removed to enable such functions. After doing that, you are free to enjoy all the features of your premium iPhone or iPad!
Screen Time Password Bypass
The screen time limitation feature is quite effective when it comes to limiting your usage. However, it does require a passcode. And if you, by any chance, forget the passcode, then you're doomed! Because you then will require the passcode to unlock your screen which you don't have.
Fonegeek can access your screen lock and erase the passcode to unlock your device. You get your device back without losing any data. It works every time, and you won't regret using it. So, no need to worry about any pesky screen locks anymore!
FoneGeek iPhone Passcode Unlocker for Windows Pricing
We all love and adore everything that does not include cost! However, we don't get everything exactly as we want them too. FoneGeek professional Apple unlocker is definitely a great app but it comes with a cost. You can't get the full functions without paying the fee.
Eager to know more about the exact pricing of this magnificent software? Here's the full cost with all the discounts-
The One-month plan will cost you around $23.95
The Annual pack will take around $33.95
The lifetime pack requires a one-time payment of $45.95
All of these prices are cut down due to the current sale! So, you're getting a far better deal than ever before! All the plans include guaranteed money return if you don't like the application for some reason. But you'll get only 30 days to claim that.
Moreover, you also get the ability to get full technical support from the team. So, it's the privilege that you'll be paying for!
Pros
Incredible interface with intuitive design
Perfect for any Apple device
Works with multiple iOS versions
Money-back guarantee
Cons
Limited usage in the free trial version.
FAQ's on FoneGeek iPhone Passcode Unlocker
Is FoneGeek iPhone Passcode Unlocker Safe?
The Fonegeek Passcode Unlocker has gone through several security testing to prove its ultimate safety features. You don't have to worry about any safety issues with this application. So, download the app freely.
Does FoneGeek iPhone Passcode Unlocker Work?
Yes, the FoneGeek iPhone Passcode Unlocker works flawlessly on many Apple devices including iPhones and iPads. You can get all the unlocking services on your Apple devices from this tool.
Is FoneGeek iPhone Passcode Unlocker Safe?
The software is as safe as it gets with multiple hardware clearance. It does not have any problem with Windows Defender or any antivirus tool. So, you don't have to worry about any security breaches.
Can a Passcode Locked iPhone be Unlocked?
A passcode-locked iPhone can not be unlocked if you don't input the passcode. It's very difficult for you to get into the system without the Apple ID password. However, there are some apps that can bypass the passcode. Also, you can reset the device to factory settings.
How Can I Get FoneGeek iPhone Passcode Unlocker on My Windows PC?
You can get the application on your PC from this very website right away. All you need is to press the download button on the top right corner, and you'll be redirected to a new tab. From there, you can download it.
Is FoneGeek iPhone Passcode Unlocker Free?
As much as we all want it too, unfortunately, FoneGeek is not free to use, and you can only try the trial version. To unlock the full features, you'll need to buy the full version.
Parting Words
What are your thoughts about this amazing Apple companion application? Hopefully, you found what you were looking for! Because this application can perform wonders for your iPad, iPhone, and any Apple device.
However, try to maintain caution using the tool as it contains many sensitive options that can affect your device inversely.
So, no more stuck with Apple iCloud locks and stuff! Go on and feel the ultimate freedom.
Screenshots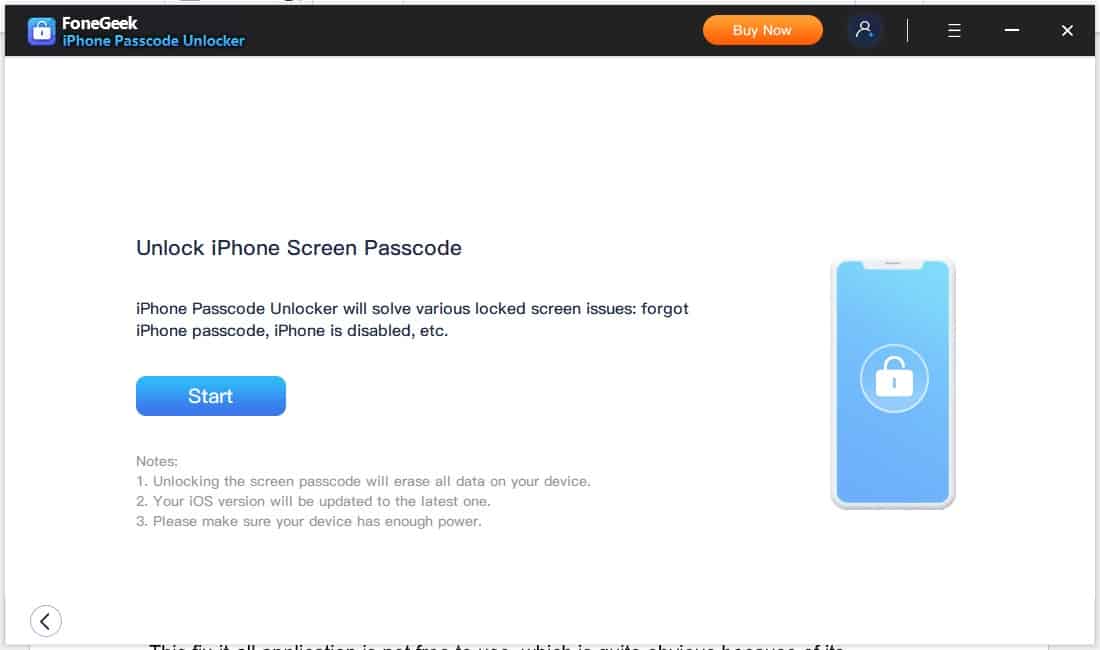 Alternatives
Also, check the alternatives of FoneGeek iPhone Passcode Unlocker
Comments
Let us know about your thoughts