FoneTool 2.4.0
(55 votes, average: 5 out of 5, rated)
FoneTool free download for PC Windows (10/8/7/11)
If you run out of iCloud storage, then you know it's hard to keep your Apple device files secure. To solve that predicament, you can now rely on applications like FoneTool to safely store your files on any Windows PC.
This software is a versatile file transfer and backup tool that is designed to work perfectly with iPhone and any Apple device. It has a great interface and easy-to-use navigation that you will get hooked on from the first try.
Key Features of FoneTool
Here are the best features of this application that you will be able to utilize if you have an iPhone-
Swift File Transfer
The main power tool of FoneTool is the awesome file transfer protocol. You can just connect your iPhone with the USB and let FoneTool handle the rest. The file transfer is fast and reliable, with perfect data management options.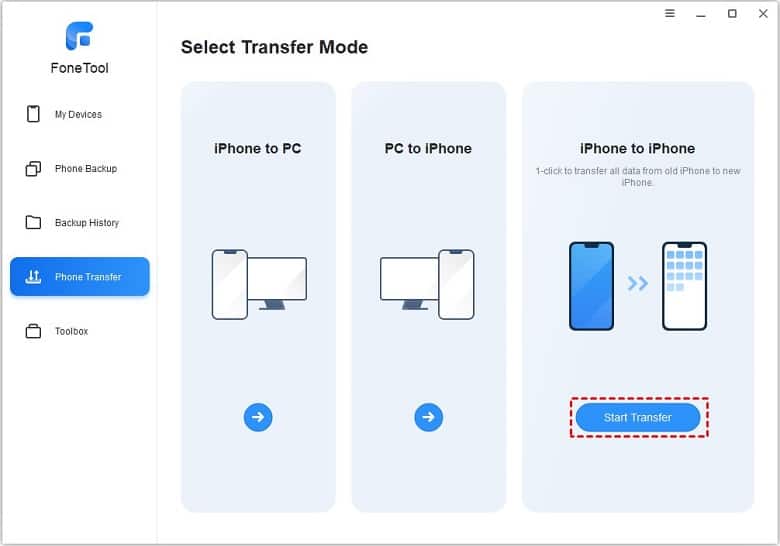 Moreover, you can even transfer your iPhone data to another iPhone with this application. Just connect both devices to the PC, and you will get a prompt that will show you the file transfer process.
Diverse Backup Modes
The second most highlighted feature of FoneTool is the iPhone backup. You get to enjoy the best backup and recovery function with this app. Not only is the backup process completely secure, but the backup option can be customized as well.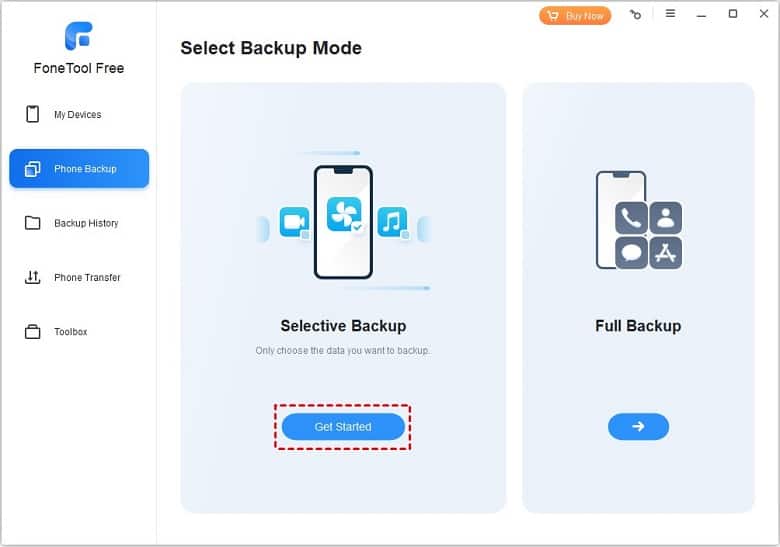 You can choose between selective backup and full backup from the backup options. And then, you can start the backup process however you want!
Wide File Format Compatibility
With this software, you don't have to think about file support because it supports more than enough formats to store your files. Here are the supported file formats of FoneTool: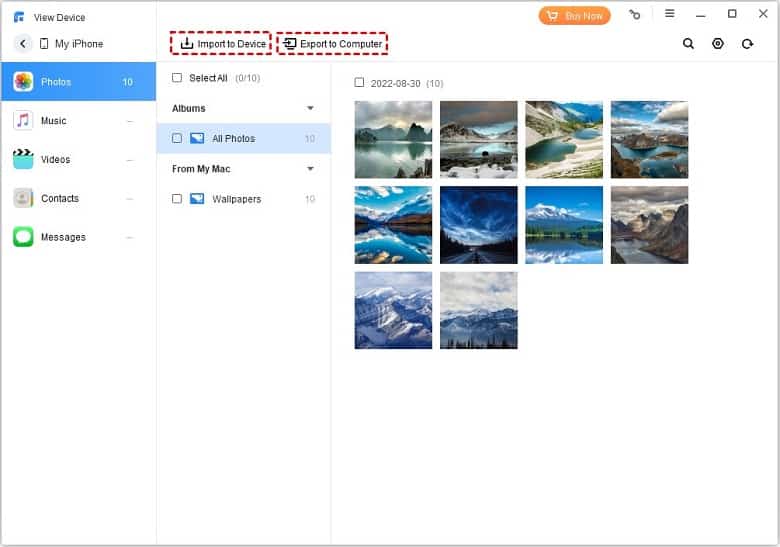 Supported File Formats
mp3, m4a, m4b, m4p, m4r, aif aiff, flac, w av, aac
jpg, jpeg, png, gif, tif, heic, raw
mp4, mov, m4v
CSV, vcf
Built-in HEIC Converter
From iOS 11 and above, the main file format for images for iPhone has become HEIC. However, that format might not be the best for backup and recovery.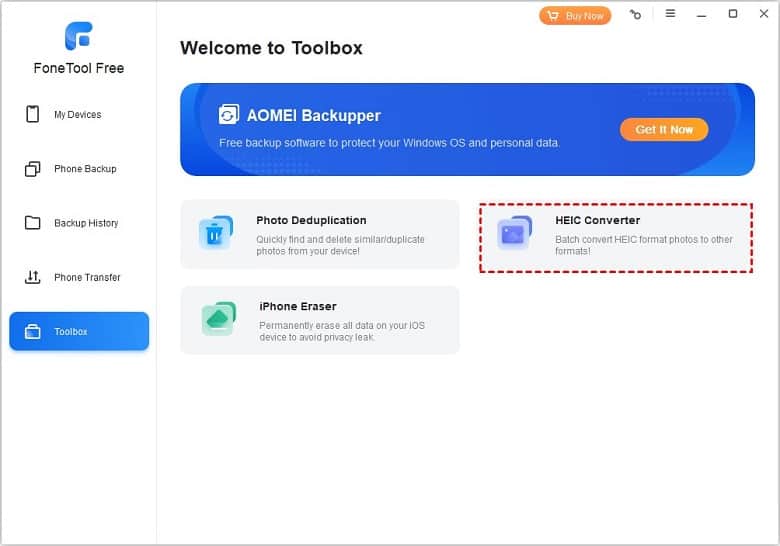 So, there's a built-in HEIC converter in the FoneTool so that you can change the file format to other usable formats such as PNG, JPG, and JPEG.
System Requirements
Minimum Hardware requirements for FoneTool are given below-
Operating System: Windows 7 to latest Windows 11
CPU: 1 Ghz x86 or compatible CPU
RAM: 256MB RAM
Disk Space: 300 Mb of free storage for installation
Pros of FoneTool
Fast file backup and recovery
Reliable file transfer with PCs
A large number of file format support
Small and powerful
Frequent updates
Free to use
Cons of FoneTool
Troubleshooting with FoneTool
There are tons of hidden issues and misconceptions about FoneTool that you need to know before you question its credibility. So, here are some of the most common issues and troubleshooting methods you need to know-
Music Import on Specified Playlist
Usually, the problem with music import occurs because the library synchronization is on for the iOS device. To solve this issue, you just have to change the sync settings, and then you can import your music to your specified playlist.
Playback Issue with iTunes Music Restoration
To solve the issue with iTunes Music recovery, here are the tips to follow-
Make sure your Apple ID purchases the Apple Music service.
Open Settings on your device, find iTunes & App Store, and log in to iTunes & App Store with your Apple ID.
Restore the Music and Music Videos downloaded from iTunes Store to the device, and then you can play them normally.
Video Playback Issue in Restored Media on Devices Below iOS 11
Before iOS 11, only H.264 and JPEG file formats were supported for videos and images, respectively. However, from iOS 11, the formats were expanded with HEVC and HEIF. So, now the older versions will not be able to support these older file formats. So, solve this issue-
Step 1: Go to any video and image converter and select the restored media.
Step 2: Choose H.264 for the video and JPEG for the image. Start the conversion process.
Step 3: After the files are converted, transfer the files to your iPhone.
Step 4: Open the files, and now the media should be visible on your phone.
FAQs
Is FoneTool Free?
Yes, FoneTool is free to use, and you can download the latest version without anything. However, you will miss out on some premium features with the free version.
Is it safe to use?
Yes, it is safe to use, both on your iOS devices and Windows PC. You can transfer, back up, and recover your files with this application without compromising your privacy.
Does FoneTool transfer without the Internet?
Yes, FoneTool does not need any data or an internet connection to transfer your files from one device to another. It uses your Wi-Fi connection from both ends to transfer the files swiftly.
Does FoneTool backup media attachments in SMS?
No, as of right now, FoneTool does not support any backup option to store your attachments sent or received via SMS.
Conclusion
If you are looking for an application that can ease up your backup and restoration for your iPhone, then FoneTool is a must-have. It offers many great features, such as backup, file transfer, file conversion, and much more.
So, download the application now and keep your files safe with FoneTool!
Apps Informations
---
App Name
FoneTool
File Name
FoneTool_free_installer.exe
File Size
1.17 MB
VirusTotal Hash Code
3cea9c16f8e0eefd2d564cdd3808eaba0346460e2944cc20eb4f3e5f2f028e88
VirusTotal Scan Report
Operating System
Windows 7 / Windows 8 / Windows 10 / Windows 11
Date Published
03, July 2023
Date Modified
06, July 2023
Category
License
Demo
Publisher
Comments
Let us know about your thoughts