LimeWire Pirate Edition 5.6.2
(56 votes, average: 5 out of 5, rated)
LimeWire Pirate Edition 5.6.2 Download for Windows 11, 10, 8, 7 (64 or 32) bit PC. Free download the latest version 2023 of the software from NearFile.
Technical Details
App Information
File Name
LimeWirePirateEdition.exe
VirusTotal Hash Code
80abbbc94a20116153acdcddb87c44e85668c7953137b75705d5da6f5e6af7b2
Operating System
Windows XP / Windows 7 / Windows 8 / Windows 10 / Windows 11
Date Published
17, April 2020
Date Modified
10, December 2022
About
LimeWire free download for PC Windows (10/8/7/11)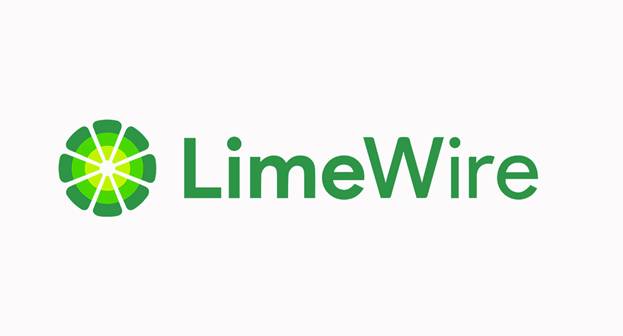 A proud compliant of the BitTorrent protocol, Limewire offers reliable network torrenting for your everyday use. It has the trusted Gnutella protocol service for better p2p action.
Available in multiple operating systems and all the bit rate desktops and laptops. All you need is the internet connection, and you're good to go! So, don't worry about your PC configuration to run this easy-to-use Java-based application.
Features
Do you want to you about this client's features? Well, here you go then-
Simple downloads with reliable speeds.
A very light app that can run on low specs.
Communication network through Limewire's in-house chat system.
Built-in video player.
Easily transferable library collection.
These are only the main ones. There are plenty more that you definitely enhance your torrent downloading experience. So, try the free version or the limited pro iteration.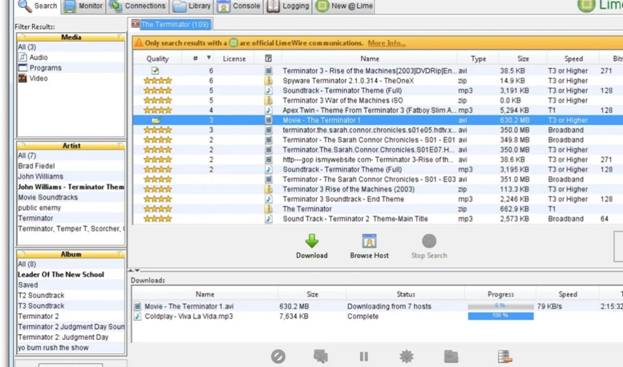 The Pirate edition was created because of the base edition's constant battle with authorities. That's why the pirate version came to solve the issues of bypassing the main tool's problems.
The pro and pirate versions have different characteristics. While this version still offers everything free, the pro version will charge you an annual fee. But you get an advert-free download and multimedia features with the purchased one.
What Happened to LimeWire?
As Limewire offloads unlawful torrent files via a peer-to-peer connection, it got into multiple battles with the Recording Industry Association of America. Eventually, they had to shut down because of several allegations and illegal activities.
From 2011 onwards, the tool availability lives on, but the support is not there anymore. So, you won't get any value out of the app in the long run.
Why Did It Shut Down?
The company's demise came because of its loss to the RIAA. After the initial ruling was announced, the company tried to reach out to the official labels for support. However, it was too late for that.
The copyrighted music was taken down from the site, and the company had to pay a hefty fine to all the music labels. The leaders of the company dig their own graves by not going for a more lawful approach.
You Can Download These Alternatives
There are so many good alternatives to the LimeWire app that you will not regret switching to another. While they may seem odd or different at first, you will definitely love them after you use them for a while. Here are some top picks from us-
Utorrent: The most famous P2P torrent downloading and streaming client for any type of user.
Vuze: Another extremely helpful and elegant solution for your everyday music downloads with torrents and streams.
FrostWire: A worthy alternative to the old Limewire app because of its similarities and usage. Perfect for anyone who's looking to switch.
BeeMP3: A website dedicated to music enthusiasts and torrent lovers.
Pros
Simple UI and creative design elements
Authorized store for paid content
Search feature
Unlimited downloads.
Cons
The free version comes with adverts.
FAQ's
Is LimeWire illegal?
Yes, the torrent client had received multiple lawsuits from major record labels due to the use of copyrighted materials. So, the app was cited as illegal by the authorities.
Does LimeWire still exist in 2020?
The client tool does exist in this modern time but with a big catch. The app does not have any technical or development support anymore. Since 2011, the app has been discontinued.
Is There Anything like LimeWire Anymore?
There are many similar torrent clients like LimeWire. They are very different in nature and usage. For example, Utorrent, BitTorrent, Vuze, Flux, etc.
Is Frostwire Still a Thing?
Similar to LimeWire, the days of Frostwire are also gone for the rest of its life. There's no coming back of the app as it was illegal from the start. But you can enjoy many alternatives to date.
Is LimeWire Malware?
No, It is surely not any type of malware. There's no danger of losing the data or authority of your PC. However, the usage of the app is definitely not legal.
Is Napster Still Around?
Yes, this awesome site is still in the market after it was purchased by Bestbuy. Before that, back in 2001, the site was illegal and not authorized by any record label or music distributors.
Is Kazaa Still a Thing?
No, Kazaa is among the long list of apps that were discontinued due to legal issues. The tool is not in practice or use, and that's why you won't be able to enjoy the glory days of Kazaa.
Which Came First LimeWire or Napster?
Many find it difficult to believe, but Napster is the one who started the trend of torrenting music. Then, after a while, newcomers like Limewire came to dominate the market.
How Much Did LimeWire Get fined?
The total amount of the fine was way over $1 Billion, but they did not have to pay that much. The legal issues were resolved by paying a hefty one-time payment of $103 million.
Wrapping Up
The LimeWire application is still there for you to enjoy. While the support is no longer there, the tool works just fine. However, there are multiple alternatives, as we discussed.
So, feel free to try it out before you experience the others.
Screenshots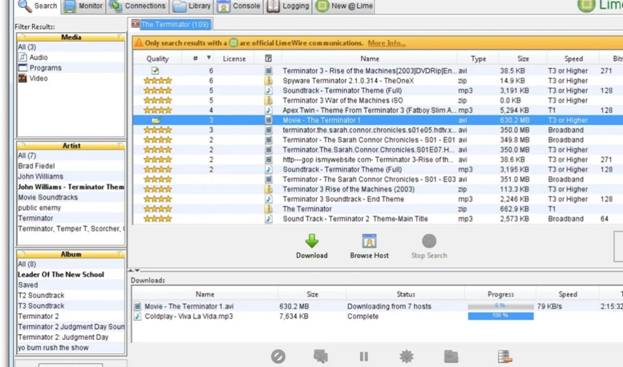 Alternatives
Also, check the alternatives of LimeWire
Comments
Let us know about your thoughts