Sideloadly is a tool for iOS users for loading apps from external sources. We all know that iOS devices do not allow their users to load apps from any other sources than the Apple store without Jailbreak. But sideloadly lets you load apps from other sources without breaking jailbreak or any other warranty issues. This tool is useable only between iOS versions 7 to 15.

Features
Install IPA
It is difficult to install IPA for your iPhone or iPad but if you use Sideloadly then you can install IPA easily for your apple device. You can also sideload IPA files on your iPadOS.
Load Apps without Jailbreaking
A special advantage is that you do not need a jailbroken device to use the app. You can use the same app on a normal device and enjoy the benefits.
Drag and Drop IPA Support
This feature makes loading apps on your device easier so you can load apps in less time and hassle-free.
Use Unsupported Application
There are some applications that do not support ios. Apps that you can technically use but ios does not support. In this case Sideloadly alternative solution. Use sideloadly and stay free from ios apps loading restrictions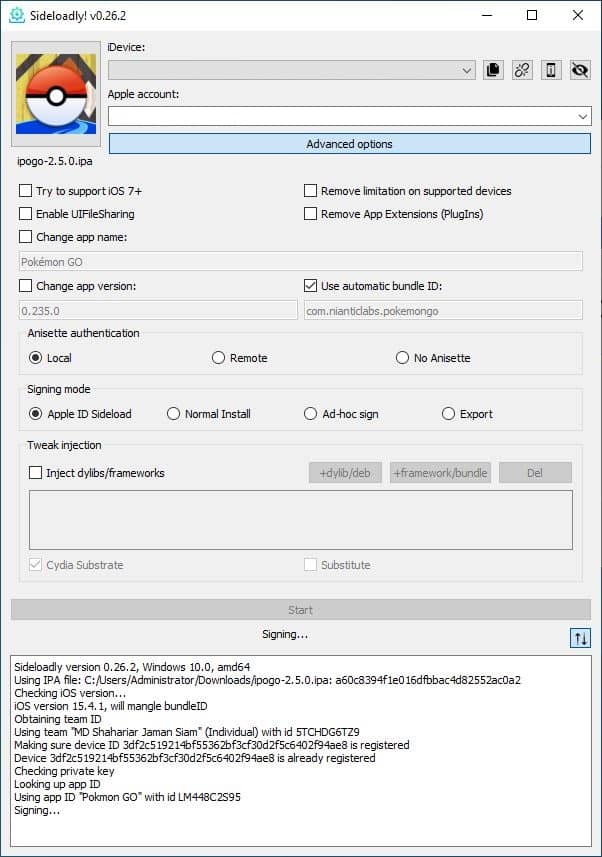 Pros
Supports the latest iOS 15 versions
Supports in-game progress
Supports Windows and Mac both
Use any apps on ios
Save your time
Completely legal
Cons
FAQ's on Sideloadly
How Can I install Sideloadly?
First, go to google and search Sideloadly. Google will show you some authentic sources for downloading Sideloadly and download it from here. Open this from the desktop and drop and drag IPA files. Insert your apple id with your password and tap the start button. Now, wait for the verification code, and after getting it to insert the code. Now it's almost done so wait for finishing the process. Then it is ready to use.
Sideloadly does not show my device?
Sometimes you may face this kind of problem. So the solution is to reboot your PC and open up iTunes.Check if you are using the web version of iTunes! If that doesn't work then uninstall and reinstall.
How do I enable Wi-Fi sideloading via Sideloadly?
For doing this you need to connect your computer and ios device to the same network. Primarily connect the device through USB. Then open iTunes and connect your device – Summary – Options – Enable 'Sync with this iDevice over Wi-Fi' option – Sync and Done.
Can I overwrite my current app without removing it?
Yes, you can. To do this you need to use the same Apple ID that you have already used with the previously loaded app. You need to do the same with the custom bundle ID.
Our Usage
The sideloadly tool is a very useful tool for apple product users or ios users. It is often seen that we need to install some apps but we can't do that because ios are not supported. In this case, using sideloadly is an alternative solution. So use it and be free from the restrictions of loading apps of IOS.