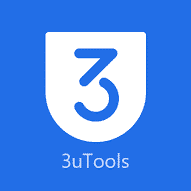 3uTools 2.60
Publisher:
3uTools
License: Freeware
3uTools 2.60 Download for Windows 11, 10, 8, 7 (64 or 32) bit PC. Free download the latest version 2023 of the software from NearFile.
Technical Details
App Informations
File Name
3uTools_v2.60.022_Setup.exe
Operating System
Windows 2000 / Vista / Windows XP / Windows 7 / Windows 8 / Windows 10 / Windows 11
Date Published
12, January 2020
Date Modified
16, October 2022
About
3uTools free download for PC Windows (10/8/7/11)
The best iOS files & data management
3uTools is the greatest iOS file management utility. With this application, it has been very simple for the iOS users to handle the applications, files, images & such other things. They can organize their iOS through a PC.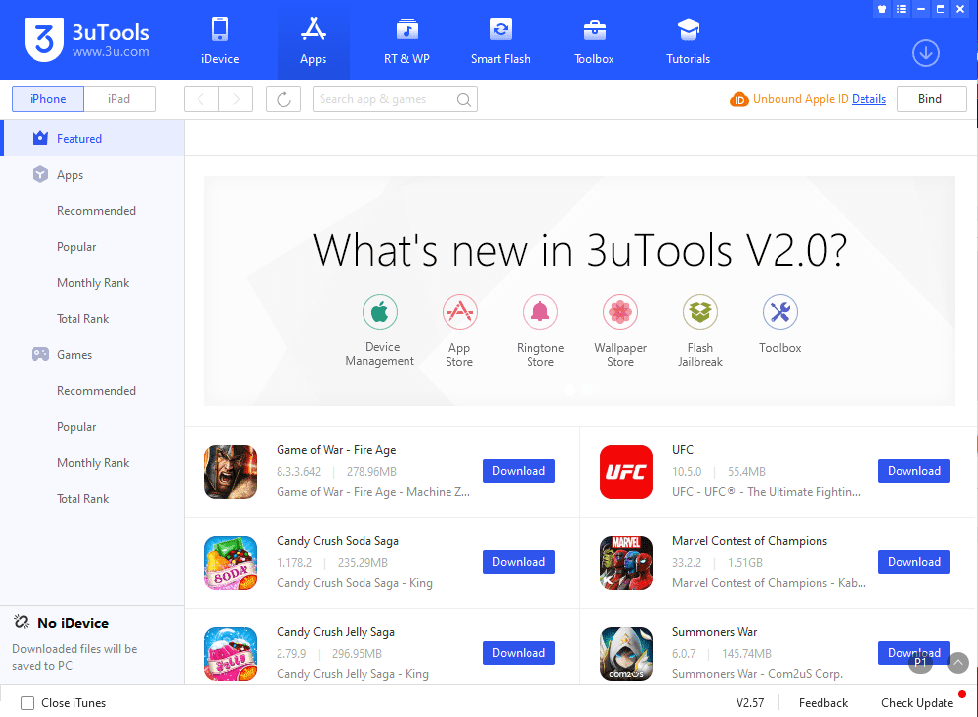 An all-in-one manager for iOS users
3uTools is the program where an iOS user can manage all the things. They don't need any other software for managing their device. This program offers every necessary feature which will give the users an "All in One" facility.
Features
Jailbreak your phone
This program is able to find the matching firmware rapidly which will be compatible with your device. Then jailbreak it perfectly.
Backup/Restore
With this tool, you are always capable of backup up your important data & also restoring it from the toolbox. It will give you the facility to get back your necessary files or information.
Clean Garbage
This tool made it easy for the users to clean the cache of their device. It will keep the user's device clean from any kind of unnecessary things.
Make ringtone
People can make their favorite music as ringtones from the toolbox. They can also create their own special & unique ringtone with this program.
Convert video
Sometimes we are not able to open a video file because the video format is not supported on our device. In this situation, we can use this program for converting video formats as we need.
Convert audio
Just like converting video, people can also use this tool to convert their formal as well.
Modify audio
This tool also permits modifying audios. People can edit, rename, change the genre &, etc with this application.
Migrate data
If you want to change your used device, then you can migrate all of your necessary data to the new device with the help of 3uTools. By connecting the old idevice to the changed one you will be able to get everything you need.
Compress photo
Sometimes photos take too much storage. At this point, you can compress your photos so that your device can have enough space.
Icon management
It is a new feature of this program. Now people are able to create new folders, move the icon's place & also classify the apps with the help of this new feature.
Real-time screen
With the help of this option, users will be able to see their phone's screen on their computer in the real-time
Real-time log
This option records all of your movements & activities in the idevice. You can keep them or share them. If you don't need the records then you can just delete them.
Delete invalid icons
When we failed to download something then it turns into an invalid icon. Sometimes the icon cannot be deleted directly. Then we can use 3uTools for deleting this unnecessary thing.
Open SSH
By using this program, users can open SSH in their idevice. But to open SSH, at first they have to jailbreak their device.
Stop iOS update
If users don't want to update their iOS then they can stop it by using 3uTools. If they close the iOS Update then their device will not detect any iOS Updates.
Flash your iOS
In this program, there are so many flashing modes. By using these modes, users can simply flash their iOS.
Customize your device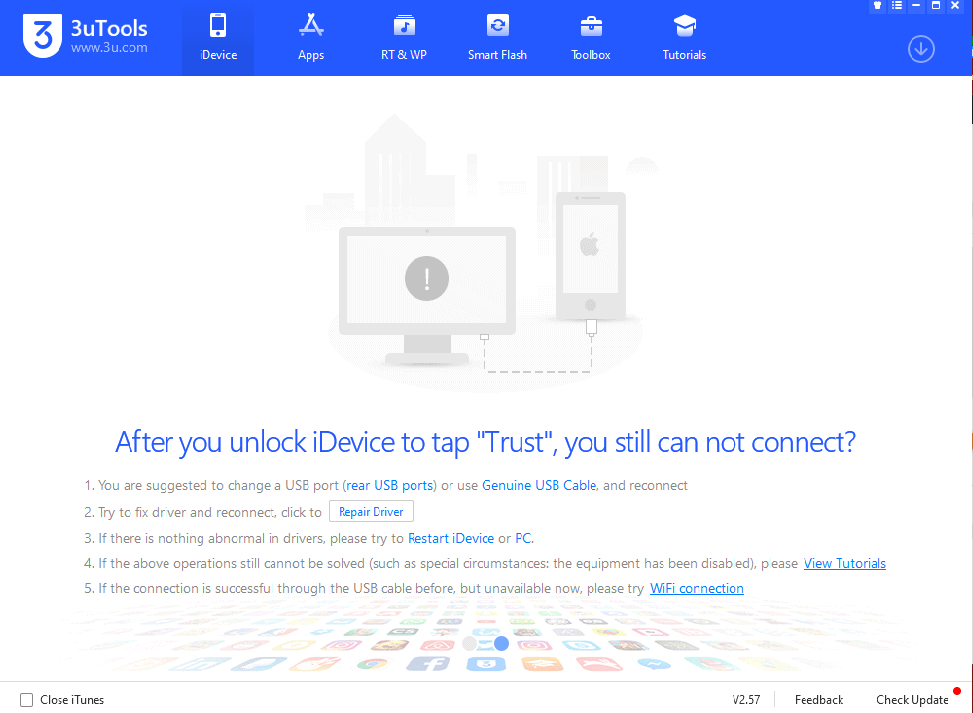 With this program, people can customize their devices as they want. They can customize the ringtone they use and also organize the apps & the icons which are on the home display. People can even share the wallpapers from the PC to the iPhone or iPad.
Easy to install & use
Service users can download this program from our website. After downloading, they have to press "install". Once it is installed then press "launch". Lastly, users should follow the reminder so that they could connect their PC with iDevice. Once it is connected then people can use it peacefully.
Simple & clean interface
The user interface of 3uTools is so easy & clean. Even if you are a beginner, it won't be difficult for you to work with this program perfectly. It has 8 various languages for the users so that they can understand.
How can I change my location on my iPhone with 3uTools?
To switch the iPhone location users should do some necessary steps:
At first, the device needs to be connected to a PC.
When it will be connected successfully then go to the toolbox>virtuallocation.
Then you need to type the longitude & latitude of the location which you wish to set.
Lastly, just press the option "modify virtual location". Then the location will be switched in some time.
How can I flash my iPhone using 3uTools?
Follow the instructions are here:
At first, connect the iPhone with a desktop or laptop.
Then navigate to Flash & JB>pro flash & then tap query compatible.
Then you must install a signed iOS version that you would like to restore.
When the download will finish, then you may import firmware.
After importing, enter DFU mode & choose "Quick Flash mode" & press "flash" .
Then your iPhone will be flashed.
How to jailbreak iPhone or iPad using 3uTools?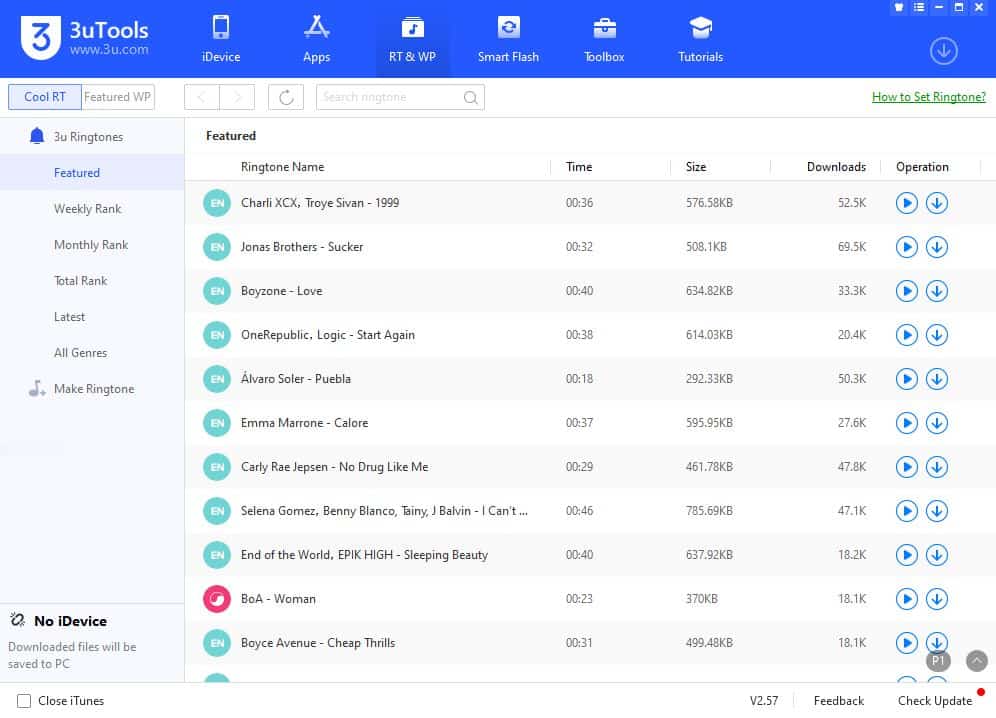 Here is given the instructions to jailbreak iPhone or iPad.
Connect the device with the computer.
Search the jailbreak option in the toolbox.
The jailbreak interface will show the users the jailbreak tools. Start jailbreak.
Then jailbreak will begin to install. Wait until it is totally installed.
After installation, open the jailbreak tool.
Go to settings>general>profiles & device management.
Then press "trust".
Open the Electra on the iPhone or iPad.
If users see a sileo icon on their desktop, then the jailbreaking process is succeeded.
System Requirements for 3uTools
Operating System: Windows 7, Windows 8, Windows 8.1, Windows 10, Windows XP, and Windows Vista (both 32 & 64 bit) is required for this program.
RAM: 1 GB of RAM is needed to run this program.
HDD: 1 GB of free space is required.
CPU: Any CPU can be used.
Pros
Free to use.
Safe & secure.
Simple interface.
It has all the important features.
Switch virtual address.
Cons
There are no cross-platforms.
It only works with iOS firmware.
FAQ's on 3uTools 
What is 3uTools?
3uTools  is a free application by which idevice users can manage their iOS with a desktop computer or laptop. 
What is the use of 3uTools?
With 3uTools, people can get an explained overview of the device which is connected. It is an all-in-one software for managing an iDevice.
Is 3uTools for Mac?
No, 3uTools is not working for Mac. People cannot use this program on macOS.
Is 3uTools safe?
Yes, this tool is completely safe. People do not need to worry about their privacy with this program.
Is 3uTools free?
Yes, this program is free to download and use as well.
Can 3uTools remove the activation lock?
Well, it is possible to remove an activation lock using the 3uTools.
Are there any alternatives?
Yes, there are 3 alternatives to 3uTools. They are amazing, Checkra1n and uncOver.
Is there a 3uTools for Android?
Yeah, 3uTools is also available for Android. People can use this migrating SMS, call logs, photos, music, etc from an Android to another mobile phone.
Can I use 3uTools on my phone?
Yeah, for sure. It is a program which is made for managing idevice. So, you can use it on your iPhone without any hassle.
Does 3uTools cost money?
No, it is a free program. It does not cost any money.
Can I use 3uTools to change my iPhone location?
Yes, you can. It is possible to get a virtual location on the iPhone with 3uTools.
Our take on it
Well, this program is used by us & we think it is the best software that can be used for organizing an iDevice. It is free & safe to use. It offers all the important features & it manages the idevice very perfectly.
Should I download it?
If you use an iDevice, then I would like to suggest you download this program. Because if you have this then you don't have to worry about your iPhone. It will handle your device & will keep it clean.
Screenshots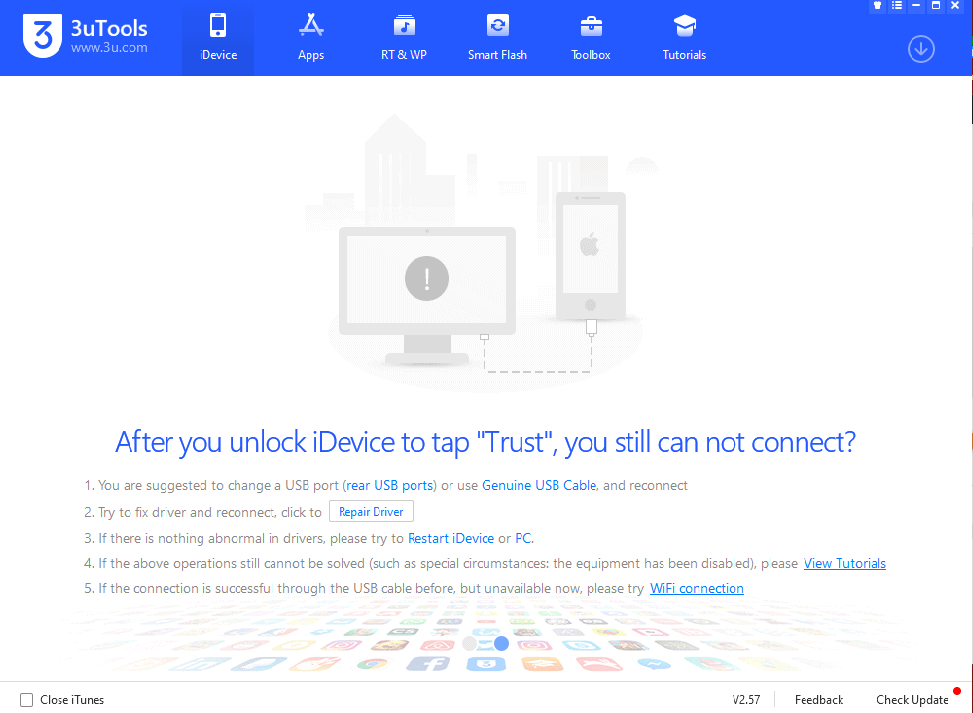 Versions
Check other versions
Alternatives
Also, check the alternatives of 3uTools
Comments
Let us know about your thoughts