Simple Sticky Notes 5.8
(107 votes, average: 5 out of 5, rated)
Simple Sticky Notes 5.8 Download for Windows 11, 10, 8, 7 (64 or 32) bit PC. Free download the latest version 2023 of the software from NearFile.
Technical Details
App Information
App Name
Simple Sticky Notes
File Name
Setup_SimpleStickyNotes.exe
VirusTotal Hash Code
789461d94c4fd4b48b7b4d43bf1a24e13fe4c21091471fa57d1ea3bf7db3e4b2
Operating System
Vista / Windows XP / Windows 7 / Windows 8 / Windows 10 / Windows 11
Date Published
30, March 2023
Date Modified
30, March 2023
About
Simple Sticky Notes free download for PC Windows (10/8/7/11)
Simple Sticky Notes is a computer program that allows users to create and organize virtual notes on their desktops. These notes can contain text, images, and other types of media, and can be organized and grouped according to the user's preferences.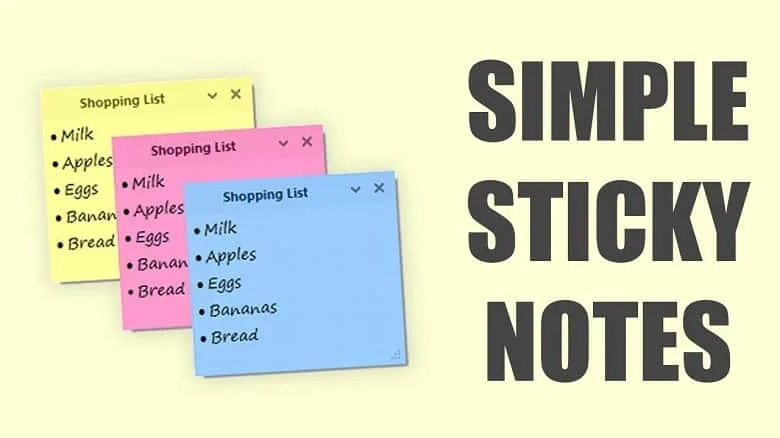 Just imagine your physical sticky notes but on a larger desktop screen! The application is commonly used as a reminder tool and for quickly jotting down ideas or tasks but you can use it for anything!
Features of Simple Sticky Notes
Effective Reminder & Notes
Well, for better or worse, we human beings are very forgetful when it comes to our daily chores and stuff. Even in some cases, we forget about many important things as well. To organize those particular aspects, a simple yet engaging application like Simple Sticky Notes can definitely help a lot.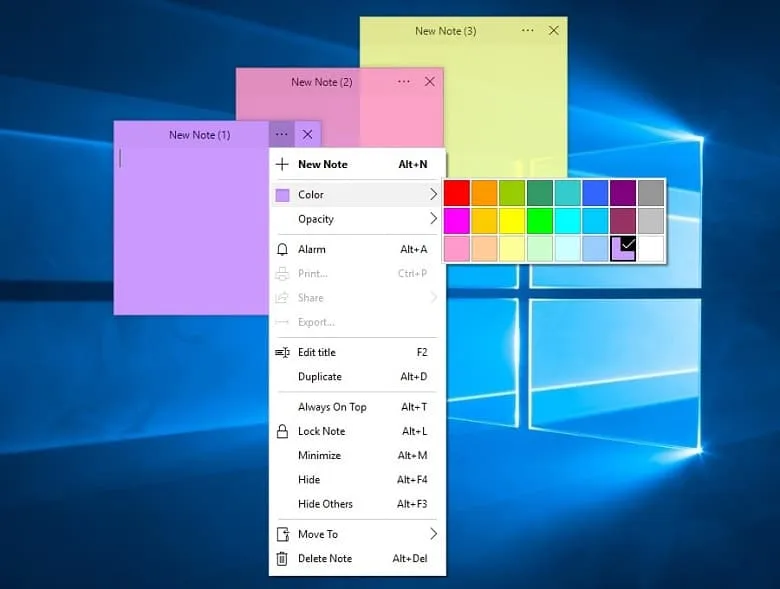 You can take notes, make checkboxes, and even set reminders so that you don't miss out on the things that you should do! The most incredible thing about the application is that it won't even take a toll on your PC because of its lightweight design!
Themes & Sounds
While the application does not offer many customization options, you can download different themed plugins and sound effects for the software. There are a total of 6 different themes Pyramids, Equalizers, Canvas, Smooth Concrete, Marble, and Desert.
The sounds section includes tonnes of iPhone, Windows 10 bell, Power Up, Coins, Secret Jam, and Samsung Whistle.
Simple & Refined
The most appealing feature of this application is that it's very minimalistic and simple. It does not try to be anything other than your regular sticky notes. Just open the application, check your notes, and leave. No unnecessary motion or wasted time.
System Requirements
To use a simple application like Simple Sticky Notes, you won't really need any hardcore desktop setup. Still, here are a few basic requirements that you'll need to fulfill to get a decent experience-
Pros of Simple Sticky Notes
Easy to use and intuitive
Allows for quick and easy note-taking
Regular updates and bug fixes
Free to download
Cons of Simple Sticky Notes
No advanced features
No multi-device support
FAQs About Simple Sticky Notes
Is it free?
Yes, the incredible Simple Sticky Notes is free to download and use on most Windows devices. You can take quick and efficient notes with the application in an interactive way.
Is simple Sticky Notes safe?
Yes, Simple Sticky Notes does not have any viruses or cyber threats. Even the Windows defender causes no alterations or modifications to the application. The software is 100% secure to use at any time.
How do I download sticky notes to my desktop?
To download Simple Sticky Notes, click on the download button and wait for the page to load. Confirm your download and your download should be automatically started.
Conclusion
So, in all essence, Simple Sticky Notes is a useful tool for quickly jotting down ideas, tasks, or reminders. Its ease of use and visual organization capabilities make it a great option for personal use.
However, those who are looking for more advanced features, such as collaboration and syncing across multiple devices, may want to consider other note-taking software. If you're looking for a simple yet effective tool to organize your thoughts and tasks, you can get this software in a heartbeat!
Alternatives
Also, check the alternatives of Simple Sticky Notes
Comments
Let us know about your thoughts