WBFS Manager 4.0
Publisher:
AlexDP
License: Free
(66 votes, average: 4.23 out of 5, rated)
WBFS Manager 4.0 Download for Windows 11, 10, 8, 7 (64 or 32) bit PC. Free download the latest version 2023 of the software from NearFile.
Technical Details
App Information
File Name 32 Bit
WBFS-Manager-v4.0-32-Bit.zip
File Name 64 Bit
WBFS-Manager-v4.0-64-Bit.zip
Operating System
Windows 7 / Windows 8 / Windows 10 / Windows 11
Date Published
16, March 2020
Date Modified
16, October 2022
About
WBFS Manager free download for PC Windows (10/8/7/11)
Many of the games face problems while using the Nintendo Wii console on their PC. You can play the game, but the game backups are not easy to transfer from one PC to another. As a result, your play data is no longer available on the next PC.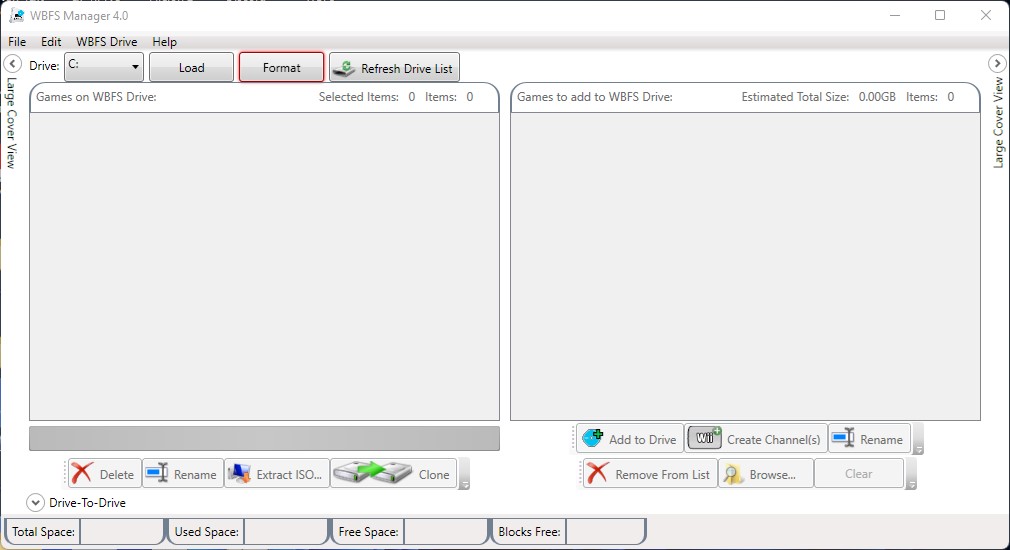 This is a nightmare for many. WBFS Manager is specialized software that can help you to transfer the backup from one PC to another and restore the game backups there.
As a result, you can easily play the games with the Nintendo Wii console again without losing any stage you have already played.
Organize your drive
WBFS Manager can help you to organize your drive exclusively using the console. The Nintendo Wii console is basically not compatible type for Windows. WBFS Manager prompts you to format the disk you are going to use for the console and format it according to need. So that, you can easily run the console and play games in Wii format.
.ISO format games
If you use WBFS Manager, it will help you to download and install .iso format game files and run them with your Nintendo Wii console. You don't need to do anything extra for that.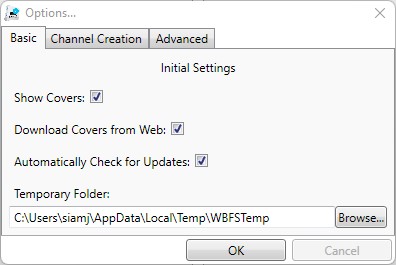 Backup Restore
The most important part of using WBFS Manager is its ability to transfer the backup in Wii format from one PC to another. The console is not supported by Windows directly. So, you must use WBFS for the compatibility gain and send the backup data from one PC to another.
See cover arts
The app allows you to see the games' cover arts with your PC. This is really fun. You can use it to download the games and play like the main console.
Freeware
The app is totally free for your best use. You don't need to give your credit card information and get through a trial period. Just install and run without any problem.
WBFS Manager System Requirements:
Operating System: Windows 7 or above.
CPU: Intel or AMD (Dual Core or Higher).
RAM: 1GB of RAM or Higher.
Storage: 1GB of HDD space is Recommended.
Pros
Formats your PC drive for using the Nintendo Wii Console
Helps you to see the covers before playing the game
Let you know if anything is missing in the game
Formats USB drive for transferring backup
Plays. ISO games on your PC without formatting
Perfect for WBFS Wii file storage
Easy plug-and-play feature
Game file backup
Free to use
Cons
Some files may not be saved automatically
FAQ's about WBFS Manager
What does the WBFS manager do?
WBFS Manager formats and organizes your PC for playing with the Nintendo Wii console. It plays all the compatible games and shows the cover art. You can even restore your backup game data to another PC with this software. As WBFS format files are not compatible with Windows, you can use WBFS manager to your advantage.
How do I add games to WBFS Manager?
At first, you should already have a drive formatted for playing the game. Now, if you want to add games, go to the app. Then go to Drive 1 then Drive. Please select the drive you have already formatted for playing the games with the console. Then go to Files then Add. After this, select the files or folders containing the games on your PC. Select Transfer and Drive 1. The games will be delivered to the formatted drive for playing.
How do I open a WBFS file?
You can use WBFS manager to open a WBFS file. WBFS files are not compatible with Windows. For this, you need to format a drive solely for the Wii console with the WBFS manager. With the same file, you can read and transfer backup game files in WBFS format.
Can Wii Backup Manager split WBFS?
Yes, Wii Backup Manager can automatically split WBFS files and transfer them to the FAT32 USB drive. But for this, you should have two setups in the app beforehand. First, keep the photo of the game downloaded on, and second, Keep the following option Auto Settings then FAT32 or NTFS then WBFS split style. If you keep this auto, then the transferring file will split auto.
Our Uses
WBFS Manager has many options but is still easy to use. It has different language options which are friendly to many gamers in different countries. The drive formatting option should be easier so that you can format different drives at different times if necessary.
Alternatives
Also, check the alternatives of WBFS Manager
Comments
Let us know about your thoughts