AnyViewer 4.0.0
(54 votes, average: 5 out of 5, rated)
AnyViewer free download for PC Windows (10/8/7/11)
In an increasingly connected world, remote collaboration has become essential for individuals and businesses alike. With AnyViewer, a powerful and versatile remote desktop software that enables seamless collaboration, enhanced productivity, and efficient troubleshooting.
Whether you're working from home, providing technical support, or conducting online meetings, AnyViewer empowers you to bridge the distance, share screens, and collaborate in real-time.
Key Features of AnyViewer
While there is a lot to take about AnyViewer, it will be totally overkill to discuss every feature in detail. So, here are the key features of this software that demand further discussion-
Remote Desktop Access
The main feature of AnyViewer is obviously the remote access feature where you can connect two or multiple computers at once. You can do this on any desktop, laptop, or mobile device which supports AnyViewer.
With this feature, you can access other PCs to control, collaborate, and troubleshoot easily and more readily.
Screen Sharing
With AnyViewer, you can easily share your screen with others during online meetings, presentations, or collaborative sessions. This feature enhances communication and enables real-time collaboration on projects.
Data Transfer
When you are connected via the remote internet, you can easily send or receive any type of data without any trouble. Just drag and drop whichever file or folder you want and that's all you have to do!
Cross-Platform Compatibility
This application is compatible with various operating systems, including Windows, macOS, Linux, Android, and iOS. This broad compatibility ensures that you can connect and collaborate across different devices and platforms.
How to Download and Install AnyViewer on Windows System?
Here is the most simple guide to download and install it on your Windows device-
Step 1: Go to the download page for AnyViewer on this website and click on the download button.
Step 2: Wait for the download to finish and then go to your file location and double-click on the executable file.
Step 3: Once the installation window has appeared, click Install Now after you select the file location and accept the license agreement.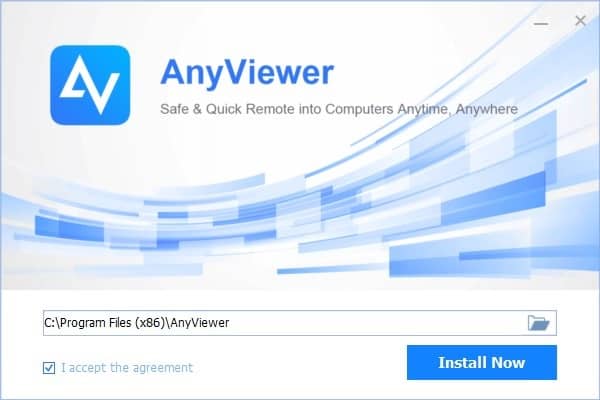 Step 4: Once the installation is finished, AnyViewer is ready to go!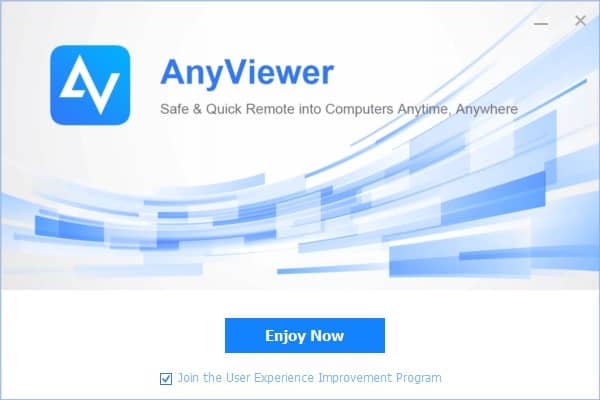 Pros of AnyViewer
Simple and easy to use
Elegant and intuitive UI
Fast remote access and data transfer
Free to use
Cons of AnyViewer
Limited device connection support on the free version
No access in privacy mode
Getting Started with AnyViewer
The interface of this app is rather simple to understand and use. Once you launch the application, you will notice the main windows which give you the navigation panel and the control panel for remote connection.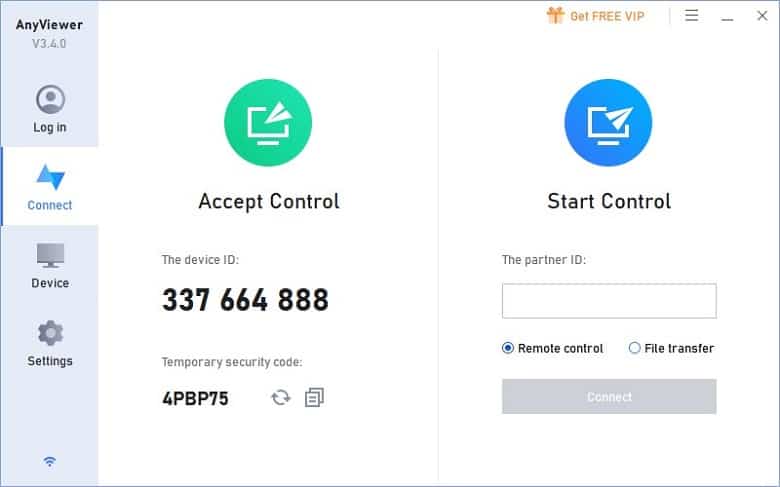 If you go into the Device option, you will find the login or register button to make your personal AnyViewer ID. It's better to create an account as it comes with certain perks.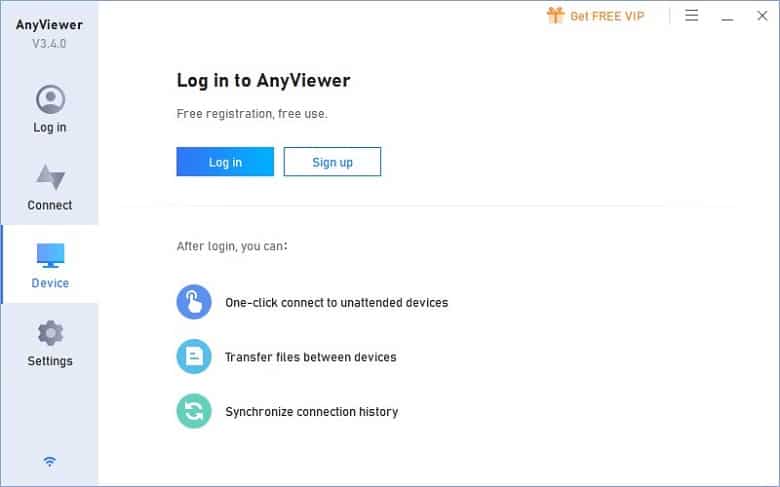 The last thing is the settings menu where you can check all of your connection statuses, device settings, and so on.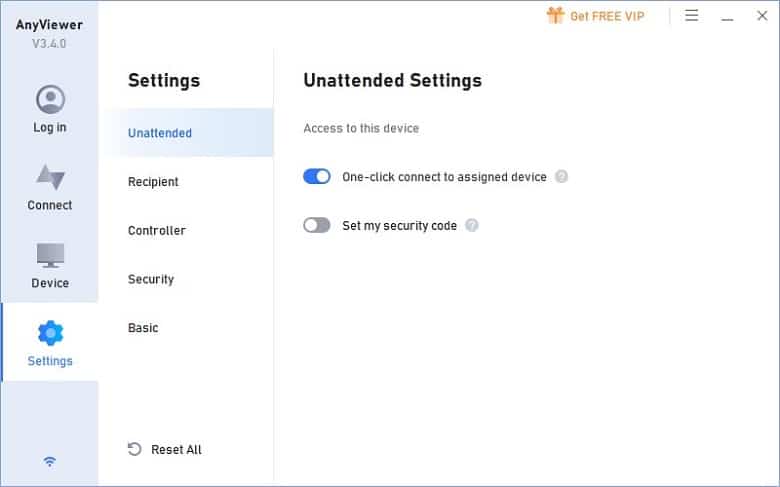 The overall theme of this app is to be simple yet secure so that anyone can use the application whenever they need it!
FAQs
Is it safe to use?
Yes, AnyDesk is designed with security in mind. TLS 1.2 encryption and RSA 2048 asymmetric key exchange are used to ensure secure connections. Additionally, it allows you to set up access permissions and password protection for added security.
What is the latest version of AnyViewer?
The current version of this application is V3.4.0. The development of AnyViewer is quite up-to-date and you will get regular updates with new and improved features.
Can I control multiple computers at the same time?
Yes, you can control two or multiple PCs at the same time. However, you will need AnyViewer Professional or Enterprise to get that feature. The community version does not allow remote access to more than one computer at once.
Can AnyDesk be used for both personal and commercial purposes?
Yes, AnyDesk can be used for personal and commercial purposes. It offers different licensing options to cater to the needs of individuals, small businesses, and enterprises.
Conclusion
If you ever face any issue with any application, project, or anything, AnyViewer can greatly support you to fix those issues without much trouble. While remote access is always a concerning issue because it can be breached, AnyViewer offers a secure and encrypted remote access protocol.
So, you can feel confident while you share your control with another person!
Apps Informations
---
App Name
AnyViewer
File Name
AnyViewerSetup.exe?cfv=20230907.6724868
File Size
40.2 MB
VirusTotal Hash Code
c8a788f6db82f241df7fb12a208958b3aa22a1dd361ef670744cf9a46512a0bc
VirusTotal Scan Report
Operating System
Windows 7 / Windows 8 / Windows 10 / Windows 11
Date Published
23, June 2023
Date Modified
07, September 2023
Category
License
Freeware
Publisher
Alternatives of AnyViewer
Comments
Let us know about your thoughts