AnyDesk 7.0.8
Publisher:
AnyDesk
License: Freeware
(106 votes, average: 4.98 out of 5, rated)
Access and control a remote desktop with AnyDesk. Download now for free and enjoy a fast and secure way to connect to a remote computer from anywhere
Technical Details
App Information
VirusTotal Hash Code
dd7aa730255da936af74821fe2e90cbeec20a06f543f1fabf924d129f526c014
Operating System
Windows 2000 / Vista / Windows XP / Windows 7 / Windows 8 / Windows 10 / Windows 11
Date Published
11, July 2020
Date Modified
05, April 2023
About
AnyDesk free download for PC Windows (10/8/7/11)
We all faced those situations where we got worried about the files that we left at home. If the computer or device is logged off, then there's no way you can retrieve that instantly. However, if the device is powered on? Then, you can quickly get that file with Anydesk! A perfect companion to remove all of your worries at once with its secured remote access.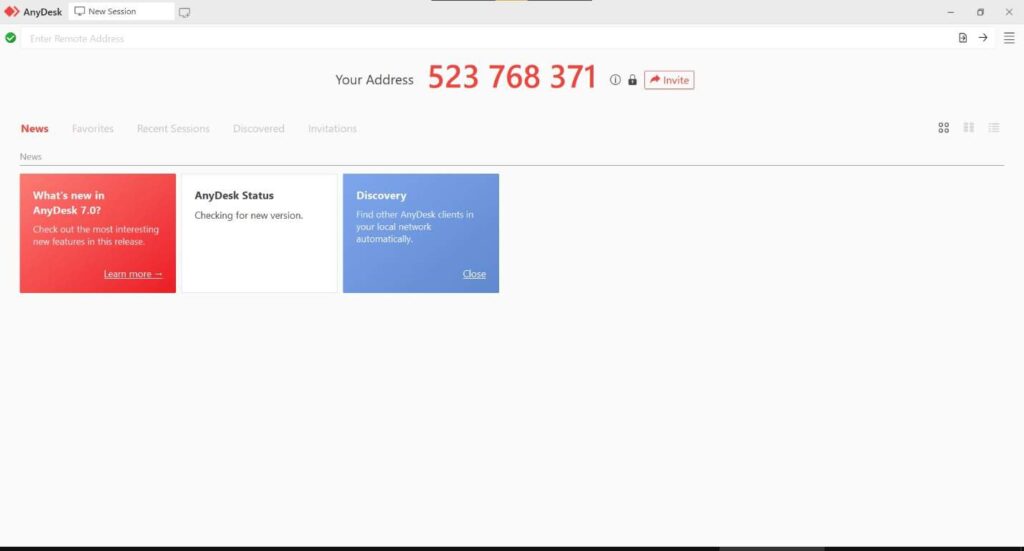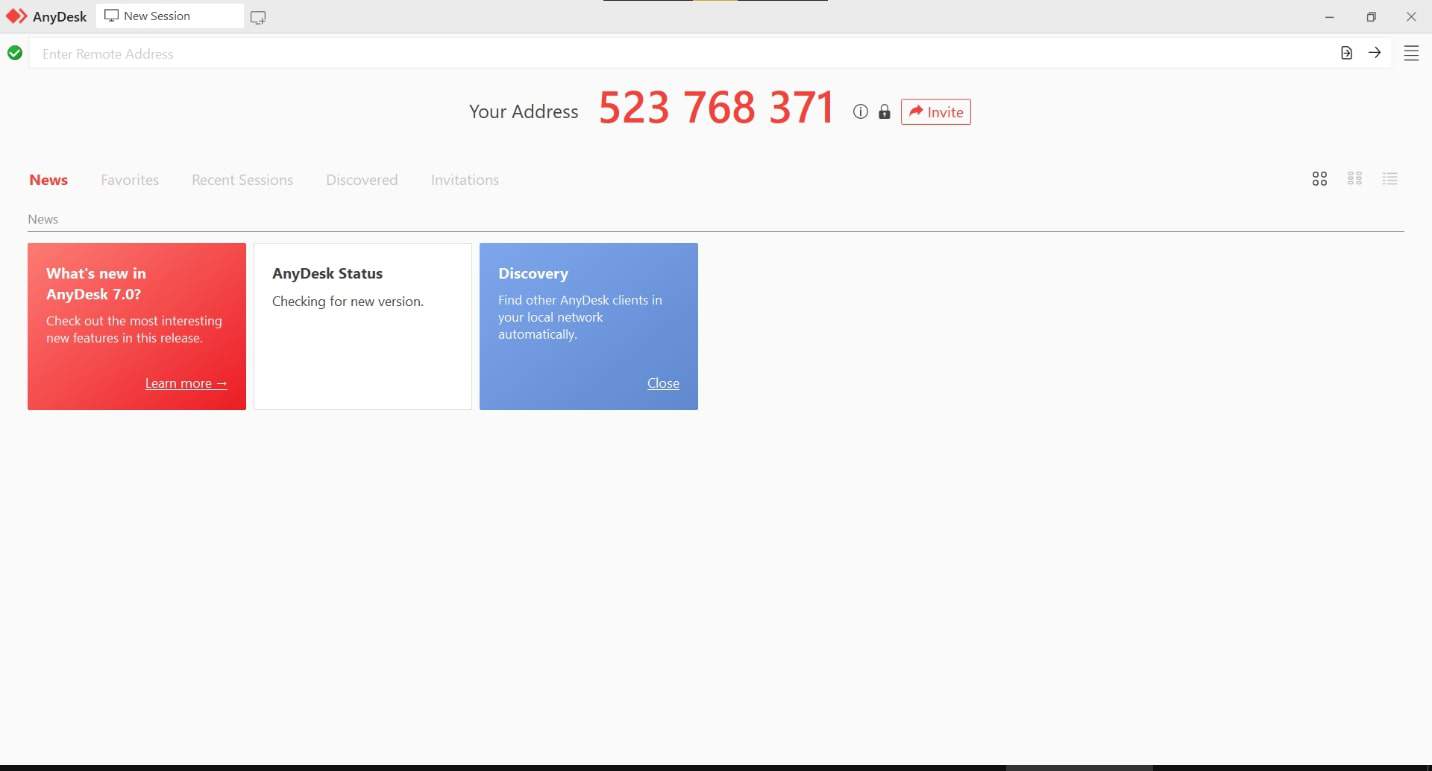 Best Remote Access Tool
Whether it's the best tool or not (it probably is!) is for you to decide. But we can confidently state that you've seen nothing like this before. You can remotely access your supported devices from anywhere in the world with just an end-to-end connection. Not only that, but it can also transfer and communicate with other connected devices!
Features
Eager to know the features of this extremely powerful program? Here are some of the highlighting characteristics you might want to look at-
Low Computing
The best thing about Anydesk is it barely uses any storage space or RAM! Because of this cool and lightweight nature, you won't even feel like you're connected to other devices.
Use of Effective Bandwidth
While the program requires a stable bandwidth to work, it uses that as effectively as possible. That's why you get clear and responsive navigation to another device screen from one corner to another corner of the world.
Cross-Platform
The fun part of this application is that it is available on all the major platforms. Whether it's Windows, Linux, Mac, Raspberry Pi, Android, or iOS, you can connect with any device without any latency.
Safe and Secure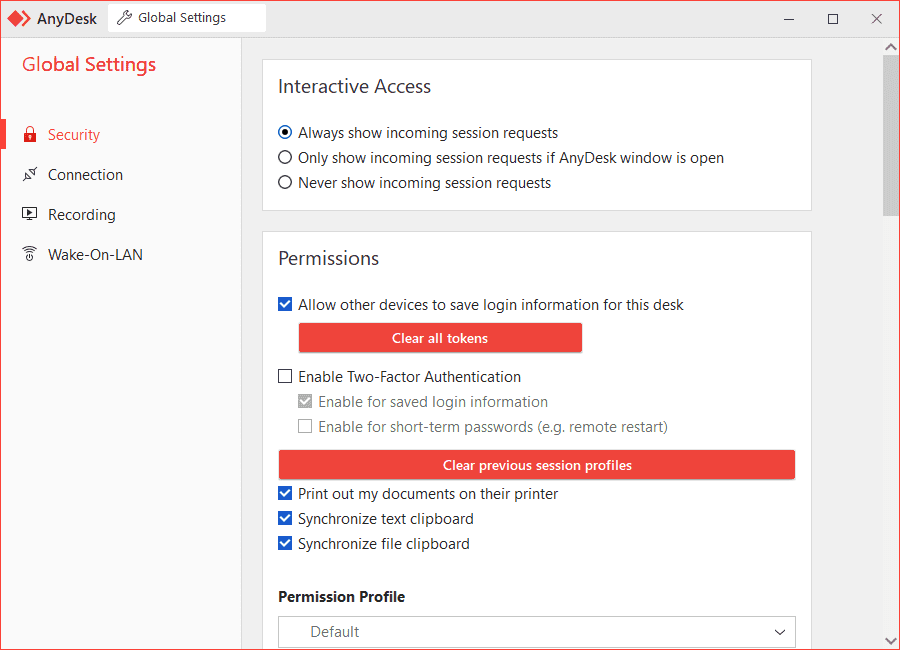 With its two-factor authentication and safety measurements, you don't have to worry about getting hacked or breached. Military-grade TLS 1.2 security and 256b AES technology are more than enough to secure your device.
H3 Quick and Fast
The program uses its proprietary DeskRT codec to initiate the end-to-end communication path. Because of that, you get very minimum latency with constant 60 FPS navigation.
Warning System
In case of any unauthorized access or the breach, Anydesk will immediately send you a warning message to inform you of a connection attempt. Quickly cancel it and you'll be safe and sound.
Transfer Data
This excellent program does not stop with just making a connection with another device. It can securely transfer data and files to another Anydesk-supported device with ease. So, you don't need to carry cables to transfer your files anymore!
AnyDesk Multiple Screens
One device but multiple windows. While it seems impossible, it can be done by making a connection with your one device with a different window. Even you can get on to enable multiple screens option by using several devices.
Available Worldwide
Even in the farthest corner of the world, Anydesk can get through. You'll just need a stable bandwidth and a compatible device. Then, there's nothing to stop you from running it from anywhere.
How to Download and Install AnyDesk
Well, the downloading process is very simple. You just have to click on the large download icon up top and wait for the redirected page. Then, you'll be able to download the installation file.
As for the installation, you really just have to press one click! After downloading the file, open a testing window of Anydesk will pop up.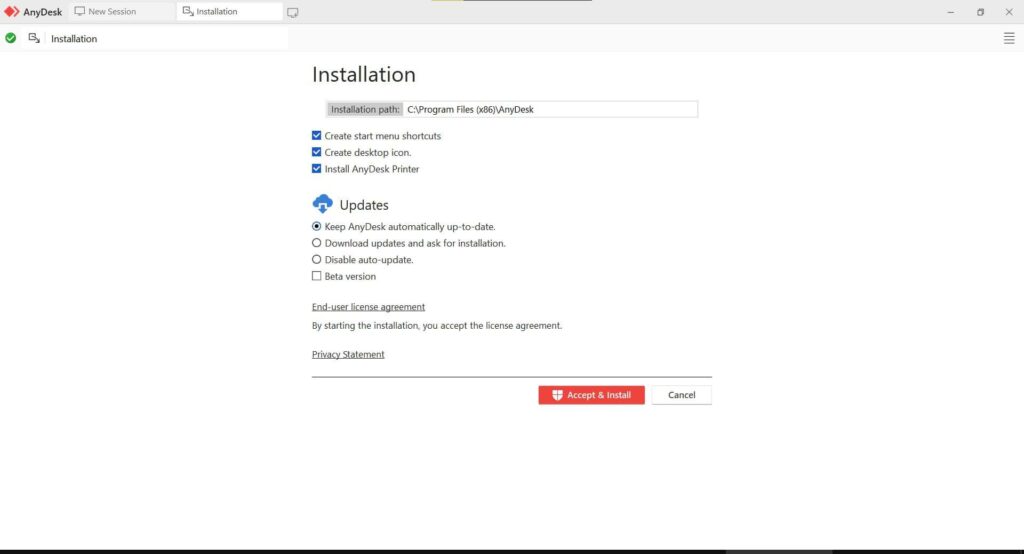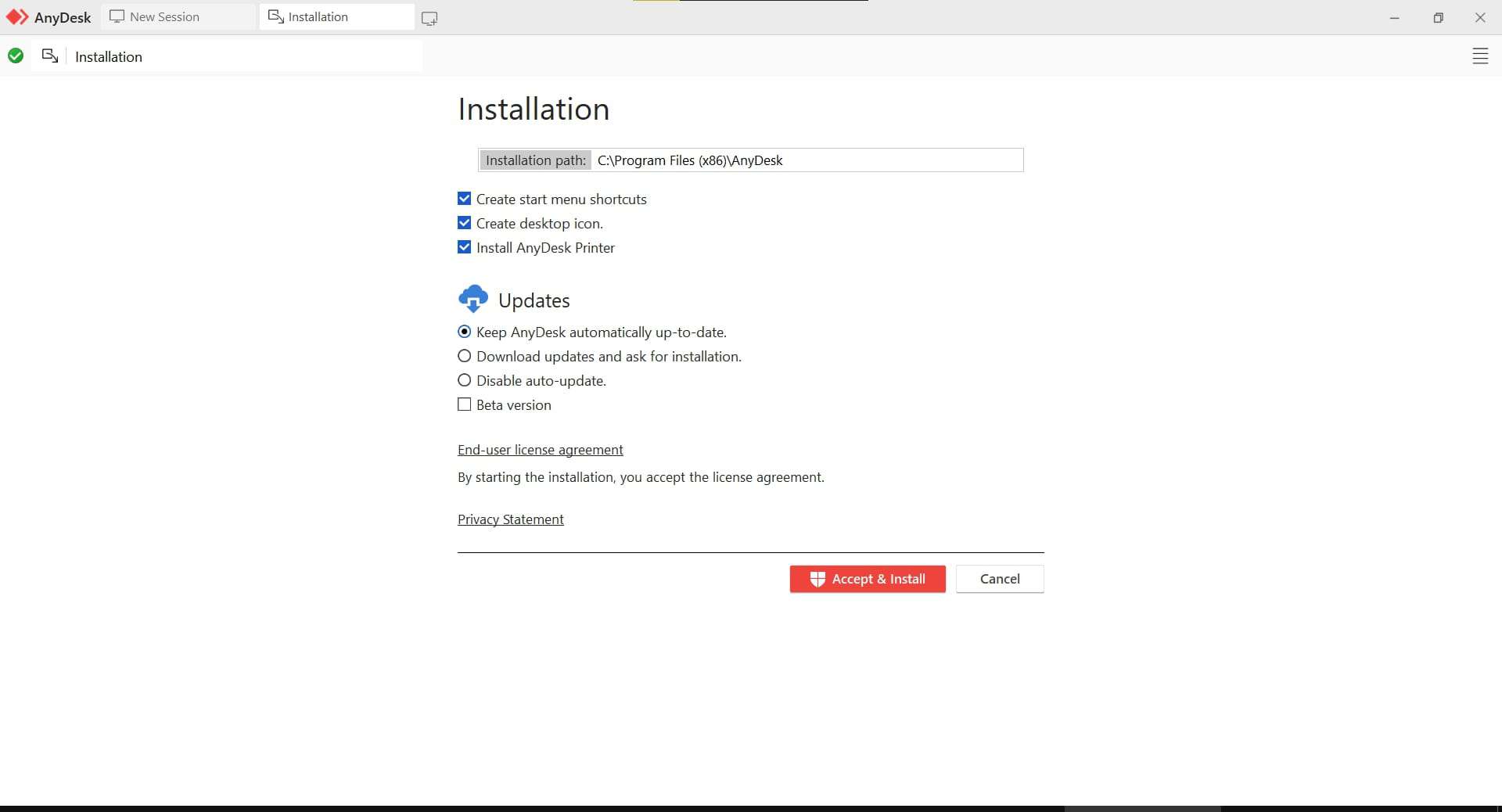 Close it and you'll get the installation wizard. Just choose your preferences and press install. And that's about it!
Pros
Quick and responsive remote activity from anywhere
Multi-device and operating systems support
Secure, protected, and stable connection
Free to download
Cons
Sometimes the window can show glitches
FAQ's
Can AnyDesk Transfer Files?
Yes, this remote-access tool can easily transfer and share all types of files. You can use the file manager built inside the application to share your documents or files with other remote or local PC. 
Where Can You Run this Program?
You can install and run this program on many operating systems. For example, Windows, macOS, Linux, iOS, Android, Raspberry Pi, and so are compatible with this software. So, you don't have to worry about compatibility.
Is AnyDesk Safe to Use?
Yes, this program is more than safe to run on any type of computer or mobile. It does not register as malware or virus, so you won't have to worry about your computer's safety and security.
What is the Function of AnyDesk?
Anydesk is a remote access tool that can share your computer or mobile screen with another endpoint. It can also act as a file-sharing tool for easy documents, pictures, or file transfer.
Is TeamViewer Better than AnyDesk?
TeamViewer is very similar to this program with almost the same features. Both of them have their premium versions too. So, it can't be said which one is better. It solely depends on the user's preference.
Is AnyDesk free for PC?
While AnyDesk does offer a free option, it also has a commercial business version. For that, you have to pay either a monthly or annual fee to get the subscription. However, for daily use, the free version is enough.
Can I be Hacked through AnyDesk?
AnyDesk provides multiple security features to eliminate any security breaches such as hacking. However, many still abuse the software by getting safe codes and transferring valuable information to their device.
Our Recommendation
It's quite obvious that Anydesk can drastically change your workstyle with fluid remoteness. On top of that, you also get to enjoy other nifty features that will surely increase your productivity and efficiency.
So, we highly recommend this program and urge you to download it!
Versions
Check other versions
Alternatives
Also, check the alternatives of AnyDesk
Comments
Let us know about your thoughts