Autodesk SketchBook 8.7.1
(97 votes, average: 4.82 out of 5, rated)
Autodesk SketchBook free download for PC Windows (10/8/7/11)
Autodesk SketchBook is a good application if you are enthusiastic about drawing and art. Sketching or creating art is a passion for many. As technology progressed, it has become far easier to transcend pen and paper and adopt digital devices. However, those devices are nothing if you don't have a good application to run your imagination.

SketchBook is a cross-platform drawing application that can give you the freedom to make anything on most devices without any constraints. You will easily get hooked to this software once you get the taste.
Features of Autodesk SketchBook
You obviously know a thing or two about Autodesk Sketchbook already. However, there are plenty of beautiful features that you might also like to know about. So, here are all the best features of SketchBook for you-
Aesthetically Pleasing Interface
If the interface of a drawing application is not aesthetic enough, then it's definitely a dealbreaker. However, you don't have to worry about that with SketchBook as it has one of the cleanest UI you'll ever encounter on an application.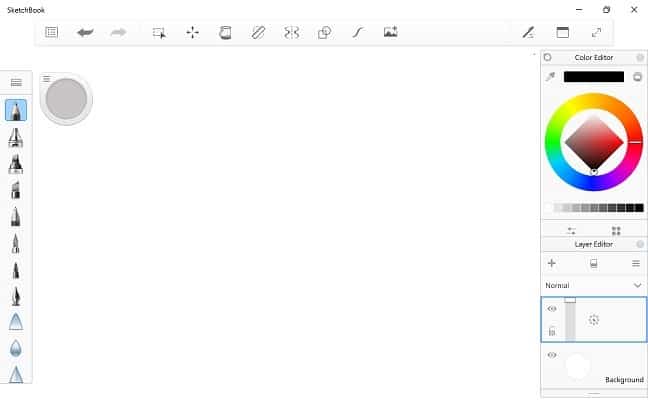 All the tools and settings are perfectly designed and visible for better usability. You don't even have to take a long time to get used to the interface.
Tons of Tools
From 190+ brushes to different shapes and sizes of pens, pencils, and inks will captivate you from the get-go. Ellipse guides and 100 mpx canvas provide a smooth experience so that you can draw anything clearly and accurately.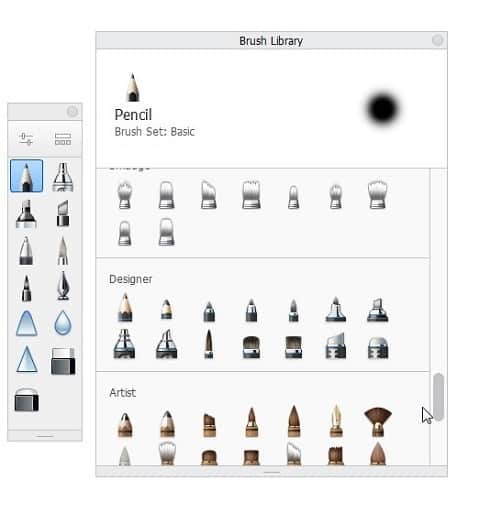 Also, there's the Camera scanning feature as well. As the name suggests, you can just scan a certain picture and add your creative touch to it. So, there are endless possibilities for you to explore with SketchBook.
Multiple File Compatibility
The most important file format for any drawing application to support is PSD. And SketchBook does have support for PSD including many others such as JPG, PNG, BMP, TIFF.
The PSD format can fully preserve the file layers, groups, and blending modes.
Natural Pen Support
If you use a stylus for your art then SketchBook is the perfect tool for you. It automatically detects your Stylus on all devices and lets you be as creative as you want. With the natural pen/stylus support, you can draw anything with pinpoint accuracy.
The strokes and linings of your art look more refined and vivid with a stylus. So, you get better output from SketchBook!
Flexible and Available
The application is cross-platform ready along with the obvious Windows support. You can easily export your work on other Android, Mac, or iOS devices and continue your paintings there. So, you don't have to miss out on anything with this application.
Pros of Autodesk SketchBook
Over 190+ customizable brushes, and tools
Compatible with everyone
Multiple device support
Free of cost
Cons of Autodesk SketchBook
The app does not have Linux support
Frequently Asked Questions About Autodesk SketchBook
Is Autodesk SketchBook good?
Yes, Autodesk SketchBook is a good application if you are enthusiastic about drawing and art. It offers a unique way to explore and create anything with tons of functions.
Do professionals use Autodesk SketchBook?
Yes, professionals do use SketchBook as a daily driver for their art. But that does not mean that beginners can't try it out as well. The application is suited for everyone.
Is SketchBook no longer free?
No, there are no free versions of SketchBook anymore as it has become a subscription-based software. However, you can try the free trial version without paying anything.
Conclusion
I know what you're thinking about after going through the full discussion. You're waiting for professional advice on whether you should go for SketchBook or not.
Upon my testing of this application for the last couple of months, I can confidently state that you can easily use this software for your everyday art cravings. There are very few things that you'll don't like about this application, really.
So, try it out and see your paintings glow!
Autodesk SketchBook 8.7.1
87.3 MB
Apps Informations
---
App Name
Autodesk SketchBook
File Name
sketchbook_8.7.1.0_win64.exe
File Size
87.3 MB
VirusTotal Hash Code
502d8b2125b838d4a3c24529cdbcf3988715f63b9b828e91740a13a808602837
VirusTotal Scan Report
Operating System
Windows 7 / Windows 8 / Windows 10 / Windows 11
Date Published
14, October 2022
Date Modified
19, June 2023
Category
License
Trial
Publisher
Alternatives of Autodesk SketchBook
Comments
Let us know about your thoughts