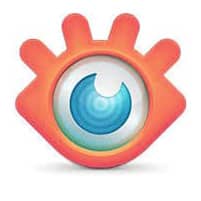 XnView Full 2.51.1
Publisher:
XnView.com
License: Non-Commercial Freeware
(54 votes, average: 5 out of 5, rated)
XnView Full 2.51.1 Download for Windows 11, 10, 8, 7 (64 or 32) bit PC. Free download the latest version 2023 of the software from NearFile.
Technical Details
App Information
File Name
XnView-win-full.exe
VirusTotal Hash Code
2e75dcdf5fa9c1b3ac5a78038d273929d04528f629b00531275beacb145e990d
Operating System
Windows 2000 / Vista / Windows XP / Windows 7 / Windows 8 / Windows 10 / Windows 11
Date Published
23, September 2021
Date Modified
16, October 2022
License
Non-Commercial Freeware
About
XnView Full free download for PC Windows (10/8/7/11)
XnView Full is the full version of XnView software for Windows. It is a photo viewer, auto-brightness and contrast editor, and slideshow viewer. Besides, many other functions are available with it. You can do crop and rotation too with it.
It has been in Windows as an easy solution for an easy photo editing tool.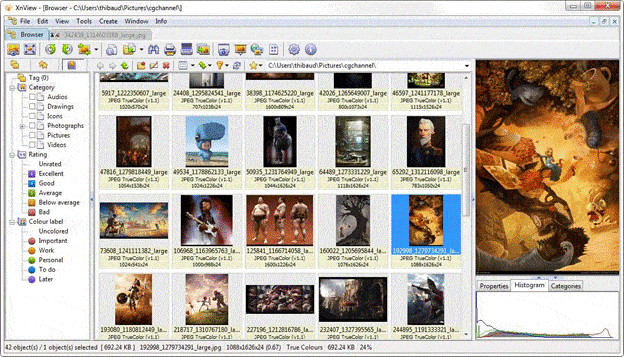 Features
Photo Editing at Minimal
We always need easy photo editings like cropping, brightness, and contrast adjusting at hand. This simple software works as cloud software and gives you benefits without using complex and heavy software. You can use crop, rotation as well as use filters on your picture if you want.
Photo Resizing
The simple tool also consists of photo resizing options. You can resize a photo whatever way you want with it.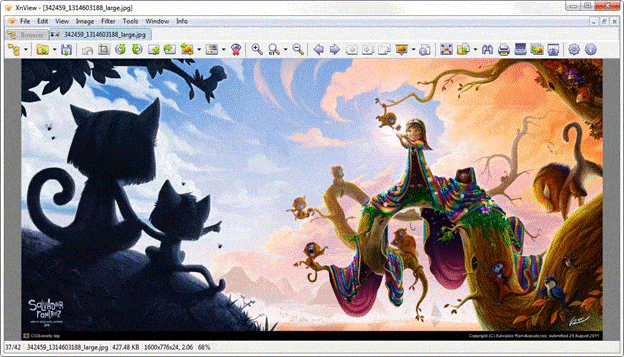 Many Types of View
With XnView Full, you can find all your photos on your PC without losing a sweat. You will find thumbnail view, full view as well as filmstrip view with this software.
Slideshow
With XnView full, you can see slides with the photos on your PC. This option is even absent in many new complexes and heavy photo viewing software.
Free for Personal Use
The software is totally free for personal use. You do not need to put any credit card details to use it. Besides, if you want to use it at a company, purchasing options are available.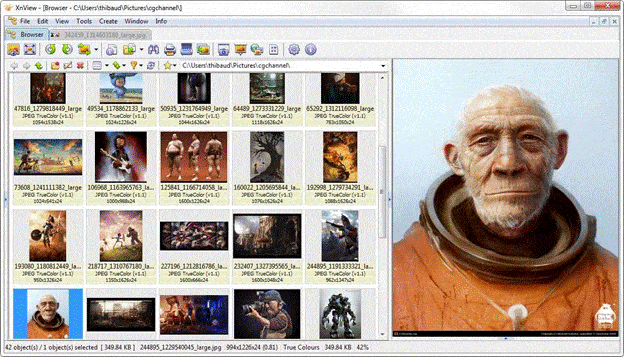 System Requirements for XnView Full
OS: Windows XP to Windows 10
RAM: Minimum 512 MB, 1 GB is recommended
Processor: Pentium 4 or later, Recommended Dual-core
Pros
Efficient photo editing
Simple UI and controls
Lightweight application
No virus or malware
Cons
FAQ's about XnView Full
What does XnView do?
XnView is a Photo Viewing software that shows the photos on your PC. You can view thumbnails, fullscreen, and slides as well as do editings like crop, brightness adjustment, contrast adjustment, and filter use on your photo with it.
What is XnView MP?
XnView MP is free software for viewing photos on your PC. The MP stands for Multi-Platform. While XnView Classic is for Windows only, XnView MP can be used on different platforms like Mac OS, etc.
Is XnView open source?
XnView is free software for personal use but it is not open source. If you want to use it in your organization or company, you need to purchase a license for it.
How do I use XnView?
Once setup is completed, the XnView will find the necessary photos according to the codecs available. It will be the default software for them. With a left click, you can open them on XenView software and alter them as necessary.
Does XnView support HEIC?
Yes, XnView does support HEIC images. Besides HEIC, you can view Raw images, JPEG, PNG, OpenEXR, PSD, and many other files with it. Even TIFF and GIF format pictures are also available to view with it.
What is the difference between XnView Classic and XnView MP?
XnView Classic is for Windows only while XnView MP is for Multi Platforms. Besides, you can use the Classic software to create a slideshow that can run on a PC where the software is not available.
Is IrfanView safe?
If it is downloaded from the official website or a trusted third-party website, then the file is safe. It itself is not a virus. But if you do not download it from a trusted source, it may contain trojans and malware.
Where is XnView ini?
XnView ini files are where the XnView settings are stored after you have installed it on your PC. If you want your XnView settings to be the same on another PC where it has already been installed, just copy the ini files – XnView ini and bookmark ini and paste them to the program director for the XnView on the other PC.
How install XnView in Linux?
You will need XnView MP Debian package for Linux. But it will need some dependencies. Download the Debian package, and run the $ Sudo apt fix-broken install command to find broken or missing packages and fix them. After that run the Debian package. Now on your Linux, XnView is installed.
Our Uses
XnView is easy to install and run. It does not take up much space and much speed. Unlike other complex photo-editing software, it has many options but is very user-friendly. You can do simple photo editing without hassle.
Versions
Check other versions
Alternatives
Also, check the alternatives of XnView Full
Comments
Let us know about your thoughts