Bad Piggies HD 1.3.0
Publisher:
Rovio
License: Trial
(102 votes, average: 4.96 out of 5, rated)
Join the piggies in their quest to build the ultimate flying machine in Bad Piggies HD. Download now for free and enjoy a fun and addictive puzzle game on your PC.
Technical Details
App Information
File Name
Bad_Piggies_HD.exe
VirusTotal Hash Code
0e3ceba664256c7648a6a792a4be539aa23b6c6f1165898529d51d0ad1a8110c
Operating System
Windows 8 / Windows 10 / Windows 11
Date Published
20, January 2022
Date Modified
19, May 2023
About
Bad Piggies HD free download for PC Windows (10/8/7/11)
Introduction
If you are familiar with the Angry Birds franchise, then you already know who these bad piggies are! Well, obviously they are the antagonists of this famous series but don't you think they deserve a story of their own?
With that thought, Rovio published a highly-addictive game that lets you control the piggies to make the lives of those pesky birds hell!
While the game has been available for some time now, playing it on a big screen is obviously an immersive experience. Now, let's get started with the discussion on how great this game actually is.
System Requirements of Bad Piggies HD
Here are the minimum and optimum system requirements to run Bad Piggies HD on your device-
Minimum System Requirements
OS: Windows 7 (Both 32 & 64 bit)
Processor: Any Intel or AMD dual-core processor
GPU: No need for discrete GPU
RAM: 2 GB
Storage: 1 GB
Recommended System Requirements
OS: Windows 7 and above
Processor: Core i3 or equivalent AMD processor
GPU: External GPU such as Nvidia GTX or AMD Radeon cards
RAM: 4 GB
Storage: 1 GB
Features of Bad Piggies HD
The game Bad Piggies immediately became a hit and popular among teenagers who liked the puzzle game genre. Once you get to know the features, you will understand why it became such a great addition to the Angry Birds franchise. Here are the features of the PC version of Bad Piggies-
Numerous Levels & Great Optimization
Generally, most PC versions of mobile games are not fully optimized for the big-screen experience. However, that's definitely not the case with Bad Piggies HD as it features seamless optimization and groundbreaking adaptability.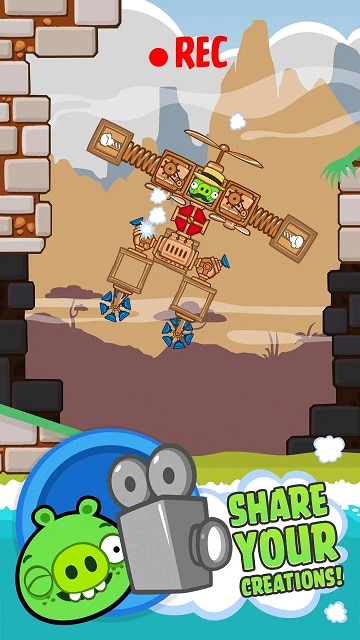 Apart from the insanely good optimization, you get to enjoy the game for a long time due to its 277 levels/episodes! Even if you play each episode for 2 minutes, it would take more than 9 hours to finish the full game! So, you will surely get enough entertainment for a long time.
Gameplay Experience
The smooth gameplay of Bad Piggies is definitely one of the highlights. As Rovio has proven time and time again its supremacy in making visually stunning games with Angry Birds, it does not disappoint with Bad Piggies as well.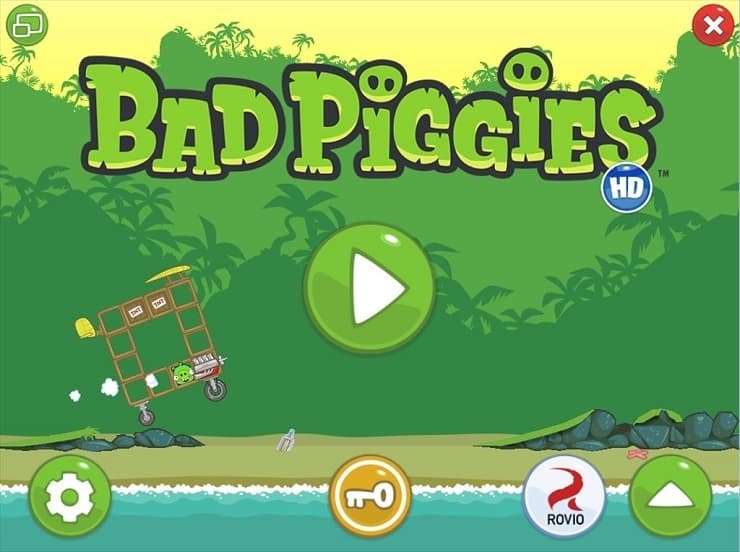 Even with a PC, the gameplay is well-optimized from the moment you start the game. However, do keep in mind that the overall gameplay is very different than Angry Birds. Compared to the slingshotting birds, you have to fulfill certain criteria while making creative structures with the piggies.
As you reach higher levels or episodes, the crafts and wooden carts will become more intricate and complex. So, the players have to be ready to face the tougher episodes.
Graphics and Sound
The most amazing part of this game is definitely the graphics you get to enjoy. And what makes it 10 times more exciting is the upbeat & fun soundtrack. The whole sound design really brings out the best of those bad piggies.
Installation and Compatibility
Bad Piggies is available on most OS such as Windows, MacOS, Android, and iOS. So, you don't have to worry about compatibility with this game. However, the download and installation process might be hard for you to get right.
Here is the download and installation process guide for Bad Piggies HD-
Step 1: Search for the Bad Piggies HD game on this website and click on the download button.
Step 2: Wait for the redirected page to load and download the game installer.
Step 3: Once the installer is downloaded, find the download location and launch the executable file.
Step 4: The game might ask for administrator access to install and after that, you have to accept the terms and conditions.
Step 5: Choose the file location where you want to save the game files and then proceed to install the files.
Step 6: Once the installation is complete, launch the game and enjoy!
Pros of Bad Piggies
Great optimization and quality
A good number of levels to play
Works with low-end PCs
Free to download
Cons of Bad Piggies
The game has not been updated since 2016
FAQs
Can I customize my contraptions in Bad Piggies HD?
Yes, players can customize their contraptions by choosing different parts and objects, such as wheels, engines, wings, and more. This allows for creative experimentation and the building of unique vehicles.
Are there in-app purchases in Bad Piggies HD?
Bad Piggies HD may offer in-app purchases for additional content, such as level packs or power-ups. However, the core gameplay experience is typically available without the need for in-app purchases.
Is Bad Piggies HD a multiplayer game?
Bad Piggies HD does not have a multiplayer mode. The game primarily focuses on single-player puzzle-solving and challenges.
Bad Piggies HD usually includes features that allow players to share their achievements, high scores, or creative contraptions with others through social media platforms or online communities.
Final Words
Now you know how awesome of an experience you get from Bad Piggies HD and that even from your Windows PC. All that is left for you to do is to download this game and enjoy the sublime fun that is very rare to get these days from mobile games. So, don't wait anymore and get on with the Bad Piggies to be mischievous!
Alternatives
Also, check the alternatives of Bad Piggies HD
Comments
Let us know about your thoughts