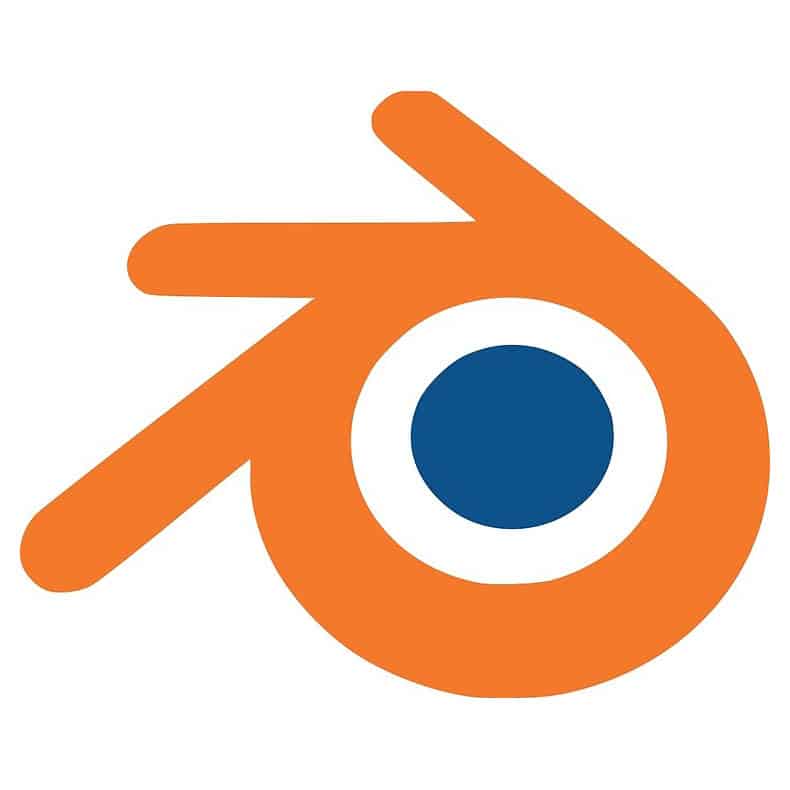 Blender 3.6.2
(55 votes, average: 5 out of 5, rated)
Blender free download for PC Windows (10/8/7/11)
Blender is a public project for 2D/3D creation and an incredible render engine. It can single-handedly perform 3D arts, animating, pipelining, eye tracking, multimedia rendering. It also provides game creation features for adding more diversity to the system.
Experienced users utilize the Python scripting API for customization and the creation of multidimensional software. This rendering tool is popular with creative personalities and emerging startups for its incredible features and amazing demonstrative interface.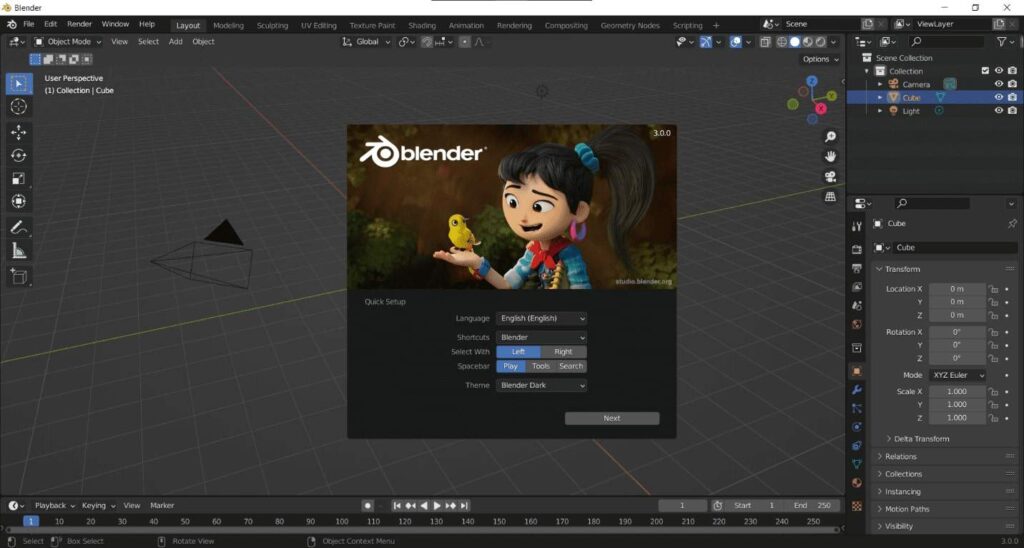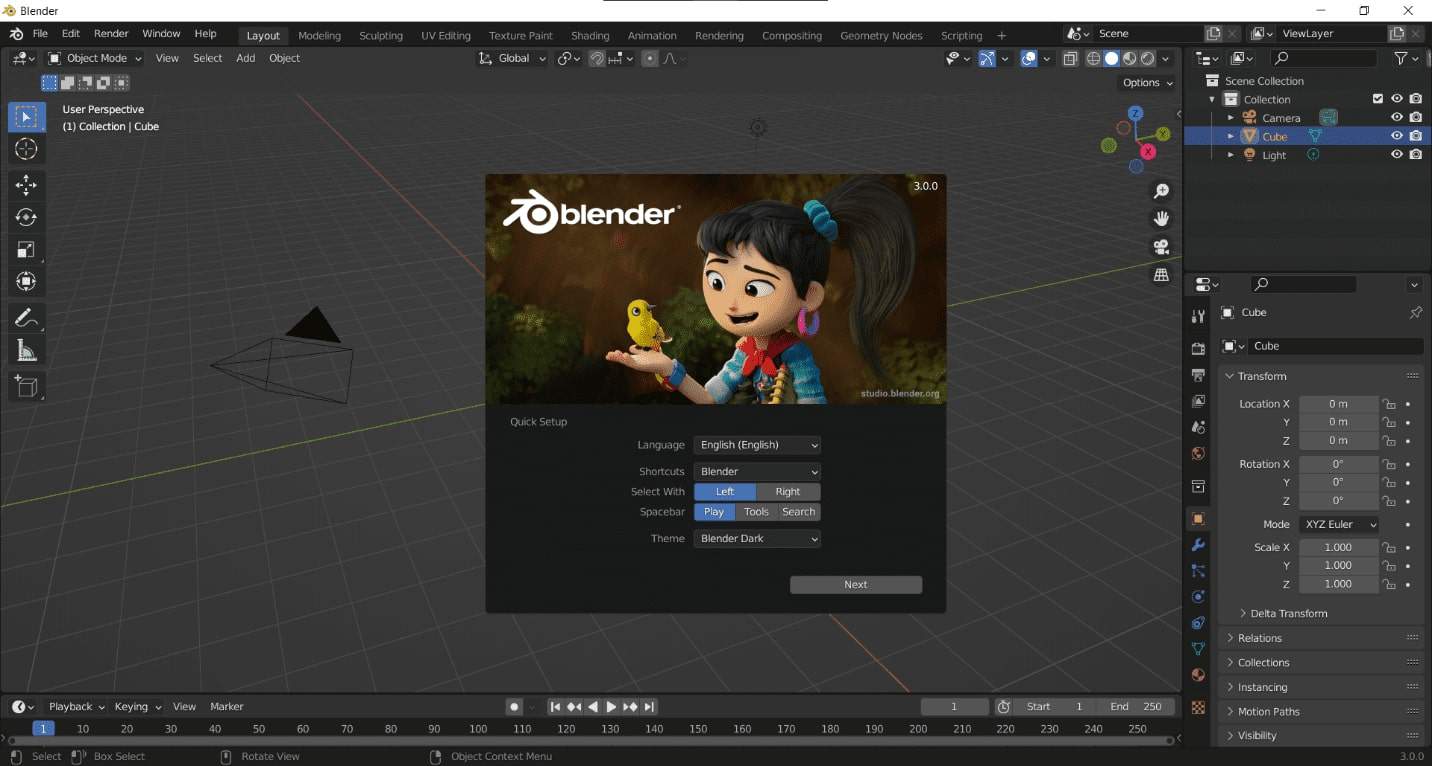 Blender is the perfect software for anyone who uses multiple platforms. Windows, macOS, Linux, are flawlessly supported and run smoothly. The best thing about this software is the no cost of purchase as it is free and open source.
Real-life Rendering
The renders from Blender get as real as possible. The newly added Cycles path tracer render engine is more advanced than before and offers photorealistic creations. It provides CPU and GPU rendering, instant preview, and many more.
Models and Sculptures
The built-in extensive modeling features are the perfect way to make the creations pop out of the screen. It transforms any models into realistic artifacts. With those detailed modeling and sculpting tools, the painting will look more vivid and real.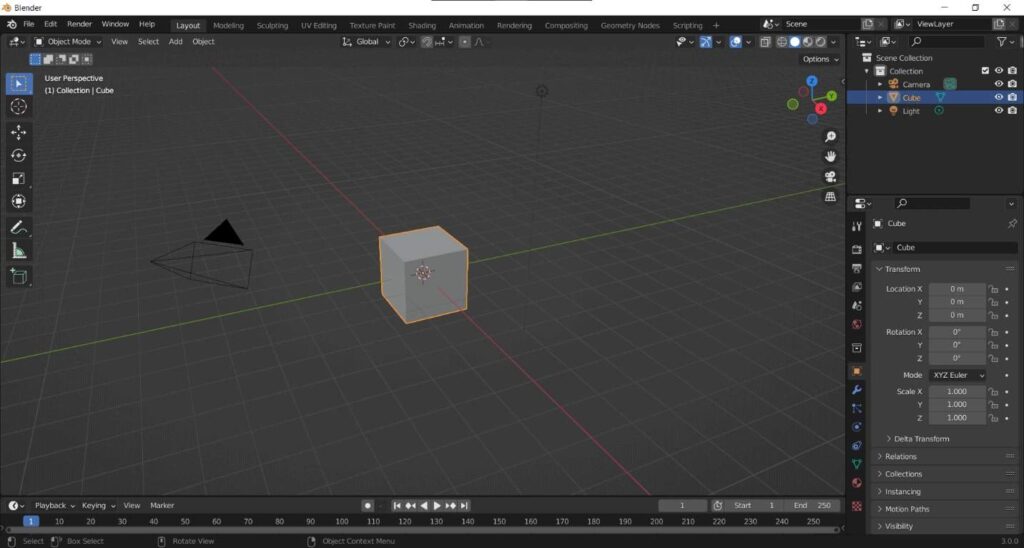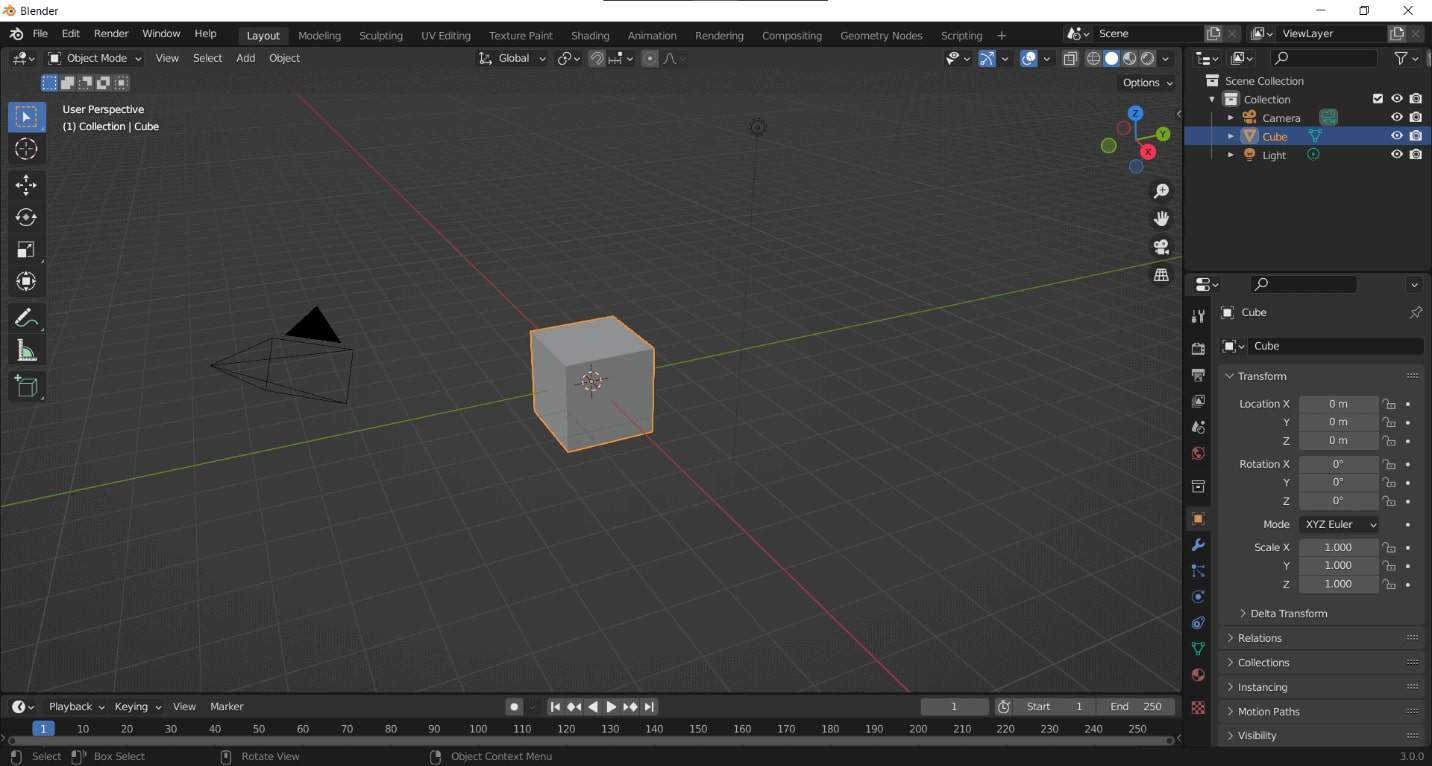 Animation & VFX
In recent times, Blender has become a standard for emerging creators to invent new ways of animating arts. The animators create mesmerizing videos and shorts that win awards on the international stages with this software. The cinema-grade camera and object tracking allow the creatives to perfectly utilize the unedited file.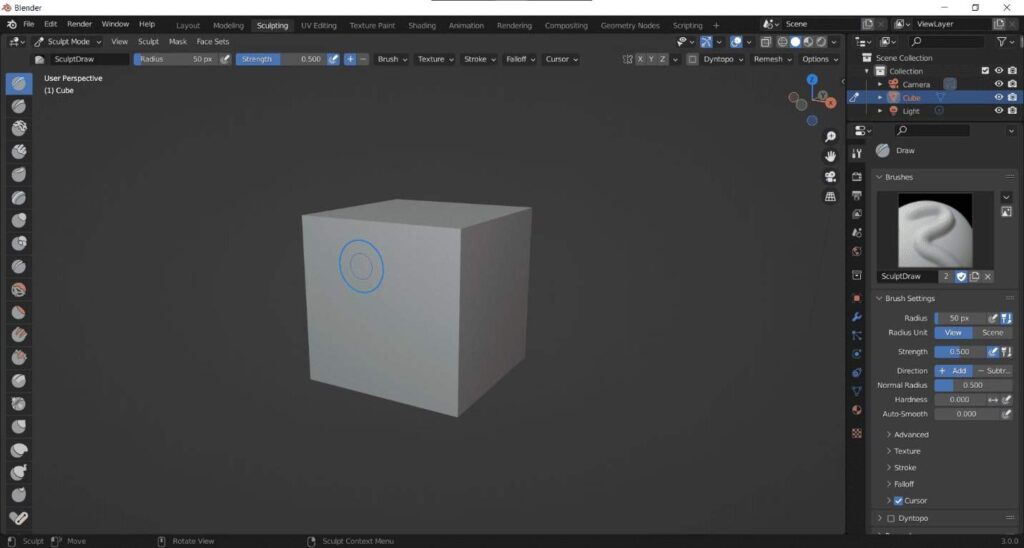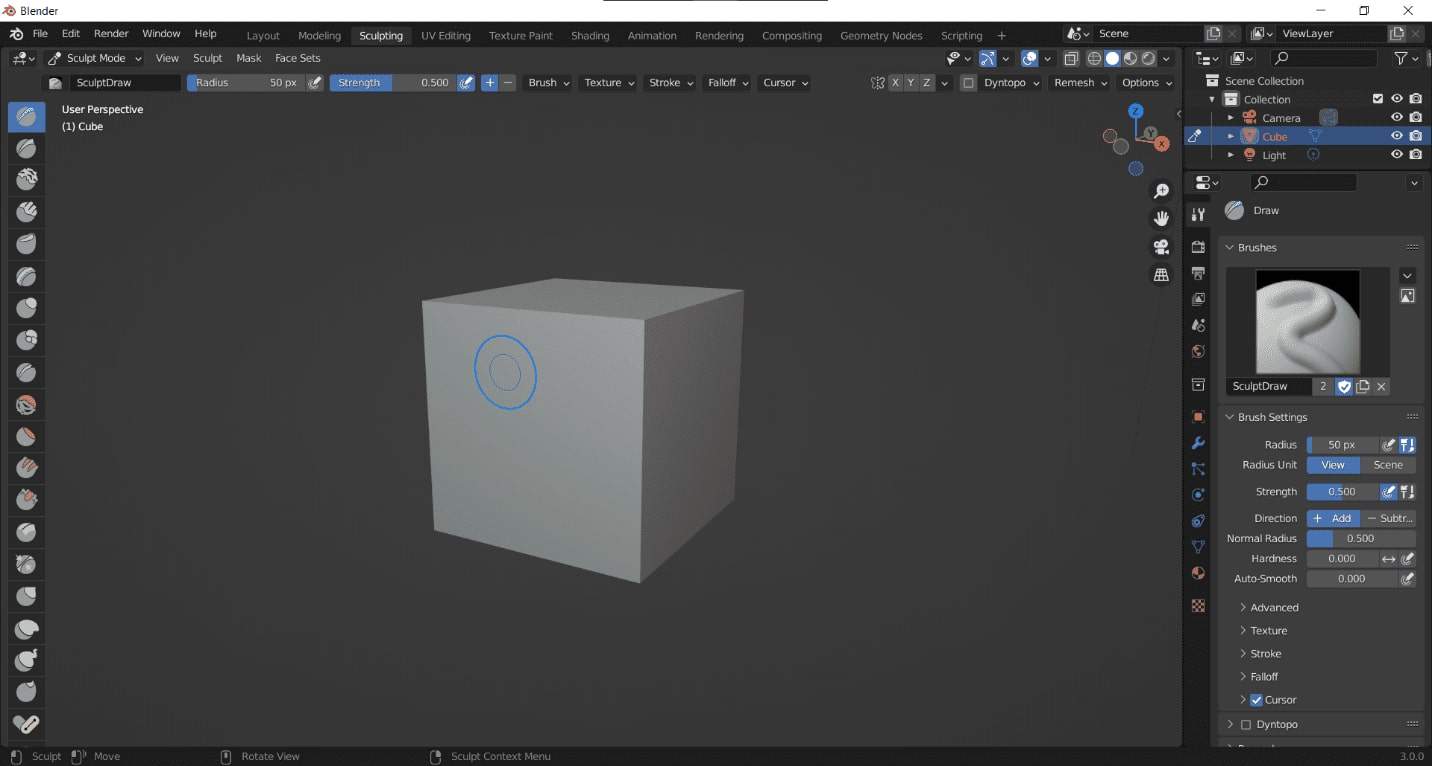 Multidimensional Arts
Why draw in 2D when you can expand your possibilities further? Blender is the easiest gateway to paint 2D arts in a 3D framework and convert it into an engaging story. It gives the creators the complete freedom to work in multiple planes simultaneously. Layers and colors can also be implemented with pinpoint accuracy.
Simulations
The app is also a perfect simulator to include any type of scene in the video editing process. Smokes, rain, shadow, fluid, cloth, and so many more different looks can enhance the output without any difficulty. Some industry-standard libraries such as Bullet and MantaFlow add more raw power to the simulations.
Adaptive Interface
With a totally flexible interface, Blender is a great choice for amateurs and experienced users. It has a detailed menu on the top of the main window that labels everything according to the users. The viewpoint can also be split for a better experience, and Python scripting is a sweet addition to that.
Game Making
This powerful tool is more than capable to create exciting new games with extremely high-quality graphics. The onboard 3D game engine is equipped with all the right tools to make a distinctive gaming title.
Supported Files
The extensive line of file formats supported by this software is incredible. JPEG, PNG, TARGA, OpenEXR, DPX, SGI Iris, TIFF are the most commonly used image formats in the app. For the video side – AVI, MPEG, and Quicktime are supported. The users can also import or export files on the go.
Minimum System Requirements:
Any Windows operating systems starting from 7.
A minimum CPU power of Intel Core i3.
The game requires a minimum of 2 GB of RAM.
2GB GPU is the least requirement with OpenGL 4.3 support.
More than 500 MB available space on the computer.
Recommended System Requirements:
Windows 10 is the most compatible with this software.
The ideal processor to run this renderer: Intel Core i9.
The game requires 32 GB RAM for the best performance.
8GB RAM of any high-end GPU from AMD or Nvidia.
Pros
Extremely powerful software for ultimate graphics work.
Free printed tutorials for beginners.
Fully free and open-source application.
Simple and interactive interface.
Cons
Very ram-hungry software.
Does not run well on low-end CPUs.
Frequently Asked Questions About Blender
What is Blender?
Blender is a free and open-source public project for 2D/3D creation and with tons of features and freedom.
Is Blender Completely free?
It is a public project with open-source nature that is widely available without any cost on various platforms. You can get the latest version from here.
What is the size of Blender?
The installed file size depends on the OS and version of the application. It takes roughly around 600-700 MB of storage space.
Does Blender require a good PC?
As a powerful render engine and 3D animation suite, it requires high usage of RAM and a good CPU.
Can you use Blender on Windows?
Yes, you can. You can use Blender on your Windows PC without any issue. You just need to download the installation file for Windows and then just install it. It will run without any errors if your PC meets the minimum requirements for it.
Is Blender free for Windows?
Yes, it is an open-source application for editing and creating 3D models. So you can install it on your Windows PC without any payment. Just click on the download button from this website to install it on your PC for completely free.
Is Blender for PC free?
Of course. It is completely free for macOS, Windows, and Linux OS PC. It doesn't matter which operating system you are using on your PC. You can use it on your device without any issues as it supports all popular operating systems available on market.
Is Blender good for Windows 10?
Windows 10 is recommended for using Blender. So, if your PC meets other requirements of it then it will surely run on your Windows 10 PC. Also, as it is checked through many popular antiviruses available on market and found no issues, you can install it on your Windows 10 PC without worrying about viruses. In short, it is good for your Windows 10.
Is learning Blender hard?
As it is really a big application and has a lot of functions, it may be challenging for a beginner to learn it. But if you practice every day with full attention, then it will not a big deal to learn it. You just need to focus and need to have a good teacher for it.
Is Blender good for beginners?
Compared to other 3D object-creating tools, it is the best application for beginners to learn. Because it is open-source full-featured software. It has all the functions and features which is needed to create a great 3D object. Not only that but also it has all features of creating animations. For it is the best application for beginners to step into the 3D world.
Will Blender run on my laptop?
If your laptop meets the minimum requirements for it then it will surely run on your laptop.
Is Blender going out of business?
It has terminated its operations on 31st March 2021. Those who had the membership in it had been canceled and also every ongoing payment on that time had been refunded.
Conclusion
Blender in all its glory is a fine software for 3D modeling, rendering, editing, and pipelining. There are very few applications that offer such versatility in one package. If you are a creative person looking for new software to morph your imagination in 3D, then it is the perfect tool.
Apps Informations
---
App Name
Blender
File Name
blender-3.6.2-windows-x64.msi
File Size
306 MB
VirusTotal Hash Code
e39904678df0ddea93e83f317b4cc9ea6803ef0ece3d0e31fb944fba241def01
VirusTotal Scan Report
Operating System
Vista / Windows XP / Windows 7 / Windows 8 / Windows 10 / Windows 11
Date Published
28, February 2021
Date Modified
18, August 2023
Category
License
Open Source
Publisher
Comments
Let us know about your thoughts