Facebook Gameroom 1.35.0.1
(102 votes, average: 4.76 out of 5, rated)
Facebook Gameroom free download for PC Windows (10/8/7/11)
Facebook Gameroom, being one of the most popular media for communication, brought a new range of users to the platform. That's only because of their new gaming section introduced alongside all the other communicative functions. With Facebook Gaming, the platform connected a lot of gamers without the need of creating tons of gaming IDs.
Features
To be an incredibly fun gaming platform, it must have all the fun features any gamer can ask for. Well, FB Gameroom surely offers that. Here are the proofs-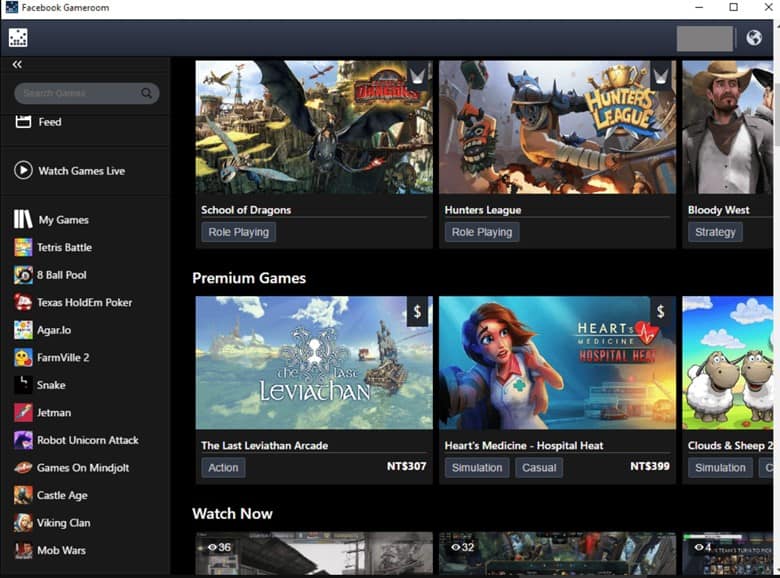 Simple & Easy
Some platforms are loaded with too much information and fillers on the homepage. But not Facebook gaming because it rocks a very simple yet intuitive gaming interface that's hard to hate. You'll see a categorized gaming section with all your favorite games.
Tons of Games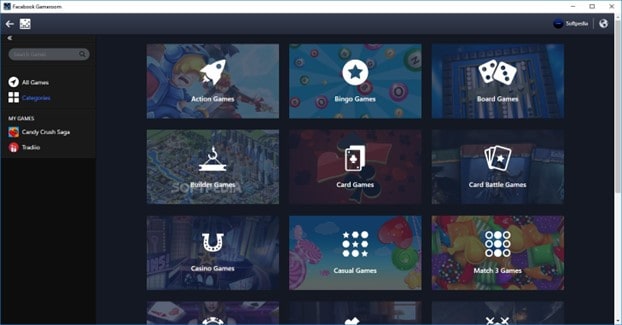 From Farmville to UNO, Facebook Gameroom has every type of game that you ask for. Be it an arcade game or a mystery genre, there's something for everyone. Even your typical Chess is revamped to have a totally new feel while playing.
Play on Multiple Platforms
Facebook Gameroom was first introduced for its website and then it launched on the Windows platform. Later on, the gaming section was integrated with the Facebook app so that everyone, even those from their mobile devices can enjoy the game. This step totally revolutionized the gaming attributes on the platform.
Chat and Play
One of the highlights of Facebook Gameroom is that you can easily communicate with others while playing the same game. Other platforms need a mutual connection before you can chat but you don't need that in Facebook Gameroom. You can get connected easily in the game.
Pros
Simple and elegant interface
Multiple categories of games
Runs on many platforms
Free to play
Cons
Discontinued on June 31, 2021
FAQ's about Facebook Gameroom
Is Facebook Gameroom shutting down?
Yes, Facebook gaming has been shut down on 31st June 2021. You can still enjoy the games available on the platform but there's no development or updates that'll come your way.
What is Replacing Facebook Gameroom?
There are no exact replacements for FaceBook Gameroom from the Meta (former Facebook) company. While there are some alternatives such as GOG.com, itch.io, FreeToGame, and GamersGate, they are not as easy to play as FB gaming.
How Can I Play Facebook games on my PC?
While the application has been long discontinued, you can still log in to the platform. Just download the application from this site and enjoy the games you love in Facebook Gameroom.
What Happened to FarmVille?
FarmVille was pulled out from FaceBook Gameroom because of the Flash player debacle. As Facebook decided to discontinue games run on Flash player, Zynga stopped using FarmVille on that platform on December 31, 2020.
What Happened to All My Games on Facebook Gameroom?
If you already had tons of gaming files on your Facebook Gameroom account, then it's sad that you had to lose it. Because Facebook has permanently 
Where Can I Play Facebook Games?
You still play most of your favorite games on the Facebook Gameroom. Because Facebook has the platform running even though the support is no longer available. So, you can play the games whenever you want.
Does Facebook Gameroom use Flash?
While it did back in the day, from the beginning of 2021, the flash interface was pulled out. As a result, many games which used Flash could not continue to run on the platform. So, you're now stuck with just some major titles from the previous range of games.
Why Have My Games Disappeared on Facebook?
The reason for your games to disappear is the discontinuation of Facebook Gameroom. You're saved game files are no longer stored with your ID. So, you can't play the games in the same manner as you used to play before.
Conclusion
We find it tough to recommend this application wholeheartedly because it has been discontinued in 2021. Still, it has tons of cool features that make it quite appealing for casual gamers. So, you can definitely enjoy the games once in a while using the program.
Facebook Gameroom 1.35.0.1
Apps Informations
---
App Name
Facebook Gameroom
File Name
FacebookGameroom.exe
File Size
VirusTotal Hash Code
3eeab0e2bbd7e74117cf4d36fa98a7d0125fc46161a1193f0b72fca297f5c8ac
VirusTotal Scan Report
Operating System
Windows 7 / Windows 8 / Windows 10 / Windows 11
Date Published
27, June 2022
Date Modified
13, February 2023
Category
License
Free
Publisher
Alternatives of Facebook Gameroom
Comments
Let us know about your thoughts