Microsoft PC Manager 3.6.0.0
(54 votes, average: 5 out of 5, rated)
Microsoft PC Manager free download for PC Windows (10/8/7/11)
All Windows PC users have faced some issues with its not-so-great protection and clean-up management. That's why Microsoft has come with an all-new application for your total desktop protection and management named Microsoft PC Manager!
It is nothing more than a utility application that can boost your PC performance while maintaining the proper utilization of your RAM and disc protection.
Learn more about this extremely lightweight PC manager down below.
Features of Microsoft PC Manager
Because of its small footprint, users don't get enough confidence in the Microsoft PC Manager. However, the application is really impressive for low-end CPUs compared to other clean-up or management applications. S0, here are the incredible features of Microsoft PC Manager that you should know about-
Perfect Performance Boost
The most highlighting feature of Microsoft PC Manager is the awesome PC boost that you can get with a simple click of a button. Once you open the application, you just need to press the Boost button, and that's it!
Microsoft PC Manager will automatically assess your PC performance and remove any unnecessary background processes to give your PC a boost! That way, you will be able to push a bit more performance from your device.
Storage Management
As the name suggests, Microsoft PC Manager also offers a good store manager, which you can use to free up space, delete duplicate files, and more! Additionally, you can manage your apps and large files to make the best use of your limited disk space.
Health Checkup & Virus Protection
At the time of the Windows 11 release, because of the modern architecture, the OS was not suitable for older CPUs and RAM configurations. That's why Microsoft PC Manager provides a health checkup to check whether your PC is up to date and does not have any malware.
Furthermore, it has a deep scanning feature to find out any hidden malware and viruses so that your PC is all-time protected and ready to face any external threats.
How to Download & Install Microsoft PC Manager?
Facing some issues while downloading and installing Microsoft PC Manager? Here is the perfect guide to download and install the software without any problem-
Step 1: Go to the search box and search Microsoft PC Manager.
Step 2: Once the webpage is loaded, click on the download button and wait for the download to finish.
Step 3: Open the file location and then double-click on the installation file.
Step 4: Accept the license agreement and click Install.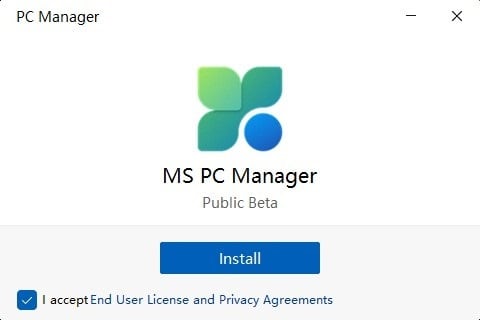 Step 5: The installer will download some additional files.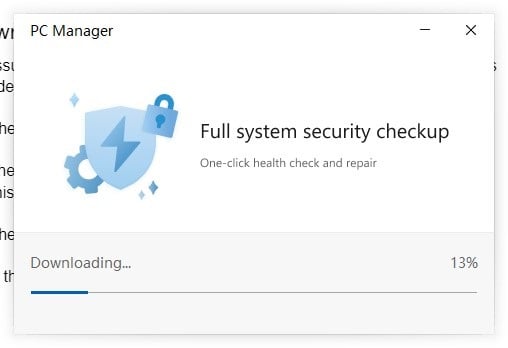 Step 6: Once the files are downloaded, it will automatically install the application. Click launch now when the installation is finished.
How to Configure Microsoft PC Manager to Boost PC Performance?
To configure the Microsoft PC Manager, you need to understand the interface first. First of all, you can start configuring your PC for optimization with the Boost button. With a single tap, it will free up to 40% of memory!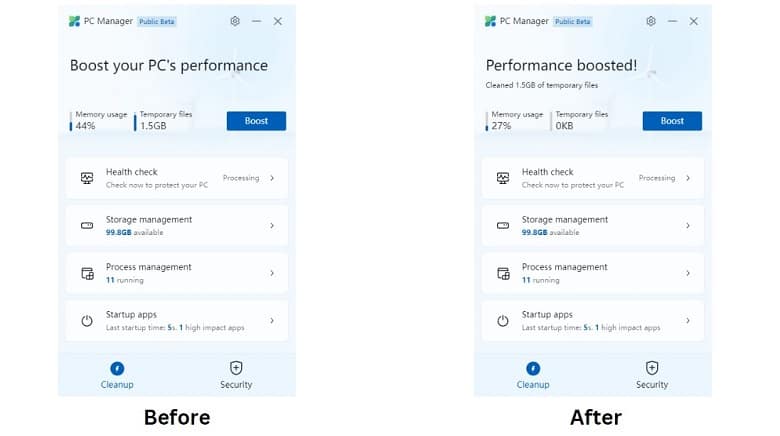 Moreover, you can use the health check function to quickly assess what's the current cleanup situation of your PC.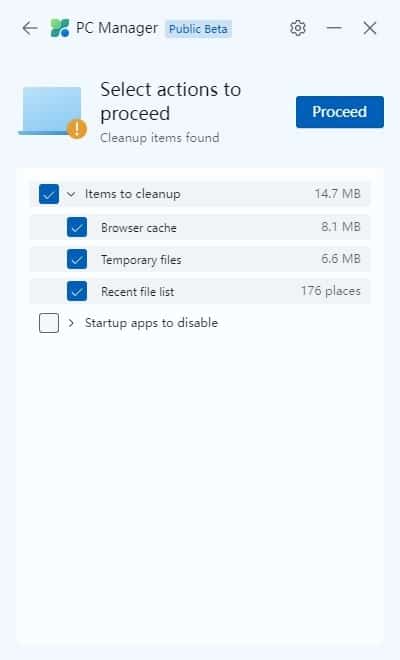 The most intricate and complex feature is the store manager, as it has 4 different tools that you can utilize to make your PC better.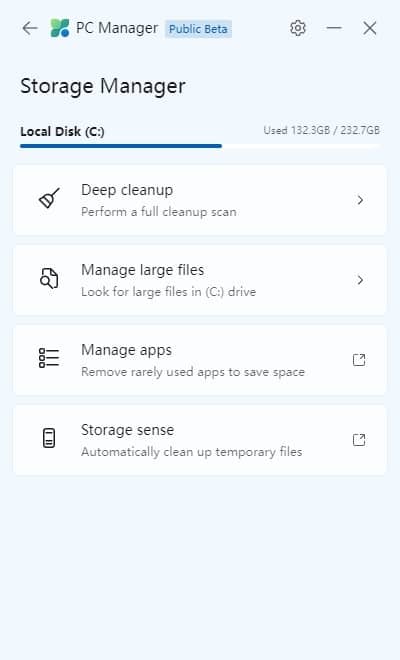 You can either perform Deep cleanup or manage large files to open up some space in your Local disks. Then you can either try the manage apps feature and storage sense to swiftly delete unused apps and temporary files.
Pros of Microsoft PC Manager
Simple interface with easy navigation
Good clean-up and app management features
Well-rounded security from viruses and malware
Free to use
Cons of Microsoft PC Manager
The scanning feature is not ideal if you want to perform a deep cleanup
Still in the public beta phase
FAQs
Is Windows PC Manager free?
Yes, Windows PC Manager is totally free and comes with all the features without any cost. It is still in public beta, so you need to be careful, as it can sometimes show some technical issues.
Is the PC manager safe to use?
Yes, PC Manager is fully safe to use with any Windows device running on Windows 10 and above. You can download and install the software free from here or any trusted source.
Can I Delete Microsoft PC Manager?
Yes, you can uninstall and delete every file of the application without any issues. As it is a free application, you can always download it later if you want to.
Conclusion
Overall, there is no reason not to recommend Microsoft PC Manager to Windows users. Because this utility software has good features with tons of awesome perks that can easily boost and optimize your PC performance.
So, what are you waiting for? Download and see the improved result yourself with Microsoft PC Manager!
Microsoft PC Manager 3.6.0.0
1.64 MB
Apps Informations
---
App Name
Microsoft PC Manager
File Name
PCManager10000
File Size
1.64 MB
VirusTotal Hash Code
a9e737a9675a6a3a594d51788bedf0d863442184fd99f0ac184769571fd85897
VirusTotal Scan Report
Operating System
Windows 10 / Windows 11
Date Published
10, July 2023
Date Modified
20, August 2023
Category
License
Freeware
Publisher
Alternatives of Microsoft PC Manager
Comments
Let us know about your thoughts