Outbyte PC Repair 1.0.3
(54 votes, average: 5 out of 5, rated)
Outbyte PC Repair free download for PC Windows (10/8/7/11)
Introduction:
With a refreshed mind, you started to work on your PC. But you notice that your PC became slow and the battery charge is also running out in a short time. Now you are looking for its solution. So, Outbyte PC Repair is here to fix your problems. The Outbyte PC repair tool is sweep out many types of PC junk, unused files, web browser cache, and more. It can also free up disk space, boost Windows speed, secure your privacy and data, and fix system issues.
It was released on September 17, 2020.
Outbyte PC repair overview:
This interface will help you to get familiar with the tools.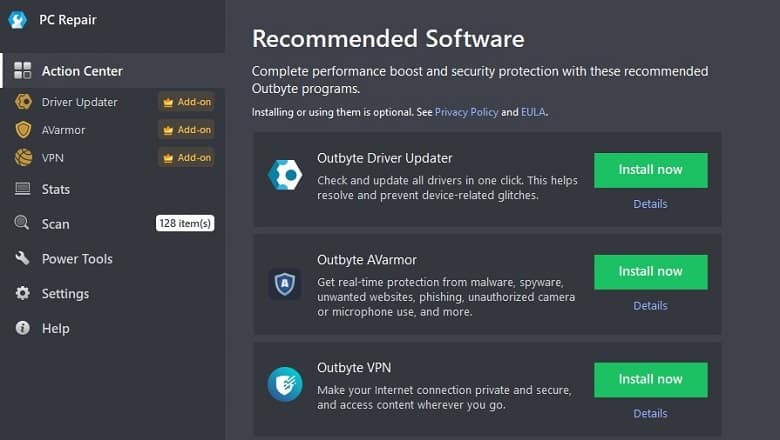 Action Center: It is generally displayed in Windows 10 which notifies about recently installed apps, software, and various reminders.
Status: This tool shows the number of scans.
Scan: At first launch, scan searches for unused files that can be removed later.
Power Tools: Can boost certain apps, and improve privacy and security.
Settings: Here you can change the interface language, disable app notifications, you can enable or disable automatic scanning.
Help: If you face any problem with PC Repair, then you can describe it through the "Help" option.
Features of Outbyte PC repair:
The Outbyte's features are designed to enhance the Computer's privacy and security, speed, and battery. Firstly, we will divide the Outbyte PC Repair features into two parts. One is Scan and another is Power Tools.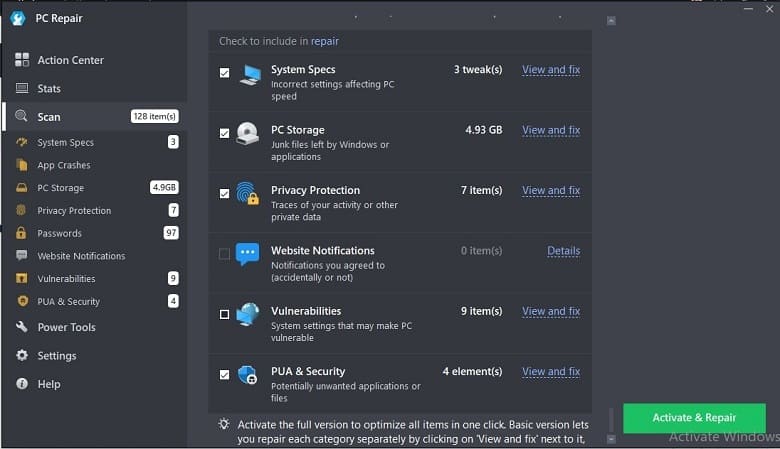 At the end of the installation process, Outbyte runs a scan of the system for potential issues.
In the Scan features, there are:
System Specifications: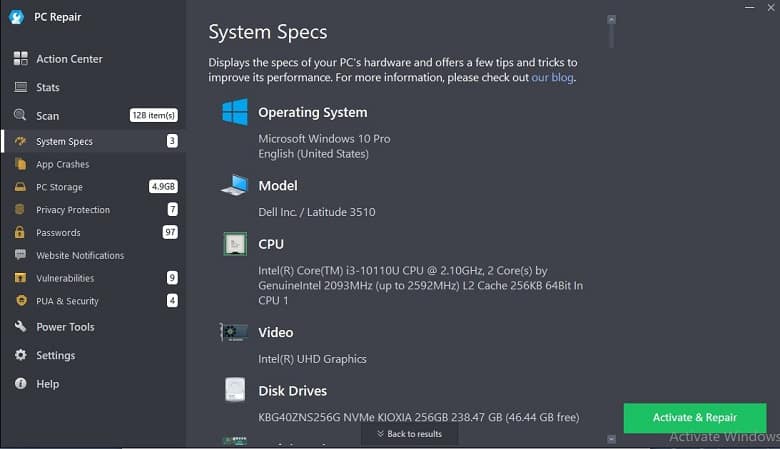 It is likely to be a high-level document that instructs global functions. Repairs show the performance of the CPU, RAM, Video card, and hard drives speed.
App Crashes: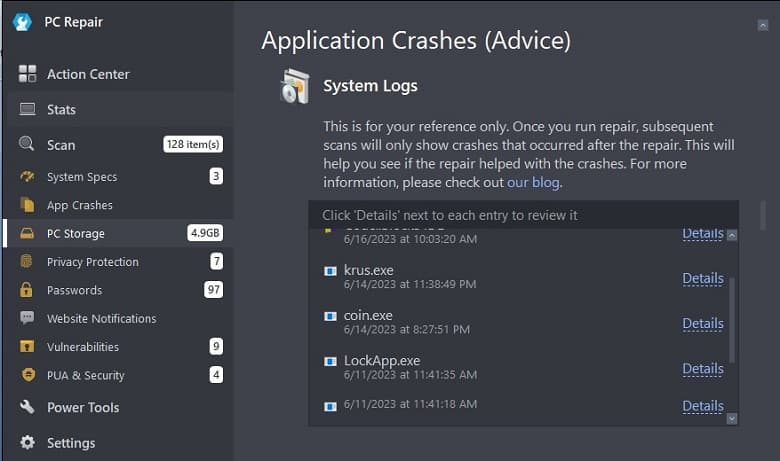 Outbyte shows system logs of App Crashes. As it cannot be fixed automatically, so by clicking on similar links in the logs solutions can be found.
PC Storage: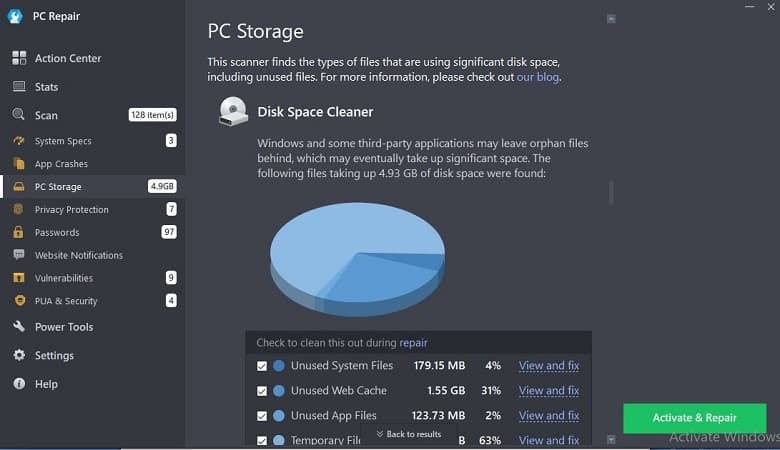 Outbyte can help to remove the unused temporary or cache files on a hard drive, to keep it in perfect shape. For these unused files, your Windows system could be slowed down as these blocked the necessary space in storage. By using the PC Repair clean out the junk files and leave disk spaces for more useful and important things.
Privacy Protection: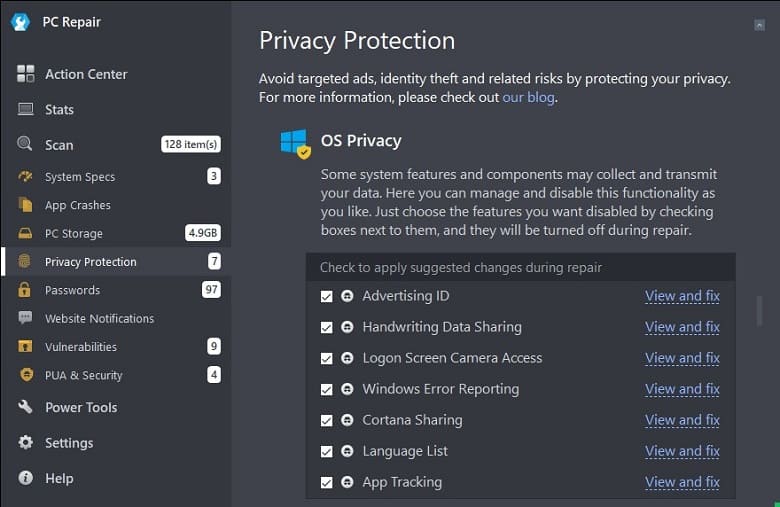 Outbyte has a function that protects sensitive data on a PC. It has two privacy-related features:
OS privacy: Some systems can collect and transmit data. Here you can disable this function.
Real-time privacy protection: Some apps collect data to serve ads. Here you can disable this option.
Passwords: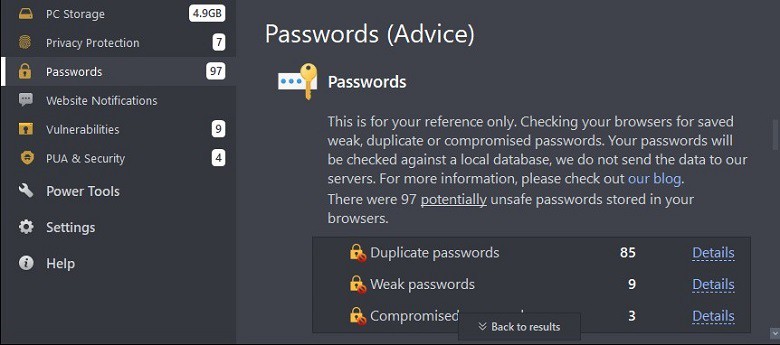 The tool scans web browser files for weak, duplicate, and compromised passwords and warns you about them. This feature does not change passwords. It only notifies you when detected vulnerable passwords stored in your browser.
Website Notifications: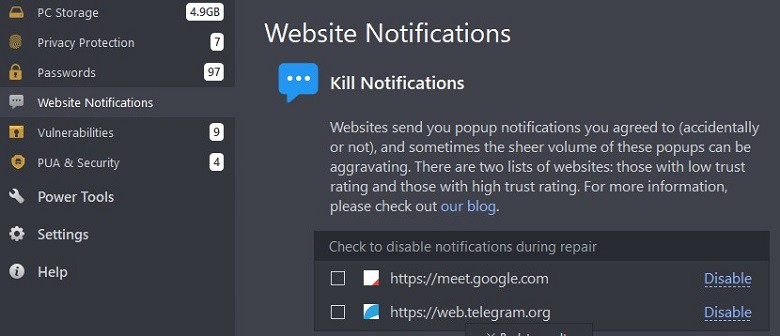 This tool scans browsers for push notifications.
Kill Notifications: It allows users to identify websites that have permission to display browser notifications and disable them if it is not needed.
Vulnerabilities: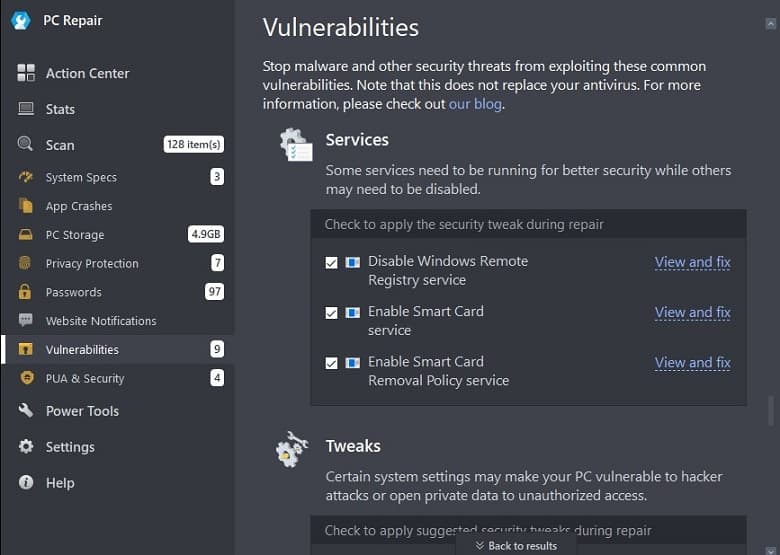 PC repair's scanner checks your system for vulnerabilities and resolves some of them. This tool reduces the risk of malware attacks on computers by resolving common vulnerabilities.
PUA & Security:
A quick initial scan for malware, unwanted apps, and viruses is being run. This tool helps to remove detected malware and unwanted apps.
To improve the speed of computers. Power tools come with a set of following features :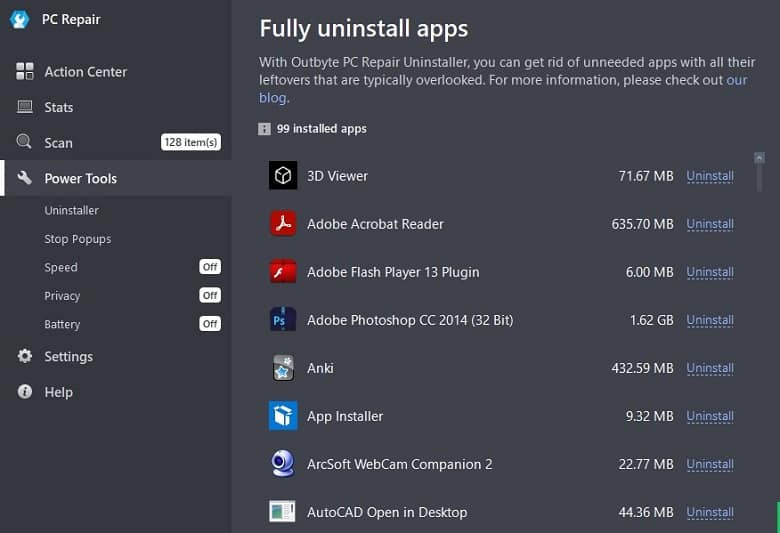 Uninstaller: Uninstaller allows you to remove unwanted apps and also shows which apps your device currently has.
Stop Popups: This feature helps to disable popups from websites that sent notifications.
Speed: This tool not only boost the speed of apps but also boost the speed of web browsing on a PC.
Privacy: It ensures you keep your data secure. By activating the Privacy tool you can prevent your data from being stolen.
Battery: The battery tool can help you to use your computer for a long time without connecting to any energy source.
System Requirements for Outbyte PC Repair
Operating systems: Windows 7,8,10, Windows, Windows Vista, Windows XP(32-bit and 64-bit).
Full version: Costs $29.95 for 3 months subscription
Trial limitation: Free trial for 2 days
RAM: 1 GB or more
Hard disk space: 50 MB or more
CPU: Intel Pentium III or later
How to install Outbyte PC Repair:
PC repair will take just a few times and clicks to install. Follow this installation process:
Step 1: Search for "Outbyte PC Repair" on this website.
Step 2: Now click on the download button. Then, you will be offered to save a .exe file.
Step 3: Else, depending on the browser type, the download process will start automatically.
Step 4: Once the installer is downloaded, specify the file's location otherwise it will be saved in the Downloads folders. And then proceed to install the files.
Step 5: Click on the "Finish" button, right after the PC repair is installed. After installation, Outbyte runs a scan to detect issues in the PC.
Pros of Outbyte PC Repair:
Extensive scan
Enhance the laptop battery life
Improve the speed of the PC
User-friendly interface
Secure data
Increase hard disk space
Cons of Outbyte PC Repair:
Disable to provide full system protection
Failed to replace an antivirus
High price and limited subscription
Support limited language
Final Words
The software has easy to use interface that fixes the issues with a few clicks right within the program. So, it is a good optimizer for beginners and for those who edit the settings frequently. As it is an extensive software with a variety of tools it will keep your PC junk-free, will improve battery life, and will be able to give your PC protection. For paid subscriptions, you will get lifetime services from them. If you want to save valuable time and want a tool that has an all-in-one solution then Outbyte PC Repair would be ideal for you.
Apps Informations
---
App Name
Outbyte PC Repair
File Name
outbyte-pc-repair?clientId=1992147128.1687617347
File Size
23.9 MB
VirusTotal Hash Code
864a651006674d1e55cd80e5e1542a9edb45a83b88949f7f5076d81461f7090c
VirusTotal Scan Report
Operating System
Vista / Windows XP / Windows 7 / Windows 8 / Windows 10 / Windows 11
Date Published
24, June 2023
Date Modified
25, June 2023
Category
License
Trial
Publisher
Alternatives of Outbyte PC Repair
Comments
Let us know about your thoughts