Windows Repair Toolbox 3.0.3.5
(108 votes, average: 5 out of 5, rated)
Windows Repair Toolbox 3.0.3.5 Download for Windows 11, 10, 8, 7 (64 or 32) bit PC. Free download the latest version 2023 of the software from NearFile.
Technical Details
App Information
App Name
Windows Repair Toolbox
File Name
Windows_Repair_Toolbox.zip
VirusTotal Hash Code
50740f63124075cc0b474d6e1c665bf50f1c639e40de562160e8ddc6d3ceff9b
Operating System
Windows 7 / Windows 8 / Windows 10 / Windows 11
Date Published
16, January 2023
Date Modified
17, January 2023
About
Windows Repair Toolbox free download for PC Windows (10/8/7/11)
Windows Repair Toolbox is a free, portable tool that allows you to repair a variety of common Windows problems, including issues with the registry, system files, and permissions. It includes a range of tools for repairing and optimizing the system, such as a registry cleaner, malware remover, and system restore tool.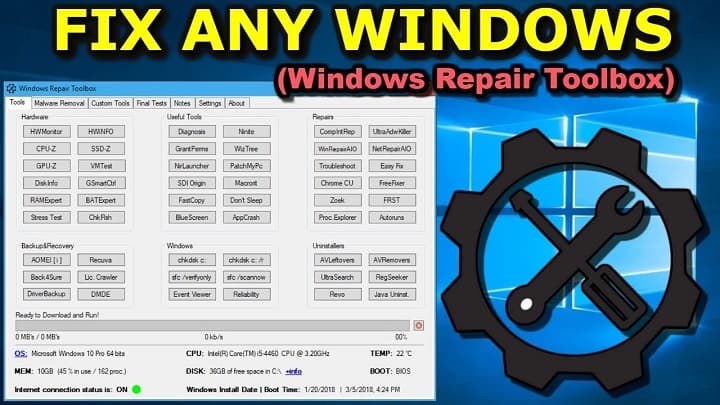 The tool can be useful for troubleshooting and fixing problems with your Windows operating system, particularly if you don't have access to other repair tools or resources. Because of its free nature, many users find comfort in using it whenever they face any OS-related issues.
Features of Windows Repair Toolbox
Here is the detailed list of features that you can enjoy with the Windows repair toolbox-
Wide Range of Repair Tools
The included tools in the Windows Repair Toolbox are dynamic and resourceful, to say the least. The tool includes a range of tools for repairing common problems with the Windows operating system, such as issues with the registry, system files, and permissions.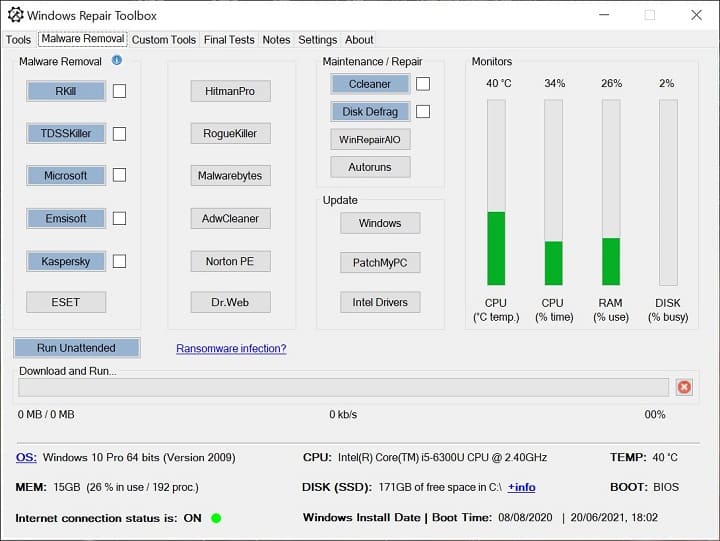 More so, the simple UI and portability make the application use it, however, the user prefers. You can get into solving your Windows system or registry issues the moment you download the application.
System Restore & Optimization
Thinking that your Windows system is not fully optimized yet? Use the tools to optimize and repair any disk or registry-related issues in a moment. While you rarely encounter any issues with the repair process, in case of any problem arises, just restore the previous version with a click of a button.
Malware Detection
Funny as it seems but this troubleshooting and repair toolkit even includes a malware removal feature! Scan through your Windows system to detect any malware and immediately take action to eradicate it!
Compatibility
On the surface, compatibility is not something users tend to worry about but it affects the whole user experience. So, to make users carefree of compatibility, the Windows Repair Toolbox offers system support with most current Windows systems. Hence, all you need to do is to download and start using it!
Pros of Windows Repair Toolbox
Portable and free
User-friendly
Offers a range of useful tools
Cons of Windows Repair Toolbox
The tools can data loss and other severe issues if not handled with caution
FAQs about Windows Repair Toolbox
Is Windows Repair Toolbox free?
Yes, Windows Repair Toolbox is a free tool that you can download and use for free. It hosts a wide range of resourceful tools which help users to identify and solve multiple Windows operating system-related issues.
How do I use the Windows repair toolbox?
To use the Windows repair toolbox, first, download the portable application and then double-click on the executable file. Once the main menu pops up, select your troubleshooting method and follow the optimization process.
Is the Windows Repair tool safe?
While the Windows repair tool is mostly safe to use, it's always best to back your files up to be safe. Modifying any system can entail a risk and taking a cautionary measure is better than losing your data.
Conclusion
In conclusion, it's easy to say that Windows Repair Toolbox is a well-built tool that can be used to repair a variety of common problems with the Windows operating system. With its long range of tools, anyone can solve system issues within minutes.
However, it is important to use caution when using any repair tool, as modifying the system can be risky and may cause unintended consequences. It is always a good idea to back up your system before using any repair tool and to seek the help of a professional or contact Microsoft support if you are not comfortable using technical tools or are unsure how to use them.
Alternatives
Also, check the alternatives of Windows Repair Toolbox
Comments
Let us know about your thoughts