Wondershare Dr. Fone 12.4.10
(112 votes, average: 5 out of 5, rated)
Wondershare Dr. Fone 12.4.10 Download for Windows 11, 10, 8, 7 (64 or 32) bit PC. Free download the latest version 2023 of the software from NearFile.
Technical Details
App Information
App Name
Wondershare Dr. Fone
File Name
drfone_setup_full3360.exe
VirusTotal Hash Code
6defbc9596e4457935a5c2bcc85bab24e7183c5a785a545cbd2fbbb35353e828
Operating System
Vista / Windows XP / Windows 7 / Windows 8 / Windows 10 / Windows 11
Date Published
16, January 2023
Date Modified
04, June 2023
About
Wondershare Dr. Fone free download for PC Windows (10/8/7/11)
Wondershare Dr. Fone is a recovery application that allows users to recover data from their mobile devices, including smartphones and tablets. The software is designed to recover lost or deleted data from various sources, including the device itself, iTunes backups, and iCloud backups.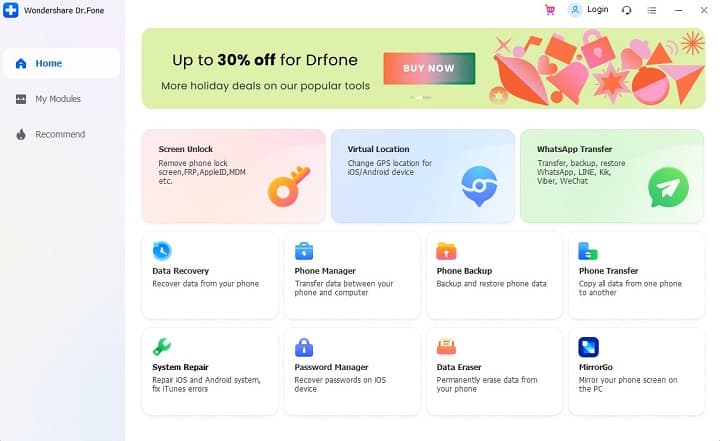 It is available for both Windows and Mac operating systems. Dr. Fone was developed by Wondershare, a software company based in China that produces a range of software tools for data recovery, data transfer, and other utilities.
Want to get inside the vast experience of Wondershare Dr. Fone? Before you download the application, take a peek at what the application is all about by looking at the features from here-
Data Recovery
First and foremost, Wondershare Dr. Fone is built around the function of data recovery. It is the perfect tool to recover any type of data on your mobile device. Dr. Fone allows users to recover a wide range of data types from their mobile devices, including photos, videos, contacts, messages, call logs and more.
Whether the data is on your Phone, Google Drive, iOS device, or any other medium, this tool can recover your data without fail. You just have to choose the function and hit the restore button.
Wide Compatibility
The data recovery may be great and all, but what about the device support? Well, on that front, Wondershare Dr. Fone has you covered as well. Dr. Fone supports a wide range of mobile devices, including smartphones and tablets from major manufacturers such as Apple, Samsung, Huawei, and more.
Phone Manager
As the name suggests, you can manage your phone data and transfer it to your Windows device in no time. The quick transfer feature allows the users to make a copy of their whole data and use it however they see fit!
Repair & Erase
Whether you want to repair your files or erase them permanently, it's completely up to you. Dr. Fone does not make you pick between the two but rather provides both options so that you can do both, given your situation.
Simple and easygoing interface
Recovery and backup option
Data eraser function
Fast file transfer and repair
No free version
May not work with all types of mobile devices
Yes, Wondershare Dr. Fone is totally trustworthy and safe to use on any Windows OS. The application has been tested by many security protocols and comes up to be safe to use.
No, Wondershare Dr. Fone is not free to use. However, you can download and use the trial version for a limited period of time. The trial version offers the full feature pack for users to test.
How to install Dr. Fone on Windows 10?
After downloading the installation file, click on the file to start installing it on Windows 10. Follow the guided steps on the installation wizard and wait for the setup to finish.
Does Dr. Fone delete everything?
While the normal feature of Dr. Fone does not include any data removal, the Android Data Eraser features permanently deletes all the data on your phone. So, be careful before going for that feature.
Conclusion
To summarize, there's no denying the fact that Wondershare Dr. Fone is a great data recovery software tool that allows users to recover lost or deleted data from their mobile devices, including smartphones and tablets.
While it is not a free tool, Wondershare does offer a free trial version that allows users to preview the data that can be recovered before deciding whether to purchase a license. So, try the free demo version to find out your true calling about this incredible application!
Alternatives
Also, check the alternatives of Wondershare Dr. Fone
Comments
Let us know about your thoughts