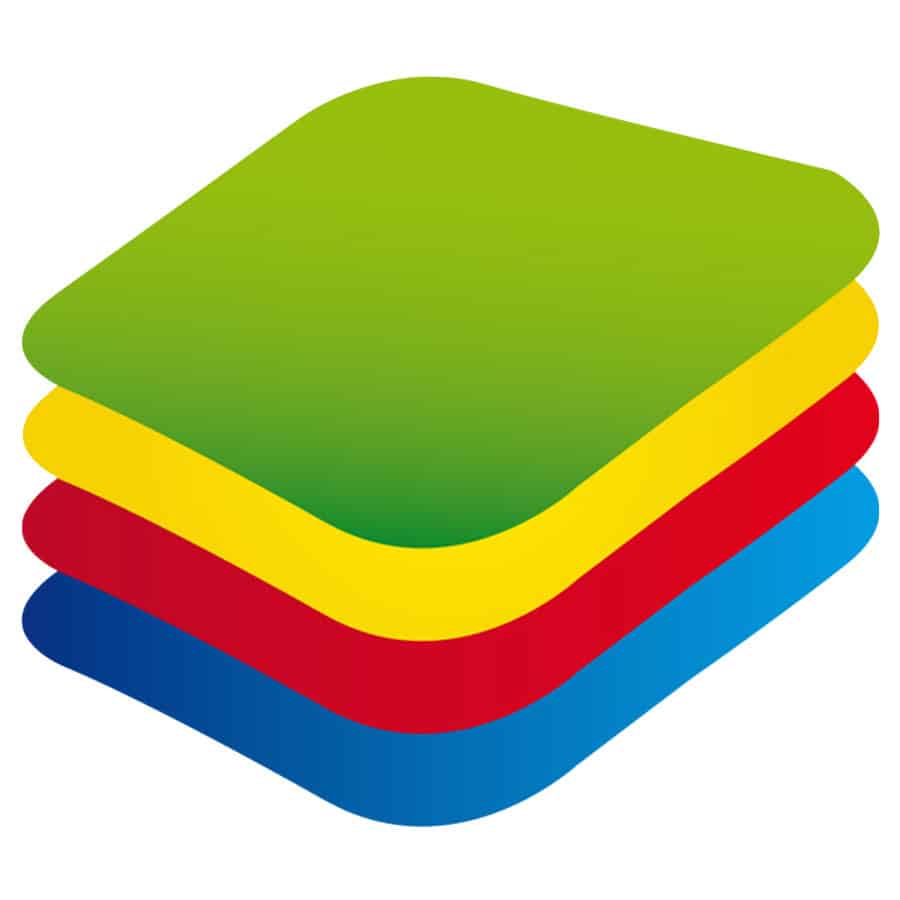 BlueStacks App Player 4.90.0.1046
BlueStacks App Player 4.90.0.1046 Download for Windows 11, 10, 8, 7 (64 or 32) bit PC. Free download the latest version 2023 of the software from NearFile.
Technical Details
App Informations
App Name
BlueStacks App Player 4.90.0.1046
File Name 32 Bit
BlueStacks-Installer_4.90.0.1046_x86_native.exe
File Name 64 Bit
BlueStacks-Installer_4.90.0.1046_amd64_native.exe
File Size 64 Bit
513.26 MB
Operating System
Windows 7 / Windows 8 / Windows 10 / Windows 11
Date Published
02, June 2019
Date Modified
10, February 2023
About
BlueStacks App Player 4.90.0.1046 free download for PC Windows (10/8/7/11)
BlueStacks App Player 4.90.0.1046 Download for your Windows 32-bit or 64-bit PC that is a complete android emulator for installing and playing android games as well as apps on your PC. From NearFile you can download this emulator for free.
BlueStacks App Player 4.90.0.1046 Download Review
BlueStacks App Player is like an android simulator. It allows you to run your favorite android apps and games on your PC with a full screen. By using it you can also play your favorite shooting or any other games easily with Mouse and Key Board. So, you will feel more comfortable playing your favorite games better than on your Android Smart Phone.
About Android Emulators
Android emulator is software that allows you to run your android application on your Windows PC. While you can use any android application on your Windows PC using emulators, these are mainly created for gamers to improve their gaming experience.
Nowadays, people are playing games on their android rather than PC. As a result, many android games were built rapidly. So, to improve the gamer experience, many android emulators were built so that anyone can play their game on PC with a bigger screen and with a bigger experience.
About BlueStacks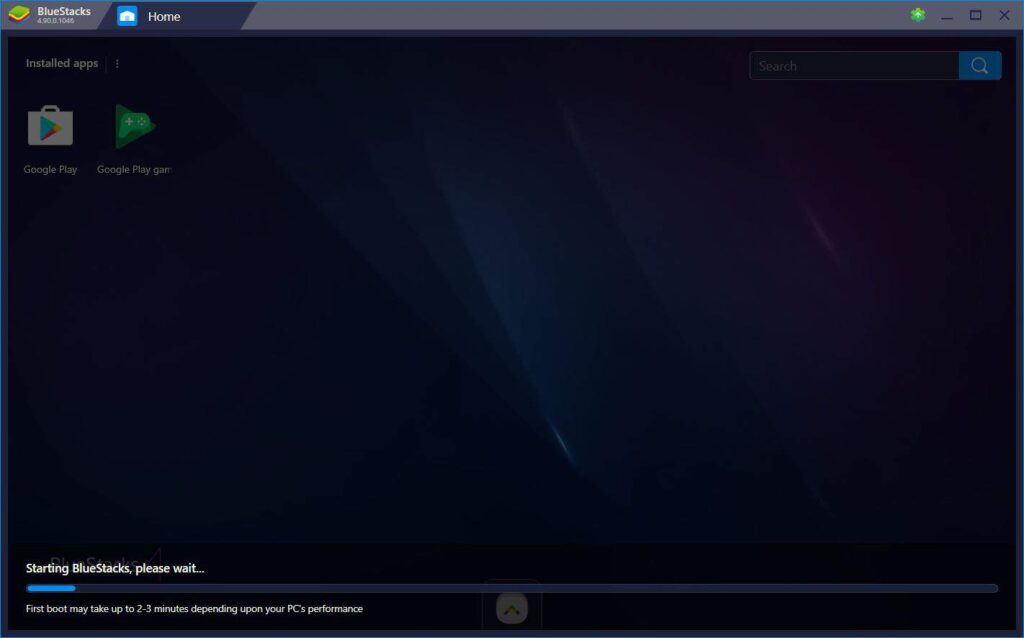 BlueStacks is also built for improving the gaming experience. Its main aim is to move android games to another level by expanding the supported devices. This software is designed for Windows devices which supports most of the desktops available in the market.
After installing this software, you can download your favorite games, as you do on your android device. You can also run your favorite games with full screen without losing a single graphical quality. This software automatically optimizes the computer resolution with your game resolution so you can get the best result.
The advantage of BlueStacks App Player
The advantage of this app is so many that we can finish writing about it. It has so many features that will amaze you. This app is better and more famous than other apps for these reasons:
Quality of Graphics
This software is promised to provide zero graphics loss functionality. It used the power of Hyper-G graphic quality. This software will provide you with the highest-quality graphics. But sometimes an issue may occur with graphics turnout.
Compatibility with Android Apps
The most important function of this software is that it supports almost all the games on android devices. If you install this software then you will be able to play Fortnite, PUBG, Free Fire, COD, HeartStone, and so on. You can also play other android supported games without any issues.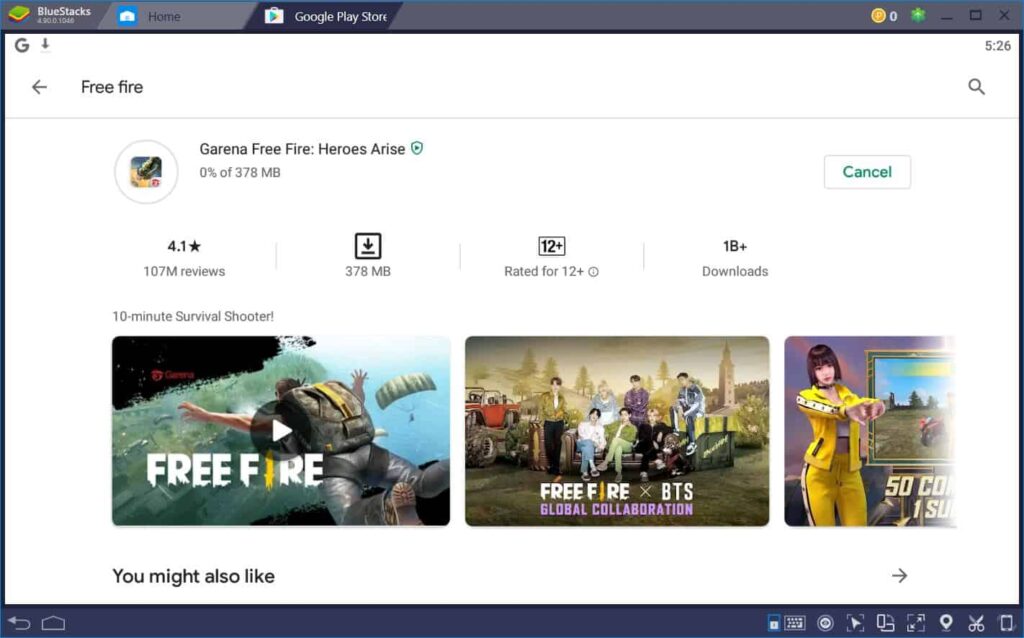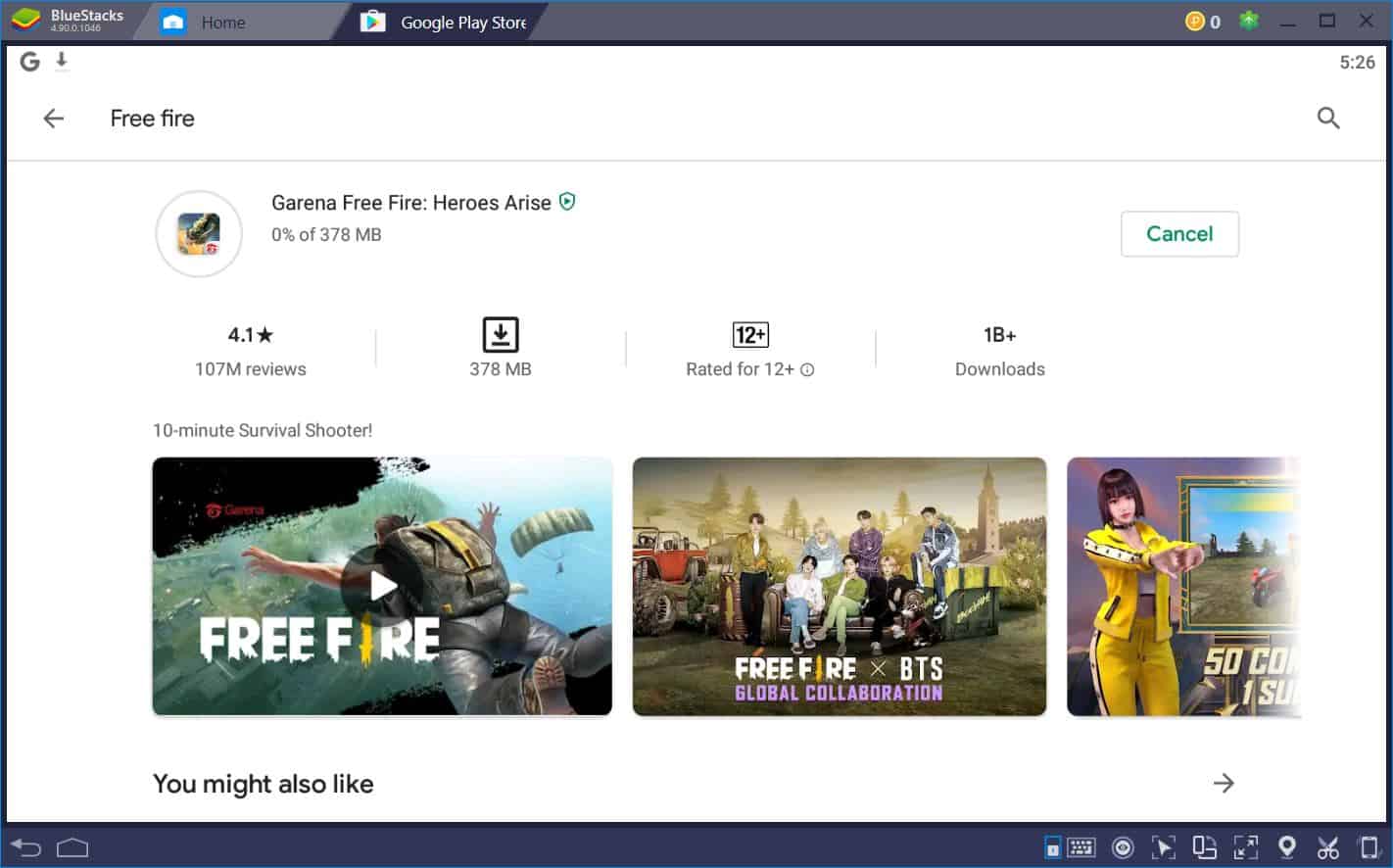 Operating System Compatibility
It is therefore important to emphasize the compatibility of various Operating System (OS) configurations. This tool would allow you to work with configurations of other OS that do not belong to the one you normally use. The consequence is that it opens the field for other uses since tools only work on one operating system often.
Multi-Language Functionality
Another feature of this application is working with multiple languages. This application has an English Version which makes it easier for a gamer to understand this software.
Free to use
You will be glad to know that this awesome software is totally free. You don't even need to use a single penny to use this software. Just download this software and start enjoying your favorite games.
Multitasking
You can use other software without interrupting your games or other applications running in BlueStacks. You can also run multiple applications inside of BlueStacks.
Disadvantage Of BlueStacks App Player
This software has some disadvantages too. Some of them are:
It may make your PC slow.
Sometimes you may face some RAM issues.
Some games, don't allow you to use emulators to play their games. So they may ban you from playing their games.
If you are running on a low-spec PC, you may face a lagging issue.
User-Friendly Interface
Any user who doesn't know much about PC or desktops, he or she also can use this software without any issue. This is also a great reason why video game lovers love this software very much.
This software is the most used software compared to other android emulators.
Best features at a glance:
This software has a Fully customizable environment.
It Supports multiple OS configurations.
It has Google Play integration which allows you to install any apps from Play Store.
This software has the built-in latest version of Android 7.1.2
It used the power of Hyper-G Graphics for uncompromising graphics.
It has AI-driven resource management for low-latency gaming.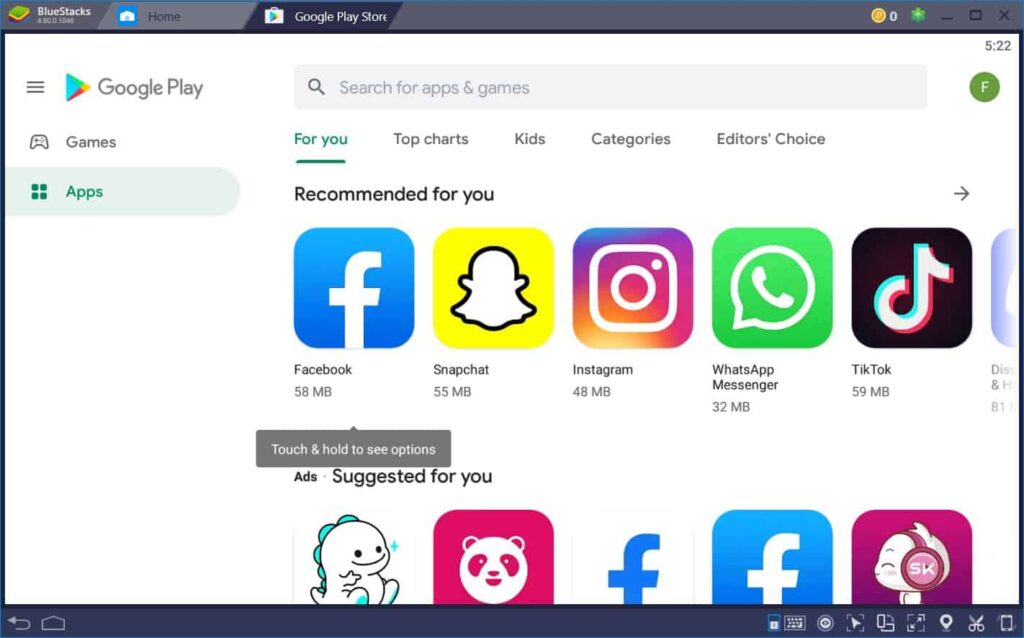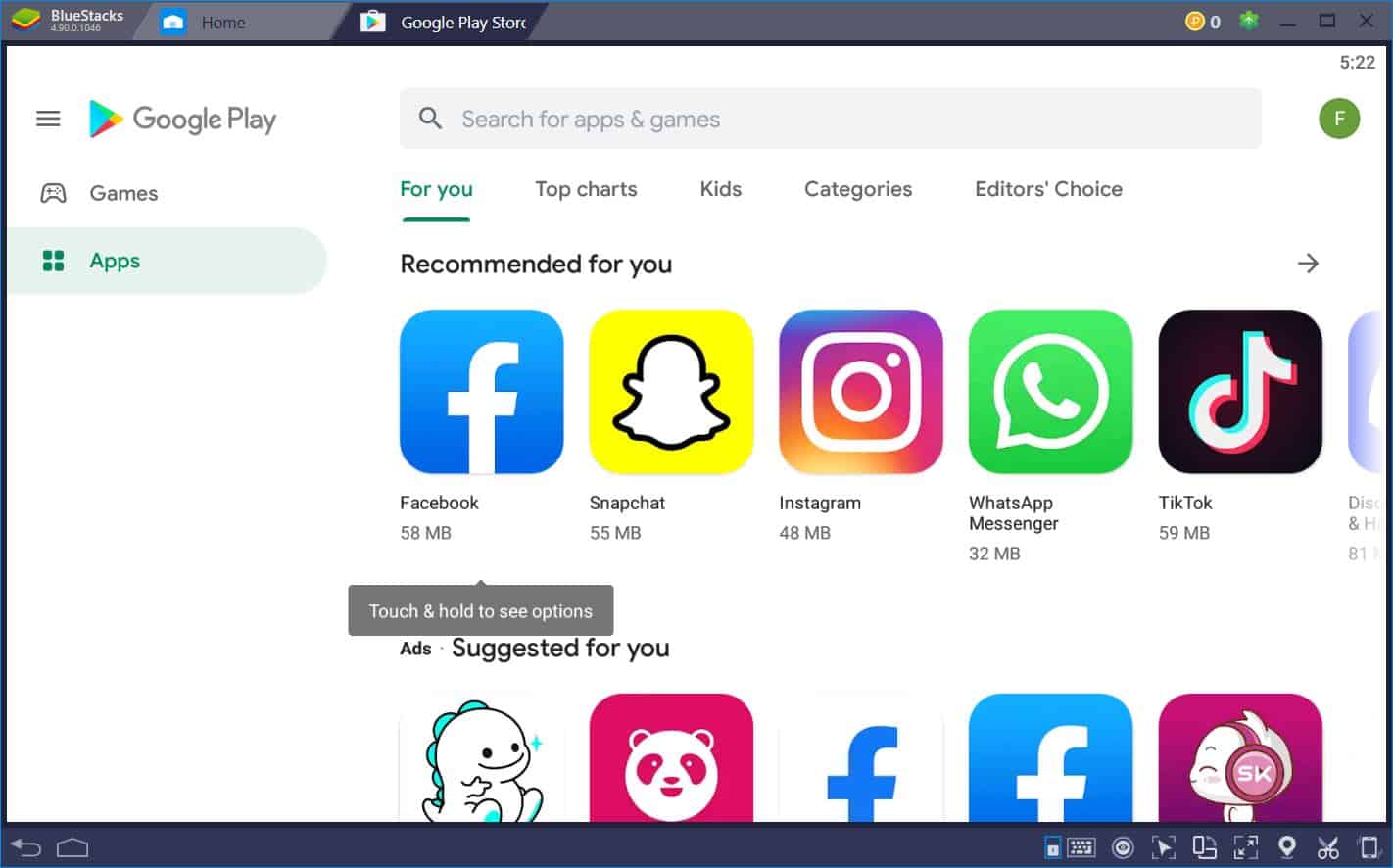 BlueStacks App Player 4.90 System Requirements
To use BlueStacks 4.90 on your Windows PC, your PC must be compatible with it. Here are the requirements for using this application:
Minimum system requirements
Your operating system must be Windows 7 or latest version of Windows.
For processor, you can use Inter or AMD.
At least 2GB of RAM is required.
Your PC must have at least 5GB of Free Disk Space.
You must have the up to date graphics drivers installed on your PC.
You must be the Administrator of the PC to install this software. (This requirement is not only for this application but also for any applications which you want to install on your PC.)
Recommended system requirements
BlueStacks recommend you to use Windows 10 as your Operating System to install it.
For processor, it will be best if you have Intel or AMD multi-core processor having Single Thread PassMark score > 1000 and virtualization extensions enabled in the BIOS. Click here to know how you can enable virtualization extension on your PC. If you want to know the single hread Passmark score of your processor, just click here.
8GB of RAM or higher than that is recommended to use it lag free.
For hard disk, SSD is recommended.
We recommended you to use Broadband as your internet connection so that you can access to your favorite games quickly.
You must update your graphics drivers to latest version. You can easily update it from Microsoft or the chipset vendor.
How to download and install BlueStack App Player On Windows PC
The process of installing this software is very simple. Just follow the steps shown below:
First, you need to click on the download button from above to start downloading. You won't need to register and also don't need to waste a single penny.
Now run the downloaded file and follow the instruction. Wait for a moment to complete the installation process.
After completing the installation, you may be able to enter Google Play Store and install your desired application. Please note that you need to log in to Google Play Store in order to install your desired app. To log in to it, you must have a Google Account.
Pros
Runs almost any android app
Full-screen mode for a better view
Responsive app support and regular updates
Free to use
Cons
The emulator is very RAM-hungry
FAQ's About BlueStacks App Player 4.90
Is BlueStacks safe for your computer?
If you are asking about security then it is 100% safe for your PC. We haven't got any reports about malware in BlueStacks. This software is totally free from spyware and malware.
What is BlueStacks used for?
BlueStacks is used for running android applications on Desktop PC with high-quality graphics.
Does BlueStacks cost money?
No, this application is free to use. You don't waste a single penny.
How can I download BlueStacks on my PC?
Just click on the download button from this page, BlueStacks will start immediately.
Will BlueStacks get you banned in Clash Of Clans?
BluesStacks is not officially recommended by SuperCell. But using it, will not get you banned from Clash Of Clans. But if you use another application that alters the game then you must get banned.
Conclusion
The FREE BlueStacks App Player 4.90.0.1046 is a perfect way to begin playing your android games on your computer. This tool is easy to install, easy to use, and also compatible with a range of choices. The ultimate purpose is that the desired game must be played without any problem. If Bluestack is banned in your region then you can try using NordVPN to download it. Also, will NordVPN YouTuber codes, you can get them at a negligible price.
Our Usage
In our free time, we also use BlueStacks to play our favorite games. We also found it really helpful for our work. Because it also sends a desktop notification when someone sends us messages. It really helped us in video editing also. Because Android has many awesome video editing apps which are better than any free Windows video editing tool. So, we really loved it a lot.
Screenshots

Alternatives
Also, check the alternatives of BlueStacks App Player 4.90.0.1046
Comments
Let us know about your thoughts