Cheat Engine is a free application that helps you to hack your favorite offline games. You can change the resource amounts in your game and also use many tricks that will help you to complete the game quickly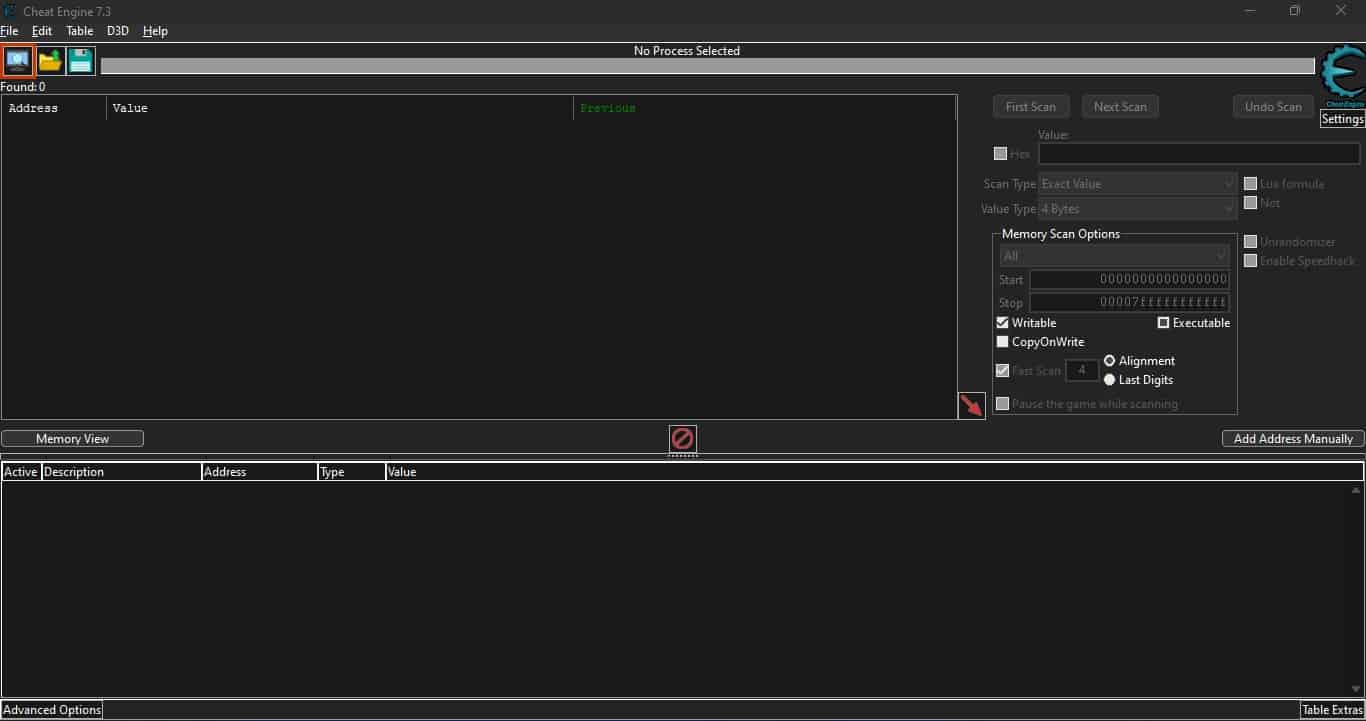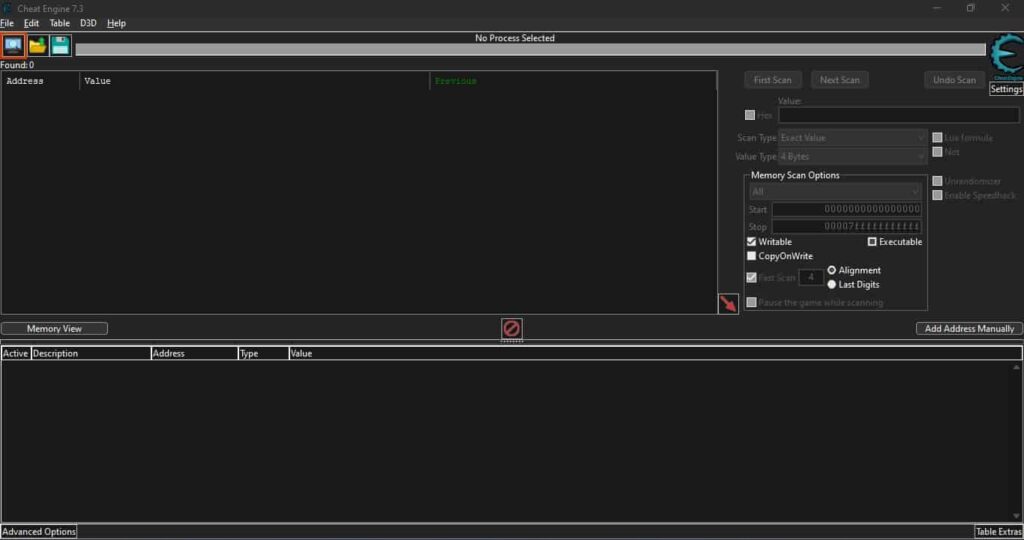 To use this game hacking tool without any issue, you need to start this application before starting your game. You must allow this software to run in the background so that your game resource kept changed. If you close this application and won't let it run in the background, your game resource will be reverted to default.
Make games easier or harder using Cheat Engine
It will help you to pass your game levels quickly. But sometimes you may feel boring because your game will be too easy. But don't worry. This tool not only helps you to increase your resource but also helps you to reduce them. By using it, you can decrease your character's health to make your game more difficult and more enjoyable.
Interface
This software is not easy to use for those who are new users of it. Also, it doesn't have a user-friendly interface. After running this software for the first time, it will show you some tutorials about its usage of it. This tutorial will help first-time user to learn the basic usage of this tool.
Some noticeable features
This awesome tool has some great features which will amaze you. Some of these are:
It has the power to scan memory and quickly get all the variables or parameters using your game. Then it allows you to modify them.
You can debug your game by using its debugger functionality.
You can also hack the speed of your game. You can both speed it up and also low the timer of your game.
It also has the functionality of a Direct 3D manipulation tool.
You can also use the system inspection tool to inspect your game system.
It also has the feature of disassembler and assembler.
It has scripting support which helps the developers to create their own cheating application and share it with other people.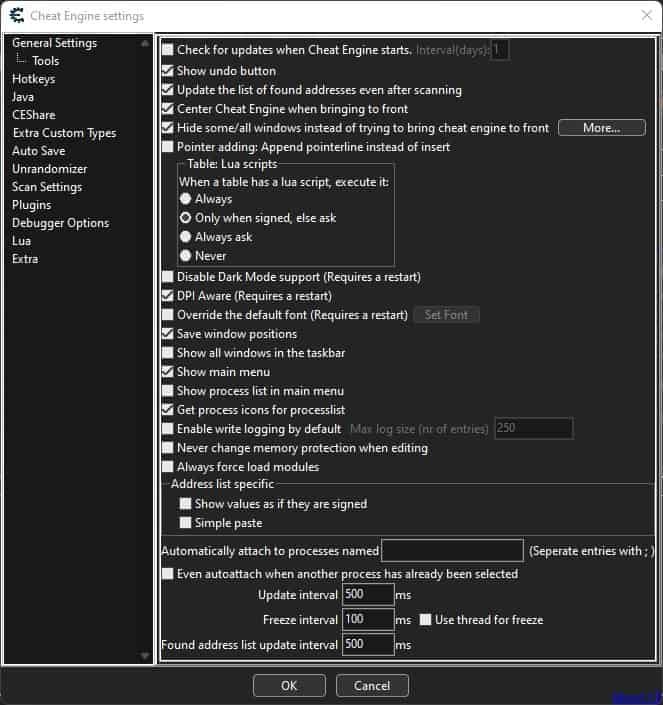 Features
Speeding Up or Down
This program has an option named "Speed Hack" by which the user can be able to increase or decrease the speed of a game. Not only just games, but also it is able to handle software with 'clock ticking'. It is able to make the software slow or quick.
Increasing Game Resources
With the help of this software, users could easily increase their points in a game & also they could be able to gain more coins.
Get Extra life
If the users are playing a battle game then they must have limited life. With a cheat engine, they could have unlimited lives & then completing the game would become easy for them.
Make Game Easier or Harder
If users have this program then they can edit the game according to their wish to play it. They can make it easier, or they can also make it harder.
Create Game Script
This program helps the users to hack a game, so the users can change the storyline according to their own taste.
Pros
Lightweight.
It has script support.
With this, users can easily finish a level.
Integrate cheat codes.
It can even fix crashes.
Easy to use.
It is free to download.
Cons
There are some games that cannot be hacked or tricked with the help of this program.
It may make the PC slow.
Faq about Cheat Engine
Where can I find a Cheat Engine?
You can find Cheat Engine on this page. Just click on the Download button and your download will start immediately.
Does Cheat Engine work with online games?
No, the cheat engine doesn't work with online games. It only works with single-player offline games. But in some cases, the feature of speedhack may work with some online games.
What games can you use the Cheat Engine on?
You can only use this tool for your offline single-player games. It will not work with online or multiplayer games.
How does Cheat Engine work?
First, you need to select the game you want to hack. Then it will scan all the variables or parameters using this and show up on its interface and will allow you to change their value.
Is Cheat Engine legal?
This tool is legal. We haven't found any evidence of its illegality.
Can you get banned for using Cheat Engine?
Yes, you may get banned from playing games if you use this tool. Some hardcoded games which are using an anti-cheat system may ban you from playing those games if you use Cheat Engine.
What is CE cheat?
CE is the short form of Cheat Engine.
Is Cheat Engine a virus?
No, it's not a virus. But Some anti-virus programs may mistakenly consider Cheat Engine as a trojan/virus.
Is Cheat Engine safe?
Yes, it is absolutely safe to download. We didn't get any viruses or malware or spyware in it. You can download it without any issue.
Is Cheat Engine safe?
Yes, this program is totally safe. Users can use cheat tables. They should not mess with the values if they are not well trained, otherwise, the game can be crashed.
Can I get banned on GTA online for using Cheat Engine?
Cheat Engine is a program that should be used in steam games. Users must not use this program on multi-player games, because there is a risk to get banned instantly for using this software.
Is Cheat Engine a hack?
Cheat Engine is just software by which you can get help to hack a game or cheat in the game. It will show you some easy ways to hack or trick a game.
Can I use Cheat Engine on Mac?
Well, there is a version of this program that can work on Mac. 'Cheat Engine version 7.2', you can use this on Mac.
Is Cheat Engine free?
Yeah, this software is completely free to download and use. Users don't need to pay for using this program.
Conclusion
Cheat Engine is really a useful tool for gamers who don't want to make their games impossible nightmares. It will help you to pass all the hard levels easily and you will get more fun playing games. But remember hacking all the resources of your games will make you bored.
Note: Some anti-virus programs may mistakenly consider Cheat Engine as a trojan/virus.
Our Uses
As we have uses this program, so we can say this software is great. While playing a game, if users face difficulties finishing the game then this program can be a better option for them. With the help of this software, they can even edit the story of a game, but also we would like to inform you that a cheat engine may bring viruses or malware to your PC. So, if you are using this then you should be prepared for that. Otherwise, for cheats & tricks, you can install this software on your PC.
Screenshots