Rainmeter is a free desktop customization tool that lets you customize your desktop skin and other display-related features as you want. Rainmeter is best when it comes to customizing one desktop skin, features, and audio visualizer. With rainmeter one can change the display feature of their own desktop feature with default skin or create one as he likes. Using this one can transform his desktop with wonderful beautification for free and easy. Default feature and skin of any desktop doesn't look attractive, but with help of one change total preference of skin customization as he wants. This one creates an easy and suitable friendly workspace environment.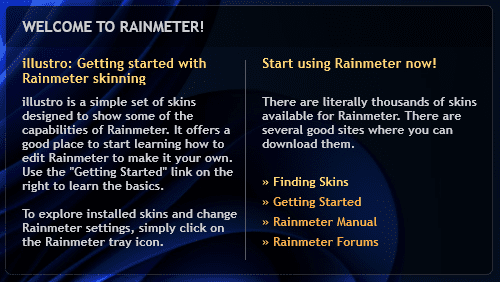 Skin
Here one can create or set up a new desktop theme, clock, system monitoring, audio visualizer, and others widgets skin. In this section, one creates a new skin feature for his desktop or he can set various skin from download from the internet. He can customize his desktop display view as he wants with various skin available on the website for free or creates a new one with his own preference. To create a customizable skin view he can use different type setup modifications available through customizing section. Here he can set widgets position as his preference with the display. In-display monitor he can make them draggable, click-through, or keep in position and with other tools too.
Layouts
In this mode, he can use previously loaded skin customization. If one wants, he can also edit the layout from here which was previously or he can change the layout of the newly loaded skin modification. From here one can save or restore the position of loaded and unloaded skins. Here one can perform skin layout as empty, exclude unloaded skins, or include current wallpaper in his newly desktop display customization. From this section one is allowed to load, edit or delete his current or previously used layout.
Game Mode
Game mode allows one to create a fantasy-like display view on his desktop. When one installs any games, they are sent to a certain location, and to play one has to go through many files to open them. But with game mode, one creates a game hub on the desktop. With customize, a game hub created one can store all games in one place. Because of the game hub, one can play any game with a single click. This mode reduces time consumption and extra hassle for finding games.
Advanced settings
In this mode, one can customize the setting for rainmeter as preferred. Here one can change the language as understandable. Set apps built-in editor location or can add new editor apps as he wants. From here one can check update, disable dragging option, notification settings, use hardware acceleration, debug mode, and log file.
System Requirements
Operating System: Windows 7,8,10
Processor: Intel Pentium 4
RAM: 512 MB
HDD: 100 MB for installation purpose
Pros
Free to download
Quick and easy to download
Easily Customizable
light weight size
Various resources available
Low CPU and RAM consumption rate
Cons
Complex editing
launcher won't run at first try
resources need to download
Complex mechanism
Slow down after skin uses increase
FAQs
Is Rainmeter safe to download?
Yes, it is totally safe to download. Rainmeter only lets you customize your desktop skin related to the desktop display view. With rainmeter, you can customize your desktop's new skin or create one as you want.
Does Rainmeter slow down your PC?
No, Rainmeter is an open-source zero CPU resource. Normally 10 skins can be loaded without being slowed down but after that, your PC could get slow based on its spec.
Does Rainmeter use a lot of RAM?
No, Rainmeter only consumed 3-5% of your RAM space. This much is consumed because of animation used in rainmeter. If anyone wants to reduce RAM consumption more then he can turn off animation.
Is Rainmeter heavy on CPU?
No, Rainmeter also consumed 3-5% of your CPU-like RAM. That's because of animation used in rainmeter. If anyone wants to reduce CPU consumption more then he can turn off animation.
Is Rainmeter hard to run?
No, but the rainmeter used various resources to customize one desktop. To customize one desktop, he had to use different skin, and aligning them could be hard for somebody at first.
Does Rainmeter work on Windows 10?
Yes, rainmeter is an open-source desktop customization resource. It operates virtually, which is why it doesn't require any special PC spec.
Our Uses
I was using default desktop skin for a long time. And it wasn't that much attractive. More than that my file and software allocation was rubbish. When I need something, to find them I had to go through the various files. But with the rainmeter, I was able to customize the desktop and other widgets. Because of that, my time consumption was reduced and I could find anything I needed with a single click. But there were some issues with running it, and sometimes launcher skin won't run on the first try.