DigibitVPN
(108 votes, average: 4.85 out of 5, rated)
DigibitVPN free download for PC Windows (10/8/7/11)
Nowadays, VPNs have almost become a necessity because of security threats. However, as the cybersecurity space has seen tremendous growth, there are companies that make phony apps to rip people off. That's why it's crucial to select a VPN plan that'll make your life easier. DigibitVPN is a fully paid and premium VPN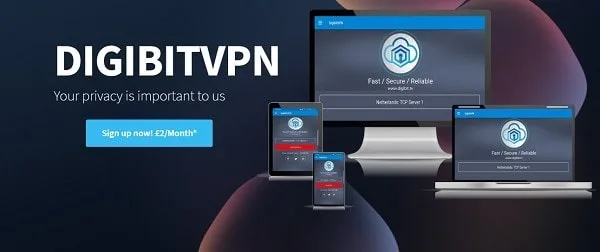 Enter Digibit VPN with its mindblowing capabilities. The company prioritizes speed, reliability, and easiness over anything and you'll know it right off the bat once you open the application.
But is that all about Digibit VPN? Of course not! That's why the next section explores the intricacies of this VPN in more detail.
Features of DigibitVPN
Interested to know more about the whole features list of Digibit VPN? Then, you're in the right spot. Go through all the features to know whether this VPN is the one for you-
Speed & Reliability
The main thing about any VPN has to be a reliable connection. Well, because of the 120+ servers, you won't need to think about the stability at all. But what about the speed? Well, here's a glimpse of how the speed is on my Windows system-

I know it's not the best out there but not the worst too! It's good enough to go through the daily tasks easily.
Two Encryption Protocols
There are two internet protocols on the Windows application. TCP (Transmission Control Protocol) and UDP (User Data Protocol). By default, it is set to UDP encryption as it is faster than TCP. However, you can switch between them anytime you want. Oh! And traditional P2P support is also there.
No-log Activities
You obviously don't want the application to store your activities and send them to third-party connections right? That's why Digibit VPN offers full transparency about its database and does not store or share your personal information with anyone.
24/7 Customer Support
Even if the connection, speed, and interface are good, bad customer support can ruin the whole experience. However, you don't need to think about getting your experience ruined with Digibit VPN. Because it has a live chat function that you can use anytime you want. You can also call or mail customer service to solve your issues.
Pros
Very good performance and speed
More than enough servers in multiple locations
Well-round security protocols
Awesome customer support
Multiple device compatibility
Cons
The pricing could be better
FAQ's on DigibitVPN
Is DigibitVPN free?
No, Digibit VPN is a fully paid and premium VPN that is based in the UK. You'll have to pay $4 per month to use all the functionalities. However, you can get a refund within 7 days if you don't like the experience.
What is DigibitVPN?
Digibit VPN is a UK-based virtual private network providing software that anyone can use. It has support for Windows, macOS, Android, iOS, Linux, and Amazon.
How many connections do you get with DigibitVPN?
You get unlimited connections with Digibit VPN which is an extraordinary feature. Very few VPNs provide such a deal at an affordable price.
Does DigibitVPN work on Firestick?
Yes, DigibitVPN has full Amazon Firestick support. So, you can even use the VPN with your Smart TV which has built-in Amazon OS.
Conclusion – Should You Get DigibitVPN?
So, finally, the moment to decide about the purchase. Does Digibit VPN seem like a good deal to you? Well, if you compare it to similar VPNs like NordVPN or Express VPN, then the pricing is definitely more affordable.
However, Digibit does lag behind in servers and connection speeds. Still, if you want something good without breaking the bank, you can go for Digibit VPN. I can fully recommend that you won't be disappointed.
So, get yourself the Windows application from here and start your safe browsing journey.
Apps Informations
---
App Name
DigibitVPN
File Name
DigibitVPN3.1Beta.exe
File Size
60.1 MB
VirusTotal Hash Code
ff304ff155ac5c07e0d5a8e47780e1798ddff543940d71b33d191896f327d874
VirusTotal Scan Report
Operating System
Windows 7 / Windows 8 / Windows 10 / Windows 11
Date Published
11, October 2022
Date Modified
12, June 2023
Category
License
Beta
Publisher
Alternatives of DigibitVPN
Comments
Let us know about your thoughts