GOM Player 2.3.85.5353
GOM Player 2.3.85.5353 Download for Windows 11, 10, 8, 7 (64 or 32) bit PC. Free download the latest version 2023 of the software from NearFile.
Technical Details
App Informations
File Name
GOMPLAYERGLOBALSETUP_CHROME.EXE
VirusTotal Hash Code
649187550b1575f19fcc7aecee7481af41495be5c72f653adf6502051a2a0337
Operating System
Windows 7 / Windows 8 / Windows 10
Date Published
09, March 2021
Date Modified
24, March 2023
About
GOM Player free download for PC Windows (10/8/7/11)
GOM Player is one of the best free Windows multimedia players. It allows you to play almost all video and formats files on your PC without any issues. It is developed by the GOM & Company in 2003.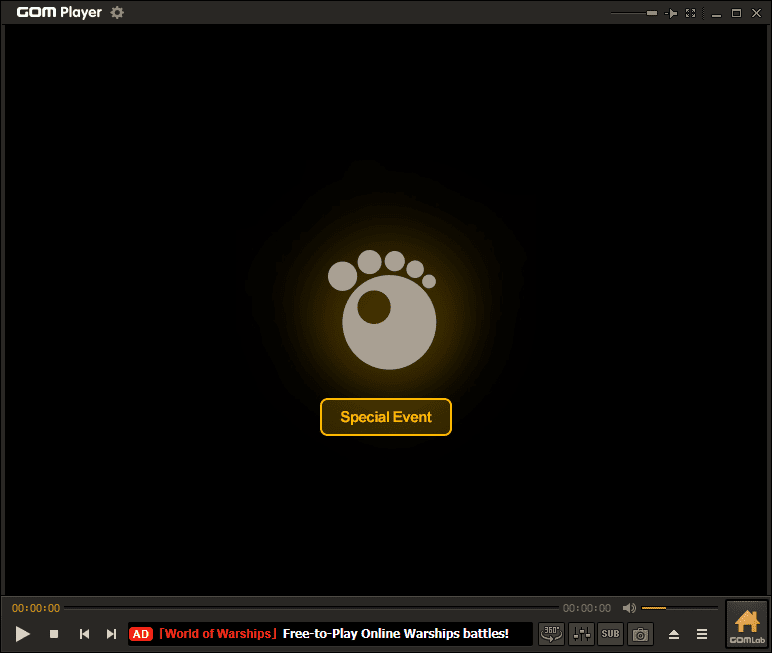 Features
Auto add playlist
This is one of the best features of this media player. It can automatically add similar songs or videos to your playlist according to the name or genre of the current play. This feature is almost the same as the YouTube playlist adder. So if you have a lot of music in your music library then it can automatically surf the whole library and choose the best music for you.
Allows renaming of files while playing
This feature makes GOM Player different from most other popular video players. It allows you to rename the current playing video or audio file. Even you can transfer or move the file from one place to another without interrupting the player.
Easy playback control
You can easily control your running video or audio through this player. It has a beautifully organized user-friendly interface. You can also control your video and audio using keyboard shortcuts which will allow you to take action more quickly.
Here are some keyboard shortcuts of GOM Player:
F2 : Open file
F3 : Open Subtitle File
F4 : Stop and close video
Alt + G : Add current file to Favorites
Alt + D : Add current folder to Favorites
Spacebar : Play/Pause
Ctrl + P : Play/Pause
Ctrl + Spacebar : Stop
Ctrl + Alt + → : Fast Forward (5 sec)
→ : Fast Forward (10 sec)
Ctrl + F : Fast Forward (10 sec)
Ctrl + → : Fast Forward (60 sec)
Shift + → : Fast Forward (300 sec)
Ctrl + Alt + ← : Rewind (5 sec)
← : Rewind (10 sec)
Ctrl + B : Rewind (10 sec)
Ctrl + ← : Rewind (60 sec)
Shift + ← : Rewind (300 sec)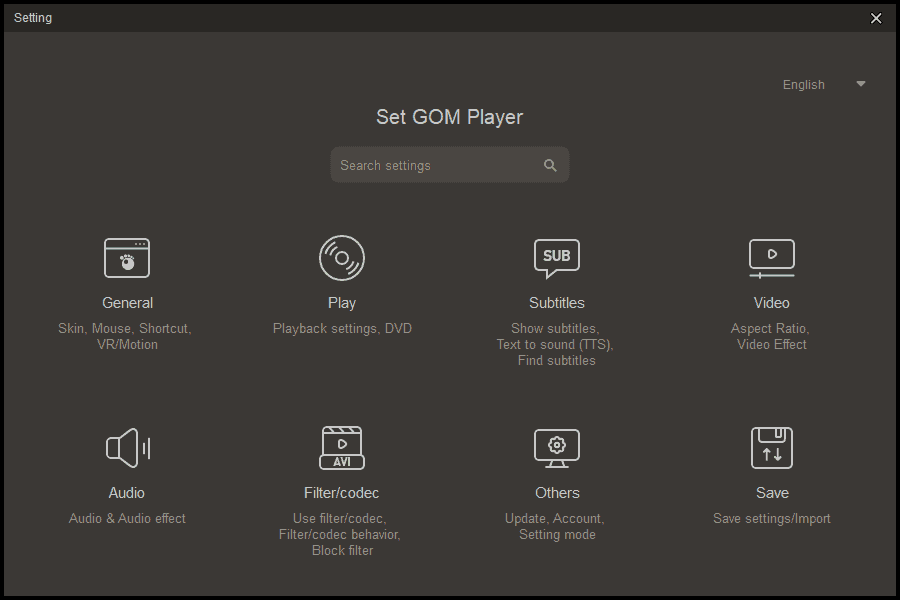 Multiple Languages
This player supports almost 14 different languages. You can use any of them which you want. You can change the language from the language settings of it.
Here are the supported languages: 한국어, English, 日本語, 中文(简体), 中文(繁體), Español, Русский, português,Türkçe, ไทย, Deutsch, français, italiano, čeština
Touch Screen
This amazing player also has some awesome features for those who have a touch screen PC or Laptop. With this player, you can control your running videos or audios using your finger. It is the same as you do on your Smart Phone's media player. This awesome feature is really great if you feel comfortable using the touch ability of your PC.
Codec Finder
GOM Player already has many in-built codecs installed in it. But sometimes some uncommon codec you may need to play. For this situation, this feature is really remarkable. It allows you to find the missing codec which you want to play and takes you to the download page of that. From there you can easily download and install the codec on your PC.
Customization
For making your video playing more attractive it has many different customized colorful skins. You can also download skins from the GOM Player official website.
It also has the ability to customize its interface of it. Using the advanced filter control you can easily customize it as you need.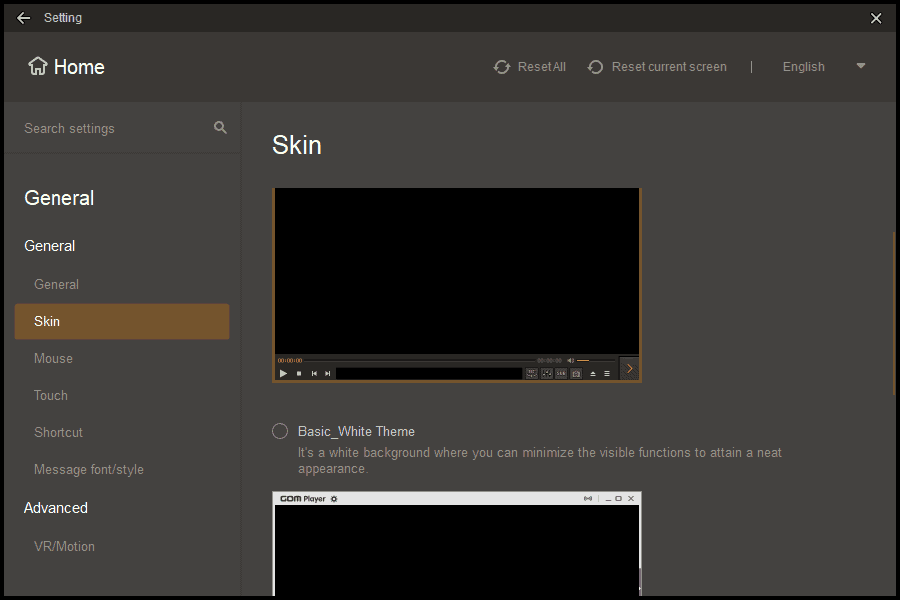 Play 360 degree Videos and VR
This awesome media player also allows you to play and enjoy virtual reality technology through it. It has all the required functions to play 360-degree videos and provides you with maximum comfort and enjoyment.
Play damaged file
This player has the ability to play any damaged video or audio files. For this, it separates the damaged part and the undamaged parts. Then skips the damaged frames and plays the undamaged frames. Also, it smoothens the frames for better quality.
Some other remarkable features:
Automatic ASF source filter
Keys Remapping
Superspeed/High Mode
Enhanced Filter Rendering
full-Unicode
Supported Formats
GOM Player supports almost all video and audio files.
Supported Video Formats: avi, .ogm, .mkv, .mp4, .k3g, .ifo, .ts, .asf, .wmv, .wma, .mov, .mpg, .m1v, .m2v, .vob, .m4v, .3gp/3gp2, .rmvb, .rm, .ogg, .flv, .asx(video), .dat
Supported Audio Formats: .mp3, .m4a, .aac, .ogg, .flac, .wav, .wma, .rma , .alac
Supported Subtitle Formats: smi, srt, rt, sub(& IDX), vtt (text sub), dvb, ass, psb, txt, sbv, vobsub (embedded sub)
Supported Playlist Formats: .asx, .pls
Performance and Issues
Though it is an awesome media player it has some issues in it. If you stream your video through it, it will slow down your PC and also charge extra data than another streaming app.
It has an awesome feature to watch YouTube videos directly through it. But browsing YouTube videos in it will charge a huge amount of data. Also, it will affect your RAM and may create lag severally.
There are many features in it which you may don't need. But when you run GOM Player some unwanted features may run the background of your PC which will make your PC slow.
Sometimes it can't play music at the maximum capacity of your sound card whereas popular media players like VLC Media Player and WMP can do.
Pros
Multiple subtitle styling features
Can automatically search subtitles
Supports 360-degree VR mode
Touch screen supported for Windows 7 or higher
In-built motion controller available
14 Languages Supported
Cons
Ads supported
The installer has Ads in it.
FAQ's about GOM Player
Which is better GOM or VLC?
There is no doubt that both GOM and VLC are great Media Players. They have almost the same features and same functionality. But according to the global user ratings, the VLC player is more loved than the GOM player.
How do I install GOM Player on Windows 10?
It is really easy to install it on your Windows 10 PC. First, you need to click on the download button from above and allow the browser to download the installation file. After that click on the installation file and follow the instruction to install it on your Windows 10 PC.
What is GOM Player?
GOM Player is a free windows multimedia player which allows you to play your favorite audio and videos on your PC. It is really easy to use and totally hassle-free. After installing it just run your desired audio or video file and you are done. This player will automatically start the file without interrupting you.
Is GOM Player Plus Free?
No, it is not free. It is the premium version of the GOM Player. This premium version will cost you $25 (without a vat) for a lifetime. If you want to go with the free version then you can download it from here.
Can GOM Player play 4K?
Yes, GOM Player can play 4K video on your PC. It allows you to play high-resolution videos on your PC without any issues. So, why wait? Download it now!
Can GOM Player play TS files?
Yes, it supports TS files. You can easily play TS files on your Windows PC using this amazing media player. Not only this but also it supports AVI and MP4 to MKV, FLV, and so on.
Our Uses
In our opinion, this player is really great. For writing reviews, we have tried this player as our default video player and we loved it a lot. We couldn't find any issues or bugs in it. Also, its quality of audio enhancement amazed us. So, it is really worth trying. We recommend you download it and give it a try.
Alternatives
Also, check the alternatives of GOM Player
Comments
Let us know about your thoughts