GTPlayer 1.0.7
(59 votes, average: 4.67 out of 5, rated)
GTPlayer 1.0.7 Download for Windows 64 bit or 32 bit PC. Free download the latest version 2020 of the software from NearFile.
Technical Details
App Information
File Name 32 Bit
GtPlayerSetup32.exe
File Name 64 Bit
GtPlayerSetup64.exe
VirusTotal Hash Code
ff80bee8584b44ee8b52a49f09b7288867f2813f4393c5b52a242e7a9538b0e0
Operating System
Windows 7 / Windows 8 / Windows 10 / Windows 11
Date Published
12, April 2020
Date Modified
11, January 2023
About
GTPlayer free download for PC Windows (10/8/7/11)
If you are a music lover looking for a dedicated player which gets the best music director for you over the internet, then GTPlayer is the one for you. GTPlayer is not just a media player for you, rather it is a full package of a musical browser, downloader, library organizer, and media player altogether.
The Freeware software is all in one and can help you to enjoy the power of music fully with access to the internet.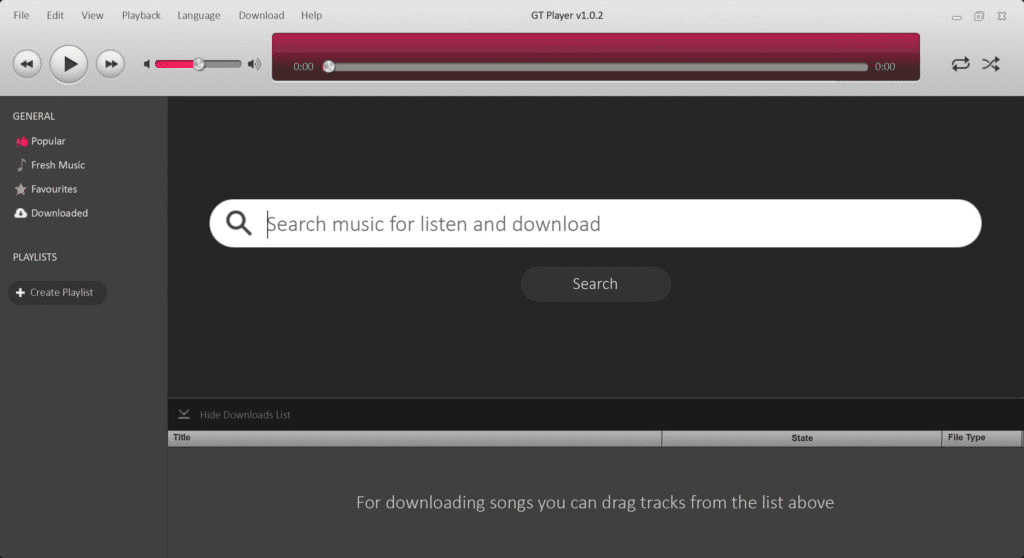 Direct Online Access
GTPlayer gives you direct access to download various songs online and play them with the player. You do not need to go to any browser to download it anymore. Rather you can directly access the internet with this player if you know the song.
Popular and New Songs
Even if you are not sure about a song and want to just listen to the latest or popular songs, you can access them directly with GTPlayer from the interface. Most new and popular songs are on the list.
Search with Name or Lyrics
If you do not know a song name, just know the lyrics, you can search it with GTPlayer too. It will easily come up on the search.
Create Playlist
You can have your own playlist with different kinds of music with the GTPlayer. Just start the playlist when you want to listen to it according to your mode. Besides, you can add multiple playlists, activate or remove a playlist whenever you want.
Shuffle and Loop
You can run a playlist in GTPlayer with a shuffle or loop a song if you want.
These two are very important options included in the player.
With shuffle, you can listen to different music from a playlist crossing serials without making another click.
On the other hand, if you want to go according to your mode, you can play a single track again and again with the loop option.
Download Videos in Different Resolutions
With GTPlayer, you can also download videos in different resolutions too. Although you can only play audio with the player, you can still have them organized in your folders as videos.
Videos can be downloaded in 1080p, 720p, 480p, 360p, 144p or MP3.
Free License
The license for the player is Free. As a result, you do not need to put any kind of personal information or think about cookies while using the software on your device.
Player and Downloader Mode
The GTPlayer has two modes available – the player mode and the downloader mode. You can switch between the two modes for your comfort.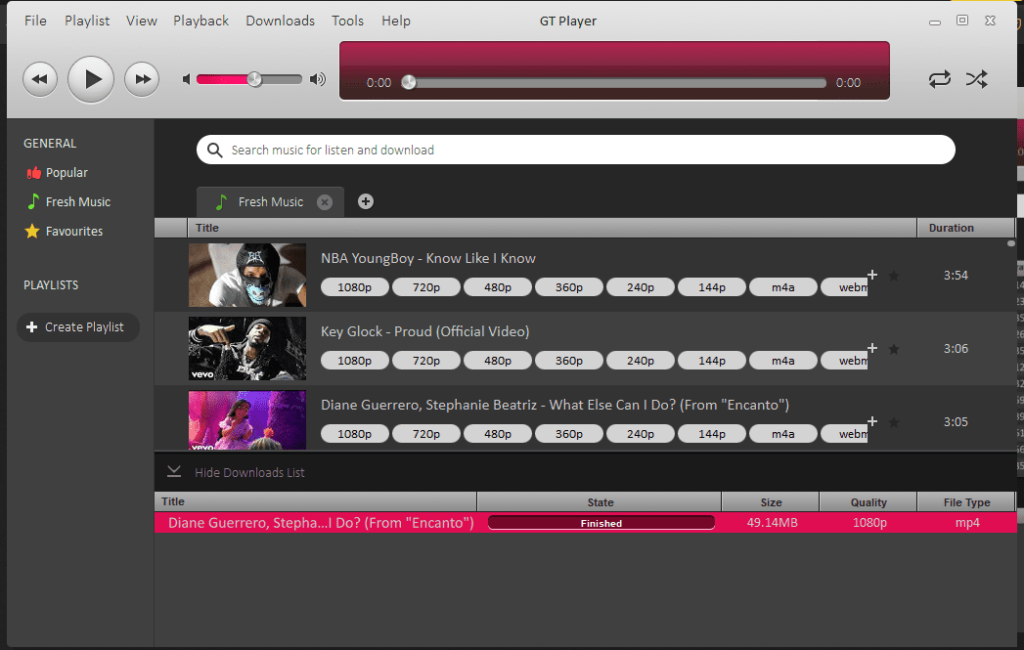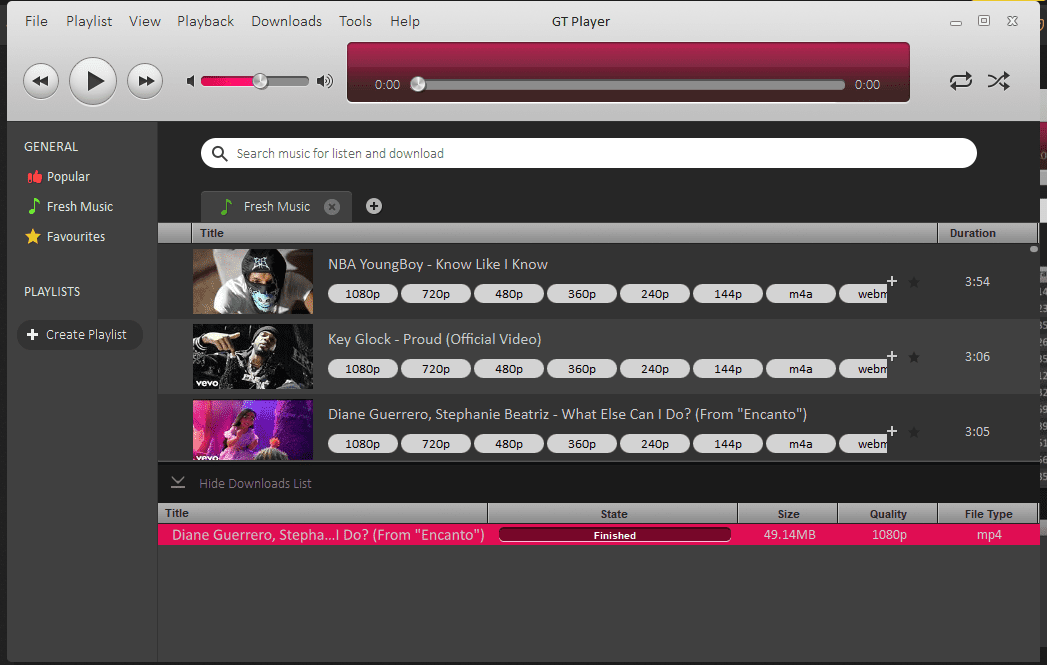 Pros
Download music directly from your player
Get all the updates about popular music over the internet
Make your own playlist of music with the player
Shuffle the music to listen to your comfort
Repeat music with the loop option every now and then
Download music videos at different resolutions
Highly compatible with your Windows version
The installation file is very light
Download music as MP3, MP4, and other versions
Works perfectly with different online sites
One app for every song downloads
Free to install
Cons
Not applicable to every website
Configuration
You can run GTPlayer with Windows 7 or later versions.
The installation file is lower than 1 MB
The publisher is Rizzo Media LP
Our Uses
GTPlayer has a nice interface for playing a soundtrack as well as downloading one. The downloading part is advanced and better than other downloaders available over the internet. If you are into music, then you will love it.
A back through for the software is that you cannot play videos with it. This particular feature can make it more popular.
On average, it is a good player. But as a dedicated audio player, better control over the bass and sounds can give better opportunities in the future.
GTPlayer has the ability to get you connected with the internet for accessing thousands and millions of songs, even if you do not have them on your device. This feature made it really valuable for music lovers.
Versions
Check other versions
Alternatives
Also, check the alternatives of GTPlayer
Comments
Let us know about your thoughts