IObit Driver Booster Free was solely developed for the purpose to keep your driver up to date. We have many drivers that are outdated after using our system for after a certain time and we don't care about that, and because of that our system crash, program run and don't work properly sometimes. To prevent them from happening this app was launched. It helps its user to detect all of the outdated drivers and keep them updated. It not only updates the driver but also works on other features of our PC.
Scan and update
By using scan, you can check which of your driver is outdated and error too. By detecting those outdated drivers and error drivers you can update them from here to be up to date so that they can work properly.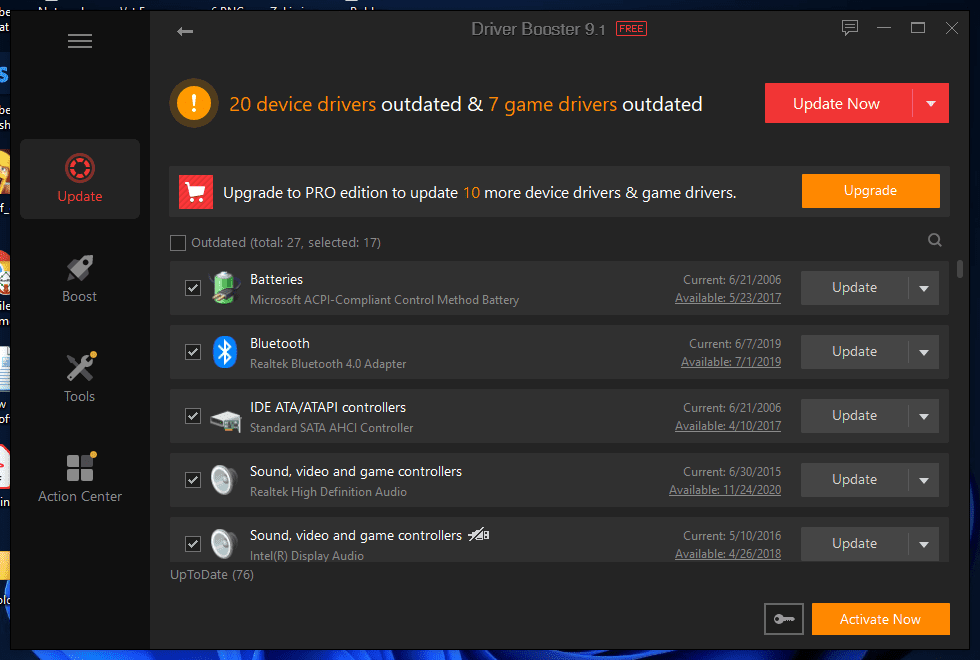 Boost
Game boost
Stop unnecessary running programs for a better gaming experience. customize from process service others
System Optimize
junk files, privacy traces, etc. are not good for pc. check if there are any on your pc now.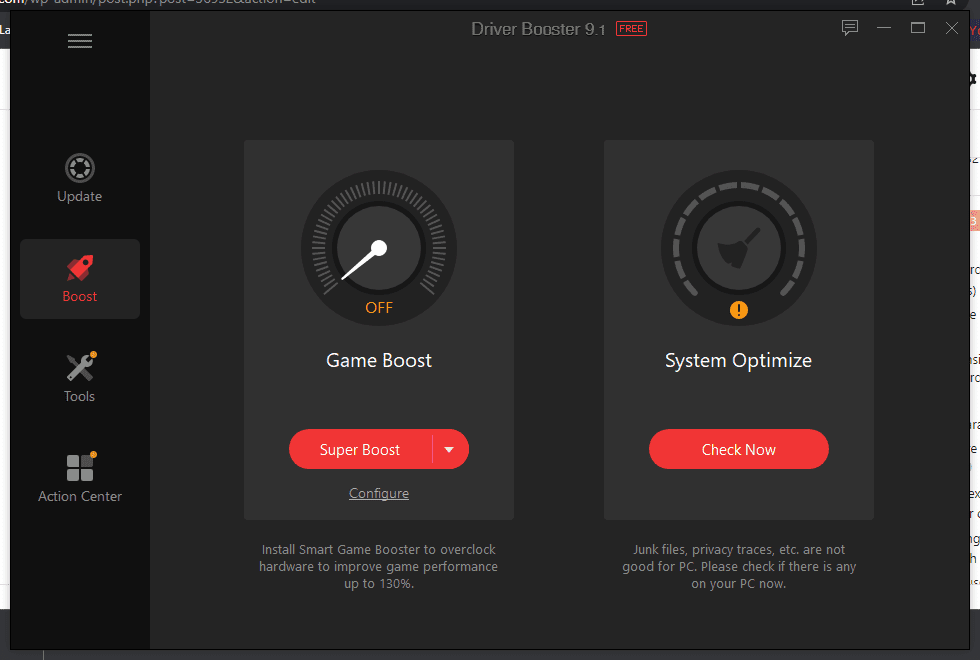 Tools
Backup & Restore
Restore your system to a normal state if anything happens. With this tool, you can do drive backup, drive restore & System restores.
Fix No Sound
This one can fix the sound problem of one's audio devices.
Fix Device Error
This function helps to find out error codes in Device Manager and fix them. If there is an error that happens in your device while using any function or doing work, you can fix the error of your device anytime with this function.
Clean Invalid Device Data
It helps to clean invalid device data on your system which was removed earlier or you don't need anymore.
Fix Network Failure
If any network connectivity problem happens to your network device, this tool helps to detect & fix network device errors.
Fix Bad Resolution
IObit Driver Booster Free helps detect and fix low resolution caused by graphics driver installation. If you have a bad resolution while using any application you can use this tool to fix the incorrect resolution for your display device.
Offline Driver Update
Update drivers offline for network cards and for the reinstalled or upgraded system. To do this you have to do as following steps- First, export the device information of the pc on which you want to install drivers. And upload the exported device info file to download drivers with internet access.
System Information
You can see detailed display information about your system like overall system info, operating system, processor & motherboard, memory device, display, drivers, network & other devices connect to pc.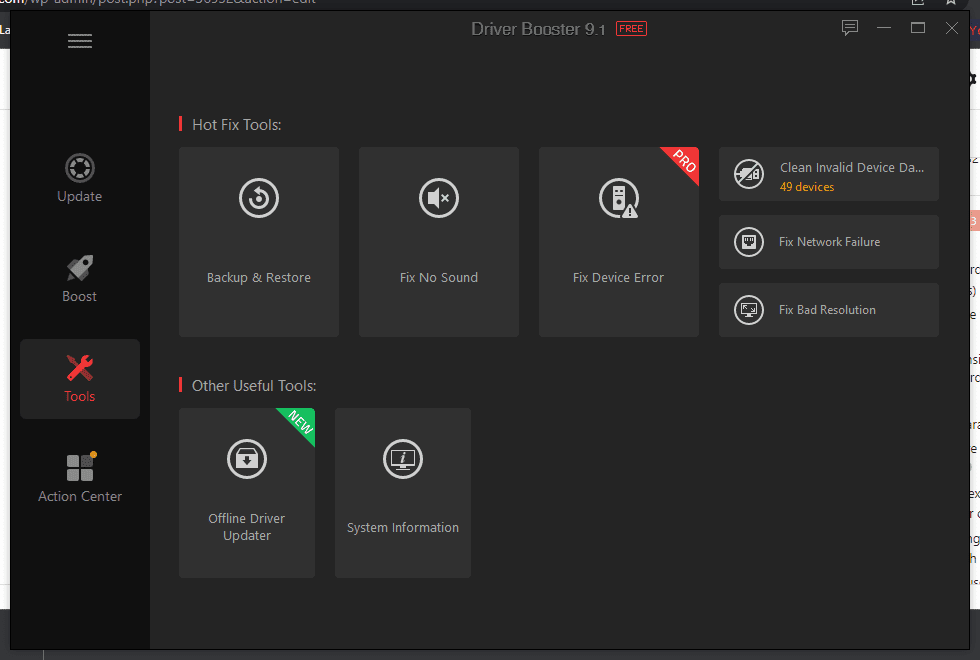 Action center
Advance System Care
With this tool, you can solve Registry issues, privacy issues, and those junk files which are not found in your system.
IObit Malware Fighter
This tool helps you prevent malware from spreading in your system.
IObit Uninstaller
This lets you remove the unwanted program, browser extensions, and windows Apps quickly.
IObit Software Update
Let you update all of those important programs installed previously on your system.
Smart Defrag
This lets you optimize your disc to get faster PC startup and higher file access speed.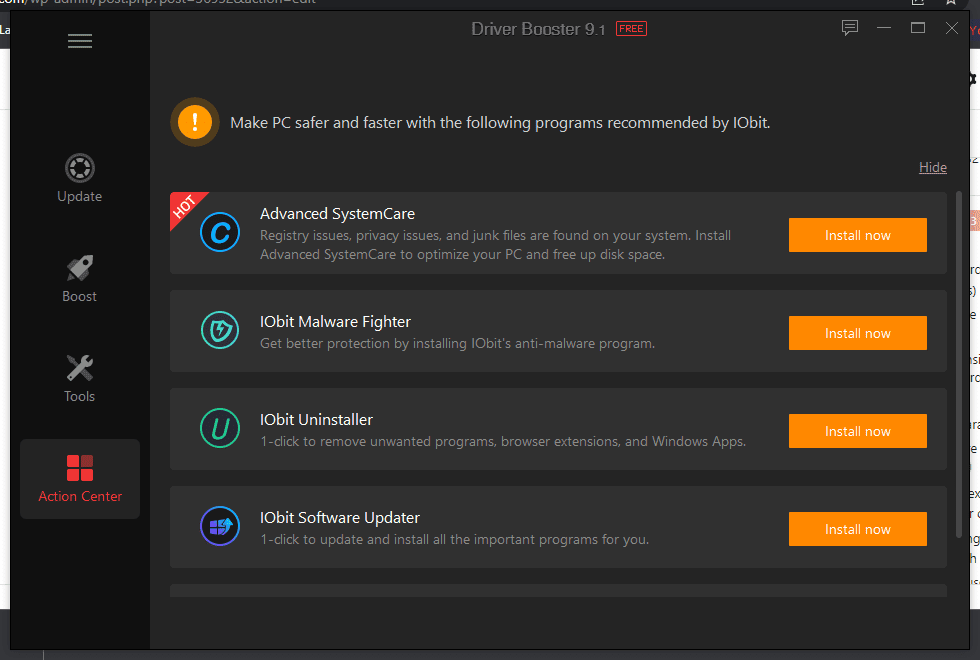 Settings
This function lets us maintain all the features of these apps as we want. We can control our update, install, restore, or even another setting from here.
System Requirements for IObit Driver Booster Free
Operating System: Windows 11/10//8/7
HDD: 1 GB of free disk space
Display: 1024*768 screen resolution or above
Pros
Free to download
Safe to use
Fast and Automatic updates supported
System backup and restore are available
Automatic software update
Automatic outdated driver detection
Game booster available
Cons
In the free version only one update per day
Offer notification in pro mode
convince you to buy others' product
it recommends other orbit software use
FAQ's on IObit Driver Booster Free
Is Driver Booster any good?
Yes, this is a great tool to update our outdated driver on our PC. After using our system for many days many drivers became outdated and they failed to work properly or crashed. This tool prevents those drivers from being crashed by updating.
Is Driver Booster still free?
Yes, but only for checking. If one wants fully utilize these software features, he has to buy the pro version.
Can IObit Driver Booster Free be trusted?
No, though it helps to optimize our system. To this, it uses third parties mean which could lead to malware behavior in our system.
How can I get a free Driver Booster?
You can get it from its official website. On their official website, there is also available another version of the driver booster application available.
Is IObit Driver Booster Free worth the money?
Not totally, though it's clean your system properly it uses third parties mean to do so which could lead to malware behavior. And pro version maximum time show offers notifications.
Is IObit Driver Booster Free malware?
Indirectly yes, because it uses third-party means to optimize our system which could lead to malware behavior.
Our Uses
By using the IObit Driver Booster Free I was able to update all of the outdated drivers. After using my PC for a long time most of my drivers went outdated and they weren't working properly, even crashed. But I wasn't able to detect all of those drivers. By using this software I was able to detect all of those outdated drivers and make them up to date. And more than that this tool came with a game booster which was very helpful to me. But to utilize most of the features I had to buy a pro pack. After buying pro it shows more offer notifications. Even it's recemented to buy others application.