iToolab FixGo 3.3.0
(99 votes, average: 5 out of 5, rated)
iToolab FixGo free download for PC Windows (10/8/7/11)
We all know how tough it is to recover your lost data from any mobile device, let alone an Apple one. However, with iToolab FixGo, you can now recover your data, and troubleshoot any bug or update issues regarding your iPhones in just a few moments.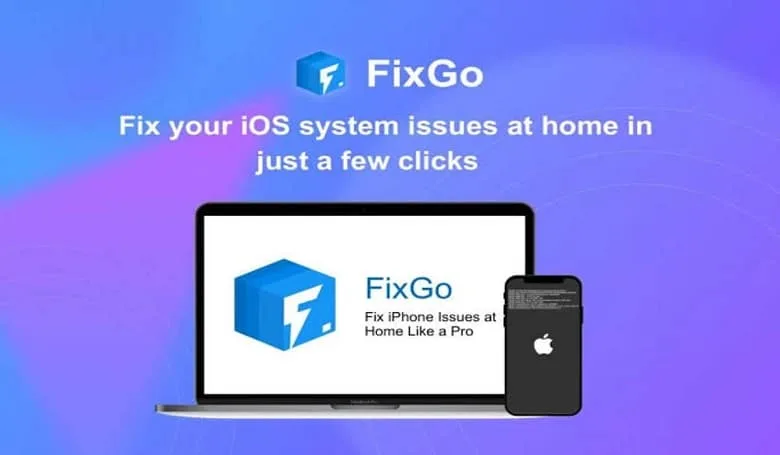 Basically, this app is a lifeline for your Apple devices when you don't have any other choices. Still, you might want to explore a little before you can take that decision. So, let's get to know how incredible this tiny tool can be!
iToolab FixGo Features
It's really tough to list all the features of iToolab FixGo. Because there are just so many of them! Still, here are a few of the highlighting ones to explain what this app does-
Instant Recovery Mode Access
You can quickly access your broken or bugged Apple devices and get instant recovery. On top of that, the app supports any sort of iPhone or iPad system recovery. Does not matter if you're having issues with bugs or upgrade glitches. Also, the application offers both entry and exit recovery modes for accurate recovery of your Apple device.
One App, 200+ Solutions
Do you want to know about all the different solutions that you can troubleshoot? Well, these are not all of the 200+ problems but just a glimpse of them-
Recovery Mode
Spinning Circle
Apple Logo
White Screen
Black Screen
Won't Turn On
Boot Loop
Frozen
Restore Failure
Update Failure
Apple TV Issues
iPad Issues
And much more. You also get two iOS system recovery modes: Standard and Advanced.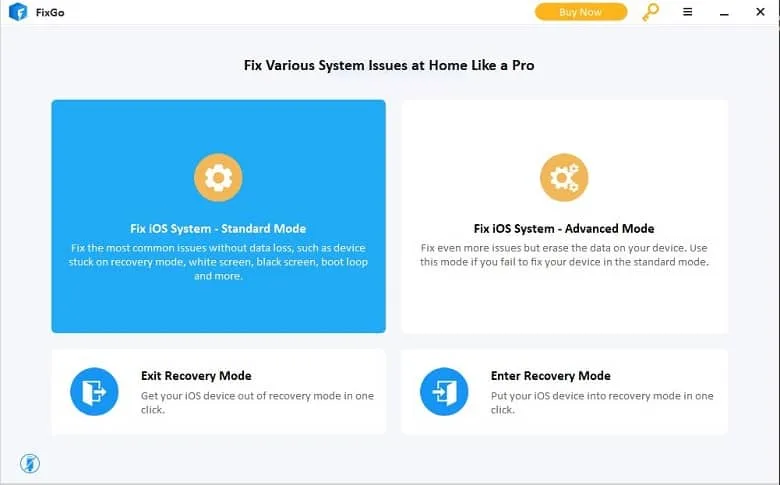 So, just open the app and recover in a few clicks.
Quick & Superior Troubleshoot
The whole recovery process is as easy as it can be with iToolab FixGo. Basically, there are just three simple steps-
Step 1: Take one of the recovery modes (standard & advanced) to start your recovery process.
Step 2: Download your preferred iOS firmware.
Step 3: Start the recovery and restore your iOS version to normal.
No Password Factory Reset
Well, almost everyone uses their password lock or face ID for verification. However, when you're stuck on the Apple logo phase for some weird reason, you can't really get inside, can you? In such scenarios, you don't even need to use your passwords as iToolab FixGo will do it for you. So, just sit back and let iToolab FixGo handle it all!
Technical Specifications of iToolab FixGo
Processor: 1GHz for both 32-bit or 64-bit system
RAM: 1GB for optimal performance
Storage: 256Mb or more.
iOS Compatibility: iOS 16, iOS 15, iOS 14, iOS 13, iOS 12/12.3, iOS 11, iOS 10.3, iOS 10, iOS 9
Windows Support: Windows 7 and above
Pros of iToolab FixGo
Swift and simple recovery process
Quick recovery feature
Free trial version
200+ troubleshooting options
Cons of iToolab FixGo
The limited-time free trial
FAQs Regarding iToolab FixGo
Is iToolab free?
No, but the application offers a free trial version. After a certain period, your
Does iToolab work?
Yes, iToolab works perfectly fine with multiple iOS and Mac devices. Even the latest iOS 16 recovery mode is added in the newest update.
How much is FixGo?
1-Month Plan $29.95, 1 Year Plan $35.95, Lifetime Plan $49.95
How does FixGo differ from iTunes?
We have developed our own independent technology which is utilized by FixGo to repair a variety of iOS system issues. Our software functions differently from iTunes, which means it can repair the issues that iTunes is unable to fix, although both require the use of firmware.
Conclusion
All in all, it's safe to say that iToolab FixGo is an awesome app that can solve multiple problems regarding your Apple devices. Some problems might take a while to fix but you can troubleshoot any type of Apple system problem without much complication.
So, get yourself a copy of this resourceful application and forget your concerns about any Apple recovery issues.
Apps Informations
---
App Name
iToolab FixGo
File Name
fixgo.exe
File Size
42.1 MB
VirusTotal Hash Code
5a14ce17a4b1ff5f3b74ce4bce0461e53498019afc86fd5ceade37f3ad6b05c4
VirusTotal Scan Report
Operating System
Vista / Windows XP / Windows 7 / Windows 8 / Windows 10 / Windows 11
Date Published
02, February 2023
Date Modified
12, February 2023
Category
License
Free
Publisher
Alternatives of iToolab FixGo
Comments
Let us know about your thoughts