pCloud 4.1.3
(54 votes, average: 5 out of 5, rated)
pCloud free download for PC Windows (10/8/7/11)
Introduction
pCloud is a cloud storage solution that secures file sharing and a collaboration platform that allows users to upload, store, manage, and share files. It acts like a remote virtual storage drive that can be accessed on any of your internet-connected devices all around the world.
pCloud was launched in September 2013 by pCloud AG which is a Switzerland-based company.
pCloud Overview
pCloud for web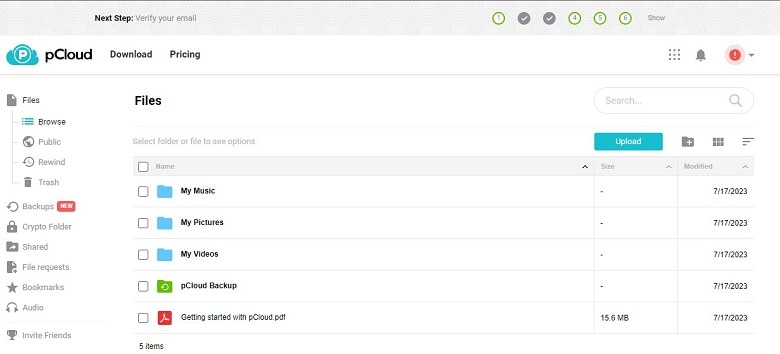 The registration procedure is very simple. You can also sign up by using Google or Facebook. pCloud is very easy to use. The interface is very decent and user-friendly. It contains a smooth drag-and-drop upload feature, file arrangement, and file sorting options. Also, there are options for switching grid view and list view that is stated beside the new folder option. On the left side of the interface, we have the menu with these options:
Browse: Shows all the files in their structure.
Public: This lets you set particular files public which makes them accessible through embeds.
Rewind: This allows you to go back in time.
Trash: Firstly, displays all the deleted files and then allows you to delete them permanently.
Backups: Enables desktop, mobile, and external backup of Google Drive, Dropbox, Facebook, Instagram, and OneDrive.
Crypto folder: An advanced cloud feature that displays all your files which use client-side encryption.
Shared: Shows all your shares and folders, and files shared with you.
File requests: Allows to manage file requests.
Audio: All the sound files are displayed by this feature in the cloud. Classifiable by songs, artists, albums, and playlists.
pCloud Drive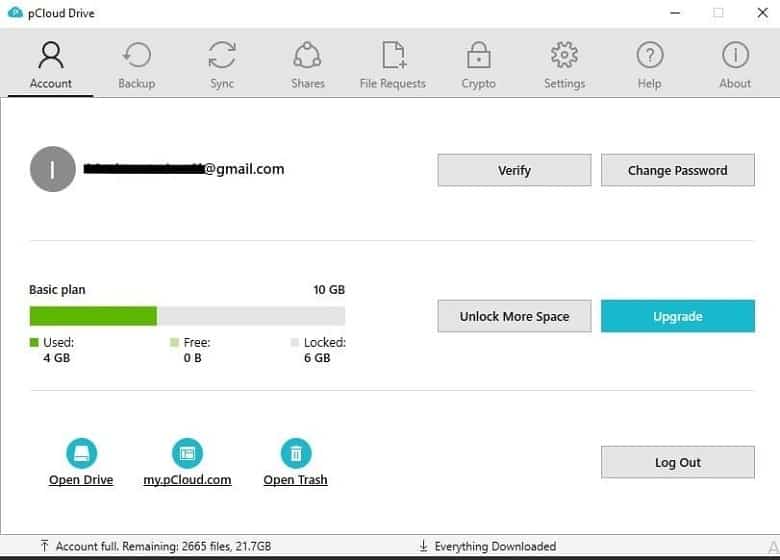 After installation, you'll be greeted by a simplistic and functional interface. pCloud allows you to gain more storage which can be 10 GB by doing simple tasks. These comprise verifying your email or inviting other people to the service.
pCloud is more easy to use on Windows or Mac computers. This PC app lets you choose upload and download speed limits, or make it run on system startup to ensure you start syncing from the get-go.
pCloud includes seven sections that give you control over everything. These sections are:
Account: In this section, you will get control over account settings, options to upgrade to a paid plan, buttons for access to pCloud Drive, the web interface for your account, and the trash where deleted files will be found in the last 15 days. Also, there's an unlink option that allows you to disconnect this computer from the service.
Sync: Allows you to synchronize local folders on this device with pCloud Drive. This way without changing the folder's location, you can have those folders on this device with pCloud servers.
Shares: This section lets you share the contents of selected folders with other people. pCloud free version has a limit of 50 GB per month. Premium plans have a limit of 500 GB per month, and Premium Plus has a 2 TB per month limit.
Crypto: Shows all your files which use client-side encryption.
Settings: Adjust various pCloud settings according to your
Help: You can visit the pCloud FAQ as well as their blog and customer support.
About: View the Terms and Conditions, Privacy Policy, and Intellectual Property Policy, and check for updates.
pCloud Mobile App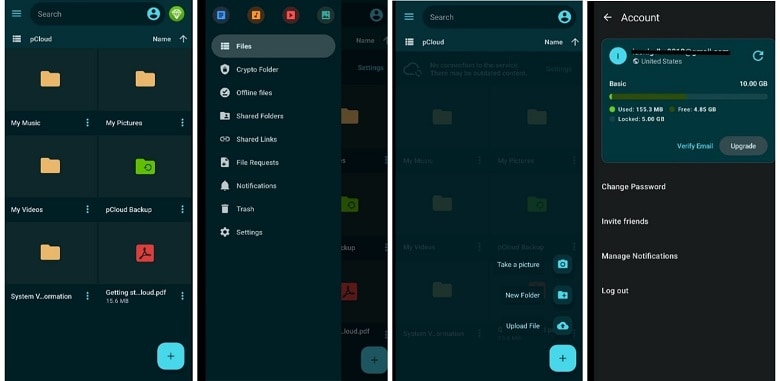 pCloud has mobile apps for Android, iOS, and iPad devices with important options such as Dark mode and passcode protection features. When you install it, you will have to turn on the auto-upload option for videos and photos. pCloud lets you open photos, videos, and music without using any external solution. Moreover, you can create folders inside folders and edit, rename, copy, move, bookmark, share, or trash files options are available.
Features of pCloud
pCloud includes quite a long list of features. Below we have discussed some of the key features that are responsible for its outstanding performance:
File Management: pCloud rewind allows you to enjoy online document review and access versions for up to 30 days. You get the ability to access data recovery and remote upload.
File Sharing: pCloud lets you share files very easily. It allows for some impressive collaboration features. These are:
Invite to folder
Share link
Request files
Direct links
Synchronization: You will get safety for your valuable files with this feature through data synchronization and backup. Often mobile and computer devices break or get stolen, that's why it's important to back up your files all the time.
Security: pCloud uses TLS/SSL and xero-knowledge encryption that ensures your data remains secure. Also, it uses 256-bit Advanced Encryption System(AES) encryption that works as an extra layer of protection for crypto.
Encryption: Encryption is the most secure way to encrypt data. It ensures the safety of stored data through client-side and server-side encryption facilities that provide by pCloud users.
System requirements for pCloud
Operating System: Windows 7 or higher, Windows XP, macOS 10.9 or later, Linux, Ios, Android, and Mobile app.
Disk space for pCloud Drive: By default, the system requires 2048 free MB but we recommend minimum disk space is 5,120 MB.
Pcloud Pricing
Premium 500 GB annual-$3.99/mth
Premium Plus 2 TB annual-$7.99/mth
Premium 500 GB lifetime-$175
Premium Plus 2 TB lifetime-$350
How to install pCloud?
Firstly, download pCloud from there. After downloading the .exe file, double-click it then installation process will start.
Follow a few installation steps, appearing on the screen.
Launch the software. Now sign up or log in to use the new virtual drive.
Pros of pCloud
Integrated with the iPhone and iPad
Sync features
10 GB of free storage
Unlimited transfer speeds and file sizes
1 year Long backups
Cons of pCloud
Lacking many tools in the free version
For some users, a 2 TB storage cap might be small
Encryption is much expensive
Troubleshooting of pCloud
Received a message "pCloud Drive may not behave properly due to low free space on your local hard disk. Now what should you do?
Due to copying a lot of large files to pCloud, the application uses extra free space on your PC. If your PC has low space then follow this to solve the problem. Go to settings >> Disk Usage then decrease the value of the "Minimum Disk Space".
Got an SMS code, but you have not tried to log in to your pCloud account.
That could be any third person trying to access your files.
First of all, change the password of pCloud account.
Also, change the registered email address password.
Remove suspicious devices that are linked to your pCloud account. Go to settings of pCloud>>Security>>Logged devices.
FAQS
Can I trust pCloud?
Yes, pCloud is a trustworthy application. This application claims to give ultimate security and privacy as it doesn't sell users' data to third parties.
Is pCloud better than Google Drive?
Yes, it is. pCloud provides more storage space and more secure data protection than any other cloud storage drive.
Does pCloud have unlimited storage?
At the end of the free trial period, unlimited storage is unclocked. But pCloud doesn't limit the size of the files.
Final Words
This software is a good deal to make with amazing features and a great user experience. It is quite cheaper compared to the other cloud storage but not that relative. pCloud provides secure encryption so, anyone who wishes to store their files securely can use pCloud.
82.8 MB32bit
/


93.3 MB64bit
Apps Informations
---
App Name
pCloud
File Name 32 Bit
how-to-install-pcloud-drive-windows.html?download=windows-10-32bit
File Size 32 Bit
82.8 MB
File Name 64 Bit
how-to-install-pcloud-drive-windows.html?download=windows-10-64bit
File Size 64 Bit
93.3 MB
VirusTotal Hash Code
29e97cff346428774837a04e3e281060ae7110a3fab471d249977bf6e14399f6
VirusTotal Scan Report
Operating System
Windows 7 / Windows 8 / Windows 10 / Windows 11
Date Published
09, August 2023
Date Modified
13, August 2023
Category
License
Freeware
Publisher
Comments
Let us know about your thoughts