Icedrive 2.72
(54 votes, average: 5 out of 5, rated)
Icedrive free download for PC Windows (10/8/7/11)
Introduction
Icedrive is a cloud storage solution that makes sure your files are protected with a zero-knowledge encryption system and a clever interface. This platform competes with the likes of Google Drive and Dropbox. Icedrive is one kind of service that is for both individuals and businesses to manage and update unique cloud storage that feel like a virtual hard drive.
Icedrive was launched in January 2019 by ID Cloud Services Ltd, a company based in Wales, United Kingdom.
Icedrive Overview
Web App
Web App provides a lightweight method of accessing your cloud wherever, whenever. By drag, drop, right-click, and keyboard shortcuts upload files, download, and share the files into a web app. Even if you don't have MS Word installed on your PC, Icedrive allows you to open and read a Word doc within the app.
Desktop App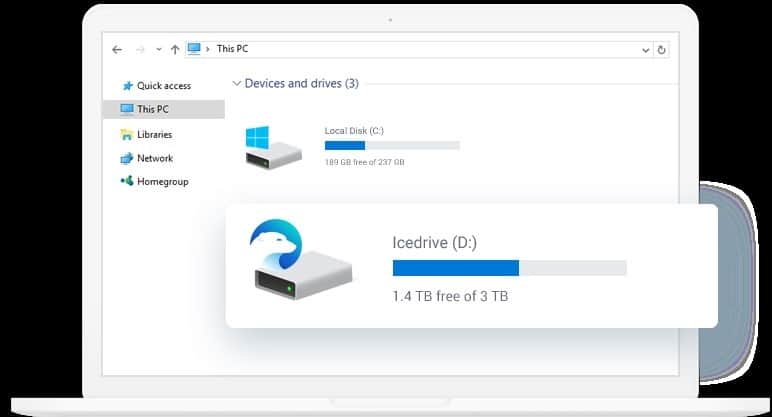 Icedrive includes desktop apps for Windows, Mac, and Linux. In Icedrive there are options to edit, upload, delete, and open.
The desktop app has two versions. One is the installation, and another is the portable version. At first launch, Icedrive requires user-login. The account you registered on Icedrive's website will be used here. If you don't have an account then create it by clicking on "Create Account".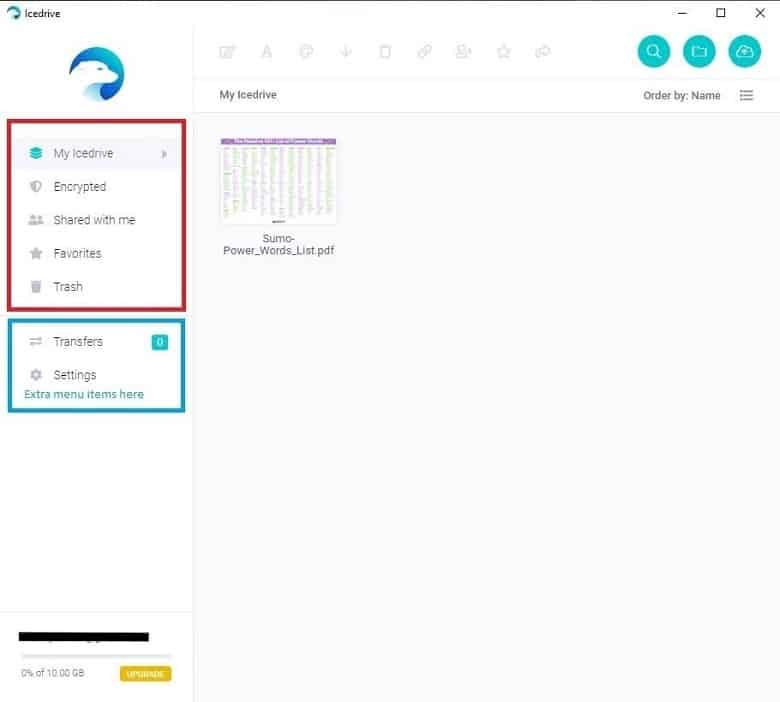 The portable version has an interface which identical to the web interface. But it is slightly different by Transfers and Settings options. The portable app lets you manage your files at a greater scale than their virtual drive app. It doesn't require installation, download the program and just launch it.
Virtual drive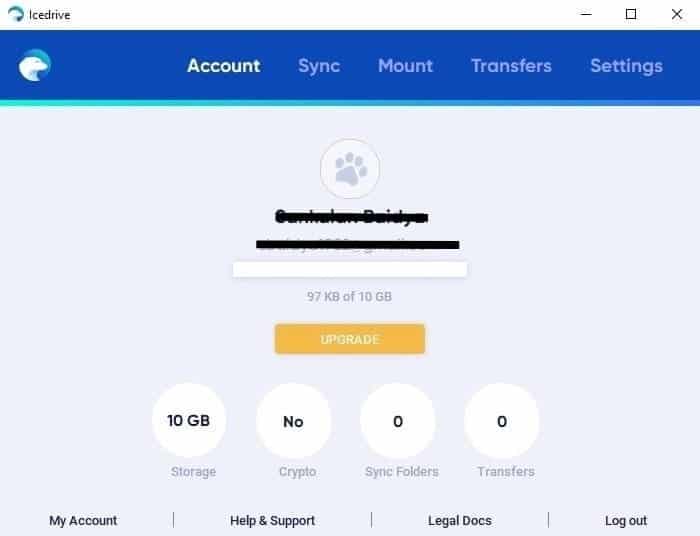 The virtual drive is only available on Windows. It uses the interface of Window's file explorer. This virtual drive acts like a real-hard drive that doesn't take up space on a computer and it mounts itself. The virtual drive offers all the features. In virtual drive editing, uploading, deleting, and opening can all be achieved easily.
Mobile App
The mobile app has a clean interface that makes accessing and managing your data a breeze. It includes some features these are: automatic backup, password protection, 2FA, marking files for offline access, media background play, and dark mode.
Features of Icedrive
File sharing and collaboration: Icedrive includes a range of sharing and collaboration options. Three different tabs can be viewed under the collaborations tab. These are:
Shared with me: Icedrive enables you to share files. It comprises a list of files or folders shared with you.
Public links: Icedrive allows you to create any of your files or folder and share them with anyone you wish. It features a list of links that you've shared with others.
File requests: Icedrive lets you request any user to upload files to your folder. This feature includes a list of folders where you've requested others to upload files.
Files streaming: Icedrive enables you to view and edit all your files on your device without downloading everything. This feature helps to save a lot of disk space.
Encryption: Icedrive claims itself as a 'Privacy Oriented Company' and which is true. The reason is it uses the TwoDish, Client-side, Zero-Knowledge encryption.
TwoFish Encryption: Icedrive is the only encrypted cloud storage that encrypts your data using the Twofish algorithm. It's not as popular as AES.
Client-side Encryption: Everything, even file and folder names get encrypted before transferring them from your local device to the Icedrive servers.
Zero-knowledge Encryption: Secure the private and sensitive data of your by Zero-knowledge encryption.
File syncing: Icedrive's Sync feature allowed us to sync any folder on the computer to the cloud.
Retrieving files: Icedrive includes a trash bin that saves all the deleted files. All the files will be there until you delete them.
Privacy Policy: It is an essential feature of Icedrive because the Privacy Policy of Icedrive does not share any of your data and doesn't make use of Google Analytics.
How to install Icedrive
Step 1: Directly download Icedrive from this website.
Step 2: After downloading the .exe file, double-click it then the installation process will be started.
Step 3: When prompted with the message shown below just click on "YES".
Step 4: When the installation is complete click on "Finish".
Step 5: Launch the software then sign up or log in to Icedrive.
System Requirements for Icedrive
Operating system: Windows 7/8/8.1/10/11, macOS, Linux, iOS, Android, and Mobile app
Processor: Intel / AMD processor 64/32-bit
Browser: Chrome, Mozilla Firefox, Microsoft Edge, and Safari
Memory: 2GB RAM
Disk space: Minimum of 20MB free disk space
Icedrive Pricing
Monthly and Yearly plans
Lite: $1.67 per month and $19.99 per year
Pro: $4.17 per month and $49.99 per year
Pro+: $15.00 per month and $179.99 per year
Lifetime plans
Lite: $99
Pro III: $499
Pro X: $999
What problem a user will face when they try to use Icedrive from a non-supported country?
First of all, you can't create an account on Icedrive.
You will face issues with payment. As Icedrive has paid plans so, you will not be able to use paid versions of Icedrive.
Difficulties with language.
You will not get Customer support.
Pros of Icedrive
Modern and user-friendly interface
Virtual drive
Security and privacy
Affordable lifetime plans
Easy to use
Two-factor authentication
Cons of Icedrive
Not available in many countries
The virtual drive is only available on Windows
Lacks collaboration features
Controls over limited file sharing
Compared to pCloud, not enough features
Web browser:
To normal folder: max of 97.6 Mbps
To encrypted folder: max of 43.2 Mbps
FAQS
How fast is Icedrive?
Tried to run some tests with 5 copies of the same 258 mkv file:
Is Icedrive faster than Google Drive?
Yes, Icedrive takes just over seven minutes to each upload and download 5GB of data which makes it faster than Google Drive.
Conclusion
Icedrive is still young but yet it's already making a few waves due to its well-developed security features. The prices are reasonable because Icedrive's free plan has plenty of storage and lifetime paid plans offer some good bang for your buck as well. It is one of the easiest-to-access cloud storage on your own device's hard drive, but without taking up any space.  Moreover, Icedrive is very responsive.
Apps Informations
---
App Name
Icedrive
File Name
Icedrive_Installer-2.72.exe
File Size
14.5 MB
VirusTotal Hash Code
ea5ccad711e547bd87821f4bbf7dca721af14f4e9e7b06d097448cd1a30a7daf
VirusTotal Scan Report
Operating System
Windows 7 / Windows 8 / Windows 10 / Windows 11
Date Published
08, August 2023
Date Modified
10, August 2023
Category
License
Trial
Publisher
Comments
Let us know about your thoughts