PDFCreator 4.2.0
PDFCreator 4.2.0 Download for Windows 11, 10, 8, 7 (64 or 32) bit PC. Free download the latest version 2023 of the software from NearFile.
Technical Details
App Informations
File Name
PDFCreator-stable?download
VirusTotal Hash Code
42aede724a1a8ed60174f4f469449fc1238af30085b8cddde9e58e517bc6bdd8
Operating System
Vista / Windows 7 / Windows 8 / Windows 10 / Windows 11
Date Published
15, March 2021
Date Modified
19, December 2022
About
PDFCreator free download for PC Windows (10/8/7/11)
PDFCreator was designed to create PDFs from any windows program quickly and easily. with pdf creator, any windows can be converted to pdf, and offers edit and print support. With this converting became quick and easy.
In these apps, users can set the quality of converted and edited pdf files. Also, the user set his previous setting for further conversion and editing or printing. Users can also use a drive accounts for saving and sharing purposes.
Home
In this section, the user can do the initial work for converting the pdf files. Here users can upload any type of windows file or drag them for conversion to a pdf file. After uploading or dragging the windows files user can set file type, source path, and quality for PDF conversion.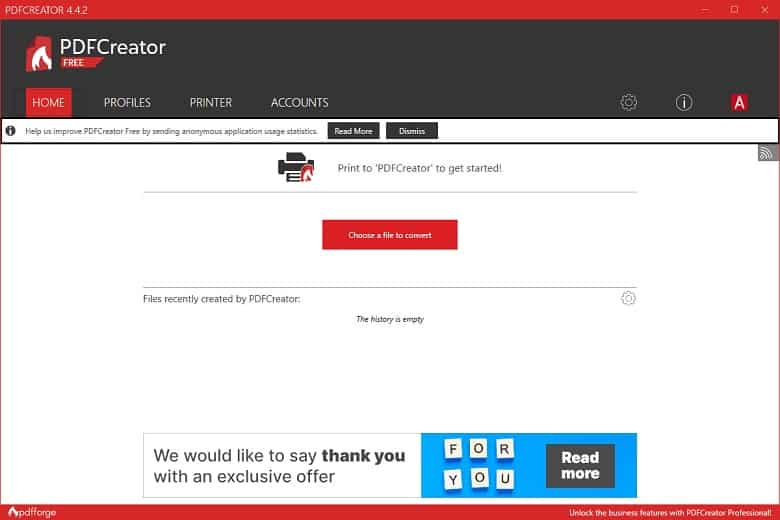 Profiles
Here in this section user can set the setting for pdf file convert and edit. Here you can user can do after work of converting the file to PDF. Here user can do the following task-
Modify
Share
Upload to drive
Automatic save
Edit name
Forward to edit and print section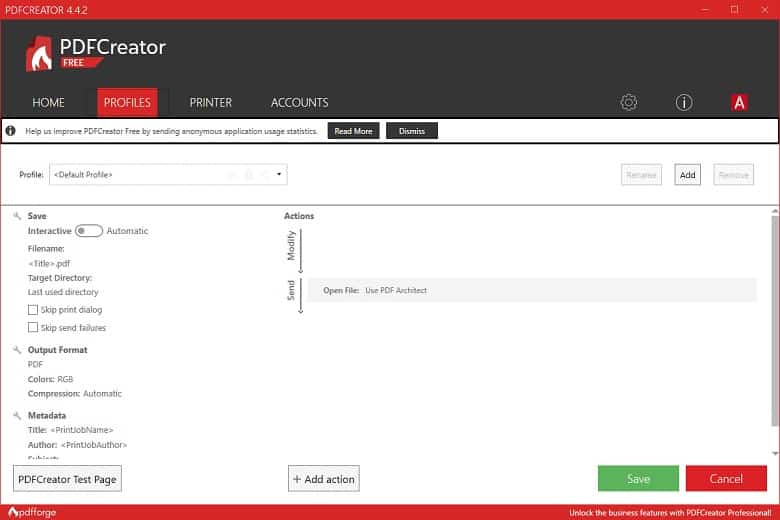 Accounts
In this section, the user can create a personal profile for the converted and edited pdf files for further use. Here he can add an account so that he can upload the file to drive space and share it with other media. Here you can use the following account-
SMTP
Dropbox
FTP
HTTP
Time server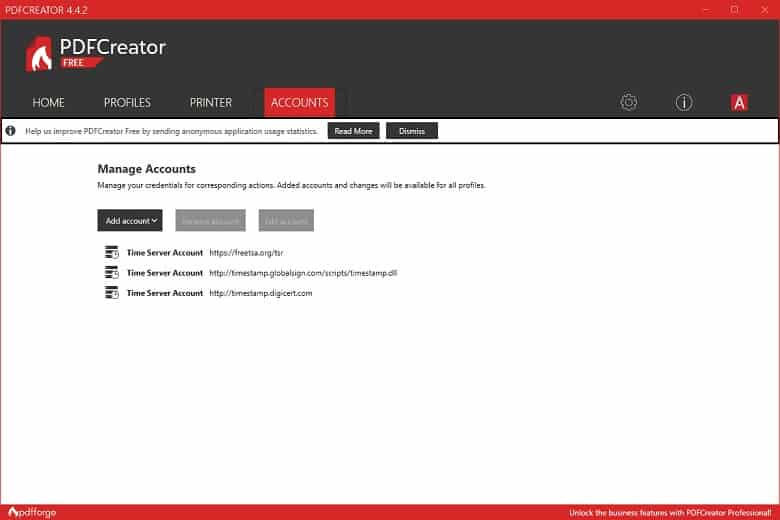 Printer
In this section, users can add an available printer in the system to print converted and edit pdf files. Here users can make PDF creator the default printer. Whenever he wants to print any file it will preview in pdf creator services. Here users can available printers from here and set them as the primary printer. Also, you can remove or modify them as you want.
How do I add PDFCreator to my printer?
To add your printer to PDF creator, you have to do as follows-
Run PDF Creator
Go to Printer Section
Click on Add Printer to select an available printer for use
System Requirements for PDFCreator
Operating System: Windows 8/10/11
Processor: Intel Pentium 4 or higher
RAM: 1GB
HDD: 40 MB for installation purposes
.Net Frame Support: Yes
Pros
Free to download
Easily Useable
Lightweight size
Low System Required
Editing Option available
Cons
Shows Ads
Ads lead to third-party apps
The professional version is paid
The free version is limited to features
The main edit and print module required a download
FAQ's on PDFCreator
What is the latest version of PDFCreator?
The latest version of PDF creator is 4.4.2. PDF creator was designed so that users can create PDF files or convert them to PDF from any windows file.
Is there a free PDFCreator?
Yes, anyone can download the PDF creator version for free from their official website. They offer both free and professional versions on their website. Any user can download the free version and use the professional version you have to purchase.
How do I install PDFCreator on my laptop?
PDF creator has both free and paid versions on their official website. If you want to install PDF creator on your laptop, first you have to download either a free or paid version from their official website. After downloading your package just run it to install.
Can PDFCreator edit PDF files?
Yes, with PDF creator you can edit PDF files quickly and easily. To Edit a PDF file first, you have to run the program and then upload the PDF file in the home section. And after saving the file from the section it will direct you to PDF Architect, which will allow you to edit and print.
How do I make my printer my default PDFCreator?
To set your printer as a default printer for PDF creator, first launch the PDF creator and then go to the printer section. From the printer, section selects your printer as a primary printer.
Our Uses
Before using PDF creator, editing pdf files or converting windows files was quite troublesome work. To do this work I had to depend on a few online sources and they weren't 100% reliable and accurate. But with PDF creator converting any windows file or editing a pdf file became quite easy.
Because if I wanted to convert any windows file, I just have to drag the file to the home section of PDF creator or either just upload the file. And it also offers edit and print support too. But the issue is most of the features are unavailable in a free version and the professional version is paid. Also, it shows too many ads and leads to other third-party apps.
Screenshots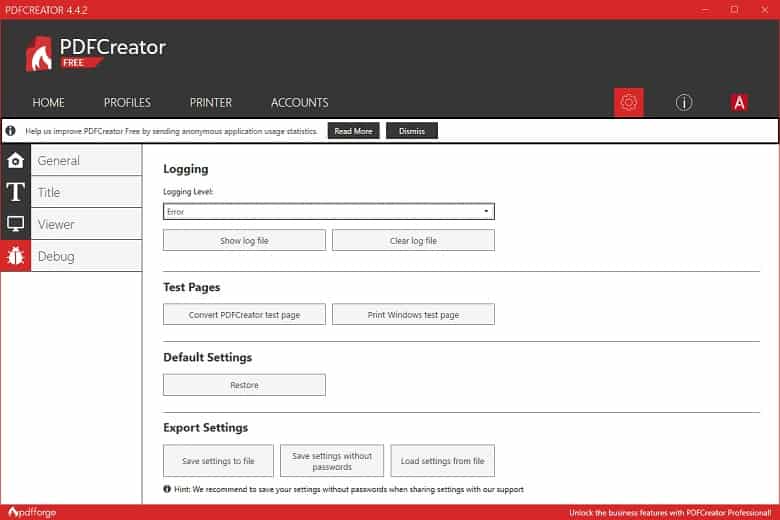 Alternatives
Also, check the alternatives of PDFCreator
Comments
Let us know about your thoughts