Teleparty 3.1.1
Teleparty 3.1.1 Download for Windows 11, 10, 8, 7 (64 or 32) bit PC. Free download the latest version 2023 of the software from NearFile.
Technical Details
App Informations
About
Teleparty free download for PC Windows (10/8/7/11)
It's always less fun to watch your favorite shows alone. How fun it would be if all of your friends and family were with you! But that's not possible always. Or is it? Actually, now, you can enjoy your favorite content with Teleparty?
So, what is teleparty?
It is a simple browser extension that can add chat features to your favorite streaming services like Netflix, Hulu, Disney plus, and so on. With this, you don't have to watch anything alone. You can take the full benefit of this service by including your friends and family.
Sync & Stream with Friends Worldwide
It mainly synchronizes your TV shows or movies in real-time to share through a simple closed connection. After the sync is done, all of your invited friends can chat simultaneously without any delay. So, share and comment on which scene made you thrilled or scared right away!
Effortless Connection Process
Want to enjoy your favorite TV shows but the connection process takes all the fun? Well, then teleparty is the perfect companion for you because it's as effortless as it gets. It even runs excellently on any low-end PCs giving you a stable connection with you.
Intimate viewing Experience
Whether you're in Europe or U.S, you get the same services without any compromise. On top of that, the immersive experience gets better with Full HD quality video support. So, you're not missing out on anything at all.
Features
Are you still thinking about whether to get the plug-in or not? Well, these brilliant features might help to make your decision-
Watch Right on Netflix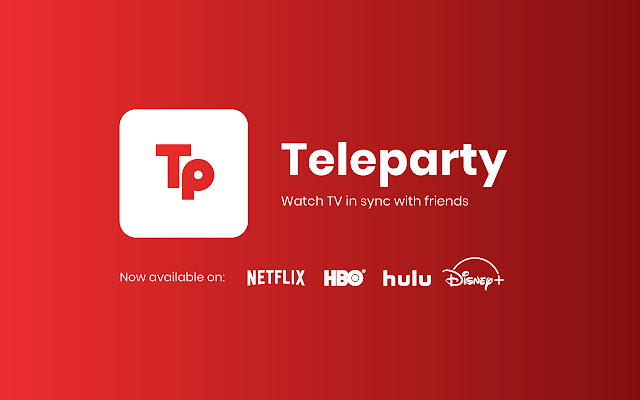 You're obviously familiar with Netflix streaming on your devices but not like this. Teleparty can literally turn your boring and lonely watching experience into the most exciting thing ever. Same Netflix flicks but with all of your loved ones!
Full HD Support
The most amazing thing about this shared watching service is that you can enjoy all of your favorite shows in Full HD. However, if you use Microsoft Edge, you can take the video resolution up to 4K. Sadly, Google Chrome still does not support 4K on the web version yet.
Customization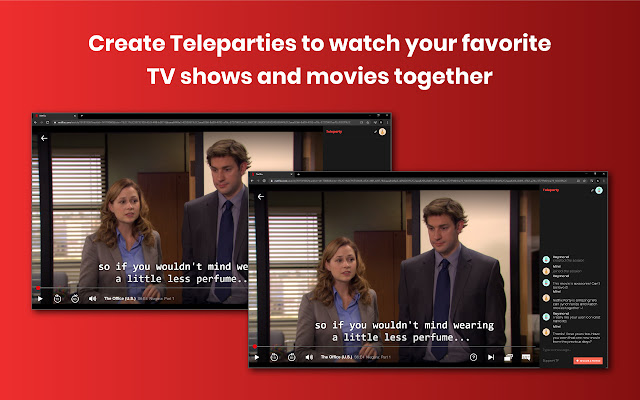 After you successfully get the plug-in, you can customize your party as you want. You can choose different icons and naming styles to make your party more fun and livelier. Even your friends can change their names and use funny acronyms for themselves!
How Do I Use Teleparty?
Using the Teleparty plug-in is quite simple. If you're unable to understand the basics, don't worry at all. Here is the step-by-step guide-
Download the plug-in on your default browser.
Install the add-on.
Go to any supported streaming sites on the browser.
Click on the TP icon from the plug-in
After opting for the party, you'll have your party ready to be shared.
How to Install & Uninstall Teleparty (Netflix Party)?
If you want to use the way of Teleparty, you don't actually need to go through a long process. After you've downloaded the add-on for your browser, the installation takes just a few seconds.
Just click on the plug-in and you should already see it installed on your browser.
Now, to uninstall the add-on, go to the extension menu on your browser. From there, click on the Remove button and confirm the uninstallation. With that, your plug-in will be successfully removed.
Pros
Intelligent sync with smart chat features
Full HD and 4K (Only Edge) support
Free-to-use
Cons
Unexpected error bugs in some streaming sites
FAQ's on Teleparty
How Do I Start a Teleparty?
To start a teleparty, you'll have to go to a streaming site. After clicking on your show, you can start the watch party from the teleparty plug-in. Then, you can share and connect with your friends through the chat.
How Do I Join a Teleparty?
If you want to join a party, press on the streaming URL link once you receive it. After clicking on it, you'll notice a TP button beside your search bar. Pressing that will redirect you to the watch party.
How Do I Change My Name on Teleparty?
You can change your name in teleparty once you've joined a watch party. You can change the icons and name before you initiate the party. So, make sure to choose a nice name!
Is Teleparty Free?
Yes, the add-on is completely free of cost and there is no subscription process as well. So, once you have the subscription for your streaming site, you don't need to think about any other payment.
Are There any Teleparty alternatives?
There are some good alternatives to teleparty such as Scener, Kast, Rave and so on. Because of the growing competition, Amazon even has its own watch party services embedded in its streaming. So, there are many options for you to choose from.
Does Teleparty Need a Netflix Account?
If you don't have a Netflix account, you can still teleparty features. Because the add-on supports many other popular streaming services as well. From Amazon video to Disney plus, you won't have any trouble using the plug-in.
Is Teleparty Available on Mobile?
Unfortunately, this streaming service system is not available on your Android or iOS devices. However, you can still use similar streaming services like Discord on your mobile to watch movies or TV shows together.
Our Suggestion
It's not always feasible or possible to watch brand-new TV shows or movies together. At times like that, teleparty can be the only option to enjoy a good flick together. We found the service to be quite lovable and ever since that, it has been a constant in our lives.
So, why should you be excluded from using this awesome service?!
Screenshots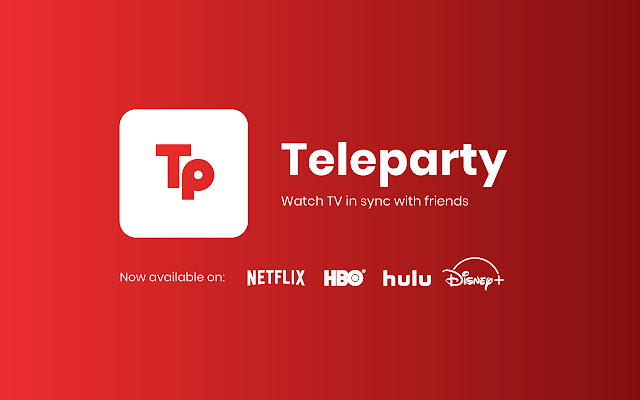 Alternatives
Also, check the alternatives of Teleparty
Comments
Let us know about your thoughts