Free Mouse Auto Clicker 3.8.7
(59 votes, average: 4.33 out of 5, rated)
Free Mouse Auto Clicker 3.8.7 Download for Windows 64 bit or 32 bit PC. Free download the latest version 2021 of the software from NearFile.
Technical Details
App Information
App Name
Free Mouse Auto Clicker
File Name
FreeMouseAutoClicker.exe
Operating System
Windows 2000 / Vista / Windows XP / Windows 7 / Windows 8 / Windows 10 / Windows 11
Date Published
06, April 2020
Date Modified
16, October 2022
About
Free Mouse Auto Clicker free download for PC Windows (10/8/7/11)
Free Mouse Auto Clicker is a kind of alternative mouse program by which one can get rid of clicking the mouse multiple times. It is a lightweight & very simple tool for computers and it generally does the normal tasks of the mouse.
Quick Auto-click
There is a mouse setting in this program for automatic clicking. With this setting, some small clicks of a mouse can be done automatically without any hassle. In the moment of time interval, you have to set it to auto-click.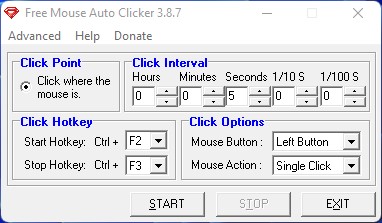 Position
With this program, the mouse can be organized to click the right or left cursor within 1/2 click. Then you have to press the start option to set the mouse in the position that you want.
Useful for Computer Gaming
For those who love playing games on a computer, this program will be very much useful for them. While playing games, if you set this tool to 500 milliseconds setting then you can swing the mouse from one side to another as well as get all the coins or smash the blocks very easily.
Do Repetitive Tasks
With this tool, you can do repetitive work done by the mouse very gently & fast. All you have to do is just set the program then your work will be done by this program without giving you any trouble.
Easy To Use
You can use this simple software without having any kind of trouble. Anyone can use this program even when they don't have any experience.
Constantly Developed
If there will be any kind of error then as soon as it will be corrected. Even if there are any suggestions they will be transferred to the account.
Pros
It is very easy to use.
Completely free.
Lightweight.
Too much straightforward.
Fast.
Plug-in system.
Hotkey.
Great for gaming.
Less use of fingers.
Cons
FAQ's on Free Mouse Auto Clicker
Is Free Mouse Auto Clicker safe? 
Yes, Free Mouse Auto Clicker is totally safe to use. You don't need to worry about safety while using this software.
Is there a free auto clicker?
There is an auto clicker by which the mouse can be automated at some points. Most of those programs are free to download. So you can get a free auto clicker easily. 
How do I get my mouse to auto-click? 
When the accessibility will not be visible, 1. Click advanced to get more items on the menu. 2. You need to scroll down and press manages accessibility option in the right-side panel. 3. Then scroll down to the mouse touchpad. 4. When the cursor will be stopped to the set then toggle the switch on.
What is Free Mouse Auto Clicker?
Free Mouse Auto Clicker is a kind of software to do the repeated mouse work automatically on its own. This simple software is actually for normal use. 
How do I turn on auto-click? 
Here are the steps to turn on auto-click 1. On the keyboard, Click Alt+ shift+ s. 2. Choose settings. 3. Then you have to select the Manage accessibility option. Under the mouse and touchpad, When the cursor stops, you need to turn on the automatic click. Then if you want, you can customize your auto click setting.
Our Uses
As I do not like to do the same thing over again, this software is very useful for me. With this software, I didn't need to press the mouse continuously. Though I'm not even a pro doing such work this software makes my work easier. And the best thing about this program is that we do not need to pay charges to install this program on our PC.
Alternatives
Also, check the alternatives of Free Mouse Auto Clicker
Comments
Let us know about your thoughts