Javelin PDF Reader 3.0.1.58
(79 votes, average: 4.12 out of 5, rated)
Javelin PDF Reader 3.0.1.58 Download for Windows 11, 10, 8, 7 (64 or 32) bit PC. Free download the latest version 2023 of the software from NearFile.
Technical Details
App Information
App Name
Javelin PDF Reader
VirusTotal Hash Code
c3a1ea18270d2f06c7941d8dc48cab9c0097271a9eb9a28d11f7327823ad82a1
Operating System
Windows 2000 / Vista / Windows XP / Windows 7 / Windows 8 / Windows 10 / Windows 11
Date Published
24, May 2020
Date Modified
18, February 2023
About
Javelin PDF Reader free download for PC Windows (10/8/7/11)
Javelin PDF reader is a full-fledged PDF reader for Windows, iOS, and Android. Not only a PDF reader but also a reader for Digital Rights Management (DRM) encoded PDF files. You may find DRM-encoded files as DRMX and DRMZ files. They are completely readable with the Javelin PDF reader.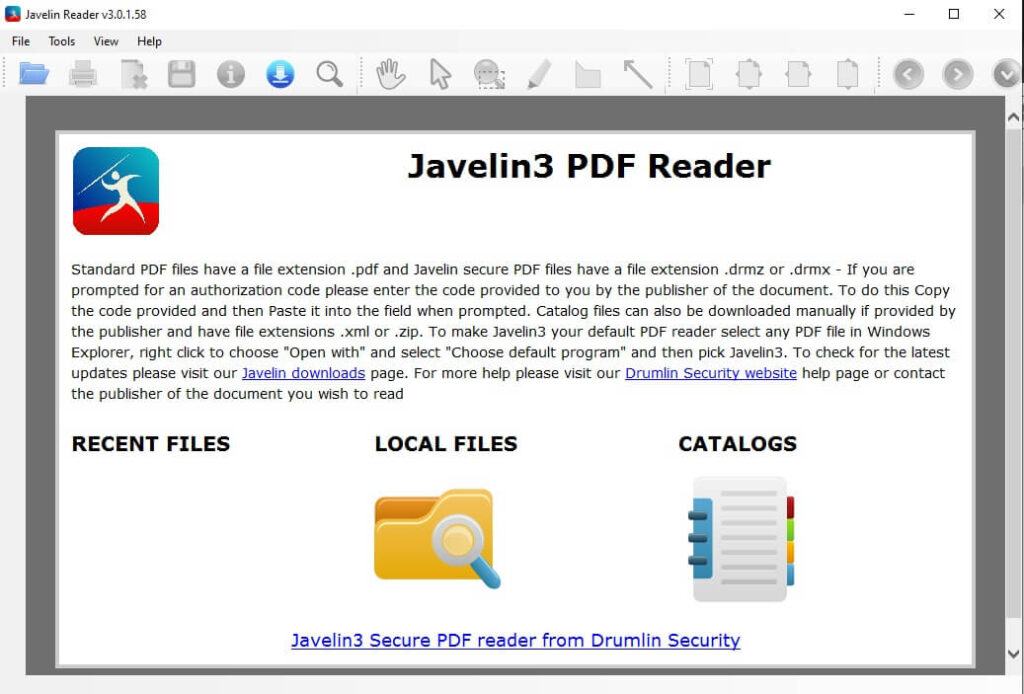 PDF files that protect the copyrights of the creator, can be read or printed with this PDF reader. And as it is very compatible with different versions of windows, android and iOS, it is becoming popular day by day.
A Light PDF Reader
Javelin PDF reader can read all types of PDF files for windows. But the software is really light and you can use it on your PC without reducing speed or having any second thoughts.
Read Encrypted Files
Encrypted files regarding copyright issues can be read with the Javelin PDF reader. The software is mainly targeted to read copyright-secured PDF files. So, you can access those encrypted files that cannot be read with other PDF readers.
Good Compatibility
It is compatible with 32-bit as well as 64-bit Windows systems. So you can download it without thinking twice.
Accessibility
You can access different views with the Javelin PDF reader. You can access Web authorization or remove the authorization of a document if allowed by the creator with this PDF reader.
Printing Customization
When it comes to printing with the Javelin PDF reader, you have good access to printing quality-from 75 dpi to 600 dpi or more.
The reader has highlighting, sticky notes, and document panning options.
Pros
You can read copyrighted PDF files with this PDF reader without any problem.
This PDF is a Freeware PDF reader, meaning you don't have to spend a dime while you use the Javelin PDF reader.
Drumlin Security has made it available for Window's latest version, so it must be compatible with the PC or Laptop you have at hand.
You can view a single page, vertical mode, or horizontal mode with the Javelin PDF reader. Moreover, you can see tiles or in presentation mode with it.
Capable of handling many PDFs at once
PDF Encryption feature
Available on multiple platforms
Free to use
Cons
The interface is old-fashioned
How to Install Javelin PDF reader?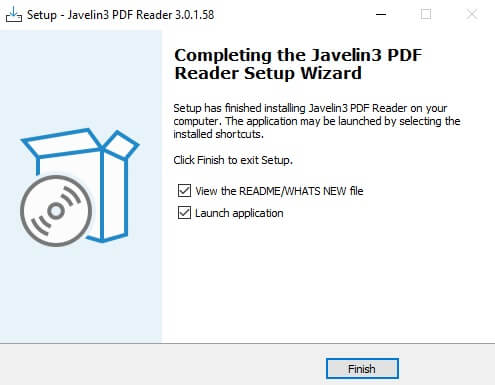 You should find out if your PC's Operating System first. Then you should look for the right version of the Javelin PDF reader. Right now, the latest version is Javelin 3 PDF reader. The latest version is quite compatible with Windows 7,8 and 10. You can download the file from the Download button on our website. Still, if you think it is not compatible, then you can download older versions too.
If you have downloaded the file, you are good to go for installation. Just double-click the .exe file and give the required permission on your Windows to make the necessary changes. Once you agree to the terms and conditions and click next, the required installation will be done.
FAQ's on Javelin PDF Reader
Is Javelin PDF reader free?
Javelin PDF reader is a Freeware application published by Drumlin Security. It is totally free to use for reading PDF and encrypted copyright security attached PDF files.
How do I download a PDF from Javelin?
You can download a PDF file from the toolbar's "Download" button which is next to the "i" button. Click the button and save any PDF file to your PC. Then use it as you like.
Is the Javelin PDF reader safe?
Javelin PDF reader is an absolutely safe Freeware software published by Drumlin Security. You can download it without thinking twice and use it on your PC.
How do I download Javelin?
You can download the Javelin PDF file from our website by clicking the download button. Or you can download it from any secured third-party software provider. Please do not use unsecured links and files because they may have malware and harm your PC.
Conclusion
If you seldom face problems with encrypted PDF files with copyright issues, then you need to switch to Javelin PDF Reader. It is comfortable, cozy, and perfectly compatible with any version of Windows you are using right now. Still, if you face compatibility issues, then you can visit their official download page and see if any other versions available are compatible with your OS.
Disclaimer
Javelin PDF reader is created and Published by Drumlin Security. Any logo, trademark, and everything associated with this software are properties of Drumlin Security.
Note
You May need Net Framework 4.5 if you are going to use the Javelin PDF reader on your PC.
Alternatives
Also, check the alternatives of Javelin PDF Reader
Comments
Let us know about your thoughts